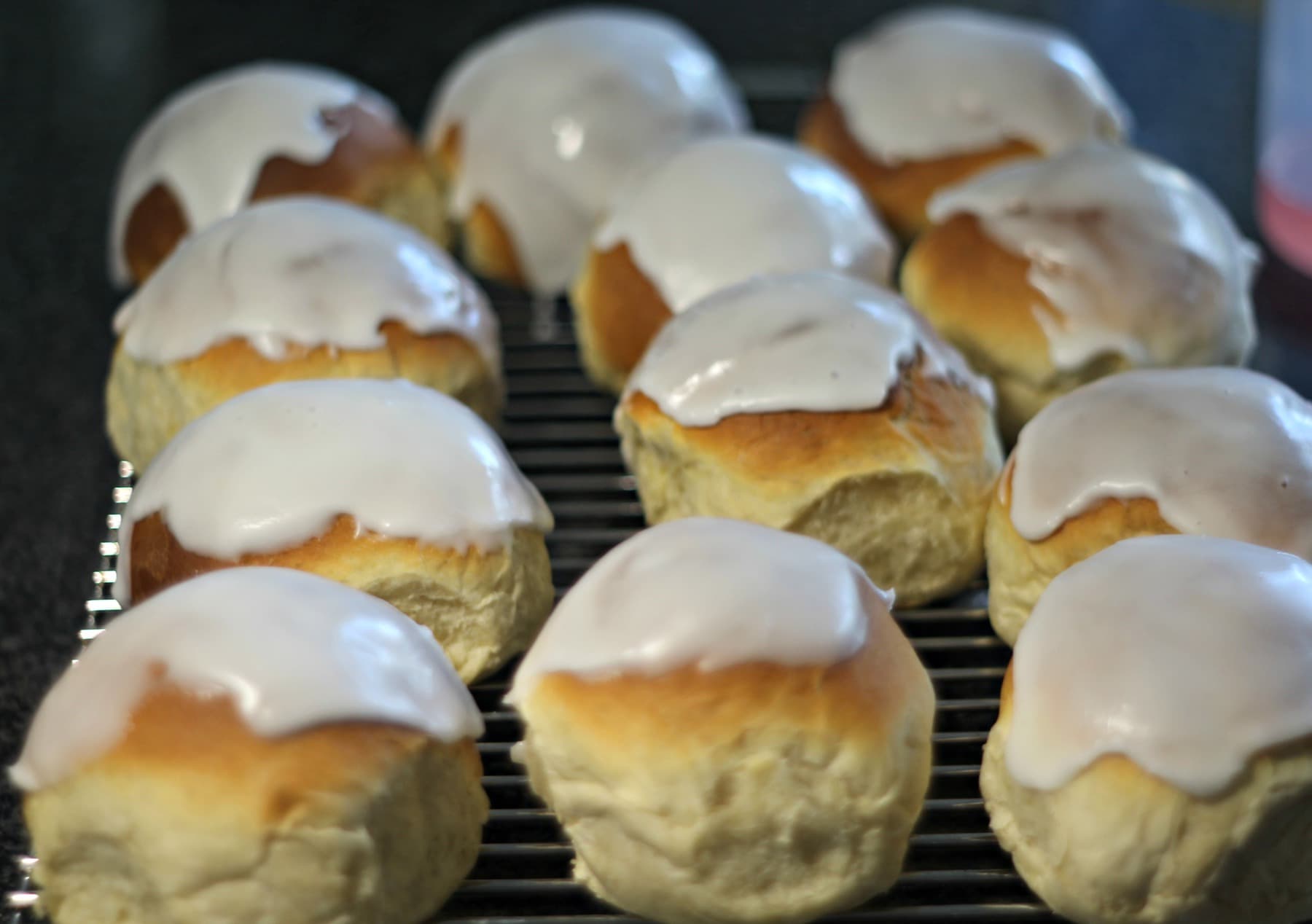 Iced Buns
Honest to God I kid you not when I say that I was the shyest person ever when it came to boys. I do have a memory of my first and only boyfriend at middle school. It was as fleeting as it was meaningful and  finished after just one morning when at lunchtime he had eaten his Krunchie Puffs without sharing (a common gluttonous  thread was already obviously visible) and my friends coincidentally had finished with their beaus too (there's a thing). My secondary school was an all girls establishment so did not lend itself easily to boy/girl encounters unless you were very committed . There was lots of  furtive smoking behind the bike sheds and getting drunk on shots of stolen neat Cinzano whilst listening to the Cure on sleepovers but  it was not until I was sixteen that I got a sniff of some lip action and became fully aware of my crippling problem.
I had been fixed up with  a handsome fatty at a very middle class monthly kids disco and found myself in the girls toilet knowing that he was outside waiting for me to lock lips. It was all about the snog in my day. I'm sure there were others exceedingly more"sophisticated" but it all went on completely under my radar. The closest I had ever come to second base was somebody else's copy of Judy Blume's well thumbed Forever smuggled into school. So for the longest time I had just been an avid and wistful  witness to my beautiful best friend's romantic love life. She left a wake of bruised male egos wherever she went……she was simply magnificent. She had/has an inherent style and class that I could only marvel at and aspire to.
So as these much-anticipated discos were full of snogging teenagers in the shadows as soon as Glenn Madeiros hit the decks, I had never actually joined them. In fact I dreaded that time of the evening with a passion I now reserve for trying on clothes in a fitting room with all surround mirrors…..However  I welcomed as well as hyperventilated at this opportunity to get myself up to snogging speed. I found myself shaking violently and trying not to vomit as I frantically tried to ascertain how to actually and technically snog from the more sophisticated girls that were hanging out in the toilets……. My whole life seemed to be hanging on this next half an hour and my ability to join the pubescent and downy haired ranks of snogger and snogged. After about half an hour of hiding and with a rough idea somewhat established (the plan was to avoid tongues at all costs, god knows it was complicated enough ). I knew I must get this rite of passage over with and walked out of the toilets and towards my tubby kissing Kismet. He must have taken the lead and in  a discreet, dark corner,  surrounded by like-minded  teenagers and to the dulcet tones of Curiosity Killed the Cat, I had my first actual real life snog.
History is kind to me here and I can remember no more of the incident but he never spoke to me again so perhaps the no tongues policy was a  rookie mistake or perhaps I was just rubbish, either way the deed was done and I was most glad of it. It was not the panacea that I had hoped for and there was to be no rush of young suitors for me.  My inability to speak to the opposite sex stayed with me too, rendering me a complete weirdo in any social situation that featured a teenage boy that I even vaguely liked. It was Vodka and Orange juice that finally saved me…….nobody puts baby in a corner…………in my psycho dreams.
Food remained my constant and non judgemental companion through my teenage angst and these Iced Bun Babies were sold every break time at school. They are the Magnum P.I of Iced Buns. The Chocolate Cracknell  was seriously good too but these were something else. This recipe courtesy of Paul Hollywood delivers them just as I remember them. Soft, pillowy and  milkily sweet. I can almost hear Glenn and Lionel now …..
ICED BUNS RECIPE
The dough is sticky but after mixing it becomes less so and comes together away from the sides of the bowl.
After covering I leave it somewhere cosy to double up.
After knocking back I use scales to divide equally into 12 balls.
I roll these into balls but you could shape into finger roll shapes-what ever suits you sir. I place them a good 2 cm apart on a lined or oiled baking tray and wait about 30 mins for them to puff up proudly.
Bake for 10 mins until a middle brown colour and leave to cool on a wire rack.
Iced Buns
These Iced Buns are absolutely delicious and very nostalgic to me. Soft and sweet they really are outstanding.
Proving Time
1
hour
30
minutes
Ingredients
500

g

strong white flour

50

g

of caster sugar

40

g

unsalted butter softened

2

large free range eggs beaten

2

+ 7g sachets of instant yeast

1 1/2

tsp

salt

150

ml

of lukewarm milk

140

ml

of water

For the icing mix 200g sifted icing sugar with 5 tsp of water.
Instructions
Preheat the oven to 220 C.

Place all the ingredients in a large mixing bowl, holding back a quarter of the water.

I do this in a food mixer but you can do it by hand. Add the extra water.

Knead then on a surface for ten mins or for eight in a food mixer with the dough hook. The dough begins sticky but then becomes smooth as you knead/mix. Don't be afraid to stop your mixer and scrape the dough from the  sides of the bowl down halfway through if it sticks to the sides.

Once the dough is smooth and elastic then put in a clean lightly oiled bowl and cover with a damp tea towel or clingfilm and place somewhere warm for about an hour or doubled in size.

Knock the dough down and then divide into 12. I measure the lot and then work out what each bun should weigh.

I roll these into balls but you could shape into finger roll shapes-what ever suits you sir. Place a good 2 cm apart on a lined or oiled baking tray. Cover with damp tea towel or oiled clingfilm and leave somewhere warm to puff up for about 30 mins.

Bake for 10 mins until a middle brown colour and hollow when tapped on the bottom, leave to cool on a wire rack.

Mix the Icing ingredients vigorously together in a bowl until it forms a thickish paste and dip the buns.Place back on the wire rack to set.

Apply to Face covered with stubble rash.
Here are some more another classic recipes – Flapjacks – Pain au Chocolat – Yum Yums – Doughnuts
PIN IT FOR LATER!
I have linked with  Cakeyboi and The Baking Explorer,with treat petite.It is The Baking Explorer hosting this week.
.