I've just experienced something  similar to serious road rage at the showers this evening after swimming lessons……for about the fiftieth time. White hot it very nearly made me grab the woman by the heels, chuck her in the pool and tend to her child's hair swiftly myself. Honestly I have been  very close so many times. For the love of God, what are some people thinking????? Can they not see all the hundreds of children standing behind them shivering and turning blue……… seriously people……. are you in fact completely blind????? This is NOT a luxury spa offering hair treatments, this is NOT a place to shower slowly and without a care in the world whilst everybody else's children develop hypothermia.
True to form it always seems to be me that ends up in the queue behind these unbelievable people and after much study I have noted that there are a few different subtypes amongst them…….
1-These are the Precious types who not only want to apply separate conditioner to their darling's hair but also insist on combing the stuff through laboriously and thoroughly in order to get every single tangle out, all whilst the child is still under the shower…….just one more minute darling……nearly done darling…..did you just kick me darling??????
2-These are the Out of Control types who have no authority over their charges and their children run amok, refusing to come out of the shower or worst of all queue jumping in front of your patiently waiting and well-behaved, freezing their n.ts off child……damn those little sh.ts.
3-These are the Grandparent types who quite often merge a little with the Out of Control types due to the grandparent default spoiling position that they occupy for most of the time. They are predominantly slow with all aspects of showering and I am convinced cannot see well enough to spot the lines of children behind them rapidly developing frostbite…………. Last week I was behind one who, I kid you not, had bought shampoo and conditioner in sachets that you get free out of magazines. She was unable to open them but would not give up her shower and ten minutes later, as we were leaving, she was still in there chewing down on them like a rabid dog and the child now resembled an extremely old person.
There is also one group that merits a footnote……that of the Teenager. Never ever get behind one of these. They are there for the duration, loving it and enjoying the wind up. I had a particularly spotty one stare me out last week, I was incredulous.
Of course it's all too late to move queues by the time you realise  and what else can you do but maintain your position and watch this chinese water torture as it slowly and painfully unfolds before you. I try to look up, I try to look down, anywhere but at the adult involved and my poor shivering child but it's to no avail and inevitably I am drawn back to the offending adult who is always, always still being INCREDIBLY slow and practically begging for a dunking in the deep end……….One day….
Halloween is nearly upon us and I am heady with excitement. I love it all but especially the food. Unfortunately I am as ham-fisted as a man with only three fingers so we are usually talking basic baking with stick on accessories. I always like to do a Halloween tea but I do find that I am baking all day like an harassed idiot and end up very tetchy over eyeball placement or who's eaten two brownie ghosts when there was only enough for one each……..shut up fool, life is way too short for that nonsense……. So I am thinking super simple this year and have even used a chocolate fudge packet mix for this Slime Cake. No they do not taste as nice as home-made but I need to be able to bake these simply, reliably and quickly and do the kids really notice…no. The recipe below Chocolate Slime Cake is that of White Chocolate Rice Krispie Ghosts and my children go potty for them. They are super simple. Both of these Halloween Treats can be made the day before, allowing you extra time to get all your Halloween sh.t together.
PIN ME FOR LATER!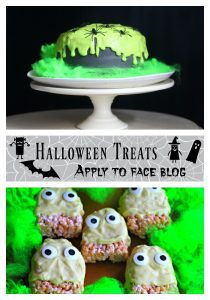 I have linked this post with Stay Classy Mama, Cook Blog Share, Brilliant Blog Posts, Friday Frolics and Recipe of the Week.
This is an assembly job mostly. I have used two packet mixes and remain unashamed. They were quick and simple to bake and behaved impeccably. I did consider just using pre-made icing too but decided against as I had loads of icing sugar at home but next time I just might.
| | |
| --- | --- |
| | |
Make the cakes as per packet instructions and allow to cool completely on a wire rack. If you have used one large cake mix then carefully cut each layer into two.

Make the buttercream icings and set aside. Depending on the type of food colourings instructions adjust the quantities used. I used a whole tube of black gel for the outer icing to get the right colour. Use your eye to get exactly the shade you want.

First of all apply the green buttercream to the first cake layer.Leave a 1 cm clear rim around the outside of the cake.Then repeat with the next layers and then a final layer of just jam.

Split your black icing into two bowls. Using a spatula apply the icing sparingly all around and on top of the cake. This is called a crumb coating and it does not matter that crumbs show.

Chill the cake for 30 mins in the fridge

Apply the second bowl of butter cream icing around and on top of the crumb coated cake. Make sure that the outer edge is smooth. I found that the top of my cake was sticky and I found it hard to get the buttercream to stay on it without bringing lots of crumbs off with it so I just did my best and covered it later with the drip icing. Chill the cake again.

Make up the drip icing. Another note is to add the water sparingly to the drip icing as the consistency of your food colouring will alter how wet your icing is.It needs to be stiff and able to hold it's shape.Put in an icing bag with a nozzle about 5 mm diameter or smaller. Pipe in a zig zag motion around the outer edge of the cake, allowing some of the piping to travel down the side of the cake. Fill in the top of the cake with the icing. Chill to set.

I used plastic spiders and green fluff to decorate.

Apply to incensed witch's face.
| | |
| --- | --- |
| | |
Melt the butter over a gentle heat and add the marshmallows. Mix until completely melted. Be careful that the mixture does not catch on the bottom.

Take off the heat and tip the rice krispies into the saucepan to mix. It may seem like the mixture will never come together but keep the faith. Also watch out that you don't crush too many of the rice krispies when stirring.

Tip out onto a lined baking tray-I use a silicone liner but you could ude grease proof paper. Squash into a rectangle about 2 cm deep.Chill for about 15 mins. Wet your hands or spatula to do this to stop everything sticking.

Melt the white chocolate in a bowl over a saucepan half full with simmering water. Stir well until completely smooth. Cut the rice krispie block into rectangles and squish the tops into a curve.

Empty the chocolate into a mug wide and deep enough to fit your ghosts into and give them a mild dunking. Use a spoon to smooth over and cover bits missed. Place the eyes on. Chill to set, again on the lined baking tray.