A big eventual warm welcome to all you Baking Crumbers. I'm a little late but still showing up in my party shoes. I hope you can forgive me! This month is all about the Buns. I just couldn't resist.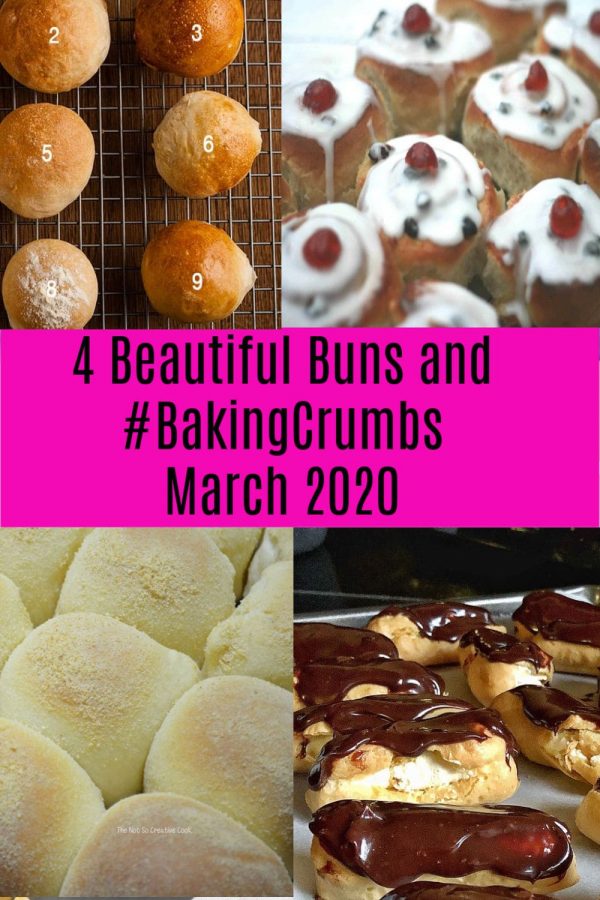 As we face an unsettling future this Spring, I can't help but wonder what life has in store for us all. I'm sure that the routines and habits normally afforded to the warmer weather will be somewhat curtailed.
This time of year usually has us hitting the caravan parks, cupboards full of Tupperware and Doritos, or at least dipping an odd weekend toe here and there. I'm not sure that will be an option in the coming Coronavirus weeks.
How far will it go? If they take picnics off the table then I'm not sure I will cope. I seem to get hit with The Famous Five stick at the first sign of the warmer weather and become obsessed with picnic lunches, quiche and meringues. I'm not sure where all my jolly hockey sticks catering will go…..squirm.
I have to also admit to rather a lot of stocking up lately. I missed the boat on Hand Gel but I beat the crowds to the Bread Flour. However I was shocked at the emptiness of the whole Bread baking shelf in my local supermarket. Time after time they were almost empty of the whole lot…yeast included.
Who knew that there were so many bread makers amongst us? It cheered my baking soul right up to think of all the kitchens across the land smelling of freshly baked bread. As long as they're not blocked up that is…..Maybe this could be a bit of a silver lining.
In fact there does seem to be a slight Blitz vibe descending around us this week and this could be a very good thing for baking as a whole. If people have to begin baking to feed their family perhaps it will remind everyone just how much better homemade Bread is than the mass produced supermarket stuff. But until then, let there be these Beautiful Buns.
#BakingCrumbs March 2020
With all the potential bread making going on in my home town, I decided to go with a Beautiful Bun theme. Not all are strictly "Buns" but have enough qualities of the general genre to allow for my baking licence. Being an avid bread and bun maker myself I also felt naturally drawn to them. Buns feature very highly in my Famous Five catering menu so I am always keen to search out new recipes that could help me keep the gang very well fed.
My own Bread Rolls are always popular at my picnics and my son particularly goes bonkers for a slice or two of my Wholemeal Bread slathered with butter. For afters there are always my excellent Iced Buns.
Pass me the Ginger Beer Dick.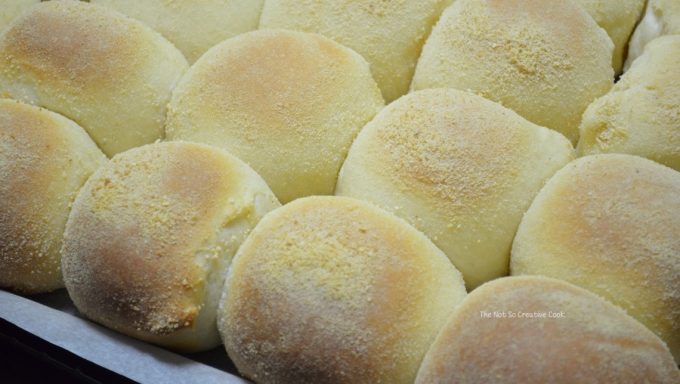 So a woman after my Bread Roll heart was Jules from The Not So Creative Cook. Her Pandesal is a Filipino sweet, soft and fluffy Bread Roll traditionally eaten for Breakfast dipped in coffee. They look so divine and what a wonderful Breakfast idea.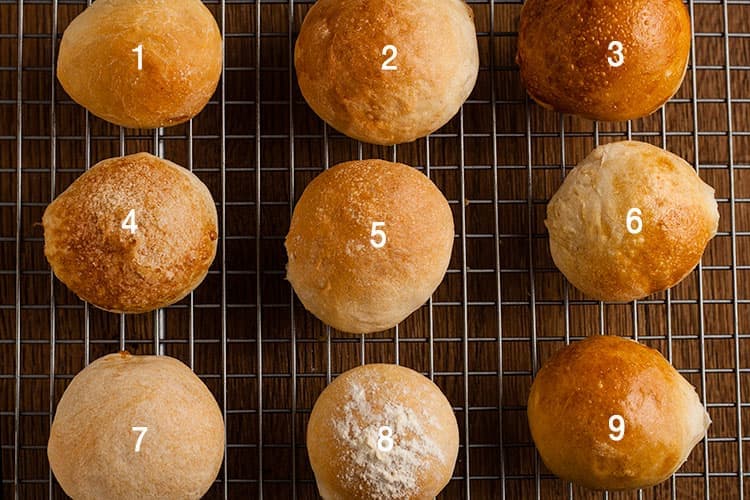 Next we have Only Crumbs Remain with her epic post- How To Make Great Homemade Bread. I consider myself to be somewhat learned in the art of baking bread but even I have learnt a good deal from such an expansive and in depth article. Anything and everything you have ever wanted to know about baking bread is included here. All bread bakers should have this close to their floury finger tips.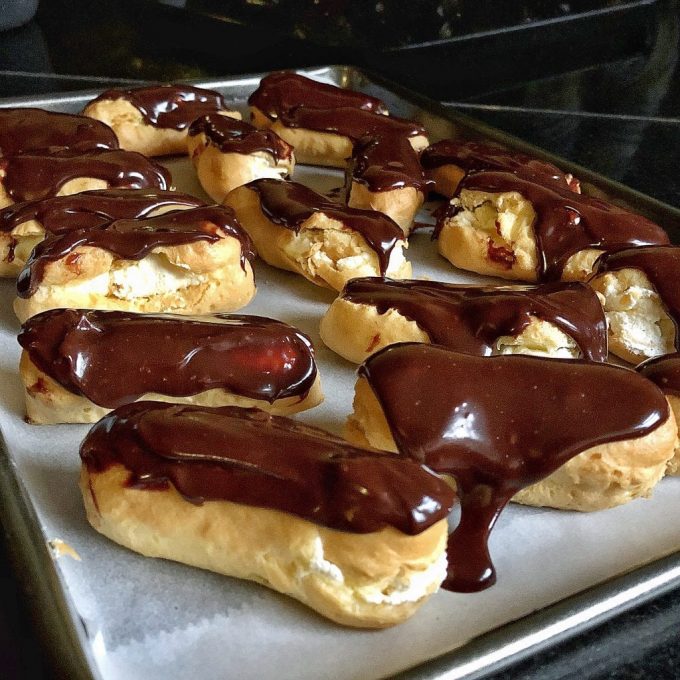 These Gluten Free Eclairs from Gluten free Alchemist just screamed at me as they jiggled their shiny chocolate tops in front of my eyes. I just had to include them. This recipe is incredibly well researched and thoroughly detailed and again I learnt an awful lot about the intricacies of choux. Plus the big fact that they look INCREDIBLE….drool.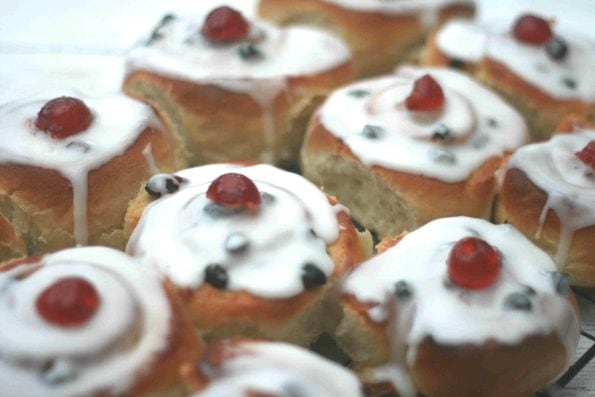 Last but very not least is Cooking With My Kids with her Belgian Buns. A Famous Five bake if ever I saw one. A great bake to make with your children, in fact she shows you exactly how to, and gloriously sticky just like the very best Buns should be. She had me at Bun.
I had to give a #BakingCrumb Wink to these, perfect for a Famous Five Picnic, Sausage Rolls from Foodle Club. A homemade Sausage Roll is a very delicious thing and these Pork and Apple ones looked amazingly good.
This month in Apply To Face Kitchen I made Tin and Thyme's Not So Jammy Dodgers. I love making biscuits and these were such fun to make. Effective, very moreish and easy, I had a ball. They were a huge hit with everyone.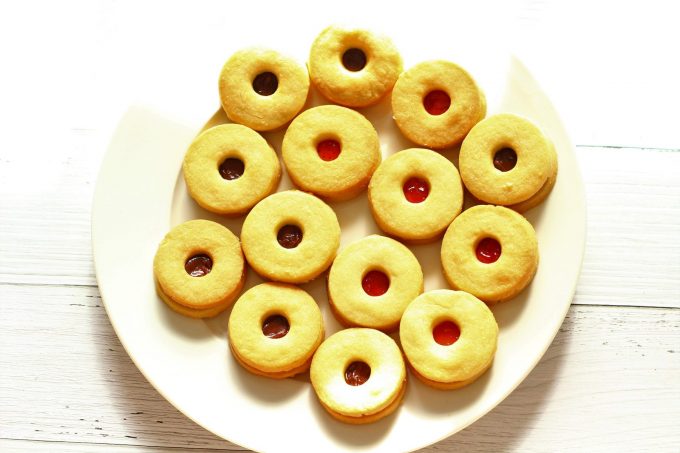 NOW ONTO THE MARCH #BAKINGCRUMBS LINKY.
IF YOU'VE GOT A BAKE TO SHARE, JOIN IN WITH #BAKINGCRUMBS!
Baking Crumbs is for all of those sweet and savoury bakes, where there's the potential for crumbs! Pies and pastries, cookies and flapjacks, cakes and cupcakes, brownies, meringues……..
HERE'S HOW TO JOIN IN:
PLEASE INCLUDE A LINK BACK TO APPLY TO FACE BLOG AS WELL AS LINKING UP TO THE LINKY.

We decided to do away with the badge you needed code for as it was proving quite problematic. You are welcome to still use the image for the linky if you want though although it is not essential.
Link up to 3 new bakes with a clear image, using the linky below. (Feel free to contact me if you have any problems doing so).
Where applicable include the source of the recipe, though do use your own photos.
Join me in making this a great baking community by sharing the blogging and baking love! Do spend some time commenting on, sharing, and yumming those bakes which catch your eye using the #BakingCrumbs hashtag so people know where you've come from!

Feel free to Tweet @applytofaceblog using the hashtag #BakingCrumbs and I will re-tweet all those that I see.

And why not use the hashtag #BakingCrumbs on Instagram too!

You're also invited to join the Official Baking Crumbs Linky pinterest group board! Just drop me a note and I'll get you added to the board!

And why not join the Baking Crumbs FaceBook group too, and share your love of baking with other like minded people
Please note, by linking up you are giving Jenny permission to use your photograph in the round up and on social media too.
WHAT YOU CAN EXPECT FROM JENNY:
Commenting on all of the bakes entered into the #BakingCrumbs linky. Also sharing your delicious bakes on Twitter, as well as Pinning and Yumming them (where there is a 'Yum' button)! At the start of each subsequent month (usually on the 1st) I will share a 'highlight' round up, as well as highlighting what I was tempted to recreate in my own kitchen that month.
LINK UP BABY
You are invited to the Inlinkz link party!