Since taking on some more writing commitments I have been finding it harder and harder to keep to deadlines and the commitments required to keep #BakingCrumbs up and running. I have thoroughly enjoyed myself and have loved and adored reading and commenting on all your fabulous recipes. I shall miss it a great deal. If anyone wishes to take up the #BakingCrumbs pinny then do let me know.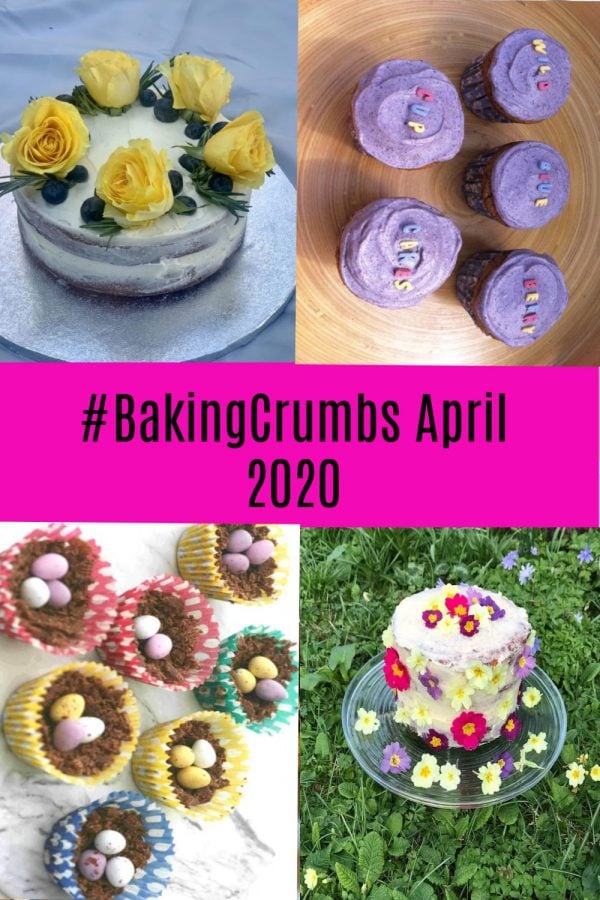 I hope you are all coping well and managing to keep yourself and other members of your family safe in this rather surreal chapters in our lives. I find that I am rather secretly enjoying my new life. I am very lucky not to be financially impacted by this and my husband still goes out to work so he is not annoying the wotsit out of me.
Homeschooling is a right royal pain in the arse I admit, but I don't have to run them around to eleventy hundred clubs and lessons anymore and no more melt downs about getting out the damn door on time…at all. Heaven…
I am loving all the baking I am getting to do with the children and just enjoying the one on one time that we are getting to share, just the three of us. I kind of see it as an opportunity. The last time I had them all to myself was before they went to school……"Come to me my pretties"……
I decided to choose a bright and colourful theme this month. I thought it most apt at this time of the year and a great way to mirror the rainbow colours that are being shown in many windows across the country as a sign of hope.
The first of these was this simple but stunning Easy Naked Birthday Cake from Easy Peasy Lemon Squeezy.
Clare says, "It is the simplest and prettiest cake you could ever wish to see. And I promise anyone can make it, irrespective of your skills. The beauty of a naked cake is exactly that – it's naked with just a brush of butter icing on the sides." I love how she dresses it with those beautiful lemon yellow flowers. Great for any occasion.
Choclette from Tin and Thyme linked up these simply stunning Wild Blueberry Cupcakes. Not only are they the most fabulous colour but they are topped with white chocolate and mascarpone icing. Made with British Native Bilberries and Wild Blueberry Spread they have got to be good for you. I just fell in love with them on the purple spot.
Tastebotanical had this intriguing Lemon Sponge With Wild Edible Flowers. This post is full of great information and tips regarding using edible flowers in your baking. I learnt a huge amount and would actually feel confident about which to use myself now. Plus the cake sounds incredible having been flavoured with homemade Elderflower Cordial and Lemon Curd.
Cooking With My Kids has these cute Easter Chocolate Nests. They're the perfect treat for anyone looking for something quick and easy to make with kids this Easter. I'm a sucker for Chocolate Mini Eggs especially when they are in little cute handsies.
This month in Apply To Face's Kitchen I made Cooking With My Kids Viennese Fingers. I love making biscuits and these were such fun to make. Viennese Biscuits were the first baking I did at school in my Home Economics class. So I jumped at the chance to try again. They were delicious and my daughter made them from start to finish. Yay!!!!
If you like this round up you may like these
Perfect Mini Bakes and Valentine Recipes
All that is left to say is the biggest thank you for joining me and those that have gone before.
Keep baking your pants off.
I have had a ball and been very privileged to spend some virtual time with you all.
Take care and stay safe.xxx