This recipe for Homemade White Bread is incredible. Simple and straightforward who knew such a heavenly result could come of such little complication. Your home will smell divine too.
Traditional White Bread
The smell of baking Bread in a home is such a delicious smell, one of the best I think and the taste is completely alien to the Bread we buy in the Supermarkets. It is quite simply amazingly delicious.
Still warm and slathered in butter it is one of the greats………..fish and chips out of the paper sat on a bench overlooking the sea with someone you love, fresh warm doughnuts at the fair smothered in sugar with lots of crispy bits at the bottom of a grease smudged paper bag, chocolate cracknell at school 1990 stylee, macdonalds extra large meal and real coke with a mother of a hangover, all of these are legendary.
And yet not one of my friends bakes their own bread.This is completely bonkers stuff.
It is on a par with people living in the same house sending each other messages on Facebook. I mean what the ????
I presume it is the fear of the unknown and the presumption that it is an art.
It is an art but only in the sense of choosing suitable clothing to avoid muffin tops or avoiding an ex in a supermarket when you have really bad hair – a few simple but critical points to follow is all you need to create a doorstep of heaven.
Toasted too the day after, it still tastes very special. My family will almost devour a whole loaf in one sitting, leaving me with a nubby end for a slice of toast in the morning before any one else is awake, accompanied with a very strong black coffee.
My world is complete within that moment. Bring on the school run with knobs on.
So I say with as much gusto as I can muster after a lay in, a double espresso and a packet of Proplus-follow this recipe and you will not believe how easy it is to create the most delicious bread in the land time and time again.
I don't have my s..t together enough to bake bread every day but I try once a weekish and it blows me away anew every time. I have to admit that this white bread recipe is my favourite of all.
I use my Kitchen Aid for all kneading purposes.I have mentioned before that I find it hard to muster the enthusiasm required for ten minutes of kneading but I do think this is worth it even if you don't have a food mixer to do your dirty work.
You will need a 2lb non stick loaf tin too.
Easy White Bread Recipe
Place all the dry ingredients in a large mixing bowl keeping the yeast and salt separate.
Pour in the wet ingredients and mix until a dough forms.
I use my free standing mixer and dough hook but you can do it by hand perfectly well.
Turn the dough out onto a floured or oiled work surface and knead for about ten minutes until smooth and elastic.
I use my mixer to do my kneading on a high ish speed for about 5/6 minutes. You are looking for stretch and smoothness to the dough.
Cover in a clean, oiled bowl and put somewhere warm to double in size. It should take about an hour.
When proved tip the dough out onto a work surface and knead again for a minute before rolling into a sausage/oval shape and putting in an oiled 2lb loaf tin.
Cover with oiled clingfilm and leave somewhere warm again to almost double in size.
The finished proved white bread dough in the tin.
Carefully remove the clingfilm and slash with a very sharp knife 3 slashes across the top of the loaf.
This helps the final rise in the oven.
My final words are only to wish you full enjoyment and advise you to not skimp on the butter.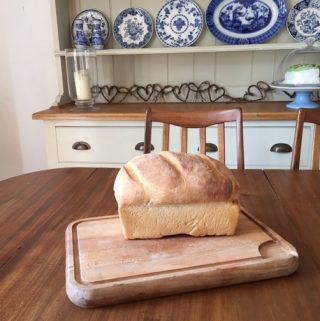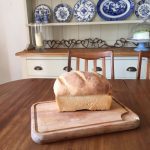 Easy White Bread
This White Bread is easy, simple and delicious. Plus your home smells heavenly!
Proving Time
1
hour
30
minutes
Ingredients
500

grams

strong white flour-you could mix 50/50 with wholemeal flour

2

tsp

of salt

2

tbsp

oil-I use sunflower oil

7

g

sachet easy bake instant yeast sachet

300

ml

tepid water
Instructions
Put flour in bowl first followed by the oil and then salt and yeast in opposite corners.

Start mixing it together and add all the water.It should be a bit sticky.

Turn out onto an oiled surface if you are kneading by hand and knead for ten mins or 5 mins at medium speed in your mixer. You are looking for it to be springy and when you pinch a bit between your fingertips and pull it away it has a bit of stretch in it. Keep going until this happens.

It will become smooth and elastic.

Put in an oiled bowl and cover with clingfilm. I just tip oil in the bowl I have just mixed the bread in and twiddle the dough round in it before covering in clingfilm and putting somewhere warmish for an hour or until doubled in size.

When doubled in size tip out the dough onto an oiled surface and knock it down and squish it a bit. Lightly roll it into a sausage shape about the length of the tin. It will swell to fill the tin so don't worry about a couple of cms here and there.

Cover the tin with oiled clingfilm and leave to rise again somewhere cosy and warm.

What you are wanting to do here is get the bread as high as poss without it collapsing in on itself. So you need to think about half an hour is enough if place is really warm. It is ready when it has risen a good 2 inches above the rim.

When you are ready to bake take a really sharp knife and slash the loaf diagonally three times.If the bread collapses in on itself when you slash it-it means it has overproved but thats ok just go back to step 7 and tip out dough and knock back down and put back in tin to reprove again.

Put in oven at 220C electric/200 fan or Roasting Oven in your Aga for 25/35 mins until golden brown and hollow sounding when you tap the bottom.

Turn it out onto a wire rack to cool.

Apply to gloriously Buttery and Grinning Face.
Nutrition Facts
Easy White Bread
Amount Per Serving
Calories 261
Calories from Fat 36
% Daily Value*
Fat 4g6%
Sodium 584mg25%
Potassium 75mg2%
Carbohydrates 48g16%
Protein 6g12%
Calcium 9mg1%
Iron 2.9mg16%
* Percent Daily Values are based on a 2000 calorie diet.
Here a few more truly delicious Bread recipes. Give them a whirl – Wholemeal Bread