Sweet Mother of God, I got properly sh..faced at the weekend. The sort of drunk that is seriously unattractive and inappropriate in a lady of my years.
I was in full old woman Lush mode. It was painfully public and involved Facetime with a friend and her husband and a phone call with another friend's son, obviously I informed them about my deep and loving feelings towards them before my friend made the swift and merciful decision to terminate the calls.
I have no recolllection of these conversations whatsoever but I do have the mortification for them.
Apparently I used my Breasts as imaginary water pistols too (yes indeedy) for at least two hours and fired them at any opportunity at members of the public whilst laughing hysterically/manically very much in the vein of a super villain.
I confess I do remember the breasts thing. I remember finding it so hilarious that I simply could not stop myself doing it. I love a bit of breast humour when I'm very, very drunk for some strange and elusive reason……
I have no time for toilet humour but put some breastage in the mix and I can't breathe.
Now don't get me wrong I am all for a good time and used to be a bit of a goer in my youth. My friends and I partied hard in a Vodka and Orange Juice kind of a way.
Clad in sweaty synthetic leather trousers from Principles we gyrated to Toni Braxton and Alexander O'Neal in-between Tequila shots and flirting with mildly attractive men with bouffant hair and nice shoes, all two of them in our town.
My friend happened to marry one of them eventually, she obviously was the better dancer, but the hair didn't stay around for long and he developed a very curious and striking claw like affliction with one of his feet so tends to be only comfortable in flip flops nowadays…..the reality of middleage always breaks through kids….. anyways……
It was nothing to be sick in a bush or the nearest receptacle before resuming drinking duties at the bar.I think we were too early and obviously too well dressed to be Ladettes, but we definitely blazed some sort of irresponsible trail.
Times were very good and expectations (as well as pelvic floors) were high.The absolute best of times.
These particular high jinks were at best amazingly stupid and at worst irresponsible and selfish. I had my Daughter's Birthday party the very next day, party food for seventeen five/six year olds and a wonderful day to be conjured up by mostly yours truly.
I held a small child's birthday joy in the very palm of my shaking hand.
As I awoke sweaty with heart palpitations and my hangover settled in, a general sense of shame and panic manifested itself, blanket like and complete in it's descent. Ba…rd Beer Fear. I b…dy hate it.
Surely modern medicine should address this terrible affliction. But where is the government funded research????
Listen I would walk through the night or run a half marathon every third Tuesday if it meant we could find a pill to banish the nasty son of a witch.
It has stopped me from overindulging for a very long time now, with small children I just find it genuinely too torturous and to be truthful would much rather have a blinking smear than face a day of high anxiety and alternating waves of nausea and disgrace.
But a mixture of 2 for 1 Cocktails and excitement at being "Out Out" had lured me into a frivolous frenzy from which there was no return. I was a damned fool.
I had no choice whatsoever but to face the day with Blitz spirit and by some miracle, probably the immense extra body weight I am carrying at the moment, I was able to pull off said Birthday in a Rocky Balboa like manner.
As the last happy child left clutching it's party bag of tat, and my daughter proclaimed that this was the best Birthday she had ever had, I heard the crowd begin to roar and chant my name as my superhuman comeback in the face of crippling Beer Fear was complete.
I have my two chidren's Birthdays within a week of each other with my own sandwiched in between, so my week feels mostly about Cake, Balloons and Haribos .
This recipe is my go to for these Birthday Cakes. It freezes brilliantly if double wrapped in clingfilm and a final covering of foil. It can easily hang about waiting to be eaten for five days without going dry and is just delish and, in my humble opinion, the nicest Chocolate Cake recipe that I have found. I just decorated them to suit.
300g Self Raising Flour
40g of Cocoa- I use Green & Blacks
300g of Caster Sugar-I tend to use the unrefined
1 tsp Baking Powder
1 tsp of Bicarb of Soda
1/2 tsp of salt
100 ml of Buttermilk
100 ml of Vegetable Oil
125g of melted and cooled Butter
150 ml of cold water
3 large eggs
Heat the oven to 180 C and grease 2 + 8 inch tins.I use bakeoglide liners instead of greasing as they are fantastically easy-just wash them and use again.
Mix all the dry ingredients in a bowl.
In another bowl mix the buttermilk and eggs well.
Whisk the oil and butter together followed by the cold water.
Add all the dry ingredients and mix slowly.
Add the egg mixture and mix well.
Tip batter into cake tins and bake for approx 30 mins or until a skewer comes out clean and the mixture is coming away from the sides.
Leave cakes to cool for five mins in their tins before taking out and putting them on a wire rack to fully cool.
Ice Cake and decorate to suit and apply to seven year old screaming kids faces.I covered this cake in chocolate buttercream,stuck Kitkats around it with no gaps,poured all the sweets I could find on top and stuck some plastic Minion figures in there too……..Thanks Macdonalds.
For the chocolate icing for this cake I melted 100g of dark Chocolate and put it in a food processor along with 225g of unsalted Butter and 300g of Icing Sugar and whizzed into icing. You can just use an electric whisk or food mixer but be careful to sieve the icing sugar first as the food processor just nukes any lumps. This amount allowed me to cover and sandwich the whole cake together before covering with huge amounts of Chocolate and Sweets.
For a more adult icing double the dark chocolate and add 100g more icing sugar
I have linked this recipe with We Should Cocoa at Tin and Thyme .
Here is another fabulous Chocolate Cake recipe here https://wp.me/p8B7Ya-1LY
PIN IT FOR LATER!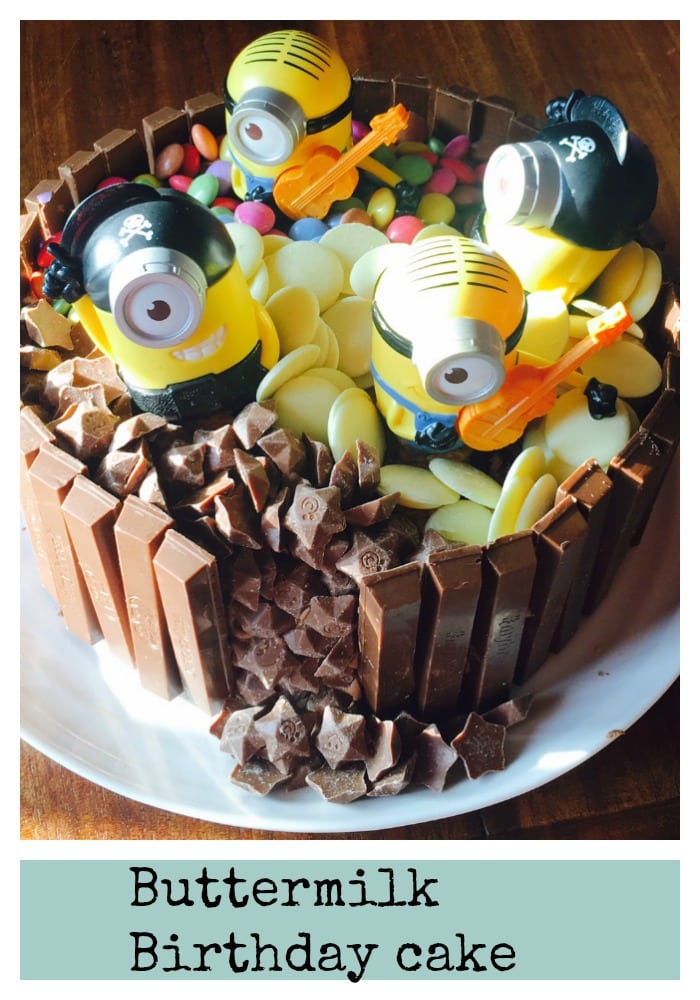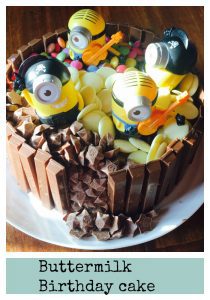 Here is another of my children's Birthday Cakes