Halloween Party Food
...
Hello All Hallows' Evening,the first day of all Hallow Tide,the festival of the dead-I have been waiting for you.................
Halloween in its glorious present form is a relative recent addition to British culture borrowed from across the pond.In my childhood Halloween didn't feature at all.We didn't go trick or treating and my parents definitely didn't beckon the neighbourhood youth to their door with a Halloween light at the window and Tupperware brimming with treats.We were lucky to get a Caramac at the weekend to be honest.But once at secondary school my best friend and I were torn in equal measures between tales of Simon Le Bon, John Taylor and Nick Rhodes (the other two were a bit boring) and tales of all that was spooky and supernatural.We couldn't get enough.
Our favourite tale was a local legend about a wonderful ghoulish horseman called One Handed Boughton, he was one handed after an unfortunate sword fight (you don't say). His kin had owned the family seat, Lawford Hall and when he was alive he would terrorise the local villagers by careering around the lanes in his coach pulled by six grey horses, narrowly missing little Bob on his way to the Mill.The terror continued however when after his death he still continued his boy racing, resplendent in red coat and breeches, his six horses,manes flying,as they dashed irresponsibly around the local area.
These ghostly apparitions were said to be more likely on All Hallows' Eve - cue slightly hysterical teenagers crammed into a steamed up Fiesta sitting outside the old family home,now a hotel, terrified right down to their turned up chinos, stripy tops and chunky lace ups-and we were not alone, several other cars were parked around us - that is unless we had stumbled across.................?.
Hearts thumping out of our chests we sat there and waited.......and waited.......but alas or thank God One Handed Boughton appeared to have stage fright and we never got to meet the cavalier coachman personally .Not that that wavered in our belief in said spectre, he must have been busy washing his wheels or the moon wasn't in the right ascension obviously.
We were stalwart and or stupid and returned in subsequent years, again to no avail (fancy that). I hear the legend lives on and cars still park in that lane on Halloween, probably full of similar gullible teenagers either that or do....s???
Anyways my children are young and so Halloween to them is safe but scary, more rabid pumpkins than ouji boards. Its about screaming with their friends and collecting as many sweets and chocolates as is humanly possible-childhood bliss-probably morally and nutritionally very flawed but I'm not above raiding their buckets once they're fast asleep either, their hands clasped in sticky repose.
Halloween Treats
The other huge bonus for me is the Halloween tea party before the off. I assure its annual appearance, not only to establish a family tradition but because I simply love Snot Jelly, White Chocolate Eye Balls, Brain Cakes, Dead Men's Fingers and Sausage Mummies. Unbridled tacky enjoyment. But I am about as ham fisted as they come so simple assembly jobs are a must.Think cooking by numbers.
Pizza Hands are just cut out of cheese and tomato pizzas using my hand as a template.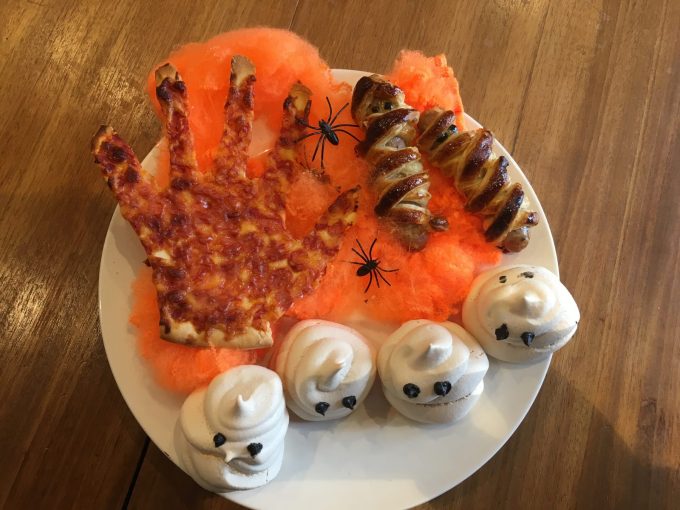 Ghost meringues are usual meringue recipe but scaled down for 6 ghosts here with 2 egg whites but you can scale up or down to suit using 50g caster sugar for each egg white.Then blob on eyes using black icing(I buy a pot of the stuff already made)
Sausage Mummies are simply chipolatas wrapped in thin strips of bought puff pastry pre rolled.Wrap the strips round tightly (leave space for eyes)and make sure joins are on the bottom when baked.Brush with egg wash,bake and when cooled or a little warm make eyes with black icing.
Spooky cup cakes.I make cupcakes or buy them and buy a pot of orange frosting.I cover them all then decorate individually:-
Pumpkins-I used a knife to make downward stripes.Then piped/blobbed on eyes,nose and mouth.Used a piece of chocolate matchmaker for stem and bought writing icing tubes and used a green one for leaves.See heading photo.
Gravestones-I bought chocolate covered Bonne Maman Madelaine's and used my pre bought writing icing to pipe on RIP. Simples. See heading photo.
Brains-I used pre bought pink icing to cover half the fairy cake with a continuous snake leaving no gaps and then repeated on the other half.I then gently brushed with jam(make sure it's thin so as not to squash the icing)See heading photo.
Spiders-I used a large chocolate body for body and a Malteser for the head.Then piped on eight black legs.
General-I covered the rest in bought black icing and used bought decorations to sprinkle.
White chocolate eyeballs-I used Lindt white chocolates and used black icing to fix a blue Smartie onto it.I then used red writing icing in a tube to pipe on red capillaries.I used wooden skewers to stick into some of the cupcakes.See heading photo.
Gingerbread Mummies-I bought large plain Gingerbread men and then piped bought white icing in a bandage fashion and used black icing for eyes. See heading photo.
I always like to do a statement cake but again it's got to be easy peasy and this is.I discovered it last year on YouTube and it worked a dream.Have a look on you tube there are lots on there.
Brain Cake Recipe.
If You Like These Recipes You May Like These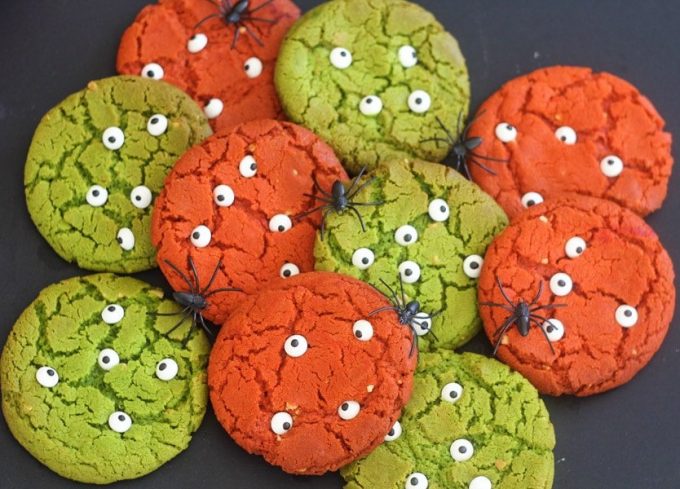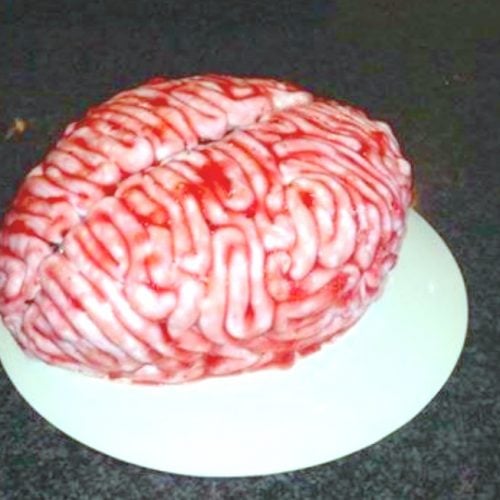 Brain Cake
This is a stunner of a cake and the centre piece of a Halloween Table. It is very simple to make. The children could even help you make it.
Total Time
1
hour
15
minutes
Ingredients
225

g

Plain flour

350

g

Caster Sugar

85

g

Cocoa Powder

1 ½

tsp

Baking Powder

1 ½

tsp

Bicarbonate of Soda

2

large

Eggs

250

ml

of Milk

125

ml

of Vegetable Oil

2

tsp

of Vanilla Extract

250

ml

of Boiling Water

1

kg

Fondant Icing Pink or add red food colouring to achieve desired shade.Rolled into rolls of about little finger thickness.

Strawberry Jam for blobbing gently all over for bloody effect.
Instructions
Beat cake ingredients except boiling water together well.

Add boiling water until a thin batter.

Pour into tin and bake accordingly in 170 C oven(150 fan)for 35-45 mins.You will have to keep a close eye on it as I can only give rough cooking times as not sure what tins you are cooking in. Use a skewer to check. It should come out clean.

Carve cooled cake carefully to a brain shape and brush with strawberry jam. It is a chunky oval shape with a flat bottom and slightly wider at one end. Have a picture in front of you of the finished item. Don't forget the icing will hide lots!

Pinch off pieces of fondant icing and roll them into worm like pieces about 1 cm thick.Start placing on your fondant icing by using the worms to make a squiggle pattern. See photo. Figuratively split your cake in half. It really is very forgiving as you just keep going in a snake/maze like pattern.Then repeat on the other half. Indent the middle channel slightly.

Blob generous amount of Strawberry Jam on top for glorious gore.

A further dramatic flourish would be a carving knife plunged askew in the centre.
Recipe Notes
I used a stainless steel bowl 25cm wide and 12 cm deep.
Nutrition Facts
Brain Cake
Amount Per Serving
Calories 646
Calories from Fat 207
% Daily Value*
Fat 23g35%
Cholesterol 44mg15%
Sodium 318mg14%
Potassium 310mg9%
Carbohydrates 106g35%
Protein 6g12%
Vitamin A 100IU2%
Vitamin C 1.7mg2%
Calcium 87mg9%
Iron 2.7mg15%
* Percent Daily Values are based on a 2000 calorie diet.