This Chocolate, Raspberry and Passionfruit tart with an Oreo biscuit base is sublime. Perfect for a family gathering or special occasion. Just delicious…
Where's the Chocolate?
Oh my lord I have been struck down with the mofo flu. Whether it heralded from Australia, Asia, pigs or birds I care not a testicle. All I know is that I have been drowning in snot, sweat, aches and shivers for what seems like a month. I feared it would never lift and I would be left a shuffling shell filled with mucas, exuding halitosis and clothed in the same damp, clammy t-shirt and tracksuit bottoms that do nothing for my thighs (it would be a most clever cut of cloth that did) for ever ………….Through out all my mucousy malaise, one symptom brought me significantly more suffering than all of the above……….I lost my sense of taste.
What an empty world it became. The lowest point was when I ate an entire Big Mac Meal with not even the slightest hint of two all beef patties, special sauce, lettuce, cheese, pickles, onions on a sesame seed bun………..Obvs I still stuffed it in…..but what a waste………what a terrible, terrible waste…………. Due to massive weight gain I usually only allow myself a damn Happy Meal and so was just trying to find some sweet joy in the bleak flu  landscape that had become my life. At this point my life flashed before me and I resolved to devote myself to the caring of others completely if only I could retrieve my sense of taste. I was willing to do anything, anything if just to savour a sausage once more, taste a tangerine or relish some relish……I was lost, pathetic and looked like a bag lady with a very nasty and possibly highly contagious skin condition surrounding her nostrils.
Bucket List
Eventually I found some fight and managed to kick the flu's butt out of town but not before I had mentally made a huge  bucket list of foods that I must taste swiftly again. Once the Big Mac was out of the way I  able to settle down somewhat to a steady ticking off and this recipe for Chocolate, Passionfruit and Raspberry Tart was about number 5. For a longtime I have been wanting to make this Chocolate Tart mainly because of the Oreo base. It has been calling to me after I made an Ice-cream Cake with Oreo crumbs and it really blew me away. Oreo crumbs are magnificent, the deeply dark equivalent of Biscoff Crumbs. In my opinion truly mighty ingredients. The combo here of the fruits with the rich chocolate gives my rejuvenated taste buds a real taste sensation. One most worthy of a triumphant return to the land of the living and the fully dressed.
Is it a Chocolate Pie Recipe?
This Chocolate Tart recipe is quite simple if just a tiny bit fiddly. As always I use my food processor to blitz the biscuit bottom and also this time to blitz the Passion Fruit pulp. I still am not sure if it is a Chocolate Pie or Tart Recipe? It is both a light and chunky dessert and I am not convinced either way. I use a 25 cm deep dish pie dish. This feeds a lot of people
The most fiddly bit is the folding in of the cream to the chocolate mixture. You have to have patience and the right technique. Boring I'm afraid…..
But so worth it Sister.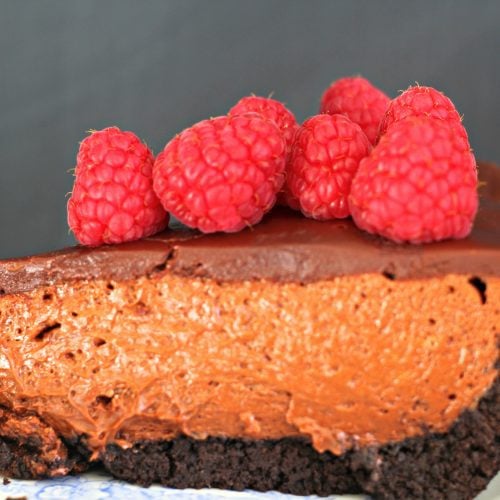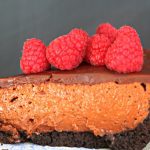 Chocolate, Passion Fruit and Raspberry Tart.
This Chocolate, Passion Fruit and Raspberry Tart is a little piece of Chocolate Heaven. It is rich but smothered with Cream you can manage another slice.There is no baking involved but a few hours of setting before the pouring on of the Chocolate Ganache is required. I used a 25 cm flan dish. Fill your Chocolate Face.
Ingredients
300

grams

Oreo Biscuits

2

tbsp

cocoa powder

100

grams

unsalted butter

melted
Chocolate and Passion Fruit Mousse
200

grams

dark chocolate

quality cooking

200

grams

milk chocolate

quality cooking

100

grams

caster sugar

75

grams

unsalted butter

soft

2

medium

egg yolks

6

passion fruit pulp

including seeds

300

mls

double cream
Chocolate Ganache
100

grams

dark chocolate

100

grams

milk chocolate

60

mls

liquid glucose

400g

raspberries
Instructions
Tart Base
Blitz the cookies (including the filling) and the butter in a food processor.

Tip it into your dish and press it out evenly to form sides and a smooth bottom. I use the back of a spoon or my fingers. Take some time to try to ensure it's even.
Chocolate and Passion Fruit Mousse
Melt the chocolate, sugar and butter in a bowl over a simmering saucepan of water. Don't let the water touch the base of the bowl or the choc may go grainy. Stir until smooth and allow to cool.

Scoop out all the pulp from the passion fruit into a food processor. A strangely satisfying process. Blitz for twenty seconds or so and then sieve the liquid to remove the seeds. Set the juice aside.

Whisk the egg yolks and passion fruit puree into the chocolate mixture.

In a separate bowl whisk the cream until pillowy and thick and mix a couple of big tbsp into the chocolate mixture. Fold the rest of the cream in, taking care not to knock out the air. Stay strong.

Leave to set in the fridge for a couple of hours.
Chocolate Ganache
Melt the chocolate and glucose syrup again over a bowl of simmering water. Stir to combine and then allow to cool a little.

Pour over the mousse and shake to fill any holes. I found this a bit tricky I must admit. I think in hindsight my ganache was a little too thick and I should have added more glucose-maybe a tsp - so if it doesn't pour easily then thin a little. Above all don't spread by hand or the finish will be ruined. A shake and a shimmy is all that is allowed I'm afraid.

Return to the fridge for an hour before decorating the top with raspberries.

Apply to Hysterically Thankful Face.
Recipe Notes
I strongly suggest that this is served at more or less room temperature. I based this recipe on Chocolate Mousse and Passion Fruit Tart from Delicious. Magazine.
Nutrition Facts
Chocolate, Passion Fruit and Raspberry Tart.
Amount Per Serving
Calories 725
Calories from Fat 414
% Daily Value*
Fat 46g71%
Cholesterol 98mg33%
Sodium 156mg7%
Potassium 589mg17%
Carbohydrates 77g26%
Protein 7g14%
Vitamin A 1345IU27%
Vitamin C 30.4mg37%
Calcium 76mg8%
Iron 7.2mg40%
* Percent Daily Values are based on a 2000 calorie diet.
Here is another Fill your Face Chocolate Pudding – Chocolate Mousse.
White Chocolate and Raspberry Roulade
Chocolate and Raspberry Pavlova
Pin me for later
I have linked this post with Recipe of the Week over at A Mummy Too and Cook, Blog, Share over at Hijacked by Twins.