This recipe for Chicken and Mushroom Pie is comfort food at it's best. I adore pie and this one is one of my faves. Served with mash and greens it's a huge family favourite.
But First Some Half-Term Hell.
I cannot tell you how ready I am for the children to return their little asses to School. I am right in the middle of a peri menopausal breakdown and only wine and fat knacker plates of food are getting me through. It seems that every holiday brings me to my binging knees. I'm not sure if it's the actual children's behaviour or the pressure I put  myself under to be Mary Poppins on Cocaine that spawns  my desperate search for solace in serious carbs and wine. I find myself dispensing vigilante justice at every turn as my hormones take me on a ruthless sweaty roller coaster of  w.t.f  insomnia and swinging psychopathic behaviour whilst my children demand  unlimited sugary snacks and 24 hour access to Minecraft. Where I imagined idyllic hand held spring walks through the fields filled with daffodils and frolicking new born lambs there has been  serious sibling violence and  cut throat rivalry. Where I imagined my home filled with much fun and jolly laughter as we  played board games together before baking cute little biscuits which I posted proudly on Instagram for much peer group admiration, there has been unashamed epileptic like Kevin and Perry tantrums upon removal of electrical devices. There has been  loss of language and insertion of fake crying and urgent monkey noises for" Yes Please" and "Thank you Very Much Mummy" for all the delicious unhealthy crap, drinks, tomato sauce and chargers that you bring twenty times a day direct to our chairs/pits in a servant like manner". The floor underneath and around these chairs of slovenliness is seemingly always strewn with discarded, crumpled Easter Egg wrappers  and pieces of chocolate covered in fluff and dog hair, as well as really rubbish Happy Meal toys, odd socks, empty but crusty yoghurt pots and one shrivelled pea. The real truth is I gave up on vegetables and housework as well as any personal hygiene halfway through the first week. I had bigger problems. I feel and look like I've been through a long illness that miraculously allowed me to keep my appetite. For the love of God give me the Pie and a pair of functioning ovaries.
This is a Pie of solace and respite. An old fashioned Chicken and Mushroom Pie with pastry that takes  absolutely no nonsense. For an easier and equally delicious time just use 500g of ready made puff pastry.
   PIN ME FOR LATER!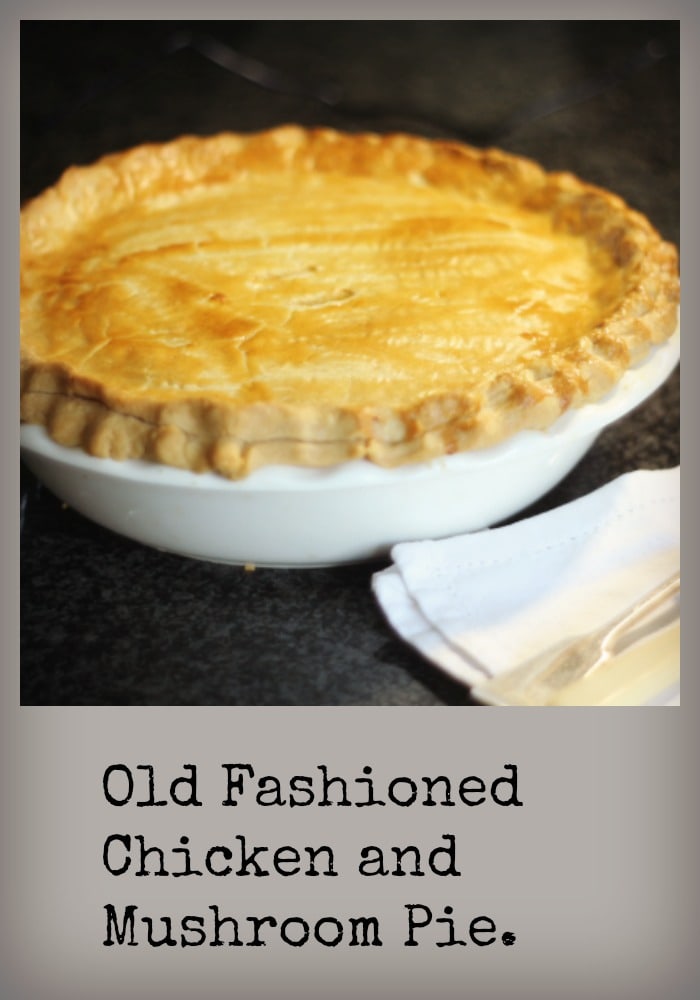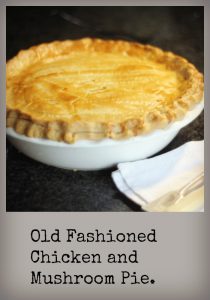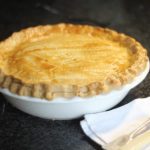 Chicken and Mushroom Respite Pie.
This is a Pie of solace and respite. An old fashioned Chicken and Mushroom Pie with pastry that takes absolutely no nonsense.For an easier and equally delicious time just replace with ready made puff pastry.
Total Time
1
hour
30
minutes
Ingredients
4

chicken breasts

350g

button mushroom

2

bay leaves

1 litre

milk

200ml

cream

optional

1

onion

roughly chopped

2 large

thyme sprigs

2 tsp

English Mustard

50g

plain flour

50g

butter

1/2

nutmeg

grated

1

chicken stock cube
Instructions
Put the flour and butter in a food processor and pulse until it looks like sand. Add 2 or 3 tbsp of cold water and pulse until it starts to come together. Add more water if needed by the tbsp. Just as it starts to come together tip out onto the work surface and knead until it is pliable. Cover it in clingfilm and chill. The picture shows the mixture ready to turn out onto the work surface

Preheat oven to 180 C. Put the milk, chicken, onion, bay leaves and crumbled stock cube in a saucepan and simmer for 15 minutes. Strain liquid into a jug and cut up chicken into chunks.

Put mushrooms and 50g of butter in a frying pan and fry for five mins. Sprinkle the 50g of flour over the mushrooms and stir in thoroughly. Add the thyme sprigs and mustard followed by the strained milk and bring to a simmer until thickened. Keep stirring throughout. Simmer for ten minutes ,add the cream and chicken and season to taste.Take your time tasting for this.I sometimes add Knorr Touch of Taste Chicken to add extra seasoning and chicken flavour. Remove the thyme sprigs.

If using the shortcrust pastry divide into 2/3 and a 1/3 and roll out 2 circles to a pound coin thickness and line the pie dish with the bigger circle leaving an overhang and fill the pie with the filling. If using puff fill the pie dish with the filling and apply 2 cm strips around the rim of the pie dish. Trim the over hang with a knife. Brush the rims with water.

Place the pastry lid on top and pinch the edges shut with your fingers or a fork. Make two 2 cm slits in the middle of the pie to let steam escape. Brush all over with the egg wash.

Bake the shortcrust pie for about 45 minutes and the puff pie for about 30 minutes. If either start to catch on top then cover with silver foil.

Apply to Wild Eyed And Manic Face.
Recipe Notes
I use a 22cm pie dish. You could make this pie a few hours ahead and leave in the fridge. I would add five mins extra cooking time for this. I serve with buttery mash and greens.
Nutrition Facts
Chicken and Mushroom Respite Pie.
Amount Per Serving
Calories 643
Calories from Fat 243
% Daily Value*
Fat 27g42%
Cholesterol 160mg53%
Sodium 465mg20%
Potassium 4328mg124%
Carbohydrates 47g16%
Protein 69g138%
Vitamin A 745IU15%
Vitamin C 27.9mg34%
Calcium 70mg7%
Iron 6.8mg38%
* Percent Daily Values are based on a 2000 calorie diet.