This doughnut recipe is my daughters absolute favourite and isn't that good reason alone to shout about it. It must be good if it makes her ask for it every school holiday. Soft inside and crispy on the out, these fluffy doughnuts rolled in sugar and filled with jam are apparently a real winner.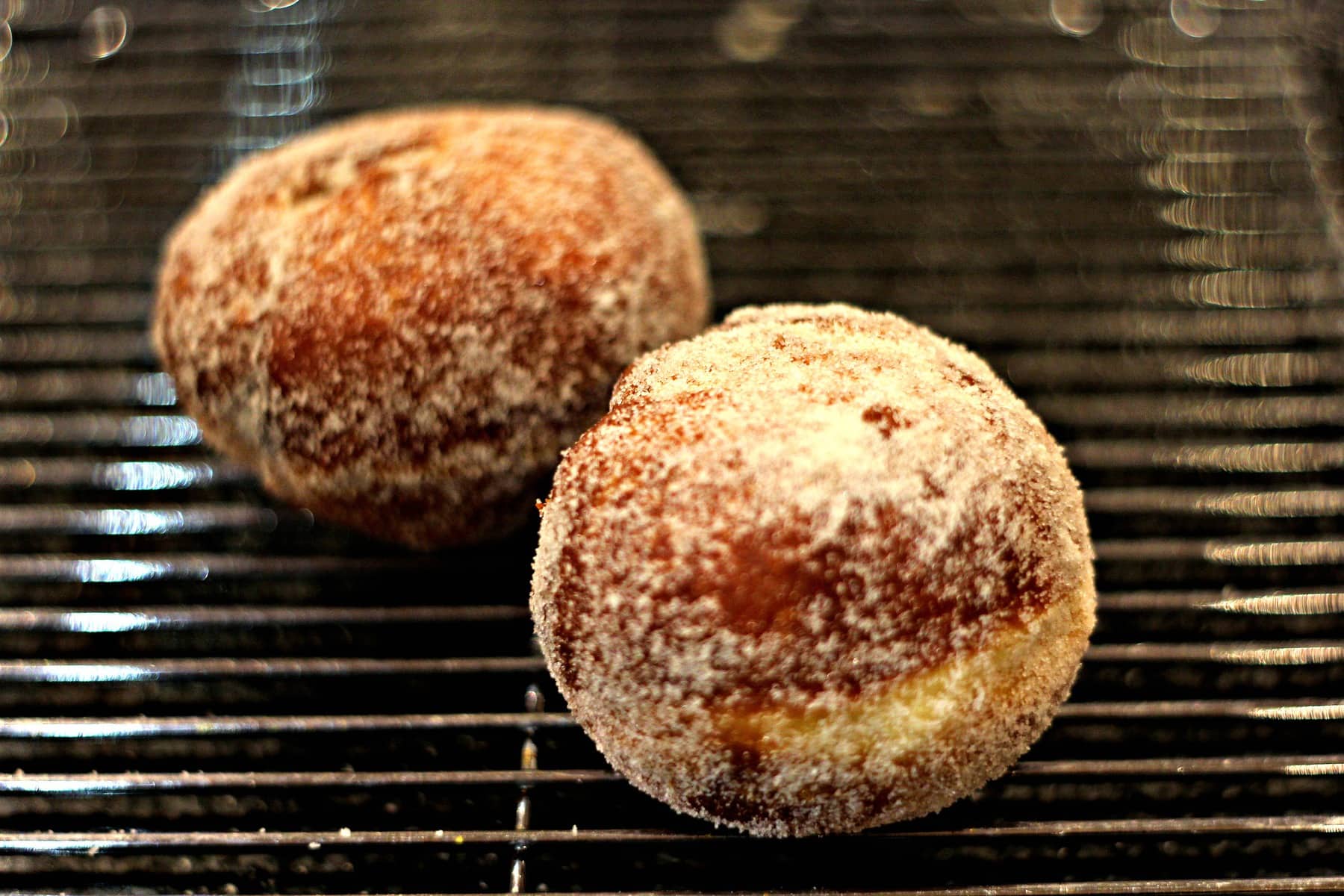 But first.....some gorging.....
I am the size of a fat, pregnant Hippopotamus. I cannot stop filling my cake hole nor stop thinking about filling my cake hole. Gone are the days of surviving on coffee and cigarettes. I could do that easily for some reason but nowadays I only find release and comfort in cake, chips and all things fabulously cheesy.
I have a paunch that starts at my front bottom and rises to my waist in a gentle slope of blubber. WTFlip? When did that arrive? What is that even called??
I feel outraged enough about it when I get dressed every morning but by the time I'm parallel with the fridge I'm up to my jowls in left overs. I fill my fridge with soup, hummus and carrot sticks but just eat all of that as well as the left over Pie or Lasagna or have to make a door stop sandwich with the Tuna and Mayo.
My clothes are literally bursting at the seams as I significantly compress many of my organs into my lung cavity whenever I do up my jeans. That used to be a right of passage in my youth but now it's frankly doing nothing for my muffin tops or I.B.S.
So after a half term of indulging my children and of course myself in sugar, crap and cheap carbs and literally loving every gorgeous mouthful. I know I must now turn my face into the bitter, icy wind and find my steely resolve.
Jam Doughnuts
I made these twice over half term and saddo that I am I cannot tell you how happy they made me. I loved eating them myself of course but loved being able to give my children a homemade doughnut more.
I'm sure it has some psychological roots in all the Enid Blyton books I read as a child about fantastic spreads with jam doughnuts and lashings of ginger beer. But that said I hate ginger beer and they do taste seriously, outstandingly, amazingly good all on their own.
My children couldn't get enough and were excited in a way that they usually reserve for Minecraft or killing each other and that made me feel good all the way down to my deepest back fat.
Making feel good food for my children so that they will remember good times when they are older really floats my boat. That way I feel I will be able to reach out and give them a momma squeeze of love even when we are apart. Psycho mother stalking bitch that I am......
This is a fabulous recipe from John Whaite that I found in Lisa Faulkner's brilliant book Tea & Cake. Soft, fluffy doughnuts rolled in sugar and filled with jam.........
Doughnut Recipe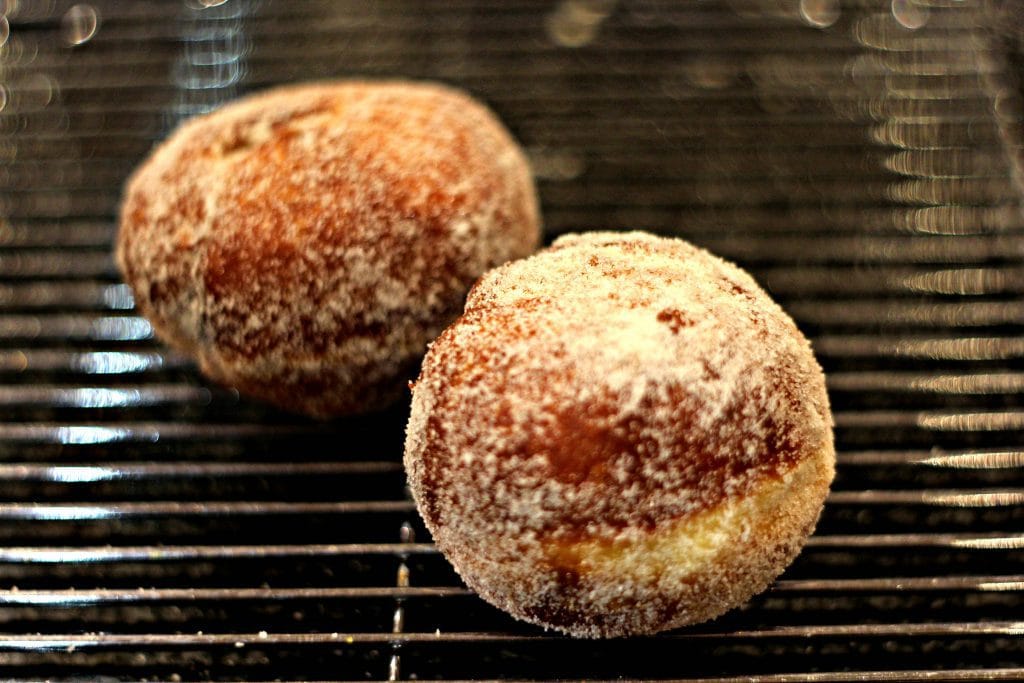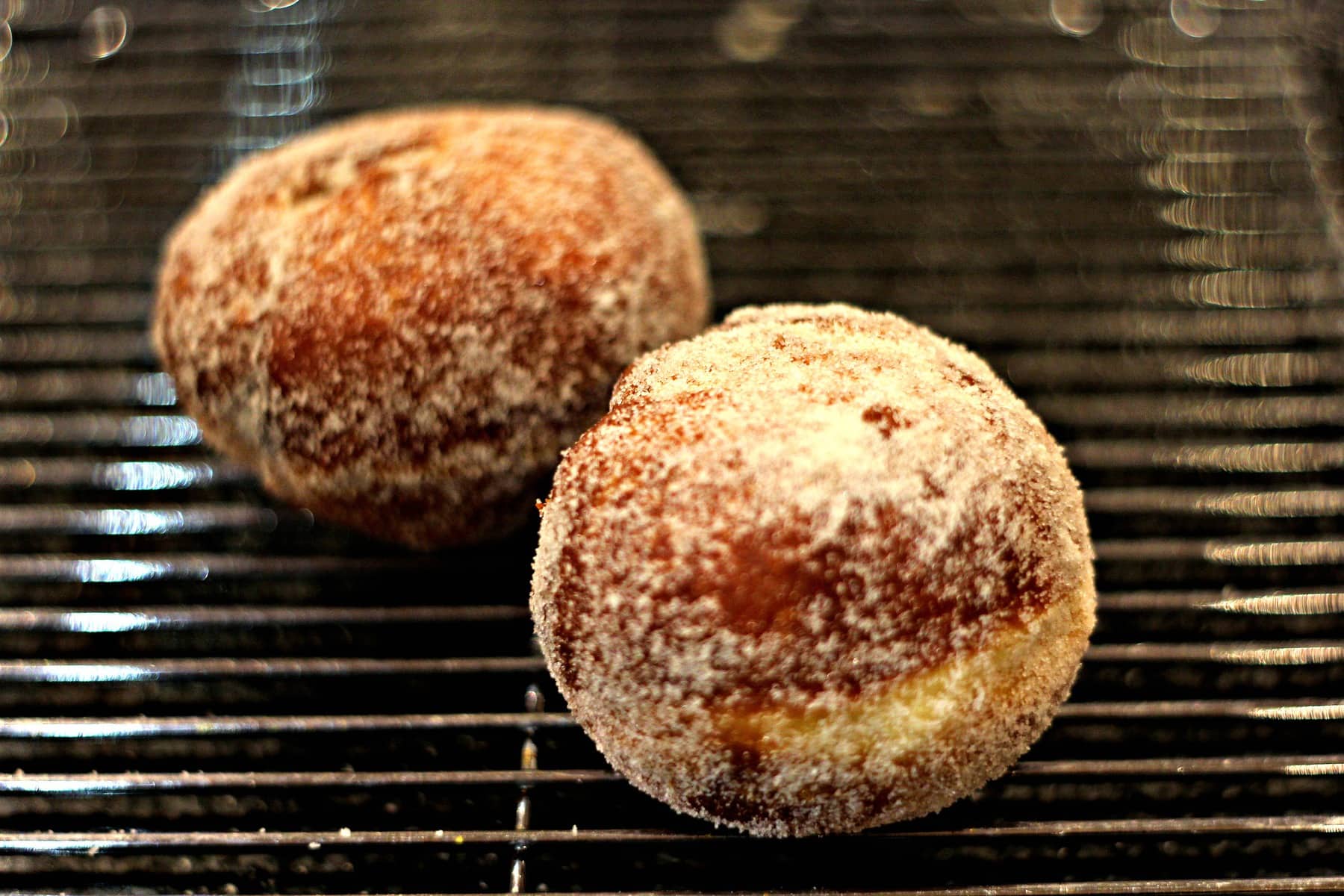 The trick here is to be organised with Doughnuts.
The ingredients come together in my free standing mixer and dough hook. However you can use a large mixing bowl and wooden spoon before tipping the dough out onto a work surface and kneading until the dough is smooth and elastic.
Cover and leave somewhere warm to double in size.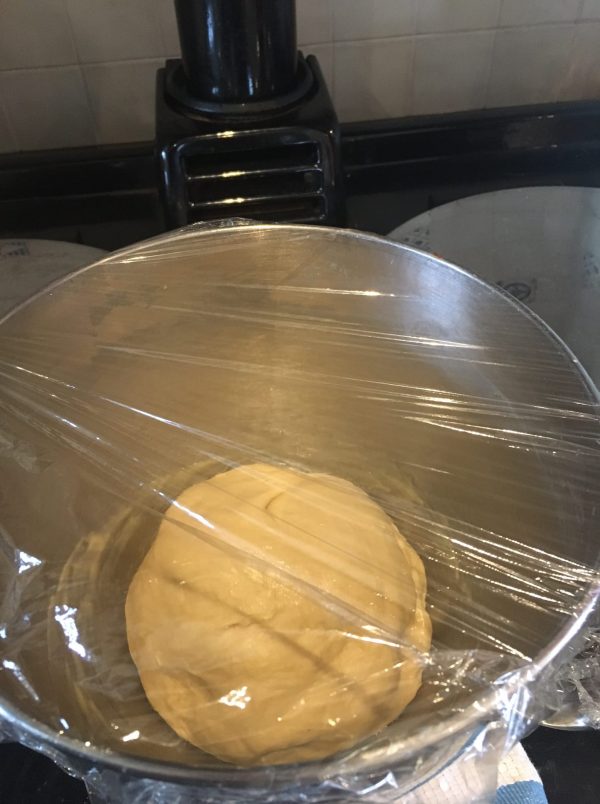 After the First Prove

Knock back your dough and then divide into 10 balls. I use a set of scales to get them roughly the same size.
Cover and leave to rise again somewhere warm.
15 mins before you are ready to fry the doughnuts heat up your oil. I have a deep fat fryer so can set the temp quite easily. You can use a deep saucepan and sunflower oil. Only fill the oil up to halfway on the saucepan as it rises a lot as it bubbles. Do not leave the oil unattended. See here for more safety tips when frying with oil.
Make sure the oil gets up to the temperature otherwise your doughnuts may absorb too much oil. I recommend a sugar thermometer.
Then follows an intense time whilst you fry the doughnuts for 3 minutes on each side. I only do two at a time.
It is important to have everything ready. Blotting (kitchen) Paper, Sugar and Wire Rack.
As they come out of the oil they need to go straight onto blotting paper before a really good roll in the sugar.
I then put them on a wire rack to wait for their friends.
Allow to cool for ten minutes before making a small but deep slit in the sides and piping in your jam.
More Doughnut Tips
I also use a timer.
I have the Jam ready to be piped in after making a deep slit in the side of the doughnuts.
I use a nozzle with a small round hole 2 or 3 mm wide.
I strain my jam beforehand to make sure there are no lumps for piping.
You can use anything you fancy to fill the doughnuts as long as it's pipeable.
I sometimes use my Stewed Apples and put some cinnamon in the caster sugar that I roll them in.
I do whizz the apple puree in the food processor for 10 seconds or so before putting in the piping bag.
Make sure you have everything ready before you begin frying.
These are best eaten on the day they are made.
To make them gluten free then substitute the bread flour for gluten-free bread flour.
Can You Freeze Doughnuts
Yes you can. Freeze as soon as possible and double wrap in silver foil and a freezer bag or similar. They may require another roll in sugar to freshen up.
Freeze up to 2 months.
Thaw at room temperature.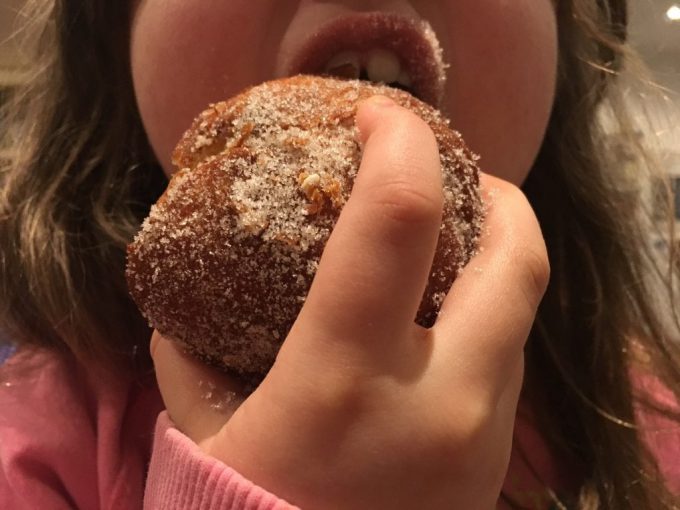 If you like this recipe you may like these.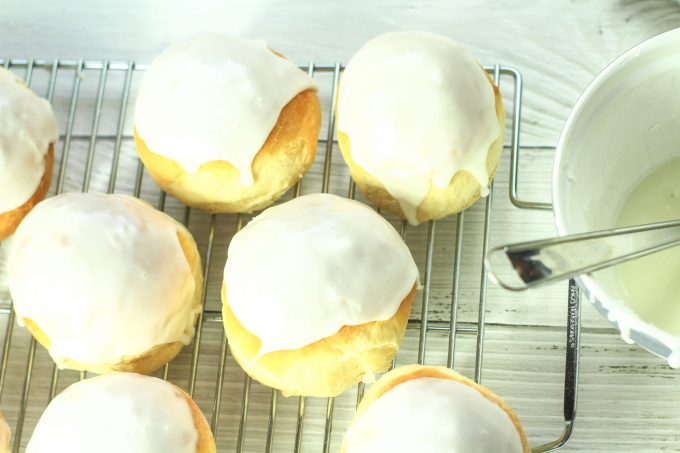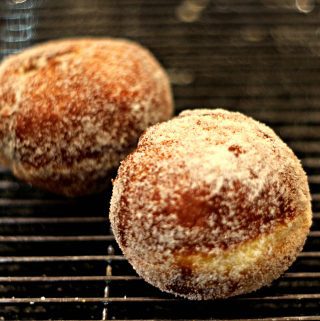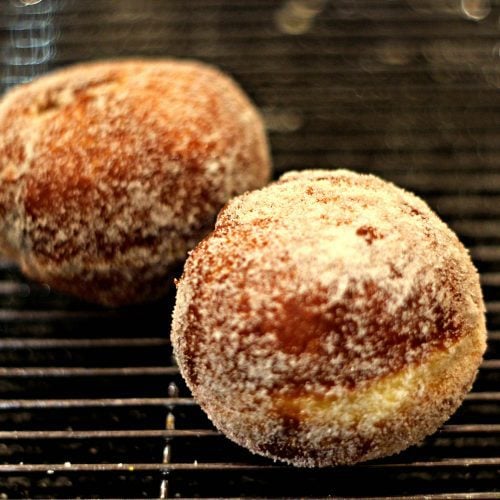 Doughnuts
This recipe for Doughnuts is DELICIOUS! Soft, fluffy and crisp on the outside they are divine not to mention the sweet jam within. One is never enough!
Ingredients
500

g

strong white flour

10

g

salt

50

g

caster sugar

7

g

fast action yeast sachet

240

ml

milk

40

g

of unsalted butter

2

eggs

4

tbsp

jam for filling doughnuts

caster sugar for rolling the doughnuts
Instructions
Put the flour in a large mixing bowl and stir in the sugar and salt before adding the yeast.

Warm the milk and butter gently just until the butter melts. Remove from the heat and add the eggs and beat them in too.

Slowly pour the liquid ingredients into the mixing bowl and mix well to combine. I then use my dough hook on my food mixer to mix on a low speed for about five mins.

You can knead for ten mins using a dough scraper as the mixture is quite wet. I left mine mixing in the food mixer for longer than five mins as it was quite sticky and took that long to firm up.

When the dough becomes smooth and elastic, put it into a clean bowl, cover with clingfilm and leave to rise for 1 hour.

After the dough has risen, knock it back, weigh it into 10 equal pieces and roll into balls. I roll them between my hand and the worksurface quite firmly so that the balls are quite tight!

Cover with oiled clingfilm and leave to rise somewhere warm for 45 mins.

Put the jam in a saucepan and heat gently before putting through a sieve to remove any lumpy bits.

I used my deep fat fryer but you can pour 3 litres of sunflower oil into a deep frying pan.

If using a pan make sure you have not filled your pan up more than just under half full as the oil will bubble up significantly.

Do not leave the hot fat unattended.

Fifteen mins before the buns will be ready heat the deep fat fryer to 170 C or if without a thermometer drop a cube of bread in to check for sizzling.

Fry the buns for 3 mins each side, turning them over carefully with a slotted spoon.

Remove from the fryer with the slotted spoon and rest on some kitchen towel before moving to a wire rack for cooling.

When cool enough to handle roll these glorious buns in sugar and return to the wire rack.

I left half of my doughnuts plain as I and my son prefer them that way but for the remaining doughnuts make a small but deep slit in the side with a knife and using a piping bag and nozzle filled with the strained jam fill the doughnuts.

Apply to Half Term Happy, Jammy Face.
Nutrition
Calories:
281
kcal
|
Carbohydrates:
50
g
|
Protein:
7
g
|
Fat:
5
g
|
Saturated Fat:
2
g
|
Cholesterol:
43
mg
|
Sodium:
442
mg
|
Potassium:
110
mg
|
Fiber:
1
g
|
Sugar:
10
g
|
Vitamin A:
185
IU
|
Vitamin C:
0.7
mg
|
Calcium:
41
mg
|
Iron:
2.5
mg
All nutritional information is approximate and intended only as a guide.
Tried this recipe?
Take a pic and tag @applytofaceblog on Instagram. I would so love to see them!
Do let me know how you got on in the comments below. I love a good old hairy chin wag.