This Leek and Cauliflower Cheese Soup is both simple and delicious. It is a great flavour combo and perfect for a midweek meal or lunch dish.
Cauliflower Soup
But first ……..some binging…..
My weight loss  is sort of going to plan.I have managed to stop gorging on the fridge contents but only because they're not there any more. My name is Jenny and I am a Binger and as one of my  friends said to me, inside is a morbidly obese, chain smoking alcoholic that has to be trussed up at all times. She was talking about herself but it is totally me too. I would so love to spend all my  time  squiffy with a cigarette hanging out of my mouth (in a glamorous red lipstick way ) stuffing my face with chips, cake and huge bars of Galaxy whenever it simply took my fancy. Basically it's how I spent my twenties, lots of black Coffee, Cigarettes and Vodka with not an avocado or second thought in sight. God it was lush. But of course come your  thirties and the party's over. These unhealthy habits only bite you on the arse and give you an even bigger one with added dimples. So as I feel the cold hearted Mistress of Middleage's breath close on my shoulder  the time has come to leave the excesses behind, embrace the vegetable and step away from the Burger Van, Marlboro Lights and  Tequila…in the sure and certain hope that I will resemble Kylie Minogue  by April……..there has to be hope…
This is a bobby dazzler of a recipe for Cauliflower Cheese Soup. A perfect dish to help with your Cold Turkey. It's Cheesy and savoury and seriously delicious. It's blinkin ideal for Winter, full of vegetables that love each other and you could throw some pasta and chunks of ham to make a heartier meal if you needed something more and just as delicious. I usually serve homemade rolls, my Cheese Scones or toast with Soup. I don't think you can beat it but fresh Tiger Bread from Tesco comes a close second. Who needs a dirty kebab?….
Cauliflower Cheese Soup Recipe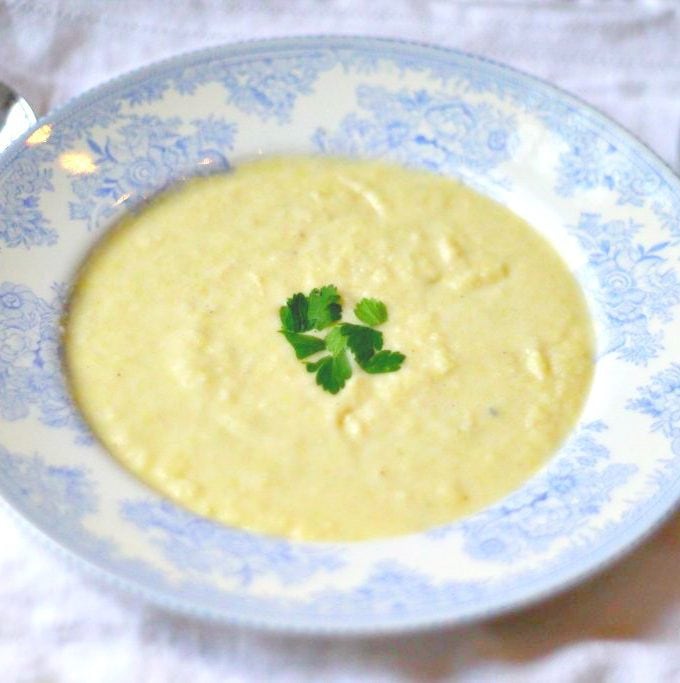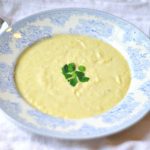 Easy Cauliflower Cheese Soup Recipe
This Cauliflower Cheese Soup with Leeks is super delicious and so easy to put together. Wonderful in the winter to feed the soul and warm the toes....
Ingredients
1

large

cauliflower

3

medium

leeks

1

litre

chicken/ vegetable stock

100

grams

mature cheddar cheese

50

grams

parmesan cheese

50

grams

butter

50

grams

flour

400

ml

milk

salt and pepper

knob of butter and 2 tbsps olive oil
Instructions
Fry chopped leeks in a large frying pan in a knob of butter and olive oil over a gentle heat, so as not to burn, for five mins or until soft. Putting a lid on top helps to soften them quicker.

Chop up the cauliflower into slices and add to the pan with the leeks and pour over the stock and leave to gently simmer with lid on until soft-about 15/20 mins .Be careful not to let the veg burn.

Meanwhile melt butter in a saucepan and then add flour and mix together to form a roux. Add the milk and using a whisk break down and disperse the roux within the added milk and bring to the boil while whisking. It will form lumps but if you keep whisking they will disappear and a shiny white sauce will appear. Keep the faith.

Add the cheese and simmer gently for ten mins. Either use a blending stick or a food processor to whizz the cheese sauce and contents of the vegetable pan together and season carefully to taste. I like to be generous with the pepper here. Add more stock or water if the soup is too thick.

Apply to Middle-Aged Jowls...
Recipe Notes
I like to be generous with the black pepper here. I love a little peppery kick in the colder weather.
Nutrition Facts
Easy Cauliflower Cheese Soup Recipe
Amount Per Serving
Calories 242
Calories from Fat 90
% Daily Value*
Fat 10g15%
Cholesterol 29mg10%
Sodium 317mg14%
Potassium 661mg19%
Carbohydrates 25g8%
Protein 14g28%
Vitamin A 1080IU22%
Vitamin C 72.8mg88%
Calcium 351mg35%
Iron 2.3mg13%
* Percent Daily Values are based on a 2000 calorie diet.
Here are some more fabulous soup recipes