Madeira Cake is an elegant and classic bake. Done well it is very, very good and a real crowd pleaser.
Lovely Bit Of Plain Cake.
The older I unfortunately get the plainer I like my cake. When I was young I can remember the absolute wonder of a Knickerbocker Glory or the plaintive and desperate desire for as many toppings as humanly possible on my bowl of ice-cream. But those days are long gone. Perhaps it is a sign of an aging stomach lining unable to cope with the complex digestion required or perhaps it is the inner wisdom of age, an analogy for life. Whatever the reason, I find that often it is a Madeira Cake that occupies my thoughts where once it was a Butterscotch Pecan Cheesecake or Maple and Walnut Layer Cake with enough frosting to swim in or at least get up your nose. I fantasize about an empty, silent house with this plain jane cake, warm with double cream and a big spoonful of cinnamon stewed fruit.  A stolen moment of deliciousness and indulgence that I must pay for in carrot sticks and no carbs at a later date. Finding solace in silence, stewed fruit and plain cake  leaves me feeling ancient as well as deeply satisfied. It may also suggest that I am beginning to have a problem with my teeth. Perhaps I should just embrace it all……."Pass me the tinned potatoes Margaret…….oh and that lovely big bit of cake"…….
Madeira Cake Recipe
This  Madeira Cake recipe is most suitably simple. I don't even sieve the flour and definitely no folding in. I avoid both if at all possible and it is here. The compote too is a one pot delight and the flavour combination of these two fruits is as good as any duo out there. I regularly make it into a crumble for an incredible pudding. There is a lot of fruit here and would serve 6 easily as a crumble but it keeps so incredibly well that it will last all week too, sat in the fridge, shouting out for a heat through and a dollop of creme fraiche. Oh Yesadoodle.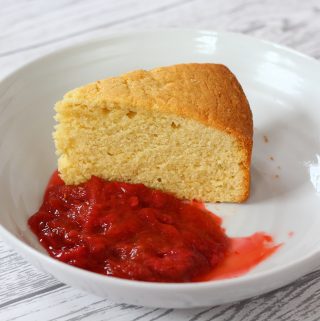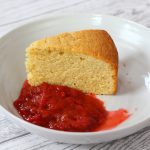 Madeira Cake and Rhubarb and Strawberry Compote.
This is a delicious and versatile cake perfect alone or served warm with this rhubarb and strawberry compote.
Cook Time
1
hour
30
minutes
Total Time
1
hour
45
minutes
Ingredients
Madeira Cake
200

grams

caster sugar

250

grams

self raising flour

1

tbsp

lemon extract

or the zest and juice of one lemon

200

grams

butter

4

medium

eggs
Rhubarb and Strawberry Compote
400

grams

rhubarb

trimmed into 1" chunks

400

grams

strawberries

washed and cut in half

100

grams

caster

sugar

2

tsp

cinnamon
Instructions
Madeira Cake
Pre- heat your oven to 170 C.

Line a non stick 8" cake tin.I use a spring-form loose bottomed tin about 6 cm deep. A standard one layer cake tin will not be deep enough. I use silicon baking cake tin liners as you can wash and use again. If you don't have these then grease and dust with flour.

Using a free standing mixer if possible as it is soooo much easier. Beat the butter and sugar together. You can use an electric hand whisk to do the same.

Add the eggs one at a time as well as the lemon extract. If the mixture curdles then add a tbsp of your measured flour. Add the flour on slow speed to avoid clouds of flour everywhere and then increase to a medium speed to mix together well.

Scrape out the mixture into your cake tin and bake for about 1 hour. Check after 50 minutes, make sure you don't overbake as it can become dry. Leave for ten mins to cool in the tin before turning out completely to cool on a wire rack. Be careful to place cake to cool on the flat side ( the bottom ) to avoid it splitting if the top is domed.
Rhubarb and Strawberry Compote
Place all the ingredients in a saucepan and bring to a bubble.Mash the fruit with a potato masher to just help it break up a little as it cooks.Simmer until cooked through and taste for personal sweetness. I like it this tart but it may be too tart for some.

This will keep in the fridge for at least a week. I also make the same amount for a crumble.225 g plain flour-80 g sugar -110 g unsalted butter whizzed in food processor until breadcrumbs and then sprinkled on top and baked for 30 mins or so until golden. It is absolutely divine this stuff. Feel free to substitute ginger instead of cinnamon. Whatever floats your boat.

Apply to Wise and Wrinkled Face.
Nutrition Facts
Madeira Cake and Rhubarb and Strawberry Compote.
Amount Per Serving
Calories 350
Calories from Fat 27
% Daily Value*
Fat 3g5%
Cholesterol 92mg31%
Sodium 39mg2%
Potassium 412mg12%
Carbohydrates 72g24%
Protein 9g18%
Vitamin A 185IU4%
Vitamin C 33.4mg40%
Calcium 80mg8%
Iron 1.7mg9%
* Percent Daily Values are based on a 2000 calorie diet.
Here are some other Fabulously Fruity Bakes – Strawberry Shortcake
Autumn Spiced Pumpkin Traybake