This Milk Chocolate Tart is perfect for all the family. My children find the Dark Chocolate Tarts too bitter so this is the recipe I go to for an Easter Sunday crowd pleaser. You can even get them to decorate it themselves with the chocolate eggs.
Easy Chocolate Tart.
But first........ some chocolate loving.....
As soon as Xmas is over the next sentence out of their chocolate smeared mouths is "How many sleeps until Easter?" Even I look forward to it. For some sick reason giving my children disgusting amounts of chocolate and watching them gorge on it for breakfast actually gets me as excited as a middle aged woman at a Rick Astley concert.....and that's excited I can tell you. I feel like a real life Chocolate Fairy I suppose although in reality dressing in a little tutu with wings and delivering chocolate would scar the little children deeply and most likely lead to an eating disorder of some sort. My thighs should be hidden from little children at all times. They are capable of ruining even a Centre Parcs midweek break.
So for the love of the children I remain without tutu and fully dressed even in the most sweltering of Spring weather. It is worth it just to be Chief Easter Supervisor and harbourer of all that is wonderfully chocolate. As the week progresses towards D Day I engage in whipping up the little darlings into an anticipatory frenzy. I blinkin love their innocent joy and excitement. They are completely free from food worry. They don't give a bl..dy fig whether it goes to their ass or whether it's one of their five a day. They are just focused on ramming as much in their mouth as possible and enjoying the Easter moment for what it is when you're a kid ........a chocolate gorge fest with a bit of Jesus thrown in. I will revert to extolling virtue and moderation come May.
I'm a Cadbury fat girl through and through and I must confess that I can't help but be a trifle disappointed for them at any Nestle or Thornton deliveries on the run up, especially those containing a mug. My cupboards are already rammed with horrible mismatching mugs that are dear to my heart for one reason or another, there is simply no room or desire at the Inn for a bloody KitKat one.
Even the posh chocolate doesn't cut it as far as I'm concerned. Bizarrely just one little Dairy Milk Buttons egg is enough to satiate my soul nowadays (give me cheese please Louise) but my hope for my children is an obscene amount. I want their eyes to widen with longing and Augustus Gloop anticipation of eating until they feel sick.
To that end and to add further hysteria I also put on an Easter Egg hunt in the garden. I carefully hide twenty or so eggs among the shrubbery and dog poop. It lasts for about fifteen minutes and always results in much physical violence, tantrums and complete breakdowns. Love it.
I also can't help but decorate my home in a wonderfully and TOTALLY unashamed twee Easter, Spring bunny, twig and blossom kind of a way. I am aware this may evoke feelings of nausea in the bah humbugs amongst you but I am unabashed......... Pass me the Cath Kidston bunting.
But of course the star of the show is always the Chocolate eggs. The more the merrier. I love to admire the growing hoard as the days pass and I frantically bulk buy a huge supply for children that are not my own, anxiously checking that I haven't forgotten one lone child that may stand crestfallen before me at any awkward Easter moment.
I love to pretend I'm a child as I stare at them all on the shelf and feel the Easter wonder once more. As hard as I try I can never quite seem to pull it off (that's what she said). I suppose it was just too long ago. I have the same problem with cartwheels.
So I am forced to live the Easter joy vicariously through my children. Something that I seem to find very easy in all areas of their lives, unfortunately for them. But all is usually well and my Easter home is filled with the hysterical cries of hyperactive and heavily chocolate smudged little people with very disgusting hands. Just as it should be.
A treasured annual moment of celebrated, magical wide eyed wonder and complete gluttony....Happy Easter
Milk Chocolate Tart Recipe
This is a delicious milk chocolate tart for the more junior palate. Dark chocolate tarts are too rich for some, especially the children, so this is a one size fits all Easter dessert. I just throw on some Easter mini eggs or suchlike to pimp it up appropriately. I use a 22 cm flan dish.
IF YOU LIKE THIS RECIPE YOU MAY LIKE THESE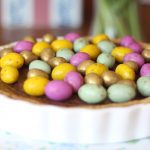 Chocolate Tart Recipe
This is an easy Chocolate Tart is great for children and adults alike. Perfect for a family get together and totally make ahead.
Total Time
1
hour
5
minutes
Ingredients
300

g

plain flour

150

g

unsalted butter

40

g

caster sugar

1-2

tbsp

cold water

For the chocolate filling

400

g 

quality milk cooking chocolate

450

ml

double cream
Instructions
To make the pastry see Boom Lemon Meringue Pie. Line your Tart dish with the pastry and trim off the excess. I try to leave the sides extra long as there will be some shrinkage. Put in the fridge for 30 minutes.

Preheat the oven to 180 C.

Bake blind (line the dish with baking parchment or suchlike and fill with ceramic baking beans) for 20 mins and then remove the lining and beans and bake the pastry naked for 5 mins or so until golden brown.

Bring the cream and milk to a boil and then immediately remove from the heat.

Pour over the broken up chocolate and stir until the chocolate is melted. This can take quite a bit of stirring! I use a whisk.

Beat in the eggs until well combined.

Turn the oven down to 160 C.

Carefully place in the oven for about 25 mins until there is still a full wobble in the middle.You need to watch carefully to make sure the tart doesn't catch. I pour half the mixture in and then carry the tart to the oven before pouring in the rest.

Allow to cool to room temperature before chilling in the fridge.Serving the tart chilled a little does improve the texture.

Decorate to suit your Easter stylee.

Apply to Gorging and Fabulously Smeared Chocolately Face.
PIN ME FOR LATER!
I have also linked this post with We should Cocoa at
Tin and Thyme
.