Panzanella.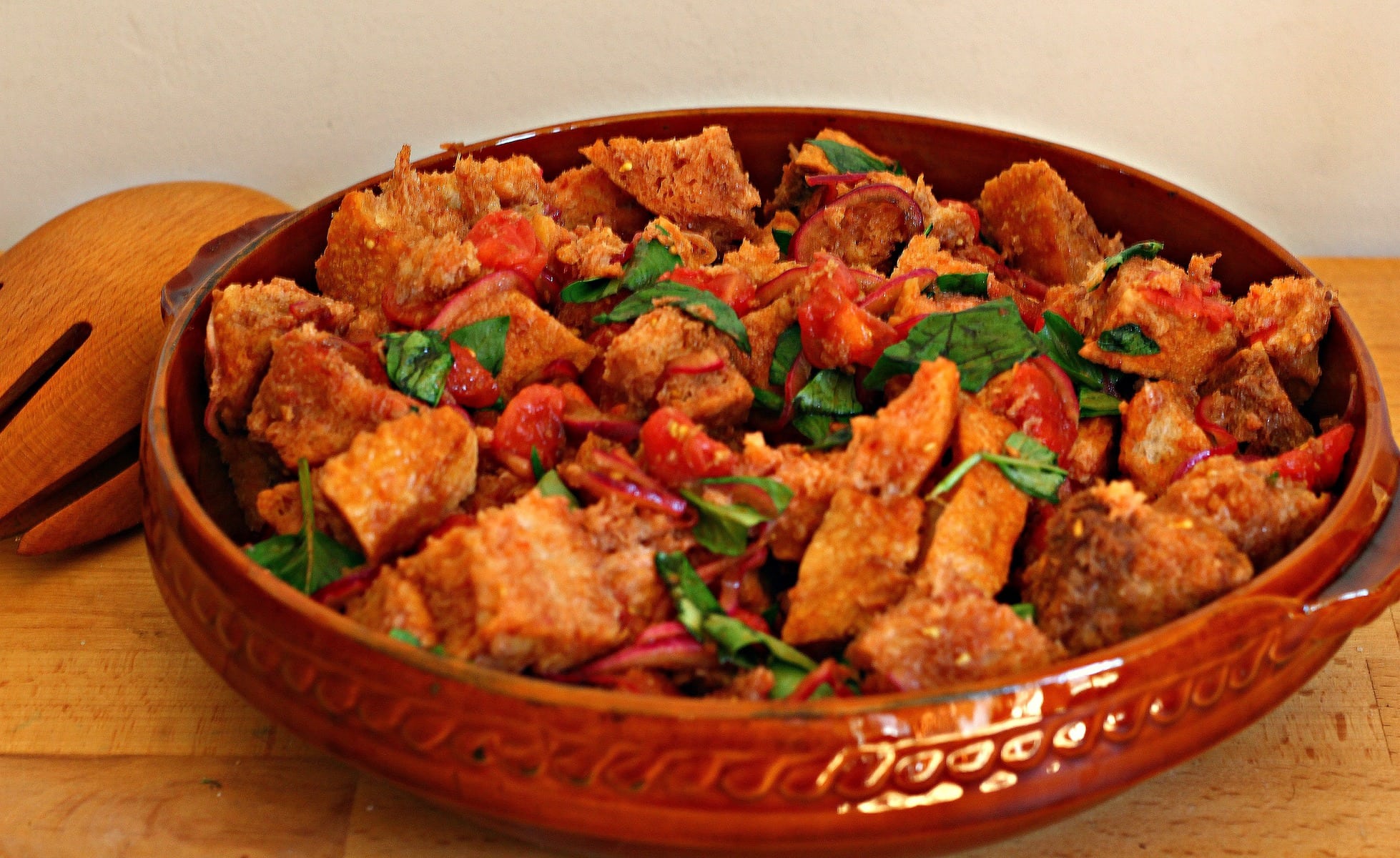 The summer is here, I'm not ready and neither is my lumpy beach body. As the heat rises and the sun bakes down, there is simply nowhere to hide. The choice very quickly becomes embarrassing under arm and fat roll sweatage  or an expose of cellulite clad upper arms and thighs. "Oh my Gawd look at her Butt."
So I embraced it yesterday and went for full exposure with an iron clad devil may care attitude and a no eye contact rule. That way I figured I could pretend that the cellulite that now encases my body from head to toe is a figment of my own imagination. Especially if I did not allow myself to register any one else's reactions…..a widening of eyes, a double take,  group pointing, that sort of thing and so in the spirit of  casting off my  inhibitions, I  set to this morning in a painstaking lower half  make over to remove all unwanted body hair. To my horror I discovered hair growth of a strange and errant quality. Since when did I grow or require pubic hair on the back of my thighs……….how long has it been there….how the f..k did it get there and the biggie, what if it moves to my chin? These are the pressing questions of many ladies of a certain age I now discover. Yet another malaise of the middle aged. Wiry hair growth in inappropriate places, often missed until a chance discovery or a brave friend happens along. All I can conclude is that it must be a cruel quirk of Mother Nature, perhaps an offshoot of cave living back in the day, an attempt  to keep us warm as old age approaches. If left alone would my thighs grow a thick and whiskery carpet of insulating pubic hair ??? Imagine. At least it would camouflage the cellulite. However on reflection, thanks but no thanks Mrs.N, don't worry about me, I can keep myself warm, I'll just wear tights….popsocks at a push.
This recipe nearly makes me forgive Mother Nature with all that she brings to the summer table, particularly with this stunningly simple but delicious Panzanella. I'd even put up with a few hairs on my chinny chin chin for a big bowl of this, al fresco at a bbq or casual summer dinner party. I have also served it alongside a Roast Chicken and Steaks with French Beans. It is companionable and eager to please, at it's best made at least six hours in advance so the flavours can steep and mellow. So suits me sir.
Here is another fabulous Salad link  Roast Butternut Squash Winter Salad.
This Panzanella Salad is truly delicious. A bright but mellow cocktail of sweet and deep- tomatoes and olive oil drenched chewy bread, with red onions steeped in balsamic vinegar and basil getting down and dirty amongst it all.Feel free to halve it for four people if catering for a smaller gathering. I used French Sour Dough, the bread needs to be robust to stay up to the drenching.
| | |
| --- | --- |
| | |
Cut or tear the bread into 1 inch chunks and set aside.I leave the crusts on.

Chop the red onion into thin half moons and place in a bowl big enough to take all the ingredients.

Pour the vinegar onto the onions and leave to steep for ten mins.Grate over the garlic and add the olive oil.

Boil the kettle then cover the tomatoes with boiling water and leave for about five mins.

Drain the tomatoes and using a sharp knife puncture the skin and the skin should shrink back in an enthusiastic manner.They should peel easily.If some are stubborn then repeat with the boiling water.

Cut the peeled tomatoes in half and using your thumb push/scoop the seeds out into a bowl.

Chop the tomatoes into 1 cm chunks.Add them to the main bowl. Add the salt and sugar and give all a rough mix.

Add the bread and tear in 3/4 basil. Give the whole lot a thorough toss. I use my bare hands but if you prefer you could wear plastic gloves.

Leave to steep overnight out of the fridge. Or I have made it first thing for a get together in the evening.

Scatter the remaining basil on top to serve and test for seasoning.