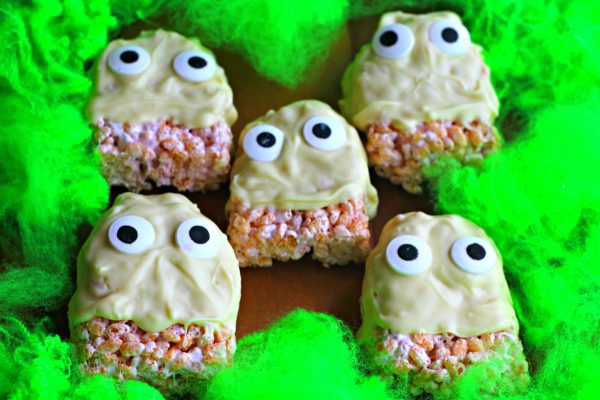 | | |
| --- | --- |
| | |
Melt the butter over a gentle heat and add the marshmallows. Mix until completely melted. Be careful that the mixture does not catch on the bottom.

Take off the heat and tip the rice krispies into the saucepan to mix. It may seem like the mixture will never come together but keep the faith. Also watch out that you don't crush too many of the rice krispies when stirring.

Tip out onto a lined baking tray-I use a silicone liner but you could ude grease proof paper. Squash into a rectangle about 2 cm deep.Chill for about 15 mins. Wet your hands or spatula to do this to stop everything sticking.

Melt the white chocolate in a bowl over a saucepan half full with simmering water. Stir well until completely smooth. Cut the rice krispie block into rectangles and squish the tops into a curve.

Empty the chocolate into a mug wide and deep enough to fit your ghosts into and give them a mild dunking. Use a spoon to smooth over and cover bits missed. Place the eyes on. Chill to set, again on the lined baking tray.