Rice Krispie Chicken
My children absolutely went potty for these Rice Krispie Chicken Bites in a way that is usually reserved for chips.They could not get enough. What a stress free tea it was, so I cannot thank Lisa Faulkner enough.I just served them with Baked Beans and homemade potato wedges. Seriously Happy Days!
I have been meaning to make these little beauties for ages but I don't usually have Rice Krispies at home in the cupboard and bl..dy always forget when I go shopping. I hate lists,  they feel really boring and square. I know that sounds absolutely ridiculous and I know my way is rubbish and I'm about as boring and square as a middle aged, peri-menopausal housewife can be. But I am simply too long in the tooth to reform now. So when I found myself in the cereal aisle at the local supermarket I had a flash of inspiration and bought some to stash away in my cupboard for just this purpose. I also don't really cook with Chicken very often in the week as the higher welfare Chicken is expensive and I feel sorry for the Barn Reared little Chickies and can't bring myself to chomp on them if I can help it. But I could ignore their call no more  so the Barn Chickies got it I'm afraid, tight b…h that I am. They are crazily simple to make and you could even get the kids involved but  I would rather chew my foot off than cope with an explosion of crushed Rice Krispies on work surfaces and underfoot, particularly amidst the afterschool carnage.
What I could really do with at the moment is the children to come in from school and sit down and watch T.V for an hour while I get my s..t together and make tea. For that golden hour I would be willing to snog John McCririck, might even consider tongues………They are like a whirlwind of destruction and anarchy……two Tasmanian devils with attitude.
Watch T.V quietly, that's what I did way back when. Kids T.V was brilliant.
Runarounddddd! Flippin brilliant. I so wanted Mike Reid to be my middle school teacher.
Crackerjack was another quality classic. I was desperate to go on the show but those questions were seriously hard and those cabbages seriously massive. But the prizes blew my mind…..  The Generation Game for kids.
Now I could mention the elephant in the room………..my absolute favourite…I had never wanted anything so much as to have Jim fix something for me……
My damn children just don't seem interested in any T.V. They are  intent on building a fully functioning ladybird nursery at the minute out of squash bottles, toilet rolls and rolls and rolls of sellotape, requiring my full and complete interaction and extreme patience. I just want to get the Baked Beans on in peace. I simply can't stand it anymore. They are driving me nuts.  How bad is it that I just want them to sit in front of the T.V with slack jaws and some chocolate……Shame on me.. and pass the Yorkie….
This recipe is from Lisa Faulkners book "Recipes from my Mother for my Daughter". It's a brilliant book with a  foreword that made me cry, its also full of some outstanding recipes that have become firm favourites of mine. I loved her on Masterchef , one of my  absolute fave shows. Not sure I'm feeling Monica's hair this year though….
Easy Rice Krispie Chicken Recipe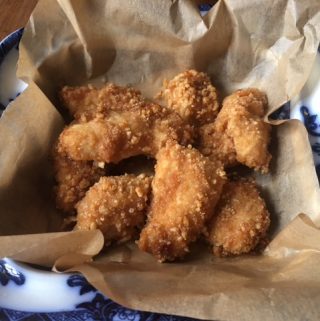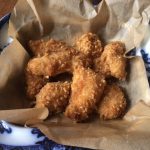 Rice Krispie Chicken Bites
These Rice Krispie Chicken Bites are so simple and a great favourite with the kids
Ingredients
Oil for greasing

250

g

Rice Krispies

10

tbsp

Mayonnaise for dipping

3

Skinless Chicken Breasts

cut into goujons
Instructions
Grease a baking tray with oil (I use non stick Baking Liners for all my baking, get some you won't regret it, they make life so easy)

Crush the cereal in a bowl- I used a combination of my fingers and a potato masher

Put a big splodge of Mayo in another bowl. Repeat as you need more.

Dip each goujon of Chicken into the Mayo before dipping into the cereal

Place on the baking tray and bake for 15 mins or so depending on size of chunks.

Lisa advises turning halfway through cooking but I was too busy snogging John - Apply to Face.
Nutrition Facts
Rice Krispie Chicken Bites
Amount Per Serving
Calories 601
Calories from Fat 270
% Daily Value*
Fat 30g46%
Cholesterol 86mg29%
Sodium 679mg30%
Potassium 496mg14%
Carbohydrates 53g18%
Protein 28g56%
Vitamin A 4215IU84%
Vitamin C 40.9mg50%
Calcium 12mg1%
Iron 19.5mg108%
* Percent Daily Values are based on a 2000 calorie diet.
Lisa advises turning halfway through cooking but I was too busy snogging John……..Apply to Face.
Here are some more delish  quick and easy mid week meals – Cheesy Chicken Pasta with Broccoli – Thai Spiced Chicken Noodle Soup – Easy Vegetable Lasagne