I love marking dates in the family calendar with Sunday Lunches or Teas. Perhaps Sunday Lunch  is my favourite English tradition of them all. A table groaning with roast meats, roast potatoes and all the trimmings is a most wonderful sight and filling other people with copious amounts of food and wine allows me to come out of the closet and legitimately fill my face (binge) too. For optimum and complete gluttony I usually also provide two big indulgent puddings, serious swinging of elasticated waist Sunday pants at my house. Snoozing prostrate on the sofa is the only way to end this day. Bring on Call the MIdwife.
So for this Mothering  Sunday I have already planned my menu of mothering love. My children are still ickle so I see Mother's Day as a way of showing them what a bl..dy fantastic mother I truly am by feeding them all their faves and nudging them towards childhood obesity. A gift that will just keep giving……not …….but I'll reign them in come Monday with a strict diet of raisins and porridge.They are the type that could very easily become little podgers- god love them.
I will however make it a day of enforced cuddling all at my maternal whim. How can they refuse on this day of all days. My daughter will gladly comply, she is her Mother's daughter and likes nothing more than a big cutch but my son will have to be brought to me kicking and screaming, his heels scrabbling for purchase on the carpet in a Scooby Doo fashion. But I care not, he shall be mine. Usually I am forced to love him from afar much in a stalker like fashion. He rejects my caresses the pesky kid, he seems not to care for it much. I asked him last week why he thought he didn't like my motherly gropings and he said they made him feel…..and he made a retching noise. I understood him in a moment and took it completely on the chin (after falling to the floor). He is who he is and entitled to his own space guilt free but I continue to bribe him with chocolate occasionally (ooh there I go again) for the odd quick squeeze and  will be sure he understands that on this day he must be tolerant, for at least the morning. I'm nothing if not reasonable.
I will ignore his rigidity and retching as I tell him his birth story, the only conversation with me that holds his interest, I make much of it up as it's not particularly interesting and I've DISGRACEFULLY forgotten a lot of the factual stuff like his weight and what time he was born. If I do a good job and he hasn't remembered what I said last time, maybe  he will sit on my lap, I might even get my arms around his lovely little body and manage to get a really good sniff . I usually have to make do with his manky Spiderman pillow, but needs must.
So making his favourite food has become one of the only ways I can connect with the little s..t. This is one of his favourite puddings, it is always, always a winner. I even get eye contact with this one. I let them lick the spoon too, completely a smug parent moment, almost as good as doing an hour of crafts.
Easy Chocolate Mousse Recipe.
This is a very simple and perhaps classic Chocolate Mousse with cream recipe but also a very small pain in the ass one. I love a one bowl recipe but this requires three. I just accept the nuisance of it and get them all out before I'm in the groove. This  chocolate mousse is so blinkin worth it. It is delicious and full of chocolatey depth in just the right amounts. I don't like to add coffee to this although I know it is a popular thing to do. My children like the chocolate to be unadulterated so of course I cave.
Here is some photos of the egg white stages. They are the backbone of an aerated mousse so it is important to get enough air in in the beginning.
To fold in properly you need to use a large metal spoon and use swooping movements so as to keep as much air left in the mixture as possible. If you haven't done it before then watch a video of how to do it. It is a crucial technique to this mousse. At first it seems that the egg whites will never mix in properly but they will and you just need to keep the faith and keep going. I like to serve mine in individual pots just so they are easier to serve. This also allows you to be fabulous. You can be very creative with your pots. For a dinner party vintage tea cups look dead posh……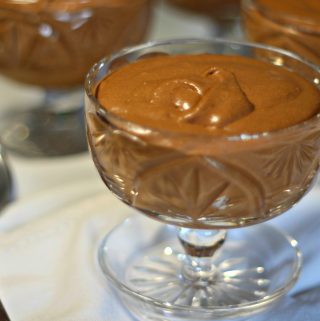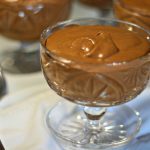 Chocolate Mousse
This is a very simple recipe but also a small pain in the ass one. I love a one bowl recipe but this requires three. I just accept the nuisance of it and get them all out before I'm in the groove.This chocolate mousse is so blinkin worth it.
Ingredients
5

eggs separated

100

g

caster sugar

200

g

dark plain chocolate

4

tablespoons

hot strong coffee

300

ml

double cream
Instructions
Melt the chocolate, either carefully in 30 second bursts or in a bowl over a saucepan half full of simmering water. Whisk the egg whites until stiff and then whisk in 50g of the sugar.If using a food mixer then empty out whipped egg whites into a clean bowl and give the mixing bowl a quick rinse.er a saucepan of simmering water.

Whisk the egg yolks and remaining sugar until thick and pale, again empty out the egg mixture into a clean bowl and rinse the mixing bowl.

Stir the hot coffee into the melted chocolate and then mix into the eggs.

Whip the double cream until it is just holding it's shape.

Fold into the chocolate mixture followed by the egg whites. Be careful to fold in gently so as not knock out the air from the egg whites.

Pour into serving dishes or dish and put in the fridge to set for at least 3 hours.

Apply to Son's Gorgeous Face
PIN ME FOR LATER!
Feel Free to try these other fabulous and easy Chocolate Desserts.
Chocolate and Raspberry Pavlova
Chocolate and Passion Fruit Tart