Print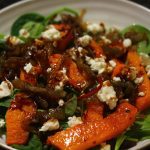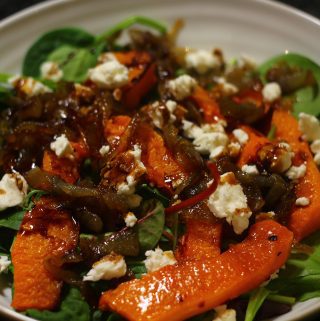 Roast Butternut Squash Winter Salad.
This Butternut Squash Salad with Caramelised Onions and Feta Cheese is really sensational. The Chilli flakes together with the Balsamic Glaze bring a vibrancy that makes the whole salad really rather special. This would be perfect as a side salad for meat or chicken but it would also more than hold it's own as the main attraction. Feel free to add some toasted pine nuts for some added crunch.
Pre heat the oven to 200 C. Peel and slice the squash into wedges of about 2 cm thick. Place into a large bowl and in a smaller one-I use a mug-mix 1 tbsp of olive oil, a pinch of chilli flakes and the salt. Pour that over the squash and using your hands mix well. Tip into a roasting tray. To aid caramelisation you could have had the tray in the oven for five minutes beforehand.

Wash your hands to remove any sneaky chilli flakes. Roast in the oven for about 15 minutes or until tender. Whilst they are roasting chop up your onions into half moons and fry in a large frying pan over a medium heat with the butter, sugar and remaining tablespoon of oil. You want the onions to turn brown and look like worms! This will take usually about 20 minutes.

Allow the squash and onions to cool to just warm before putting on top of your salad leaves and crumbling the feta on top and drizzling over the balsamic glaze.

Apply to Fat Camp Face.
Nutrition Facts
Roast Butternut Squash Winter Salad.
Amount Per Serving
Calories 338
Calories from Fat 135
% Daily Value*
Fat 15g23%
Cholesterol 33mg11%
Sodium 1028mg45%
Potassium 1039mg30%
Carbohydrates 44g15%
Protein 9g18%
Vitamin A 20660IU413%
Vitamin C 63.9mg77%
Calcium 322mg32%
Iron 2.3mg13%
* Percent Daily Values are based on a 2000 calorie diet.