This very simple recipe for Brioche Buns is one of my favourite recipes of all time. I serve it every New Years Eve and it is SENSATIONAL!!!
What is Brioche bread?
Brioche Bread is absolutely lush and crazily simple. It is french in origin and loaded with eggs and butter which serves to give it a slightly sweet and very tender crumb. It is somewhat traditionally served for Breakfast along with other French Pastries - Pain au Chocolat, Danish Pastries and Croissants. But I LOVE to serve it this way baked with Camembert and Sweet Onion Chutney. It is off the scale delicious and perfect for a crowd. It is now firmly on my entertaining menu. A Brioche Bun is a light, soft and truly wonderful thing spread with baked Camembert and Chutney
But first.......my first Brioche Bake
"Look at that bad boy!!!" It emerged from the oven glorious and magnificently beating it's chest for all to see. A Henry the VIII of a Brioche. Unfortunately there was only my friend Kate and I, but both of us were suitably impressed and exclaimed loudly for five minutes which I know made me feel very accomplished and must have made the Brioche very proud.
What a wonderful thing to set before a crowd of friends or family, perfect for a party or any special occasion.........or indeed any reason you can possibly think of at all ever just to find the excuse to serve up this devilishly handsome beauty.
Last week I was looking for (as always) easy to prepare ahead, gorgeous food for a crowd, one of my most favourite things to do and it helps me stay off the wine which starts calling endlessly at about 5pm. Don't judge........
Anyway I found this, I have never baked Brioche before and I usually always go wrong the first time with everything but this is an EASY Brioche recipe. You make the dough the night before in your food mixer with a dough hook, leave overnight in fridge and mould to shape the next day before leaving to puff up and bake...... and OMG they were as delicious as you can possibly imagine.
So light, eggy, sweet and rich and quite frankly one of the best things I have ever baked. Not only can you more than half prepare it the night before, but it is incredibly yummy in a I will remember this Brioche tear and share for ever kind of way, just what you want your party to be full of. Well that and Wine.......
Now I do feel obliged to mention that as I dwell in the waiting room of Perimenopause and notice amongst many other hideous and deeply alarming changes, my metabolic rate slowing down to the speed of a snail with an under active thyroid. I am also aware that this bake has the calories to keep me going for two years, three months and ten days.
It seems damn cruel that when sleep evades once again and the night sweats are at their most sweaty, the fridge that offers so much solace is also the harbinger of the dreaded middle aged spread. ........
But this time and for this Brioche.......... I say......."Lay that platter before me".....
Brioche Bun Recipe.
I was inspired by a recipe of Kimberley Wilson's that I found on BBC Good Food website. I wanted the party food tear and share brioche buns without the stuffing and fiddly bits.
The result is this stupendous simple brioche bun recipe that will knock your socks off .........He is not cliquey either. He is more than happy to be paired up with any number of food partners. Pate, Salmon Mousse, Cheesy Dips. He is a people pleaser and everyone just adores him. The absolute perfect party guest.
The real boon of this dish is that you are making it the night before your party and it is simply a mix together before putting it in the fridge overnight.
You can indeed make it a day or two ahead. All that is required nearer the time, probably two/ three hours before you want to serve it, is that you are available to turn your attention to it for perhaps thirty minutes.
It is in that time that you need to roll out all the bun balls into your circles and then leave it alone somewhere cosy to wonderfully puff up. Freeing you up to complete that devastating party look .....
This would also be absolutely delicious without the Camembert alongside my Roasted Butternut Squash Salad or Moroccan Salad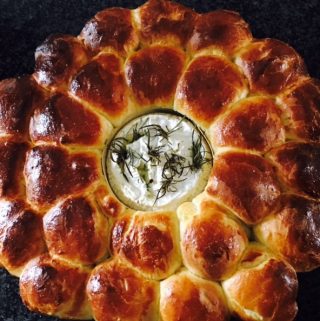 Tear and share Brioche with Baked Camembert
This Brioche recipe is both light and incredibly delicious to eat. Served with baked Camembert is a centrepiece fit for a King.
Ingredients
4

large eggs

30

ml

of milk

350

g

of strong white bread flour

2 x 7

g

sachet of fast yeast

30

g

of caster sugar

200

g

of unsalted butter

cubed and softened

1

beaten egg

1 250

g

Camembert

5

g

salt

sprigs of rosemary to push into cheese before baking
Instructions
Whisk 4 eggs and 30 mls milk into a jug. Put 350 grams bread flour, 30 grams caster sugar, 5 grams salt and 2 x 7 grams dried yeast into the bowl of your food mixer and combine with a dough hook.

On a medium setting pour in the egg and milk mix until combined.

Add 200 grams soft butter and mix for about ten mins until the dough clings around the dough hook.It is very wet in the beginning but eventually becomes a dough.

Cover with clingfilm in the bowl and refrigerate overnight.

Take the dough out of the fridge and divide the dough into 5 pieces and each of those into five. I weighed mine roughly out . It's usually about 30 grams per ball. Roll into balls between your hands.

Line a large baking tray with greaseproof paper or non stick lining and put the wooden cheese box in the middle and arrange around it-10 balls in the inner ring and 15 on the outer.

Leave about ½ a cm between each roll to allow them to double in size. Allow to puff up significantly-this can take up to two hours sometimes. Brush with the eggwash.

Put the cheese in the middle and bake in a preheated 180 C oven until they are gloriously burnished for 15/20 mins.
Notes
The time it takes to prove when rolled into balls can vary greatly. It can take an hour or even two. This does mean you have to be flexible and be present for that time. If I am serving it at a particular time and it was proved too early I would carry on and bake it  when fully proved and just gently warm through again to serve.
I also serve this with onion chutney spread on the top before baking.
Nutrition
Calories:
391
kcal
|
Carbohydrates:
29
g
|
Protein:
12
g
|
Fat:
25
g
|
Saturated Fat:
14
g
|
Cholesterol:
143
mg
|
Sodium:
581
mg
|
Potassium:
123
mg
|
Fiber:
1
g
|
Sugar:
3
g
|
Vitamin A:
825
IU
|
Calcium:
122
mg
|
Iron:
0.8
mg
All nutritional information is approximate and intended only as a guide.
Tried this recipe?
Take a pic and tag @applytofaceblog on Instagram. I would so love to see them!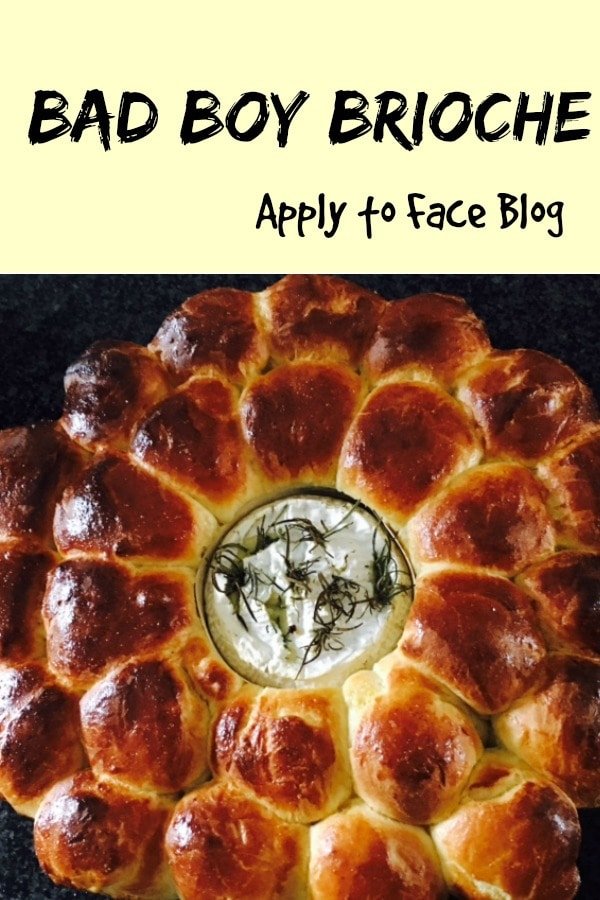 Join me here for more incredible enriched Bread recipes -
Garlic Rolls
Do let me know how you got on I love a good old hairy chinwag.