I came I came upon this Bang Bang Chicken with Noodles dish unexpectedly a couple of weeks ago and it was just DELICIOUS. It blew my culinary socks off to be honest and I knew I would have to find out how to make it straight away.
As I looked into what I needed to replicate this incredible chicken noodle dish, I realised it was actually very simple to make especially with a couple of short cuts. What an absolute beaut of a recipe.....
I wanted to keep it with as few ingredients as possible just to make it super easy for a mid week meal when mojo is low and you want to kill the kids. Especially at the moment.......
It is warmly spiced and full of Asian flavour. Heavy on the peanut sauce with a heady fresh coriander back note and sweet with sweet chilli sauce.
Bang Bang Chicken with Noodles Recipe
This is, of course, an Asian dish in origin but I'm not sure how authentic it is. Of course you can play around with the flavours in the sauce to suit your own tastes.
These are the flavours that I love in Asian food so they are the ones that went in but I would think some ginger and actual chillies would work well.
I am not very good with heat and I don't like ginger in savoury dishes so mine is without, relying instead upon the sweet chilli sauce for some heat. Feel free to add some chilli flakes, chilli paste or actual chillies.
I do feel that the real star of the sauce here is the fresh coriander. I just deeply love the stuff. It always seems to transport me far away from my little suburban life for a glorious five minutes or so.
For those five minutes I am petite, pert and sitting on a white sandy beach in a bikini with a Mojito.
Another bonus to this bang bang chicken dish is that you can also make it Low Carb and replace the egg noodles with courgette or carrot spiralized "noodles".
The sauce is sooo good here that it will be delicious with or without the carbohydrates. It can just about carry anything.
It is as simple as whizzing the sauce ingredients together in a food processor.
I then coat the chicken in mayonnaise before dunking them in panko breadcrumbs. I find panko breadcrumbs are brilliant for getting a better crispy result.
Baking the chicken does not get as crispy a finish as frying but obviously it's a  healthier and simpler option. The last thing I am looking to do at the end of a long day is clear up cooking oil.
I use the cooked egg noodles for complete ease. All they need is warming through in the sauce. So easy it's crazy.
But if you are using the dry noodles then you may need to add more water into the sauce as it may soak up more.
I slice up the chicken after baking and place about three slices on the sauced noodles followed by a scattering of coriander.
I like to add the fresh, ready to eat egg noodles because I find them really quick and actually much nicer than dried.
About 100 grams per person and a bit more but packets tend to come in packets for two people anyway.
I simply heat the sauce in a saucepan gently and then tip in the noodles. I make sure the noodles are well covered before putting in bowls and topping with the sliced chicken and coriander.
This Bang Bang chicken dish  will absolutely blow you away. I can't get enough of the stuff midweek or weekend. I just want bowls and bowls of it.
What To Serve With Bang Bang Chicken?
I also think that this could be a perfect dish for any left over chicken or turkey. It doesn't have to be bread crumbed to go on the top.
This is the sort of dish that can carry whatever you want it to, be it left over chicken, fish or just with some green vegetables.
I can imagine this being very good with some charred tender stem broccoli and asparagus. Mange Tout are perfect too. A scattering of peanuts or toasted cashews would add some crunch.
It is very easy to reproduce this as a Vegan Satay Noodle dish too if you use vegetables instead of chicken and rice noodles instead of the egg noodles.
It would be simple too to serve this with spiralised vegetables such as carrot and courgette instead of the noodles for a Low Carb option. The best way to cook these is to simmer in a pan with some olive oil and butter, covered for about 7/10 minutes. Stirring often. Then assemble the dish as normal.
I have baked the chicken a day before too and carefully reheated the next evening making this dish so easy to throw together for a girly evening. With just a whizz of the sauce ingredients and a slipping out of the packet for the noodles I'm there....
The same can be said for this Garlic Lemon Chicken recipe.
Here are some other incredible dinner ideas -
 Spiced Creamy Thai Coconut Chicken Soup
Slow Cooker Thai Peanut Chicken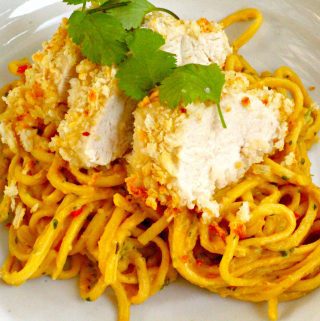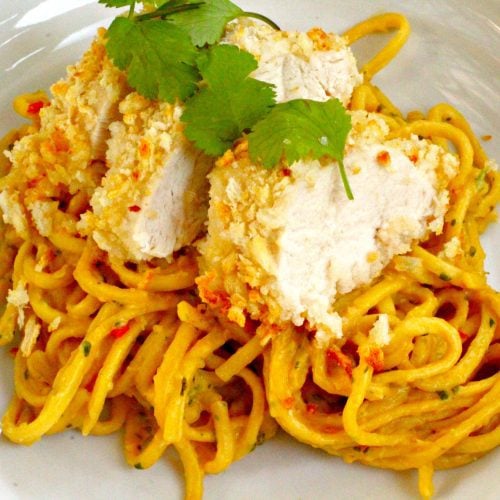 Bang Bang Chicken
This easy recipe for Bang Bang Chicken with Noodles is just delicious. Transport yourself to a beach in Thailand midweek without any fuss at all.
Ingredients
5

tbsps

crunchy peanut butter

heaped

1

medium

lime

juice

4

tbsp

sweet chilli sauce

20

grams

fresh coriander

stalks included

3

tbsp

ground nut oil

4

tbsp

water

½

tbsp

soy

3

large

chicken breasts

4

tbsps

mayonnaise

1

packet

panko breadcrumbs

500

grams

egg noodles

ready to eat
Instructions
Preheat the oven to 200 C. Place two bowls out and fill them with the mayo and half of the panko crumbs. Line a baking tray with grease proof paper or a liner. I use Bake o Glide.

Cover the chicken breasts with mayo and then dip them in the panko crumbs. Try to cover well. I scrunch some of the panko crumbs finer with my hands to ensure an even coverage.

Place on the baking tray and bake for about 20 mins or until the chicken reaches 75 C in the middle. I do have a thermometer but personally I just cut into the breast meat to check it is cooked.

Whilst the chicken is cooking place all the ingredients apart from the noodles into the food processor and blitz until all is smooth. You may need to scrape down the sides of the bowl. Taste and season with salt to taste.

Put to one side until the chicken is taken from the oven. Tip the sauce into a saucepan and heat gently before tipping the noodles in and mixing it all together to coat the noodles well. If you feel the mixture is still too thick then add a few more tbsps of water it works brilliantly.

To serve I slice the chicken breasts up and place three pieces on top of the noodles with some coriander scattered on top. I tend to serve this dish in flat bowls but normal plates are fine too.

Apply to Wonder Woman's Face.
Notes
Nutrition Information is a guide only.
Nutrition
Calories:
711
kcal
|
Carbohydrates:
46
g
|
Protein:
47
g
|
Fat:
37
g
|
Saturated Fat:
6
g
|
Cholesterol:
150
mg
|
Sodium:
559
mg
|
Potassium:
847
mg
|
Fiber:
3
g
|
Sugar:
11
g
|
Vitamin A:
415
IU
|
Vitamin C:
8.3
mg
|
Calcium:
44
mg
|
Iron:
1.9
mg
All nutritional information is approximate and intended only as a guide.
Tried this recipe?
Take a pic and tag @applytofaceblog on Instagram. I would so love to see them!
I have linked this post with Fiesta Friday and Julianna @ Foodie on Board