This Easter Chocolate Cake is very simple and lots of fun. Ideal to decorate with your children or as I did here, just let them loose. You can't go wrong really. The chocolate wow factor will always be a crowd pleaser.
I feel triumphant. I have actually made it to the supermarket in time to buy all my easter eggs at a great discount. Check me out.......Normally I am always too late, reduced to scrabbling around the shelves amongst the rejected Nestle boxes and ending up having to buy the big Cadbury ones and spending a fortune.
Now I do admit to having had a little nibble at one, such a bargain n'all. The result has shocked me to the core.......it doesn't taste the same any more. I have nibbled and nibbled and nibbled and I am sure of it. Stop the Easter clocks...... I am shattered......
I LOVE to steal the children's Cadbury easter eggs. Snapping off a piece or ten when they have gone to bed. What have they done??? But wait there is one guiding, chocolate of my childhood, light........
One product remains unadulterated and cadbury pure however....the mini egg. I have chomped my way through two family packets just to make sure and all is well. Thank goodness for that. Tumble them onto your chocolate cakes everywhere.
Chocolate Cake
This Chocolate Cake is a very good one and would stand alone as delicious without all the easter chocolate garb. It is the little black dress of the chocolate cake world and my go to easy chocolate cake recipe for all occasions when I want to mix and run.
It is damp and full of cocoa every time and, whatever you decide to put in the middle, just delicious. A slice of this and a good cup of tea and I am a very happy girl/old woman.
The ingredients are classic and simple.
I like to more or less mix it all together in one go. This is a very easy cake to make. I mix the eggs with the milk and vanilla extract in a jug and give the dry ingredients a stir.
Pop the whole lot in apart from the water and mix well. I use my free standing mixer. You can of course make it with a hand held electric whisk.
I add the hot water at the end and mix again, slowly at first so the water doesn't come over the side of the bowl.
The batter is quite liquid so pour it into your two lined 8 " cake tins. Make sure the bottoms are tight fitting if they are loose bottomed....that's what she said.
I do weigh the filled tins carefully to get them roughly the same. Bake for 35 minutes at 170 C. Use a skewer or cocktail stick to check that it is ready. There should be no crumbs left on the skewer. Leave in the tins for a few minutes before gently removing and leaving to cool on a wire rack. Run a knife round the edges of the tins to loosen beforehand.
Mix the icing ingredients together in a food processor, mixer or by hand. The other very convenient option is of course to buy some ready made! When the cake is cool then ice carefully. I always find that a metal spatula does the job very well. You need to be firm but light at the same time.
Pile on the chocolate eggs as you fancy. Fill your Easter boots.
Can You Freeze Chocolate Cake Sponge?
Yes it will freeze well. Wrap in clingfilm and then a double layer of foil to prevent freezer burn. I try to put in a tub of some sort as freezers can be busy places. Defrost in the wrapping for four hours and then proceed with the icing as normal.
Gluten Free Chocolate Easter Cake
To make this chocolate cake gluten free simply substitute the plain flour for gluten free flour. Add a ¼ tsp of xanthan gum powder into the gluten free flour and make sure the baking powder is gluten free too. Add an extra tbsp of hot water too.
Storing Chocolate Cake
I store this cake in a cake dome. I have to remove the larger chocolate eggs to do so but any air tight container is good. I tend to give the split chocolate eggs away with the first slices as the insides tend to leak out onto the cake.
What Equipment Do I Need For This Cake?
2 x 8 " lined loose bottomed cake tins
Free standing mixer or electric whisk and large mixing bowl
Jug
Wire rack
Digital scales
Oven thermometer is recommended but not essential-ovens temps can be temperamental.
Tablespoon measure
Food Processor for the icing or you can use your mixer again.
Spatula
Here are some more Easter Desserts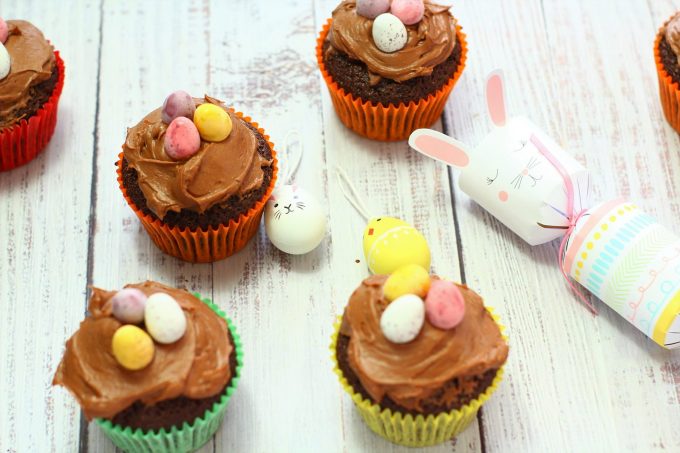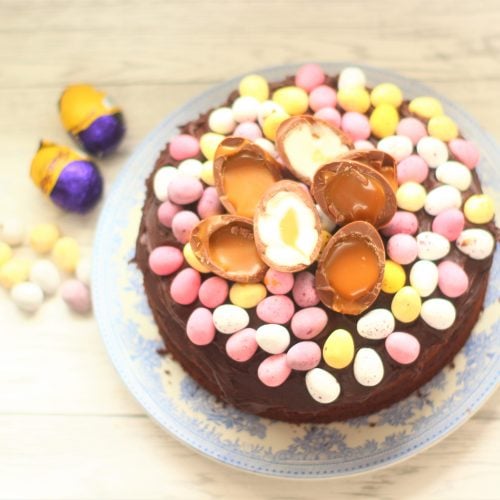 Easter Chocolate Cake
This Easter Chocolate Cake is easy to make and perfect to decorate with the children. Topped with mini eggs and chocolate creme eggs it looks a picture.
Ingredients
250

grams

plain flour

300

grams

caster sugar

50

grams

cocoa

2

heaped tsp

baking powder

100

grams

stork

or likewise

3

large

eggs

1

tsp

vanilla extract

150

mls

milk

120

mls

boiling water
Chocolate Icing
100

grams

unsalted butter

soft

100

grams

dark chocolate

melted

150

grams

icing sugar
Chocolate Eggs
296

grams

mini eggs

family bag

3

chocolate creme/caramel eggs

split in half
Instructions
Preheat your oven to 170 C. Put all the dry ingredients in a large mixing bowl. I use a free standing mixer. Give them a stir. Tip in the stork or butter. In a jug whisk the eggs and milk and vanilla extract together and pour in the bowl.

Mix well with an electric whisk until the batter is smooth. Tip in the just boiled water and mix again on a slower speed.

Pour into your lined 8" tins. I weigh them to get roughly the same amount of mixture in each one. Bake for 35/40 minutes. Use a skewer to test the cake at 35 minutes. I do recommend an oven thermometer as oven temp can vary greatly to the temperature on the dial.

Let them cool in the tins for five minutes before gently removing. Run a blunt knife around the edges to loosen them first. Let them cool on the wire rack.

Mix the icing ingredients together. I use a food processor for easiness but you can use an electric hand held whisk or even a wooden spoon.

When completely cool ice the top of the first sponge and place the second sponge on top. Ice again and then decorate as you will with mini eggs etc. Fulfill all your chocolate easter egg dreams.
Nutrition Facts
Easter Chocolate Cake
Amount Per Serving
Calories 555
Calories from Fat 243
% Daily Value*
Fat 27g42%
Cholesterol 75mg25%
Sodium 128mg6%
Potassium 201mg6%
Carbohydrates 75g25%
Protein 7g14%
Vitamin A 665IU13%
Vitamin C 0.7mg1%
Calcium 99mg10%
Iron 3mg17%
* Percent Daily Values are based on a 2000 calorie diet.
I have linked this post with Cook, Blog, Share over at Recipes Made Easy
Fiesta Friday hosted by Laurena @ Life Diet Health and Jhuls @ The Not So Creative Cook.