These Double Chocolate Chip Muffins are the real thing. Full to the muffin top with chocolate these babies are so damn good. I made them without expectation and I cannot express how uplifted I was by the end of it all.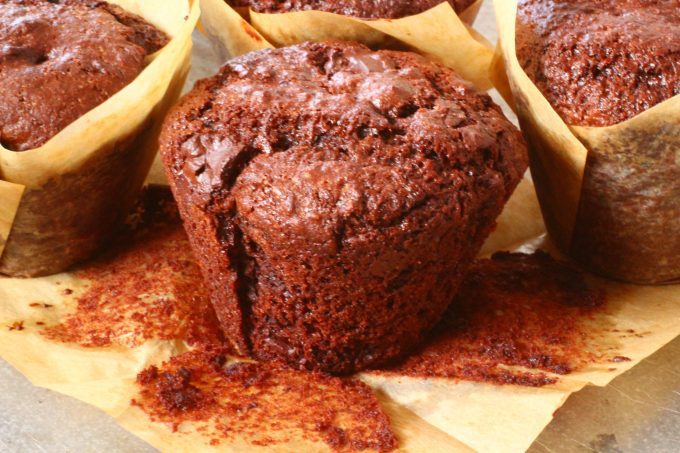 Good
Chocolate Cake
is such a many splendid thing. Right there I fell in Chocolate Love. It's a brownie hit without the fudge, a chocolate fix without the fuss. But most of all they just made me glad.
Double Chocolate Muffin Recipe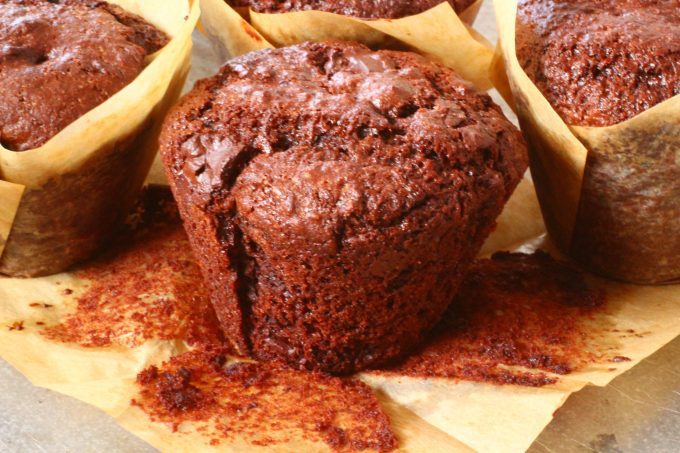 As are all the best muffin recipes, this is a simple combo of wet and dry ingredients....simple as.
I put all of my dry ingredients into a free standing mixer but any large mixing bowl will do.
In another bowl or jug I whisk together the liquid ingredients. It is always wise to be careful and not overwhisk a muffin mix and this one is no different.
Just brief a mix as is possible between wet and dry to make all the dry ingredients disappear, followed by another cursory stir to incorporate all the dark chocolate nubbly bits.
I do make a point here of using the best quality chocolate that I can afford. For me that is Green and Black's 70 % Cooking Dark Chocolate. I also chop/cut it quite finely so that most of the pieces actually melt into the crumb. It is this that gives it such an effortless chocolatey depth.
I also like to use these greaseproof fancy paper cases. They look good but also make a brilliant lining for your muffin tin.
Paper cases always look a bit inadequate I think against the robustness of a muffin and if I try to grease the tins themselves it is never quite foolproof when it comes to releasing the muffins from their confinement. So I'm loving these muffin wrappers.
I made nine muffins out of this mix. They were suitable muffin size too having nothing mini about them at all.
I baked them at 180 C for about 25 minutes.
They lifted effortlessly out of their beds and cooled quickly on a wire rack.
Usually muffins are best eaten on the day of baking and I would think this is the case here. It's not a hardship.
Click here for more easy but incredible chocolate recipes-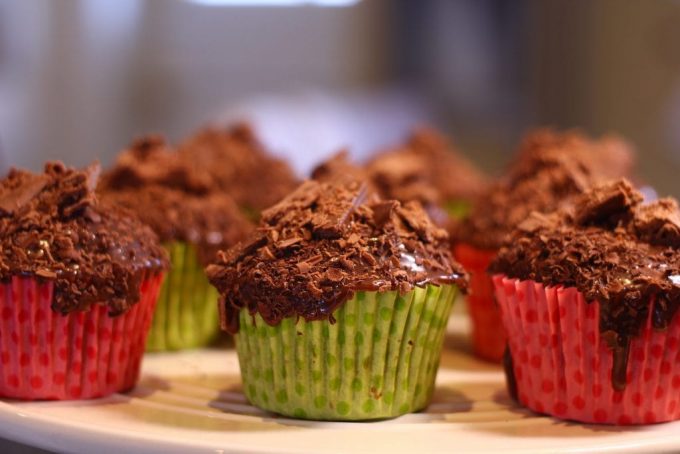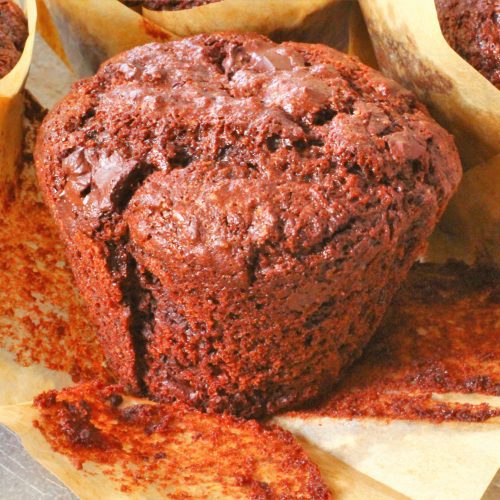 Double Chocolate Chip Muffins
Buttermilk Double Chocolate Chip Muffins. They are deeply chocolatey, moist and extremely moreish. A chocolate sensation.
Ingredients
300

grams

granulated sugar

100

mls

vegetable oil

¼

tsp

salt

150

grams

dark chocolate chips

cooking

284

mls

buttermilk

280

grams

plain flour

2

large

eggs

1

tsp

vanilla extract

80

grams

cocoa powder

1 ½

tsps

baking powder

½

tsp

bicarbonate of soda
Instructions
Preheat your oven to 180 C/160 C fan. Put your muffin cases into your muffin tray.

Place all your dry ingredients in a free standing mixer or large mixing bowl. Whisk the wet ingredients together until completely blended in a bowl or jug. Add the wet to dry and mix until you can't see any dry ingredients left in the bowl. As soon as this happens stir in the chocolate chips.

Place the mixture as evenly as possible into the muffin cases. Mine weighed about 130 grams each

Bake for approx 25 mins. I do recommend an oven thermometer. Mine tells me that my oven is often nowhere near the temp it should be. The trick is to not overbake these. You want them a little moist still. If you're not sure then insert a cocktail stick and if it comes out just a bit crumby/sticky then it's done.
Nutrition
Calories:
486
kcal
|
Carbohydrates:
73
g
|
Protein:
8
g
|
Fat:
19
g
|
Saturated Fat:
15
g
|
Cholesterol:
44
mg
|
Sodium:
205
mg
|
Potassium:
444
mg
|
Fiber:
4
g
|
Sugar:
40
g
|
Vitamin A:
110
IU
|
Calcium:
157
mg
|
Iron:
3.2
mg
All nutritional information is approximate and intended only as a guide.
Tried this recipe?
Take a pic and tag @applytofaceblog on Instagram. I would so love to see them!
I have linked this post with Fiesta Friday
Do let me know how you got on in the comments below. Or why not come join me on my social media pages. I would love to see you over there.