This Easy Chocolate Cake does exactly what it says on the tin. A simple and foolproof one bowl chocolate cake that is absolutely delicious and perfect for all occasions. Not only can I have my cake, I can now so easily eat it.
For a long time I have been looking for a chocolate cake that possessed three very important qualities, super easy, super chocolatey and super reliable……and here she is…..a one bowl recipe full of chocolatey depth and dripping in incredible icing. I don't mind admitting I am ecstatic. Emotional and over the top I know but this cake will slot itself so very easily into my everyday baking, bringing joy and chocolate love to all that happen by my kitchen. This is a recipe that in a month I will know off by heart and throw together in ten mins, plus it is more than capable of accessorising up into a celebration/birthday cake as well as an afternoon tea, weekend, sit calmly in your kitchen humming Barry White songs, kinda chocolate cake. It consists of nearly all store cupboard ingredients and requires almost no baking skills at all. I'm a very happy baker right now….especially as I just had a sneaky wedge for breakfast.
But first some…..
My son at 9 years of age has now hit the stage where he is embarrassed of me amongst his peers. Particularly his older peers. It has left me feeling somewhat bereft…..what a flipping liberty. He has always been painfully shy and I long ago established myself as his voice and protector when he was unable to speak for himself whilst simultaneously prodding him and hissing in his ear to speak up. At last he is starting to find his voice and the tables have turned. It is now him hissing in my ear to be quiet and leave him alone in situations that would have had him hanging onto my legs before now……..apparently I'm embarrassing….ouch. Obviously I am meant to be  thrilled at his independence and confidence and I am but I am so not too. I miss him already. Next it will be sleeping till noon, lads holidays and moving out. STOP with the whole growing up thing, I wanna get off…… My daughter on the other hand still requires lots of hands on parenting but for how long? Last week she argued back at the dinner table and I told her, "Enough of the sass young lady!" She looked me straight in the eye and said deadpan….."I can do it so much better than you sweetheart"……she's 8…..help.
Easy Chocolate Cake
So here she is, my gorgeous and easypeasy, no sass, best chocolate cake evers. It simply starts and almost ends with dumping it all into the mixing bowl. I use a free standing mixer but you can use a handheld whisk too. Just begin slowly as there is a lot in the bowl and it could easily fly over the edge until the wet ingredients damp down the dry.
Mix for a couple of minutes until it pales a little. Midway through the mix use a spatula to scrape down the sides and then carry on mixing.
I then simply dollop the cake batter into my two 8 " non stick sandwich tins. I use reusable liners but if you don't have any then grease and line with 8 " cut out discs of baking paper. I do weigh my tins to get them roughly the same size.
I bake at 170 C for about 25/30 minutes. As soon as it looks ready after 25 mins then take it out. Insert a toothpick or similar and see if it comes out clean. If it does then it should be ready. Cool on a wire rack.
Next on the laid back list is the icing. Now this is an icing that is very kid friendly. My children seem to shy away from traditional icing a lot of the time but they can't get enough of this stuff. Again it's a one bowl situation. I simply use my food processor but you can use a hand held mixer too, just start carefully as icing sugar likes to explode everywhere.
I then put it in the fridge for 15 minutes to firm up. Once it firms up it stays firm, even out of the fridge. I'm not sure why. Once the sponges are cool then slather it on one sponge and top with the other before slathering it on the top one. Be generous there is a lot of icing. I like to grate chocolate on top but feel free to add whatever you fancy.
Expert Tips
Use an oven thermometer to monitor oven temperature. The temperature can vary enormously and I strongly believe that this is a big problem. Until I bought one I had no idea that my oven fluctuated so greatly. They are very cheap to buy and have transformed my baking.
Don't over bake, this goes for all sponges, no one likes a dry cake.
Don't skip the bicarb of soda this cake needs it.
Make sure your ingredients are at room temperature.
Only ice the cake when it is completely cool otherwise the icing will become too thin.
Use the best dark cocoa you can manage. It does give a much better flavour.
How to Store Easy Chocolate Cake
I keep mine under a Cake Dome in the kitchen. I can keep admiring it then but it will do just as well in an air tight container. I am still eating it 3 or 4 days after the fact and it is just as good. The sponges will freeze well too if wrapped in a double layer of clingfilm and foil when completely cool from the oven.. Simply thaw on a wire rack still in their wrappings for a couple of hours before icing as normal.
I have also used the recipe to make 18/20 average sized cup cakes. I iced them with half the icing amount and they were mighty fine.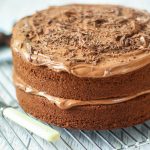 Easy Chocolate Cake
This Easy Chocolate Cake does exactly what it says on the tin. A simple and foolproof one bowl chocolate cake that is absolutely delicious and perfect for all occasions.


Ingredients
150

mls

sour cream

3

large

eggs

2

tsp

vanilla extract

4

tbsp

vegetable oil

200

grams

soft unsalted butter

225

grams

plain flour

225

grams

caster sugar

2

tsp

baking powder

1/2

tsp

bicarbonate of soda

1/2

tsp

fine sea salt

50

grams

dark cocoa
Chocolate Icing
100

grams

dark chocolate

50

grams

milk chocolate

1

tbsp

golden syrup

150

mls

sour cream

100

grams

soft unsalted butter

400

grams

icing sugar
Instructions
Chocolate Cake
Pre heat the oven to 170° C/325° F/Gas Mark 3

Put all the ingredients in your free standing mixer or large mixing bowl. Mix well together with a paddle beater or hand held electric whisk. Whisk for a couple of minutes until the mixture pales a little. It starts out a dark brown. Mid way through the mixing scrape down the sides and carry on mixing.

Divide the batter between 2 lined 8 " loose bottomed sandwich tins. I generally weigh the filled tins to get them roughly equal. Bake for 25/30 minutes until an inserted skewer/toothpick comes out clean (no sticky bits/residue)

Leave the sponges for 5 minutes in their tins before running a knife around the edges of the cakes and carefully placing them on a wire rack to fully cool.

Meanwhile make the icing by placing all the ingredients in a food processor, free standing mixer or large mixing bowl. Mix well and completely together before putting in the fridge for 15 minutes to firm up. No longer otherwise it will be too cold to spread on the sponges.

When the sponges are cool then spread half the icing onto one of the sponges (be generous) before carefully placing the un iced sponge on top. Ice the top of that one and then sprinkle or not sprinkle depending on mood, inclination and what's in the cupboard.

Apply to "Discarded" Face
Nutrition Facts
Easy Chocolate Cake
Amount Per Serving
Calories 646
Calories from Fat 333
% Daily Value*
Fat 37g57%
Cholesterol 120mg40%
Sodium 373mg16%
Potassium 298mg9%
Carbohydrates 78g26%
Protein 6g12%
Vitamin A 855IU17%
Vitamin C 0.2mg0%
Calcium 93mg9%
Iron 2.9mg16%
* Percent Daily Values are based on a 2000 calorie diet.
Here are some more super simple chocolate recipes.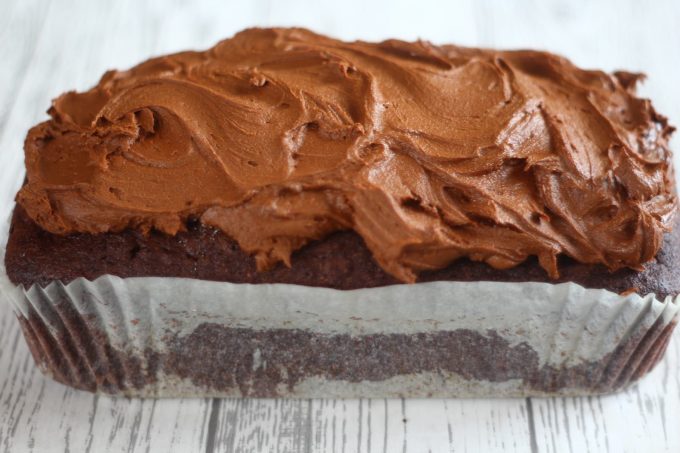 Easy Old School Chocolate Shortbread
I have linked this post with Fiesta Friday with co hosts Diann @ Of Goats and Greens and Petra @ Food Eat Love and Cook, Blog, Share with Every Day Healthy Living.