This Easy Sticky Ginger Cake is the cake that I remember from my childhood and I have been searching for it forever. I rather came upon it by accident which made it taste, I'm sure, even better!
But first some melancholy……
Everything I have attempted to do this week has gone T.Ts and I mean T.Ts. Consequently I have felt utterly horrible. Dramatic I know. It has coincided with the menopausal b.tch blues that seem to hit me like a ton of bricks every four months or so. I end up feeling about as sorry for myself as I could possibly do so. Nobody likes me, I am rubbish at everything and I have nothing to look forward to…….nothing……. I swear I have my own melancholy orchestra ( The Bitch Blues Blowers) dressed in billowing black capes following behind me every where I go. I am aware it is nonsense and I know it will pass but WHAT a bummer while it lasts. No wonder these teenage kids go off the rails. I had forgotten how powerful these hormones are. I normally seek solace in food at these difficult times but I simply cannot let myself slip. We are off on holiday very soon and I will be spending more than half of it in a dreaded swimming costume. As I write I have not ingested any carbohydrates for a whole week. Desperate times and all that. Obviously I have left it till the last minute to address my bulging bits so will probably spend most of said holiday hiding behind trees or lying prostrate. Sweet Mother of God just give me a moustache and some Tenor Ladies. I don't care anymore. I'm MORE than ready to roll over and dry up. Just let me eat this Ginger Cake.
In contrast to last week and my amazing Chocolate Loaf, all of my cooking for my blog has gone terribly wrong …….until today………Today I have managed to bake two fantastic recipes that have cheered my menopausal soul right down to it's gnarly bits. Put this glorious ginger beauty in your cake hole and rejoice but watch out for crumbs in your moustache….
Ginger Cake Recipe
This deeply ginger, Ginger Cake with a sticky top is another crazily easy loaf recipe that gives an outstanding result. It is yet another adapted from Nigella. I found Nigella's Sticky Gingerbread in her Christmas book and made it to suit what I had in my cupboard. She is fast becoming a heroine in my kitchen. Made almost in one saucepan and poured into a lined loaf tin. Who actually knew baking could be this easy????? What's more this loaf gets better for standing there quietly minding it's own ginger business. Again I am thinking perfect for P.T.A cake sale especially the Christmas Fayre……….Wow I'm actually getting ahead of myself for once……it won't last…….. What I am trying to indicate is that this cake has it all. It is super simple to make, low on washing up, consistently moist, makes your house smell like heaven and a reliable riser. You don't have to bother with any fancy bits whatsoever, just allow to cool in the tin before presenting it to the P.T.A cake sale table in it's liner (no tupperware to retrieve ) or slicing it thickly and ramming it stickily into your mouth with a big cup of tea or an Espresso Martini depending on how well your day has gone and how many hormones you have left clucking with your body.
It is simply, simply this. After melting the butter, syrup, treacle, sugars and spices in a saucepan add the beaten eggs, milk and dissolved bicarb of soda and mix well. Put the flour into a mixing bowl and pour on the contents of the saucepan. It's better to do this than just add the flour to the saucepan as otherwise lumps will form in the batter. Mix until the batter is smooth. It is a very liquid batter and it is this that is responsible for it's fabulous gingery dampness. Pour into your lined tin and bake for about 45 minutes. Cool in the tin. You can wrap in grease proof paper and keep in an airtight tin for two weeks or so Nigella says. What a boon.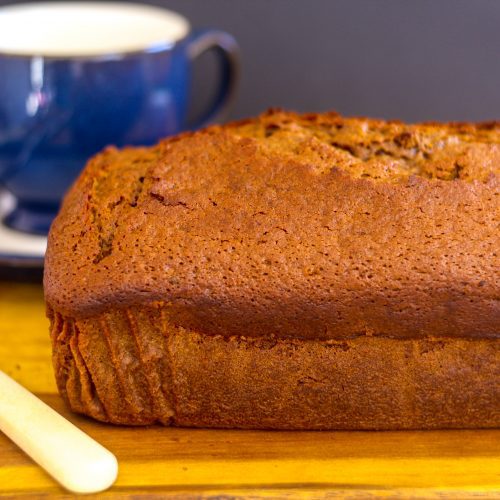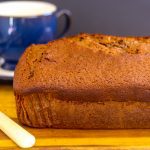 Ginger Cake
This is a delicious old fashioned Ginger Cake. So simple to make it belies it's fabulous gingery flavour and moist crumb
Ingredients
150

grams

unsalted butter

300

grams

golden syrup

100

grams

black treacle

2

tsps

ground ginger

1

tsp

ground cinnamon

1

tsp

bicarbonate of soda

dissolved in 30 mls water

250

mls

full fat milk

2

medium

eggs

beaten

300

grams

plain flour

125

grams

dark muscovada sugar
Instructions
Preheat the oven to 170 C/gas mark 3/325 F

Nigella suggests a tin foil baking tray of 30 x 20 x 5 cm. I used a 2 lb loaf tin with a paper liner. If not using a cake liner then line with Bake-O-Glide or baking parchment.

In a saucepan melt 150 grams/21 oz butter, 300 grams/10.5 oz golden syrup, 100 grams/3.5 oz treacle, 1 tbsp cinnamon, 2 heaped tsp ground ginger and 125 grams/4.4 oz dark muscovado sugar and stir until well combined.

Take off the heat and add 2 eggs, 250 mls milk and dissolved 1 tsp bicarb of soda. Mix well.

Put 300 grams/10.5 oz plain flour in a mixing bowl and pour the warm liquid into the bowl. Mix well until smooth.

Pour into your tin and bake for about 45 mins until risen and firm. The top will be sticky.

Apply to Moustached Face.....hopefully.
Nutrition Facts
Ginger Cake
Amount Per Serving
Calories 464
Calories from Fat 153
% Daily Value*
Fat 17g26%
Cholesterol 84mg28%
Sodium 189mg8%
Potassium 295mg8%
Carbohydrates 68g23%
Protein 6g12%
Vitamin A 580IU12%
Calcium 117mg12%
Iron 3.8mg21%
* Percent Daily Values are based on a 2000 calorie diet.
Check out these recipes for other easy bakes – Chocolate Loaf Cake