This sticky Easy Ginger Cake Loaf is the cake that I remember from my childhood and I have been searching for it forever. I rather came upon it by accident which made it taste, I'm sure, even better!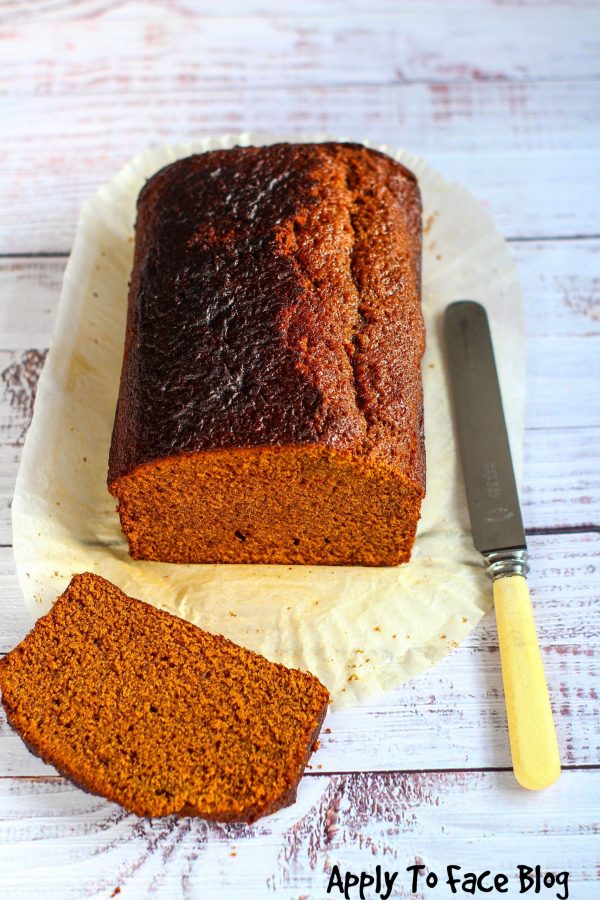 This Ginger Loaf Cake recipe is dense, dark and wonderfully sticky.
The ginger spice brings such a nostalgic flavour to the whole thing that I could practically be back in my mother's kitchen, sticky fingered and helping myself secretly to yet another slice.
Your kitchen smells incredible too. It make me feel like Mary Poppins has popped round for tea.
I always bake it at Christmas time along with my Christmas Cake and Cinnamon Bundt Cake.
It is also genius for Christmas Cake Sales baking. You're welcome.
I make them in paper loaf liners so really easy to transport and sell individually. The same goes for my Chocolate Loaf Cake.
Anyway put this gloriously sticky ginger beauty in your cake hole and rejoice. Christmas or not.
Sticky Ginger Cake Recipe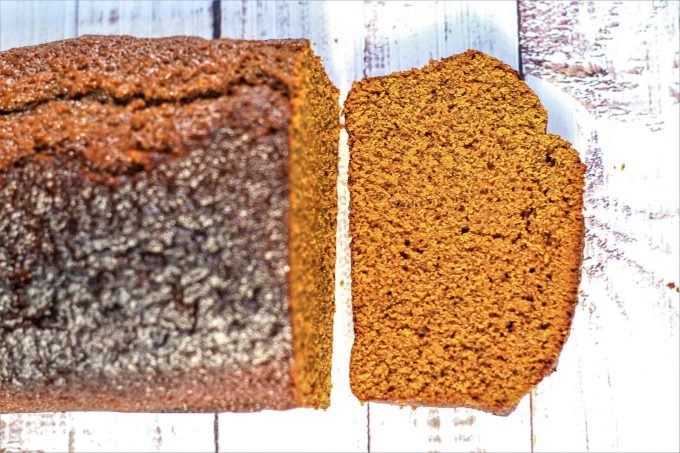 It is yet another adapted from Nigella. I found Nigella's Sticky Gingerbread in her Christmas book and made it to suit what I had in my cupboard.
Made almost in one saucepan and poured into a lined loaf tin. Who actually knew baking could be this easy?????
What's more this loaf gets better for standing there quietly minding it's own ginger business.
You don't have to bother with any fancy bits whatsoever, just allow to cool in the tin.
You Can Scroll Straight Down For The Recipe Card But Below Are Step by Step Instructions.
Method
STEP 1 - Making the Syrup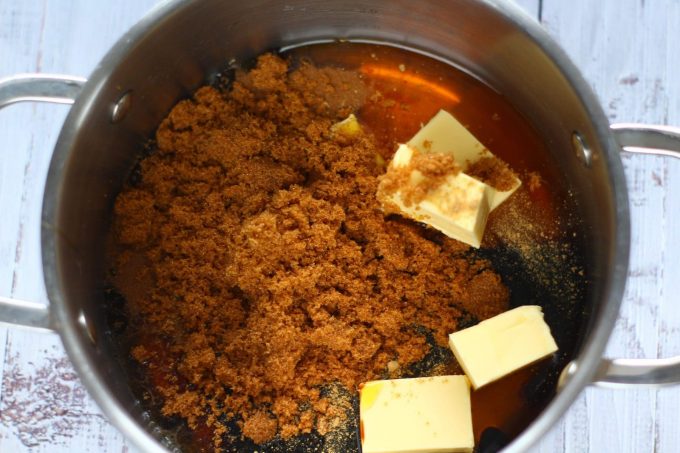 After melting the butter, syrup, treacle, sugars and spices in a saucepan allow to come to a gentle simmer.

STEP 2 - Making the batter
Add the milk and give a quick stir then add the beaten eggs and dissolved bicarb of soda and mix well. Adding the milk first makes sure the mixture is not too hot for the eggs.
Put the flour into a mixing bowl and pour on the contents of the saucepan. It's better to do this than just add the flour to the saucepan as otherwise lumps will form in the batter.
Mix until the batter is smooth with a whisk.. It is a very liquid batter and it is this that is responsible for it's fabulous gingery dampness.

STEP 3 - Baking the Cake
Pour into your lined tin (I use paper loaf liners) but if lining with baking paper see here for a how to guide and bake for about 45/60 minutes. It is a lot of batter so make sure your 2 lb loaf tin is not on the small side. Different ovens and baking tins can mean that it may take up to an hour to bake through.
2lb loaf tins come strangely in smaller and larger variations. I have one on the large size and that is perfect for this. On average a 2lb loaf tin is 21cm long, 11cm wide and 7cm deep. Mine is slightly larger than this.
If you are unsure play safe and bake as a tray bake in a 30 cm x 20cm x 5 cm or don't use all the batter. Stop once the batter is 2 cm from the top of the liner and use the remainder for cup cakes.
Cool in the tin.

Storing and Freezing
You can wrap in grease proof paper and keep in an airtight tin for two weeks or so. In fact it gets better for it. What a boon.
To freeze just wrap each slice or whatever amount of the cake that you are freezing really well in clingfilm and then repeat with silver foil.
Freeze for up to 3 months and defrost, still wrapped for a couple of hours at room temperature.
If you like this recipe then you may like these.....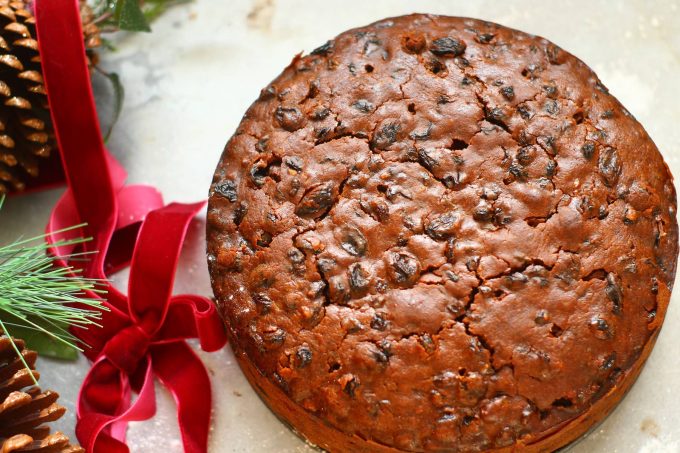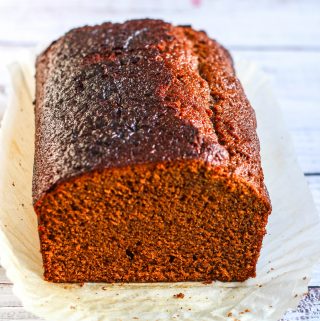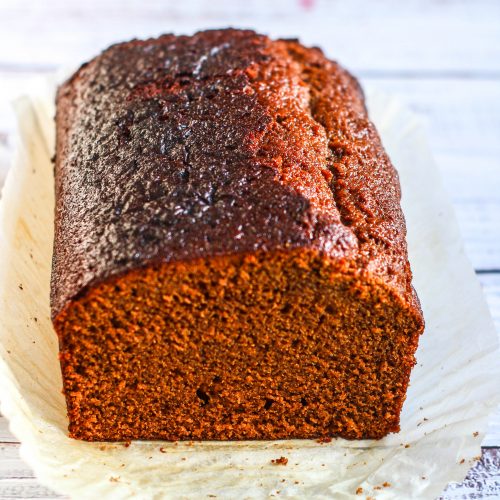 Ginger Cake
This is a delicious old fashioned Ginger Cake. So simple to make it belies it's fabulous gingery flavour and moist crumb
Ingredients
150

grams

unsalted butter

300

grams

golden syrup

100

grams

black treacle

2

tsps

ground ginger

1

tsp

ground cinnamon

1

tsp

bicarbonate of soda

dissolved in 30 mls water

250

mls

full fat milk

2

medium

eggs

beaten

300

grams

plain flour

125

grams

dark muscovada sugar
Instructions
Preheat the oven to 170 C/gas mark 3/325 F

Nigella suggests a tin foil baking tray of 30 x 20 x 5 cm. I used a 2 lb loaf tin with a paper liner. If not using a cake liner then line with Bake-O-Glide or baking parchment.

In a saucepan melt 150 grams/21 oz butter, 300 grams/10.5 oz golden syrup, 100 grams/3.5 oz treacle, 1 tsp cinnamon, 2 heaped tsp ground ginger and 125 grams/4.4 oz dark muscovado sugar and stir until well combined.

Take off the heat and 250 mls milk, 2 eggs and dissolved 1 tsp bicarb of soda. By adding th emilk first you make sure the mixture is cool enough not to cook the eggs. Mix well.

Put 300 grams/10.5 oz plain flour in a mixing bowl and pour the warm liquid into the bowl. Mix well until smooth.

Pour into your tin and bake for about 45 mins until risen and firm. The top will be sticky.

Apply to Moustached Face.....hopefully.
Nutrition Facts
Ginger Cake
Amount Per Serving
Calories 464
Calories from Fat 153
% Daily Value*
Fat 17g26%
Cholesterol 84mg28%
Sodium 189mg8%
Potassium 295mg8%
Carbohydrates 68g23%
Protein 6g12%
Vitamin A 580IU12%
Calcium 117mg12%
Iron 3.8mg21%
* Percent Daily Values are based on a 2000 calorie diet.
Do let me know how you got on in the comments below or why not come on over and follow me on my social media pages. I would love to connect with you.