This Cinnamon Bundt Cake is absolutely gorgeous if I say so myself. A big fat slice with a hot drink is proverbial perimenopausal Prosecco. I just floated away with every soft, cinnamon bite. This will be my go to Christmas Cake recipe for evs. So simple yet massive. I felt like it just kept giving and giving. It was like a cake from The Magic Faraway Tree. My perfect type of cake. Especially as I am really beginning to feel my age this Xmas……..
I am currently shedding skin like a lizard on steroids………the perimenopause seems to be literally sucking me dry. My skin is as tight as my husband. I feel a desperate need to be slicked in vaseline just to cross my legs. The inside fabric of my jeans is constantly dusted in skin and my forearms are developing senior citizen puckering. I feel that as I am dashing about doing my Xmas shopping up and down the aisles, obsessed and deranged with working out 3 for 2 deals, I am actually leaving a dusting behind me, my own personal contribution to the festive season.
Perhaps I should drink more water but I really can't be bothered. Perhaps I should slather my body at bedtime in olive oil and wrap myself in clingfilm but what about the hot flushes?…….Perhaps I should bathe daily in the expensive and the exotic. Rubbing myself down afterwards with crushed crabs and fauna collected by tribesmen from natural springs on the second mountain on the left in Papua New Guinea.
What I feel we could really do with is a one stop shop for us "Shrivellies" on the high street. A place we can go that fulfills our hormonal needs for the week…… I'm thinking there would be cubicles for industrial strength moisturising. I'm thinking much like a spay tan we could bear all in paper pants, legs akimbo whilst being hosed down with a long lasting heavy duty whale emollient. I'm thinking there would be Valium and wonderful head and neck massages from heavily qualified silent swedish people for those with The Menopausal Rage. I'm thinking there would be an expert hair removal department, probably threaders. It would be nice to have some of it in a communal area….. I'm thinking everybody sat in seriously comfy reclining chairs chatting, drinking fabulous coffee and wincing together. I'm thinking complimentary freezing iced towels and wine slushies for those with The Flush. I'm thinking pedicures with real mini sandblasters. I don't know about you but I practically have a pair of hooves………………..and biscuits, lots of biscuits and of course this cake……and maybe a little sherry……..it is Christmas…..
Cinnamon Bundt Cake Recipe
This Cinnamon Bundt Cake recipe is just what I need at the moment. A simple, chic cinnamon cake made incredibly fabulous by the warmly spiced and buttery glaze topping. In fact this is now to become my Xmas Cake of choice. It is absolutely delicious and so easy to make it practically feels like cheating. Just what Santa and my hormones could do with.
It is a one bowl mix. It really couldn't be any easier. Every time I make it I think, this just CAN'T be. A couple of minutes beating and you simply dollop it in……wallop. I don't even beat the eggs before I add them……maverick baking here.
After it is baked and before it is cool, plunge a long skewer all around and about the cake still in it's tin. You are looking for about every 2 cm square or so. Having melted completely the cinnamon, sugar and butter in a saucepan, pour 7/8 of it slowly over the bottom of the cake.
Wait until the cake is fully cool and then upturn it onto a serving plate. Warm the remaining cinnamon syrup back up and then pour it over the top of the cake…..Lush.
If You Like This Cinnamon Bundt Cake Then You May Like These
Autumn Spiced Pumpkin Traybake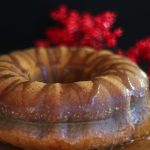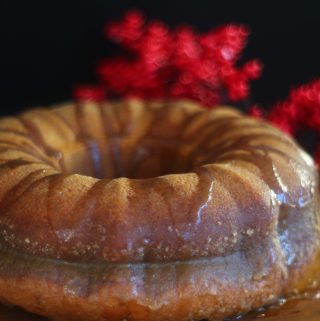 Cinnamon Bundt Cake.
This is a simple and one mixing bowl stunning recipe. The cake is incredibly moist and delicious with the cinnamon and buttery glaze. Absolutely stunning for so little effort.A bite of the Christmas Season in every bite.
Ingredients
225

grams

unsalted butter

room temperature/soft

400

grams

caster sugar

4

large

eggs

360

grams

plain flour

1

tsp

salt

1

tsp

baking powder

1/2

tsp

bicarbonate of soda

240

grams

buttermilk

1

tbsp

vanilla extract
Cinnamon Glaze
225

grams

unsalted butter

200

grams

caster sugar

2

tsp

cinnamon

4

tbsp

water

1

tsp

vanilla extract
Instructions
Grease and flour a large bundt tin.This is absolutely essential for ease of cake removal later. Preheat the oven to 170 C.

Put all the ingredients in a large mixing bowl. I use a free standing mixer but you can use a hand held whisk. Mix thoroughly for about four minutes until the mixture is completely smooth.

Fill the bundt tin and bake in the oven for 50-60 minutes and the cake is golden brown and a skewer when inserted comes out clean.

Make the glaze by melting the ingredients gently over heat in a saucepan. When the sugar is melted remove from the heat and pour into a jug.

When the cake has cooled a little in it's tin, using a skewer poke holes every inch or so all over the cake. Pour over 7/8 of the glaze and leave until completely cool in the tin.

Pop the cake out onto a plate and drizzle the remaining glaze over the now exposed top of the cake.

Apply to Scabby Face.
Recipe Notes
Make sure all the sugar is melted in the cinnamon syrup.
Give the skewer a little wiggle each time if your skewer is on the thin side so to make the holes a little wider.
Nutrition Facts
Cinnamon Bundt Cake.
Amount Per Serving
Calories 616
Calories from Fat 297
% Daily Value*
Fat 33g51%
Cholesterol 153mg51%
Sodium 300mg13%
Potassium 136mg4%
Carbohydrates 74g25%
Protein 6g12%
Vitamin A 1070IU21%
Calcium 69mg7%
Iron 1.8mg10%
* Percent Daily Values are based on a 2000 calorie diet.
PIN ME FOR LATER!
I have linked this Cinnamon Bundt Cake post up with Cook-Blog-Share and Monika at https://everydayhealthyrecipes.com
Brilliant Blog Posts over at https://honestmum.com
Claire with Friday Frolics over at https://lifeloveanddirtydishes.com
and Bake of the Week over at https://casacostello.com