In life there are Lemon Drizzle Cakes and then there is THIS Lemon Drizzle Cake recipe. I hate to poke my head above the parapet but this is a true declaration from the heart.....and the hips unfortunately. I am putty in it's lemony hands.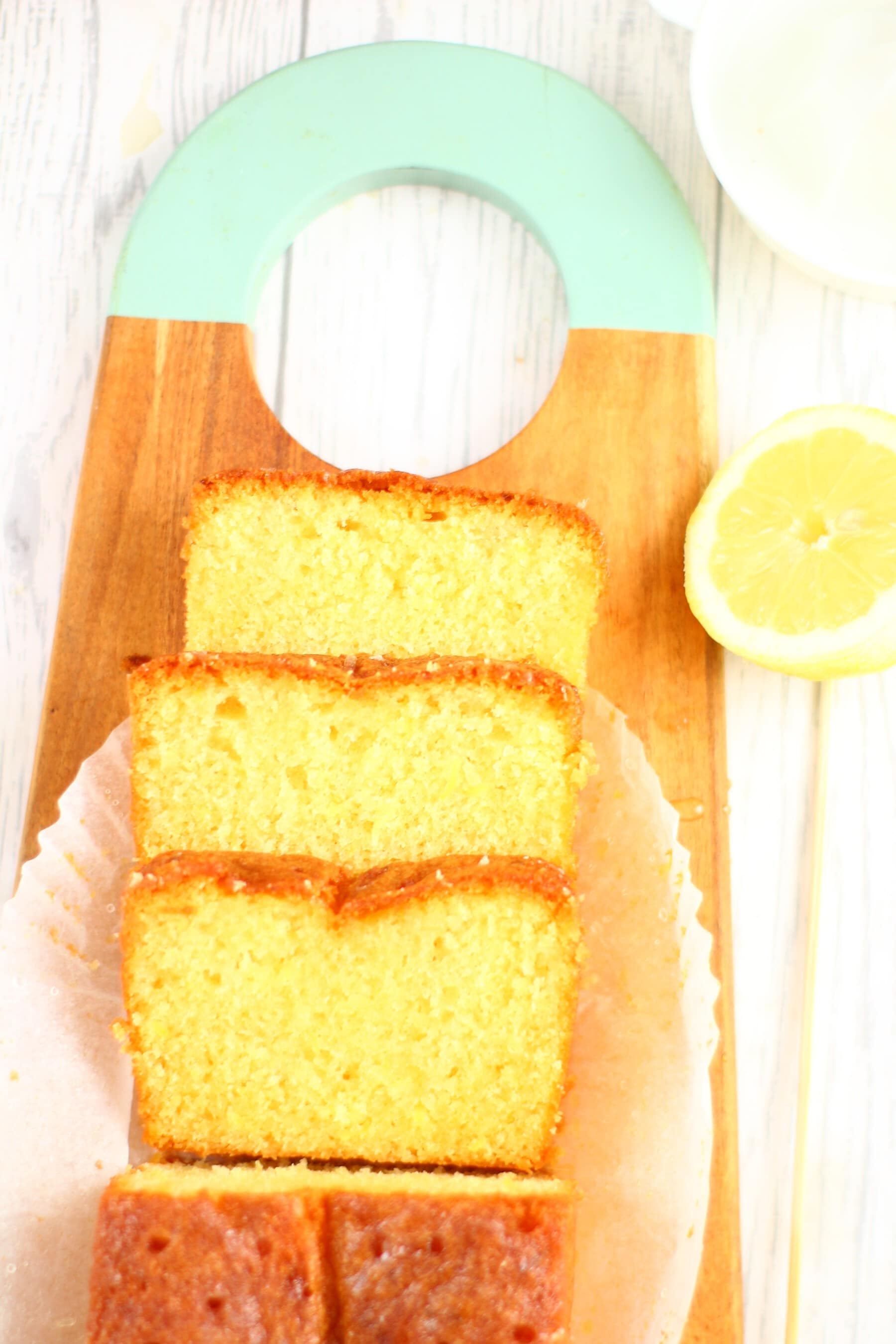 I have absolutely fallen for this lemony loveliness in a cake tin. So moist and sweet with a brightness to knock your socks off with every moreish slice.
It has just the right amount of sour to sweet and damp in just the exact way a good Lemon Drizzle Sponge should be.
It is firstly an easy recipe but ultimately a family favourite that will, once baked, find it's way to your table time and time again.
Easy Lemon Drizzle Cake Recipe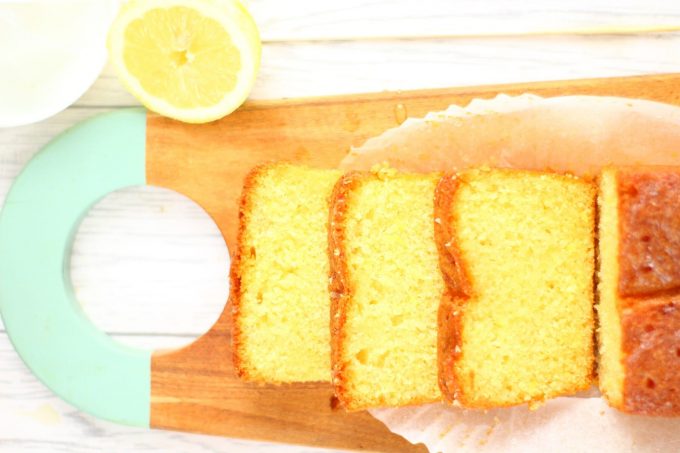 This is a very easy recipe that delivers an incredible Lemon Cake. It is moist and bursting with a lemon flavour that will fill your kitchen with sunshine even on the dreariest of days.
The lemon syrup ensures that it stays moist for absolute ages even though I challenge anyone to keep their faces off it for long.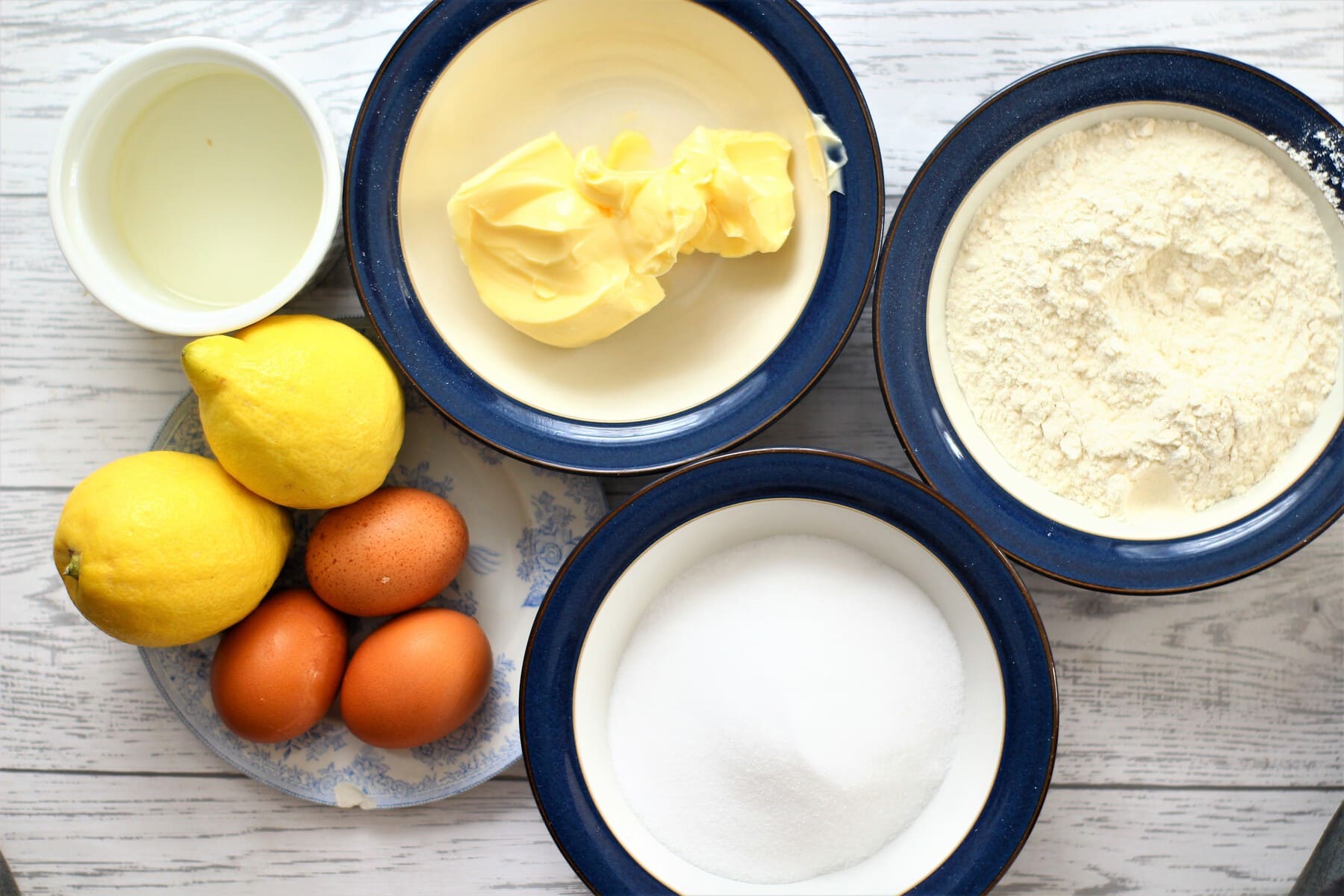 150 grams (6 oz) unsalted butter
150 grams (6 oz) caster sugar
150 grams (6 oz) plain flour
2 tbsp sunflower oil or similar
1 and a half tsp baking powder
2 large lemons unwaxed
Lemon Syrup
90 grams (4 oz) icing sugar
juice of 2 lemons
STEP -1
I firstly preheat the oven to 170 C/325 F/Mark 3 and then simply put all the ingredients in my free standing mixer. You can, of course, use a large mixing bowl and electric hand whisk.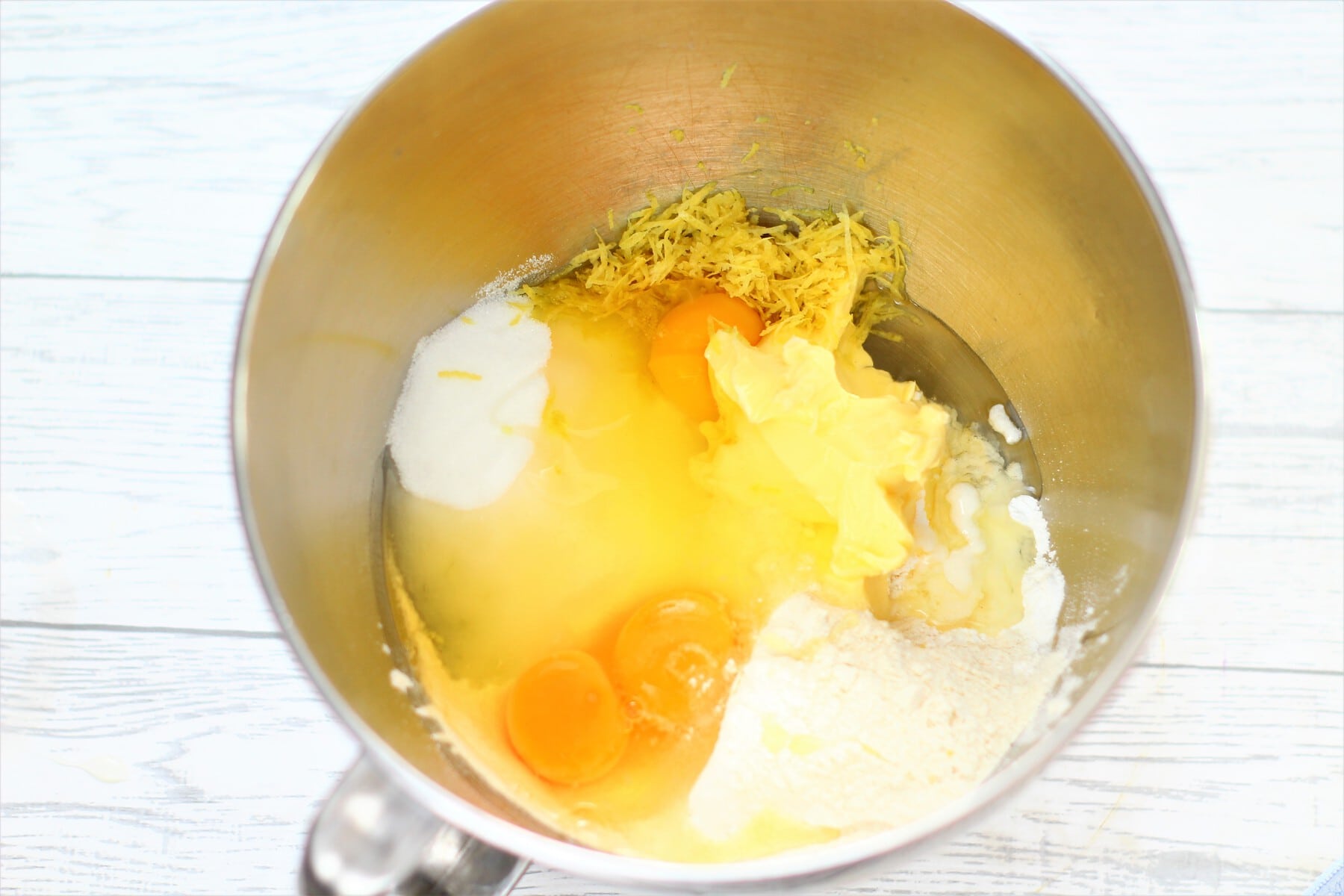 STEP - 2
Simply beat the mixture, gently at first otherwise the ingredients will fly about in the bowl, until it reaches a paler colour. At first it has an orange tint to it and when it is beaten enough it is has a paler yellow tint to it. It really is that easy.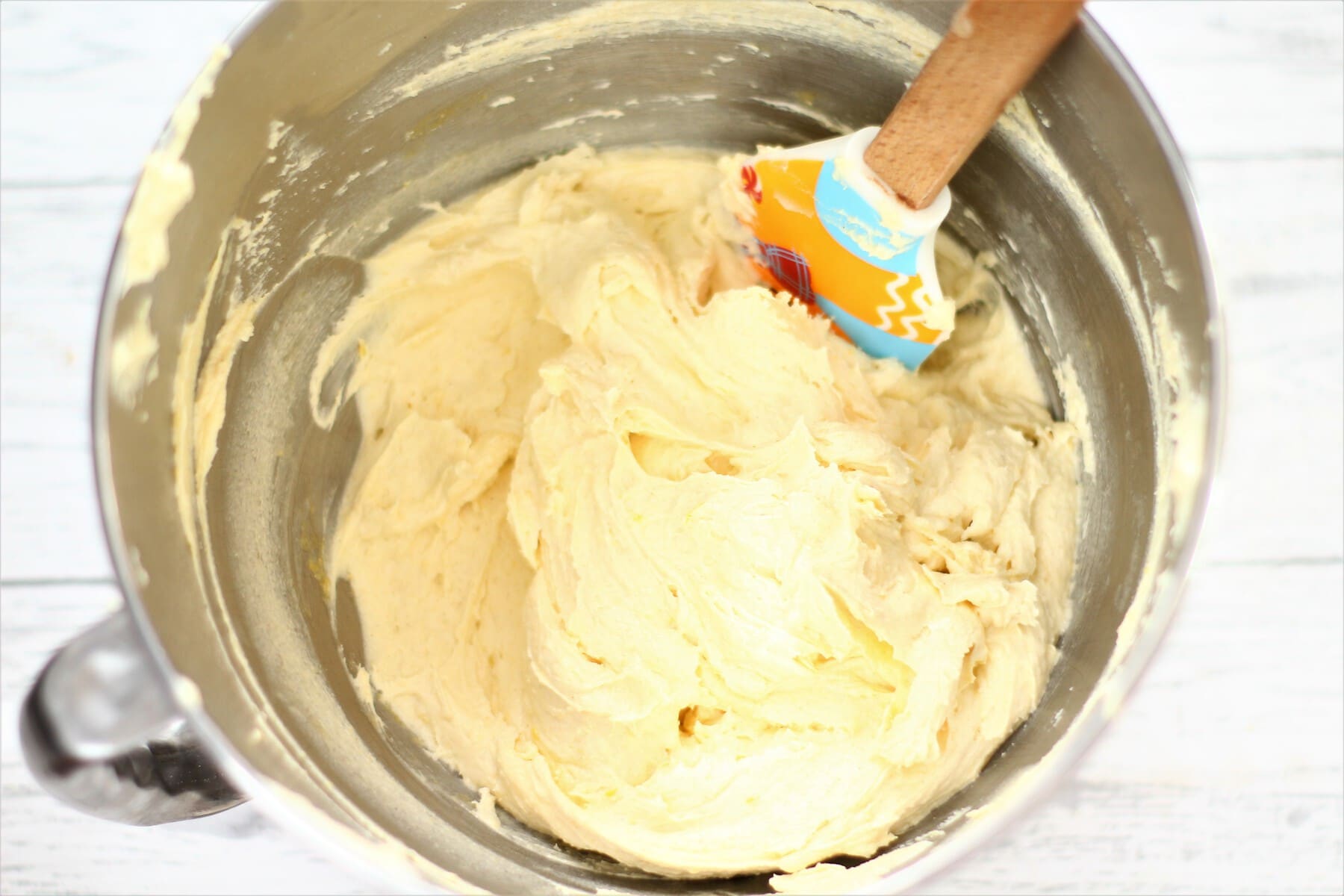 STEP - 3
Empty the cake batter into your tin. I use a paper baking loaf liner and a 2 lb loaf tin that is 22 cm long x 11 cm wide and 7 cm deep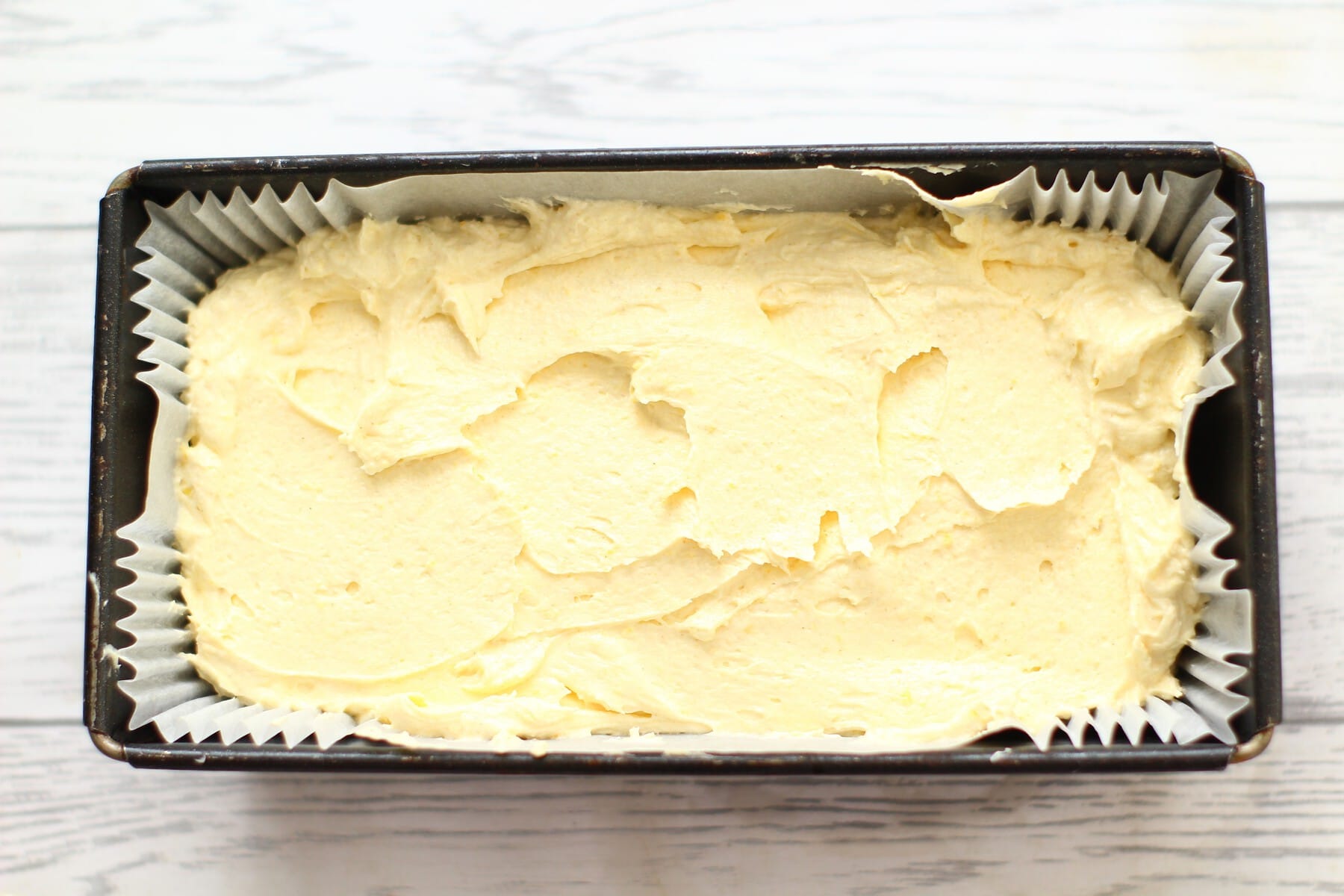 STEP-4
Bake the loaf in the oven for about 40/45 minutes.
Use a cake skewer to check if it's done. If it is ready there will be no wet mixture attached to the skewer after it has been inserted into the middle of the cake.
I do find that sometimes this cake sinks a little in the middle but it doesn't bother me at all....well just an ickle. But once sliced you don't notice it and the taste, lightness, moistness and down right gorgeousness of it usurp ANY mediocre kerb side appeal.
STEP-5
Meanwhile mix the lemon syrup ingredients together.
I measure out the icing sugar into a jug and then pour the lemon juice into it. I use a small whisk to whisk them together.
Do taste your syrup to make sure it is tart enough.
I buy an extra lemon to add some juice if I need to. Lemons do give off different amounts of juice and tartness. So I like to say 80 mls lemon juice which is why you may need another lemon to make up the deficit. But do add more if you want more Zing.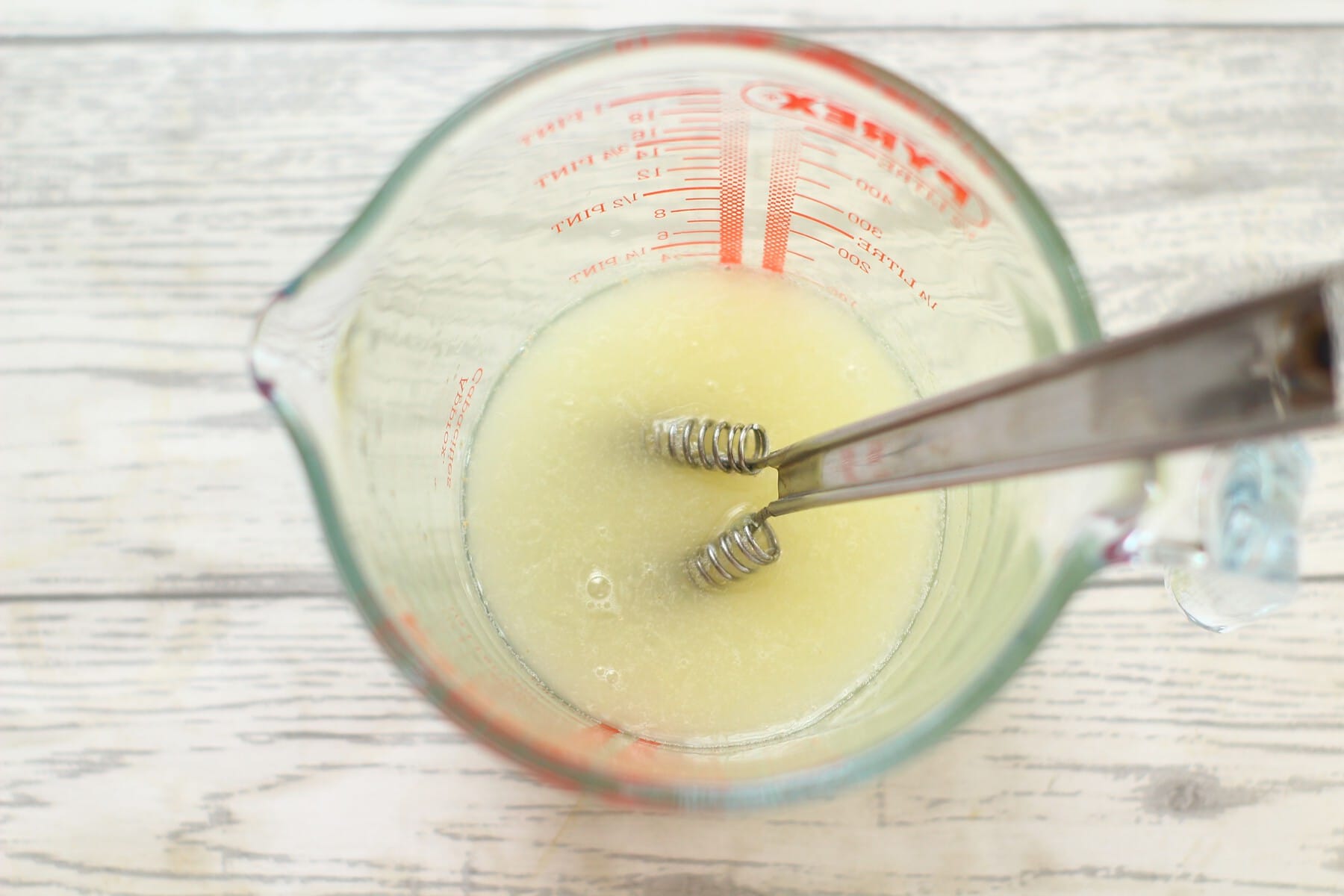 STEP-6
Once the cake has cooled in it's tin for five minutes then, using a skewer, poke holes all over the cake. I put about 1 in every 2 cms or so.Then pour the syrup over it in 2 batches. If your cake has sunk a little in the middle (I know how it feels) then use a spoon to make sure the syrup goes into the higher holes.
Leave the cake to fully cool before cutting into thick slices and spreading the lemon love.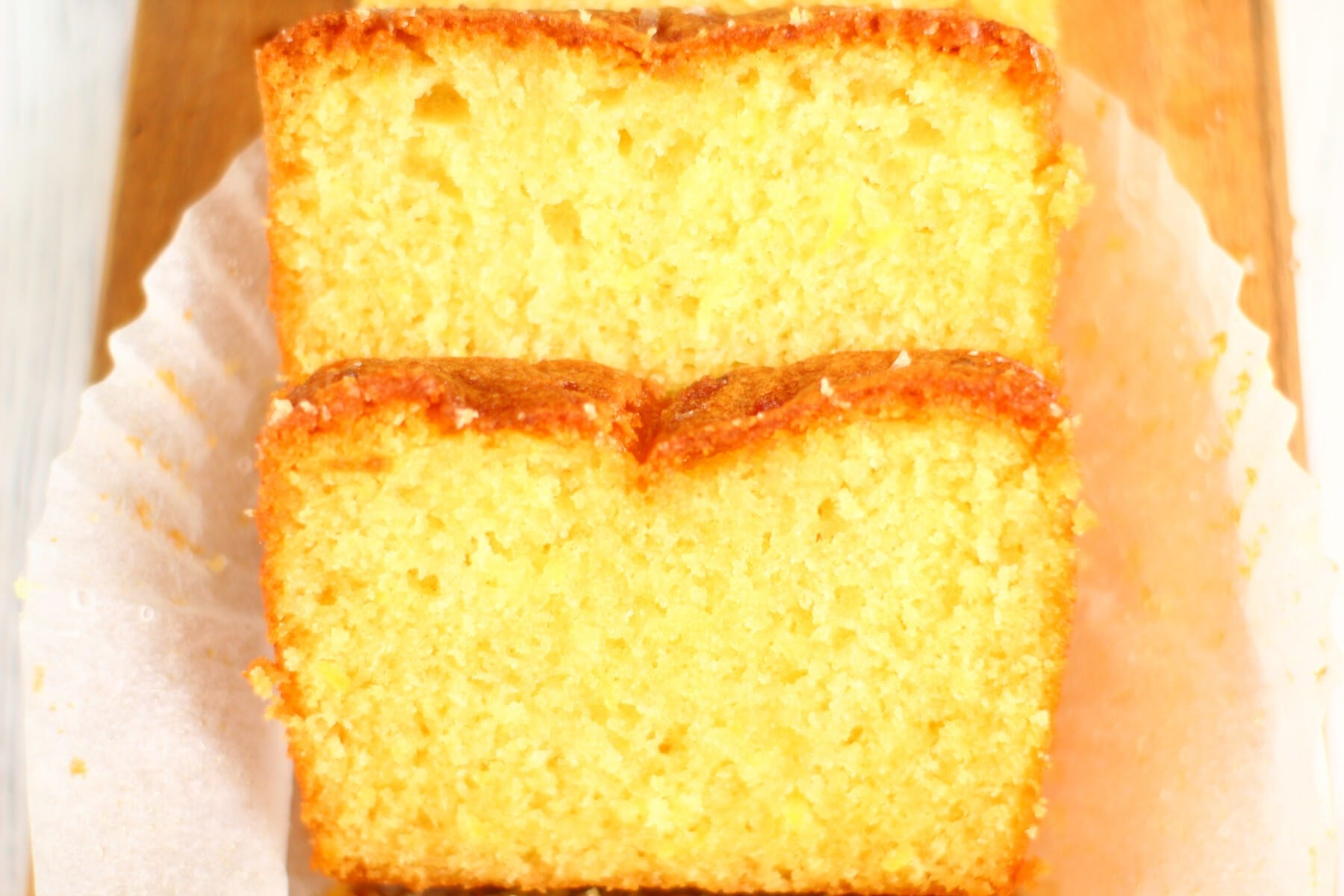 Tips For Easy Lemon Drizzle Cake
Use a paper liner to line your loaf tin
Use an oven thermometer to keep an accurate eye on the temperature.
Have your lemons at room temperature for juicing
To make this cake Gluten Free then substitute the plain flour for gluten free flour. You may need to add a little splash of milk to achieve a soft dropping consistency as the gluten free flour tends to absorb more moisture.
You can use white caster sugar instead of icing sugar. I'm not such a great fan of a crunchy sugary topping so I like to really make sure that most of the sugar has dissolved in the syrup by stirring the hell out of it before pouring it all over.
You can make this as a traybake. I bake mine in an 8" square loose bottomed tin. Increase the butter, flour and sugar to 170 grams. This makes sure there is enough batter. The syrup measurements are still fine. Here are some more Traybake recipe.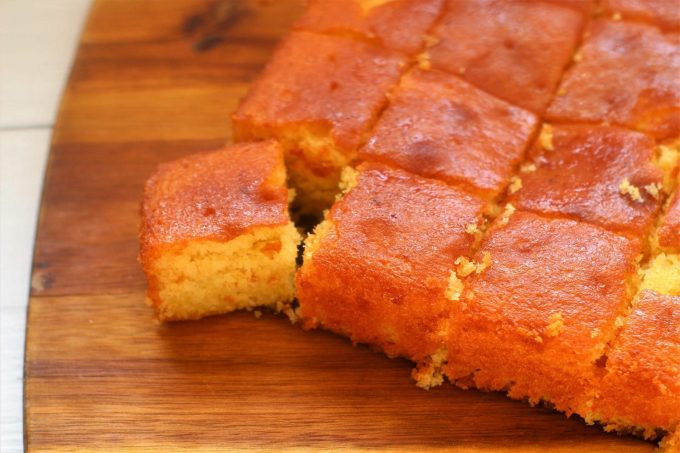 I also make them as cupcakes. Using large cupcake cases I get 12. I like to drizzle a little lemon icing over the top too.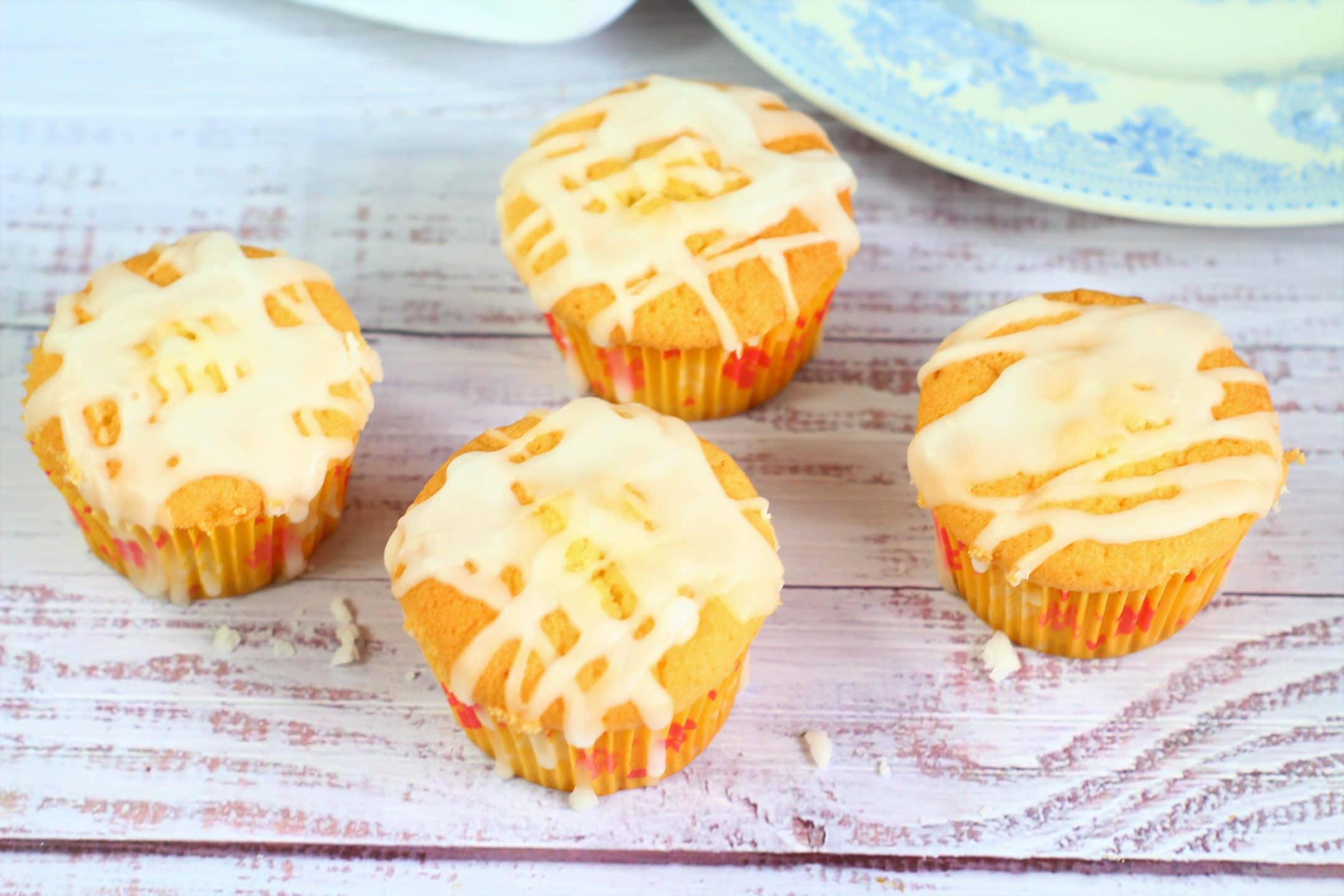 Equipment Required
Digital Scales
Free Standing Mixer or Large Mixing Bowl and Electric Whisk
Paper Loaf Liner
2 lb Loaf Tin - 21 cm long - 11 cm wide - 7 cm deep
Grater/Zester
Spatula
Small whisk
Jug
Small Mixing Bowl
Skewer
How To Store
It will keep well in an airtight container for 4 or so days.
You can freeze it too easily. Simply wrap in a double layer of clingfilm and then silver foil before freezing for up to a month. Do the same for individual slices.
Leave to thaw on a wire rack for 4-5 hours still wrapped when you need it or for about an hour for the slices. Store then as above.
If you like this recipe then you may like these.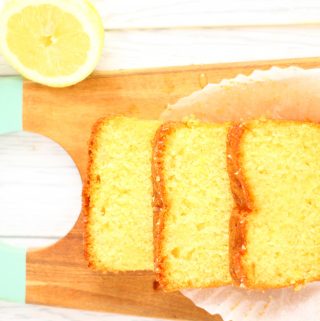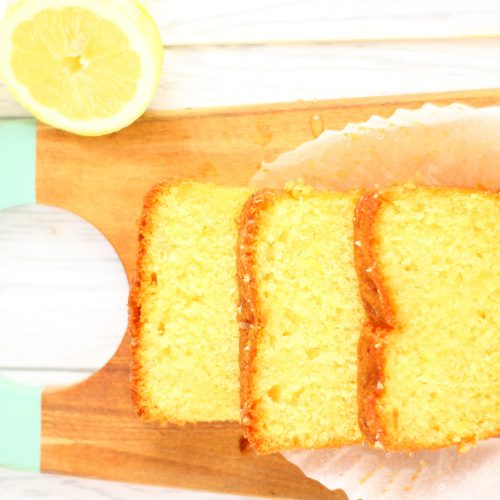 Lemon Drizzle Cake
Easy and Incredible Lemon Drizzle Cake. Full to the brim with lemon loveliness. Absolutely the best I have ever eaten.
Equipment
Digital Scales

Oven Thermometer (optional)

Paper Loaf Liner

1 lb Loaf Tin 22 cm x 11 cm x 7 cm deep

Food Mixer or Large Bowl and Electric Whisk

Jug

Small Whisk

Skewer

Zester/Grater

Juicer

Spatula
Ingredients
150

grams

unsalted butter

soft

150

grams

caster sugar

3

large

eggs

beaten

150

grams

plain flour

2

tbsp

sunflower oil

any plain oil

1½

tsp

baking powder

2

large

lemons

unwaxed
Lemon syrup
90

grams

icing sugar

juice of the 2 lemons

100 mls so you may need 3 lemons
Instructions
Preheat your oven to 170°C/325 F/Gas Mark 3 and zest 2 lemons. Put 150 grams of plain flour, caster sugar and butter, 2 tbsp sunflower oil, 1½ tsp baking powder, your grated lemon zest and 3 beaten eggs into a large mixing bowl or free standing mixer. Mix gently at first until the mixture won't fly over the edge of the bowl. Turn up the mixer and then beat until pale. I use the beater attachment not my whisk on my mixer. It will be a soft dropping consistency.

Using a spatula put the mixture into the lined loaf tin and bake for about 40 minutes or until an inserted skewer comes out of the cake clean. It will depend on the type of tin used and the reliability of your oven temp.

While the cake is baking whisk measure out your 90 grams icing sugar into a small mixing bowl and juice your 2 lemons. Pour on the lemon juice and whisk well using a small whisk if you have one. keep whisking until the icing sugar has melted into the syrup. It will still be bitty from the lemon.

You may need to juice another lemon to get the required 80 mls.

Allow the cake to cool for 5 or 10 minutes before inserting the skewer all over the cake. I make a hole about every 2 cms or so. Pour the syrup over in 2 batches. If your cake has sank a little in the middle use a spoon to make sure the higher sited holes get their share of the syrup.

Allow to fully cool before removing from the tin and slicing.
Notes
Using a simple oven thermometer will help all cake baking enormously. I can't tell you how many ovens are not accurate. It was a game changer for me.
Do taste your syrup to make sure it is tart enough. I buy an extra lemon to add some juice if I need to. Lemons do give off different amounts of juice and tartness. So I like to say 100 mls lemon juice which is why you may need another lemon to make up the deficit. But do add more if you want more Zing.
Nutrition
Calories:
421
kcal
|
Carbohydrates:
54
g
|
Protein:
3
g
|
Fat:
23
g
|
Saturated Fat:
11
g
|
Cholesterol:
46
mg
|
Sodium:
5
mg
|
Potassium:
191
mg
|
Fiber:
1
g
|
Sugar:
35
g
|
Vitamin A:
530
IU
|
Vitamin C:
14.3
mg
|
Calcium:
69
mg
|
Iron:
1.2
mg
All nutritional information is approximate and intended only as a guide.
Tried this recipe?
Take a pic and tag @applytofaceblog on Instagram. I would so love to see them!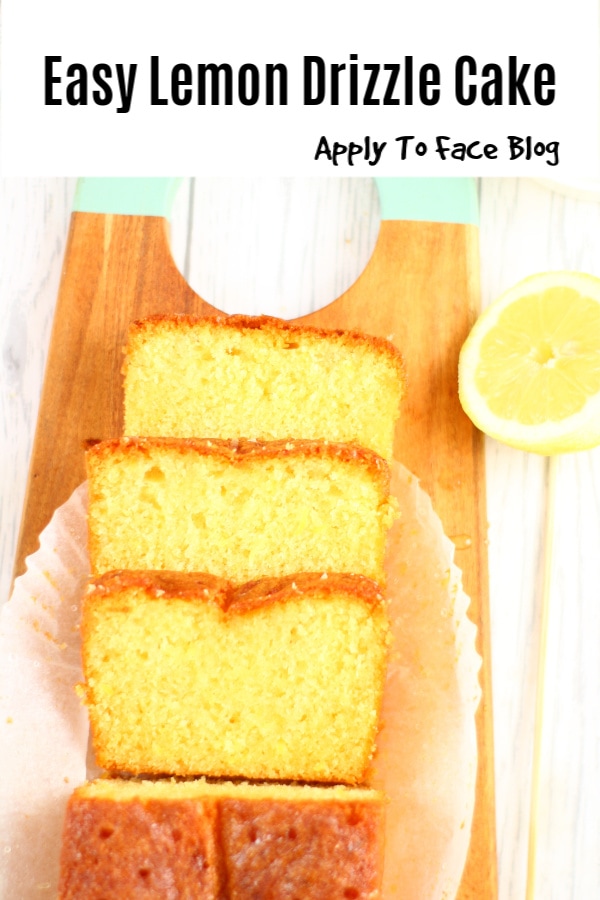 Check out these other Incredible Lemon recipes.