In life there are Lemon Drizzle Cakes and then there is THIS Lemon Drizzle Cake. I hate to poke my head above the parapet but this is a true declaration from the heart…..and the hips unfortunately. I am putty in it's lemony hands.
But first……
This week has seen me get in a right pickle with my HRT patches. Even though I have been making a clear note of when to switch them and on what day, I have got in a middle aged muddle.
They come in two flavours and require some coordination. I put the wrong one on for a few days and then left them all behind on a weekend away. Goodness knows what my ovaries think, even if they are already a shadow of their former selves. I am totally useless……
However I do feel free of most symptoms on this my second month. I did have a wave of sadness that hit me for four days or so, but that has been it. BUT for those four days I felt like I was watching "Beaches" permanently on a re run.
I was practically broken on the floor in a puddle by the end of it all. Emotionally exhausted but still very well nourished, I eventually bounced back.
I realised what it was early on and rode it out like the true menopausal matron I have become. Hopefully I will be able to back off the wine, cheese, lovely chips and chocolate from now on…….
Fingers and horny toes crossed.
Lemon Drizzle Cake Recipe
This is a very easy recipe that delivers an incredible Lemon Cake. It is moist and bursting with a lemon flavour that will fill your kitchen with sunshine.
The lemon syrup ensures that it stays moist for absolute ages even though I challenge anyone to keep their hands off it.
Even my children that usually turn their noses up at lemony sweet stuff go bonkers for it. I have fallen head over heels in love with these fabulous yellow bricks.
I firstly preheat the oven to 170 C/325 F/Mark 3 and then simply put all the ingredients in my free standing mixer. You can, of course, use a large mixing bowl and electric hand whisk.
Simply beat the mixture, gently at first otherwise the ingredients will fly about in the bowl, until it reaches a paler colour. At first it has an orange tint to it and when it is beaten enough it is has a paler yellow tint to it. It really is that easy.
I use a paper baking loaf liner and a 1 llb loaf tin that is 22 cm long x 11 cm wide and 7 cm deep. I use paper liners stretched out to bake pastry cases blind as in my Quiche Lorraine recipe so they are great to have in the cupboard. I have the loaf shape and the round cake shape 8″ as that the size of cake that I usually bake.
Bake the loaf in the oven for about 45 minutes. Use a cake skewer to check if it's done. If it is ready there will be no wet mixture attached to the skewer after it has been inserted into the middle of the cake.
I do find that this cake sinks a little in the middle but it doesn't bother me at all….well just an ickle. But once sliced you don't notice it and the taste, lightness, moistness and down right gorgeousness of it usurp ANY mediocre kerb side appeal.
Meanwhile mix the lemon syrup ingredients together. I measure out the icing sugar into a jug and then pour the lemon juice into it. I use a small whisk to whisk them together.
Do taste your syrup to make sure it is tart enough. I buy an extra lemon to add some juice if I need to. Lemons do give off different amounts of juice and tartness. So I like to say 100 mls lemon juice which is why you may need another lemon to make up the deficit. But do add more if you want more Zing.
Once the cake has cooled in it's tin for five minutes then, using a skewer, poke holes all over the cake. I put about 1 in every 2 cms or so. Then pour the syrup over it in 2 batches. If your cake has sunk a little in the middle (I know how it feels) then use a spoon to make sure the syrup goes into the higher holes.
Leave the cake to fully cool before cutting into thick slices and spreading the love.
Tips For Lemon Drizzle Cake
Use a paper liner to line your loaf tin
Use an oven thermometer to keep an accurate eye on the temperature
Have your lemons at room temperature for juicing
Equipment Required
Digital Scales
Free Standing Mixer or Large Mixing Bowl and Electric Whisk
Paper Loaf Liner
1 lb Loaf Tin – 21 cm long – 11 cm wide – 7 cm deep
Grater/Zester
Spatula
Small whisk
Jug
Small Mixing Bowl
Skewer
How To Store
It will keep well in an air tight container for 4 or so days.
You can freeze it too easily. Simply wrap in a double layer of clingfilm and then silver foil before freezing for up to a month. Do the same for individual slices.
Leave to thaw on a wire rack for 4-5 hours still wrapped when you need it or for about an hour for the slices. Store then as above.
To make this cake Gluten Free then substitute the plain flour for gluten free flour. You may need to add a little splash of milk to achieve a soft dropping consistency as the gluten free flour tends to absorb more moisture.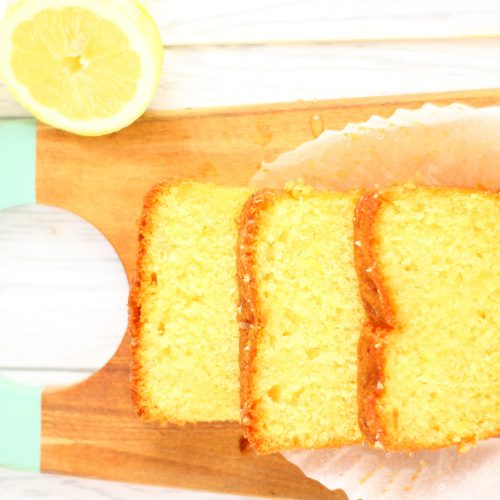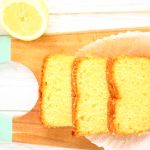 Lemon Drizzle Cake
Easy and Incredible Lemon Drizzle Cake. Full to the brim with lemon loveliness. Absolutely the best I have ever eaten.
Ingredients
170

grams

unsalted butter

170

grams

caster sugar

3

large

eggs

170

grams

plain flour

3

tbsp

sunflower oil

any plain oil

2

tsp

baking powder

2

large

lemons

unwaxed
Lemon syrup
110

grams

icing sugar

juice of the 2 lemons

100 mls so you may need 3 lemons
Instructions
Preheat your oven to 170°C/325 F/Gas Mark 3 and zest your 2 lemons. Put all the ingredients into a large mixing bowl or free standing mixer. Mix gently at first until the mixture won't fly over the edge of the bowl. Turn up the mixer and then beat until pale. I use the beater attachment not my whisk on my mixer. It will be a soft dropping consistency.

Using a spatula put the mixture into the lined loaf tin and bake for about 40 minutes or until an inserted skewer comes out of the cake clean. It will depend on the type of tin used and the reliability of your oven temp.

While the cake is baking whisk measure out your 110 grams icing sugar into a small mixing bowl and juice your 2 lemons. Pour on the lemon juice and whisk well using a small whisk if you have one. keep whisking until the icing sugar has melted into the syrup. It will still be bitty from the lemon.

Allow the cake to cool for 5 or 10 minutes before inserting the skewer all over the cake. I make a hole about every 2 cms or so. Pour the syrup over in 2 batches. If your cake has sank a little in the middle use a spoon to make sure the higher sited holes get their share of the syrup.

Allow to fully cool before removing from the tin and slicing.
Recipe Notes
Using a simple oven thermometer will help all cake baking enormously. I can't tell you how many ovens are not accurate. It was a game changer for me.
Do taste your syrup to make sure it is tart enough. I buy an extra lemon to add some juice if I need to. Lemons do give off different amounts of juice and tartness. So I like to say 100 mls lemon juice which is why you may need another lemon to make up the deficit. But do add more if you want more Zing.
Nutrition Facts
Lemon Drizzle Cake
Amount Per Serving
Calories 421
Calories from Fat 207
% Daily Value*
Fat 23g35%
Cholesterol 46mg15%
Sodium 5mg0%
Potassium 191mg5%
Carbohydrates 54g18%
Protein 3g6%
Vitamin A 530IU11%
Vitamin C 14.3mg17%
Calcium 69mg7%
Iron 1.2mg7%
* Percent Daily Values are based on a 2000 calorie diet.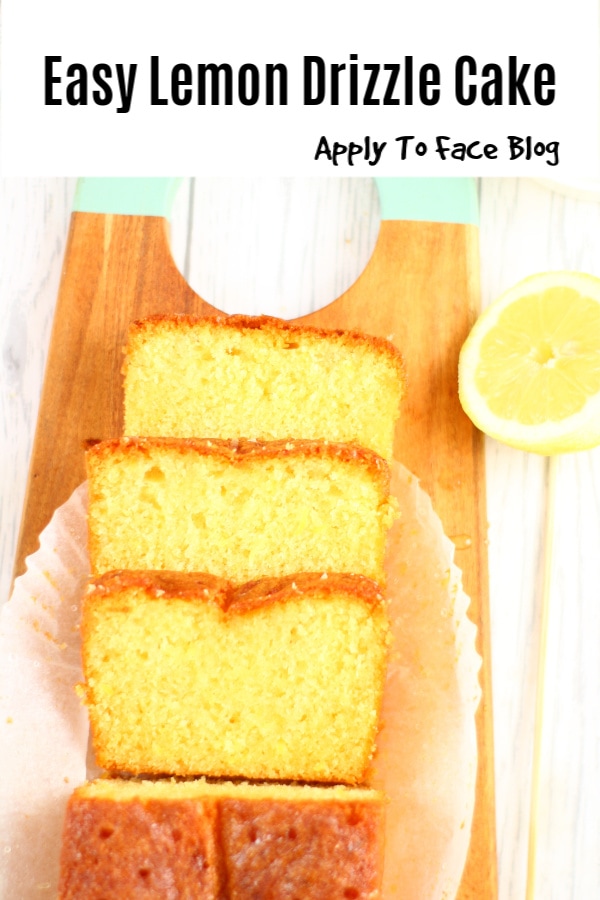 Check out these other Incredible Lemon recipes.
I have linked this post with #CookBlogShare over at Recipes Made Easy.