This Lemon Posset is, of course, super simple. Velvety lemon cream so light and lemony you're transported to a lemon grove in Sorrento at the first teaspoon. DIVINE…..
A Lemon Posset is a wonderful thing and something everybody is capable of producing. It is the equivalent of a pot noodle dessert without the silver sachets. Boil and go.
This Lemon Posset recipe is one of my favourites for a dinner party dessert or any special occasion that requires easy entertaining. It is make ahead and so easy to do a four year old could do it, apart from the ridiculously obvious fact that you wouldn't let any four year old near the stove……. APART from that fact…..a four year old really could do it.
You are only 3 ingredients and a bubble away from the most smooth and light lemon dessert imaginable. I like to serve it with a biscuit for some crunch.
I make my quick and easy Shortbread Cookies and cut them into small fluted rounds but you could use any store bought fancy pants biscuits. I'm not sure a garibaldi would go down so well though, so I'm thinking something delicate and gingery or even a brandy snap or two.
However back at the ranch this week……scroll past to the recipe below if you're feeling hungry
This past weekend we went away in our caravan again but this time took my best friend's son along with my own two. His parents were to rendezvous with us early the next day so it would be a doddle, or so I thought….
Upon arrival I attempted to keep spirits light and carefree as my husband became a miserable old git as he orchestrated much flicking of switches and attaching of tubes. He always carries out our settling down and in with extreme OCD/Army Major like tendencies.
This always fascinates me. He is unable to pick his own pants and socks up and can remain oblivious to the little growing piles for up to a week, however he absolutely has to operate all other situations on the home front with the military precision of a SAS Librarian with X ray vision.
I always want to punch him repeatedly at this point but I have to keep in mind that at no point do I want to be responsible for all those technical and nasty working functions of the caravan that he is so adept at.
But he is unable to complete said tasks in anything approaching good humour so I was relied upon to keep the party bus jumping solo for the first half an hour.
To my credit I managed to pull it off without our guest becoming aware of the extreme animosity between us and I even managed a jolly steaming big hot chocolate for everyone as they snuggled down in their sleeping bags. Just call me Enid Blyton….
As they finally settled in for the night and I fussed around our guest, I have to be honest that I did pat myself on the back. What a success I thought, we could even manage two I thought.
I'll bring chocolate flakes and marshmallows next time. Children throughout the neighbourhood will want to come away with us when word gets out.
Please Mrs.Walters, pick us next time they shall say at school pick up……as I sat there fantasizing about bringing camping to the masses, I heard a distant cough followed by a gurgle……..NOOOOOOOOOO!…..oh yes indeed.
The excitement must have proved too much………poor child……. I'm so over it……Enid can wind her neck well and truly back in.
Lemon Posset Recipe
You really can't go wrong with this lemon recipe. It is 3 ingredients and a mere matter of minutes to make the lemon cream.
There are only 3 ingredients.
Put the cream and sugar into a saucepan and bring to a simmer whilst stirring with a spatula. You don't want the cream to burn on the bottom so keep scraping the bottom and sides.
Let it simmer for 3 minutes before removing from the heat.
Tip in the lemon juice and stir it completely into the cream.
Pour the now lemony cream into a jug so you can transfer it easily without it dripping over your chosen receptacles.
I use some tea cups that I have but this also looks great in small glasses or tumblers. Pour in carefully.
I always under pour first so I can go back and top up equally.
Chill in the fridge for at least 4 hours.
I put mine on a baking tray for easiness carrying to and from the fridge.
You can decorate with small sprigs of mint as I have done here or a couple of raspberries or dark chocolate shavings.
I sometimes crumble a little bit of ginger biscuits on the top right at the last minute. Anything that complements the lemon really.
I don't use lemon zest as I just don't like it! I know people will be tutting but I don't like the bittiness on my tongue. I love the taste just not the feel of it.
Equipment Required
Digital Scales
Saucepan
Spatula
Lemon juicer or you can do it by hand
Measuring jug
Serving glasses/cups
IF YOU LIKE THIS LEMON POSSET RECIPE YOU MAY LIKE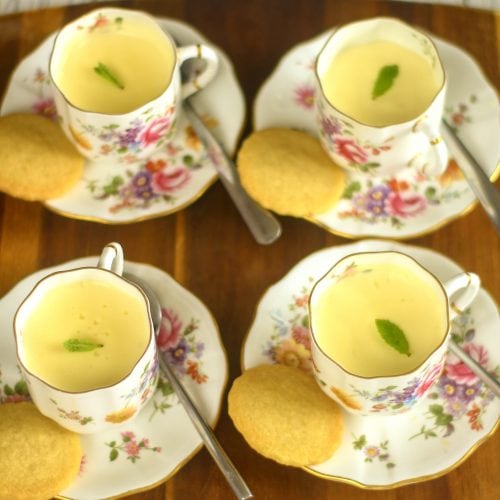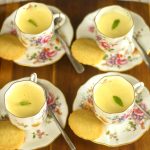 Lemon Posset
This light and velvety Lemon Posset is absolutely divine. Perfect as a make ahead dinner party dessert or for any special occasion, it is a huge crowd pleaser.
Ingredients
200

mls

lemon juice

600

mls

double cream

150

grams

caster sugar
Instructions
Tip 600 mls of cream into a saucepan and add the 150 grams of sugar in too.

Bring to a gentle simmer whilst stirring and scraping the cream around the saucepan. Once it reaches a simmer then keep it simmering for 3 minutes. Stir throughout those 3 minutes just so the cream doesn't catch at the bottom and sides.

Remove from the heat and pour in the lemon juice. Stir jn thoroughly. Pour into a jug and then your serving glasses/dishes. Try to get the volumes right at first attempt just to get a clean look.

Chill for at least 4 hours. You can decorate with a couple of raspberries, mint sprigs or chocolate shavings.
Nutrition Facts
Lemon Posset
Amount Per Serving
Calories 449
Calories from Fat 333
% Daily Value*
Fat 37g57%
Cholesterol 137mg46%
Sodium 38mg2%
Potassium 109mg3%
Carbohydrates 30g10%
Protein 2g4%
Vitamin A 1470IU29%
Vitamin C 13.5mg16%
Calcium 67mg7%
* Percent Daily Values are based on a 2000 calorie diet.
Or how about this super simple Lemon Drizzle Cake
I have linked this post to Cook Blog Share over at Recipes Made Easy