This is a super easy shortbread recipe. I don't even cream the butter and sugar first. A one bowl mix of three ingredients and you have a heavenly mouthful of crisp, buttery shortbread biscuit.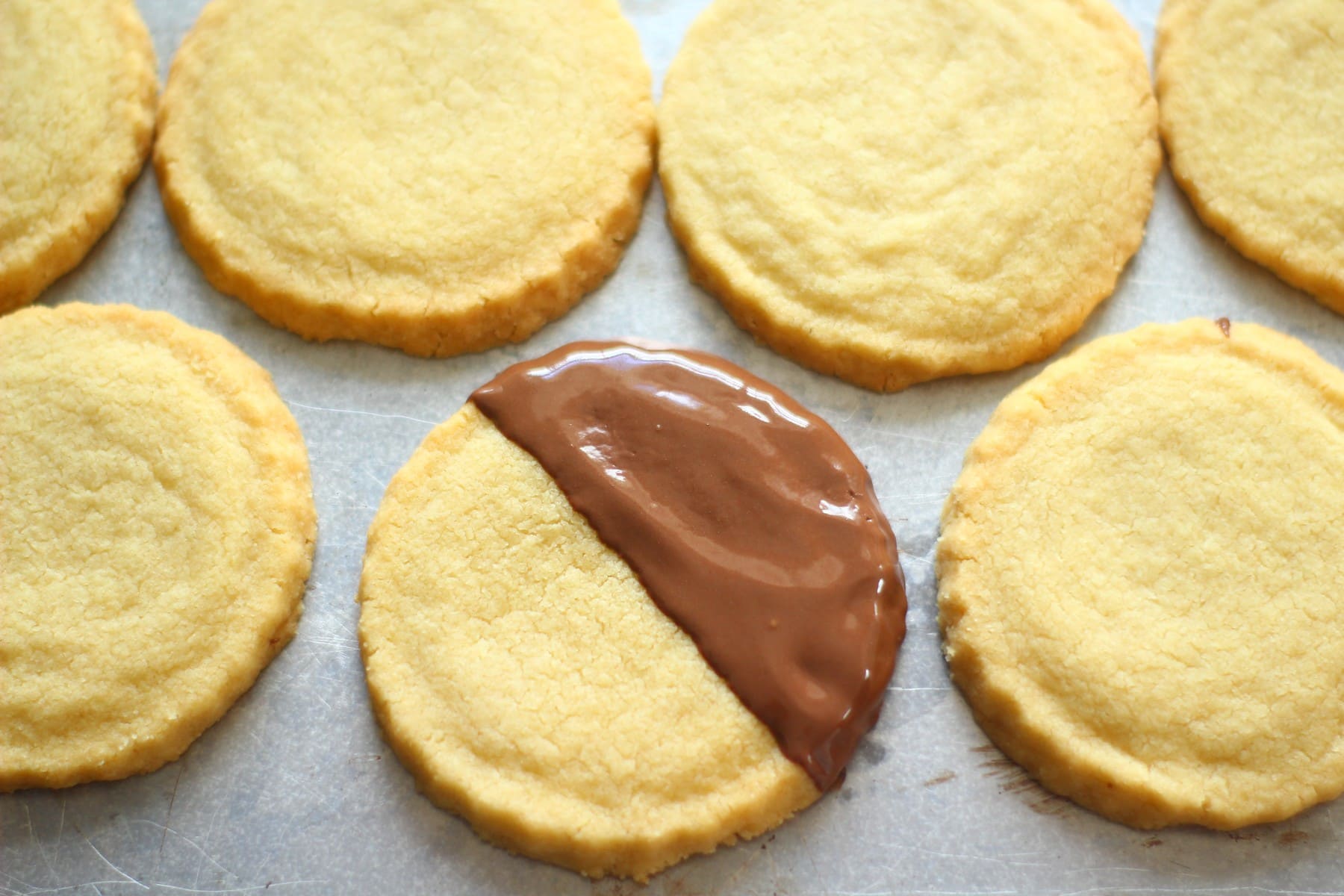 Easy Shortbread
This simple recipe is super easy and very forgiving. A perfect bake for the amateur cook. Plus the fact they are mega moreish.
They keep really well and I often make biscuits with only half the dough and leave the other wrapped up in the fridge to help myself later on in the week.
Makes me feel like the best Mom in town or even the world. Fresh shortbread for an after school snack or secret snaffle when all you have to do is reach into the fridge. Biscuit Boom....
Scroll down to the bottom of this post for a full printable recipe card.
You will need
cookie cutter
scales
mixing bowl if using hand held mixer or wooden spoon
mixer or electric hand held beater or food processor or wooden spoon
rolling pin
baking tray lined with baking paper or reusable silicone
cooling rack
oven thermometer (optional)
Ingredients
250 grams (8.8 oz) unsalted butter
150 grams (5.3 oz) caster sugar
350 grams (12.3 oz) plain flour
Recipe Steps
This is about as easy as it gets, thank goodness.
I put the 3 ingredients in a free standing mixer, mixing bowl or food processor and mix.
I have made it in both a mixer or a food processor or a mixing bowl with a hand held electric mixer and it matters not which one you use. So use what ever suits you. You can mix these with just a wooden spoon and large mixing bowl too.
I would say though that if you are using a food processor it needs to be a large one or you could split the ingredients in half and do it in 2 batches.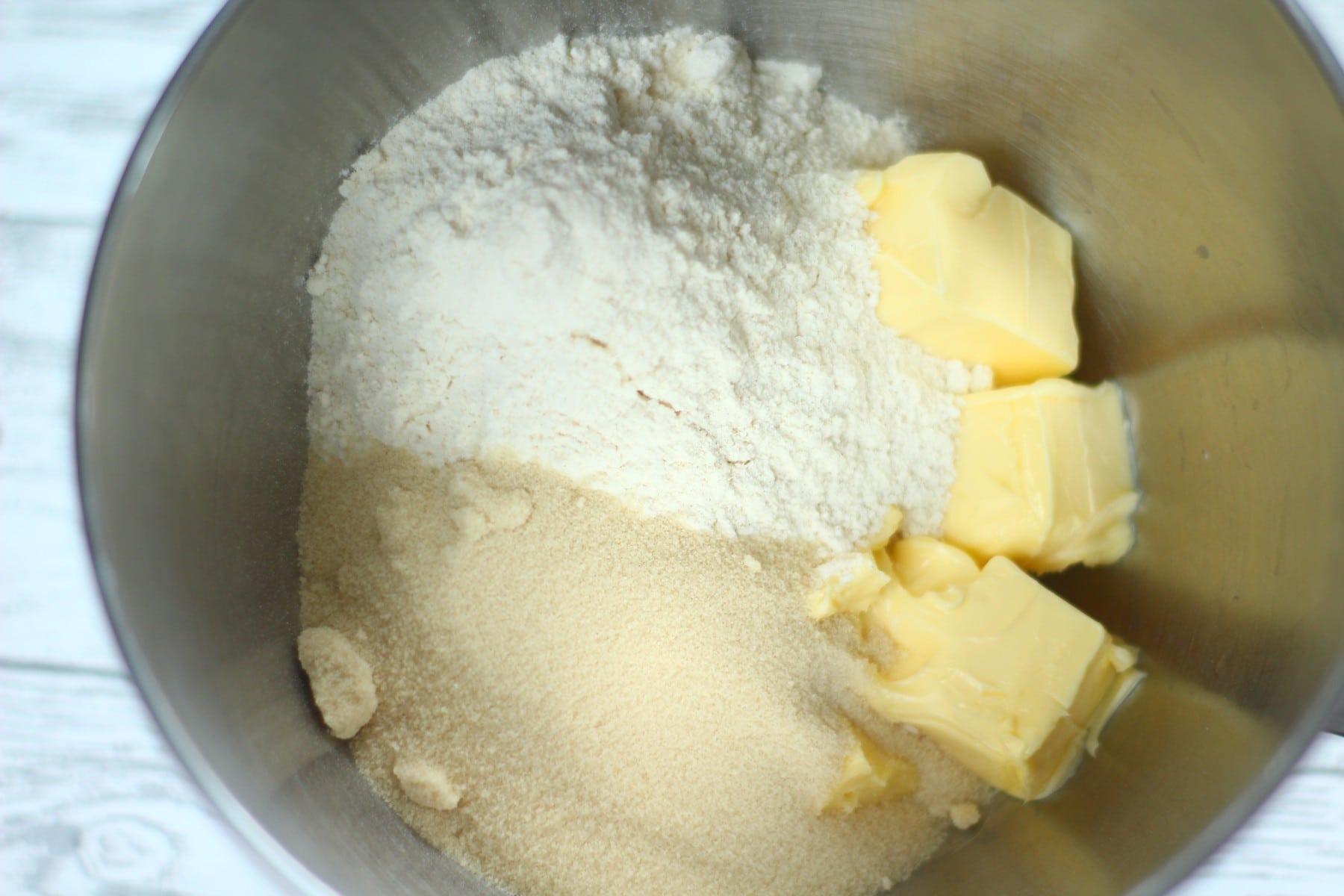 Mix together until you get a shaggy dough thing going on.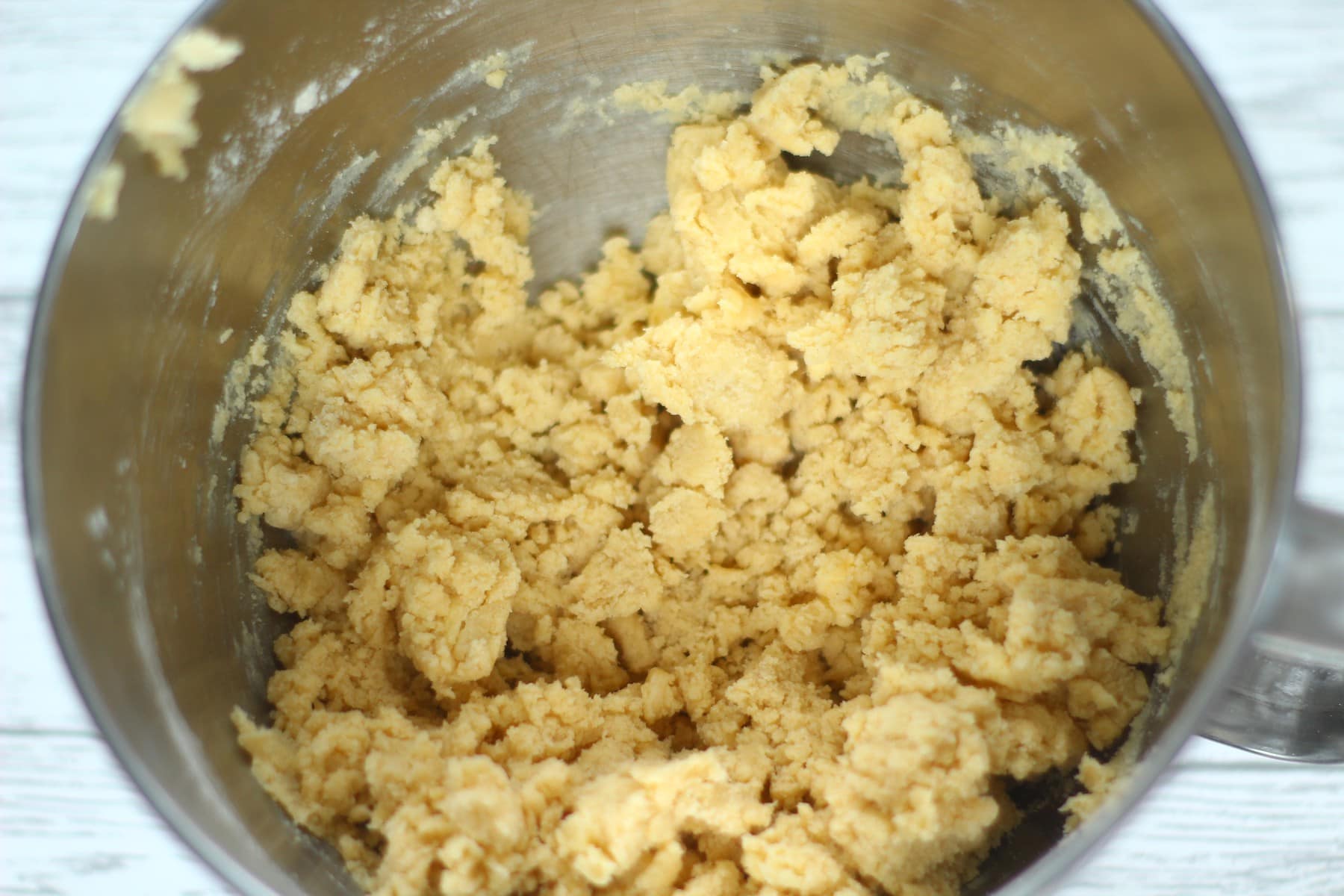 Knead and squeeze it together with your hands either tipped out onto the work surface or in the bowl.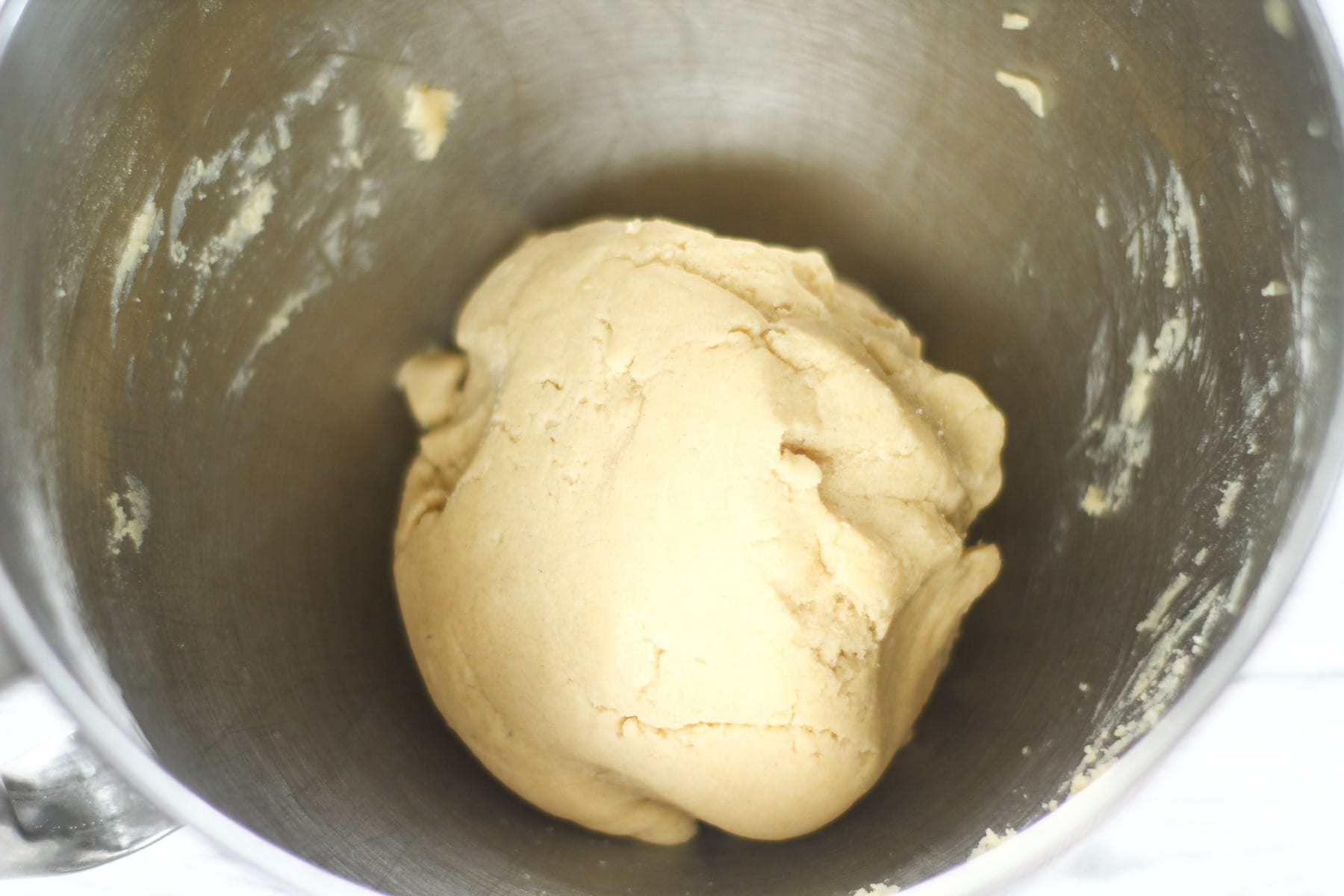 Then tip out onto a lightly floured work surface knead a little and roll the smooth dough out to about 1 cm thick.
Flour your rolling pin a little too.
I use a scone cutter to cut out rounds. I use the fluted edge as I think it looks prettier but you can use any shape.
My cutter is 7 cm wide and I get about 13 cookies from it. Damn that odd one.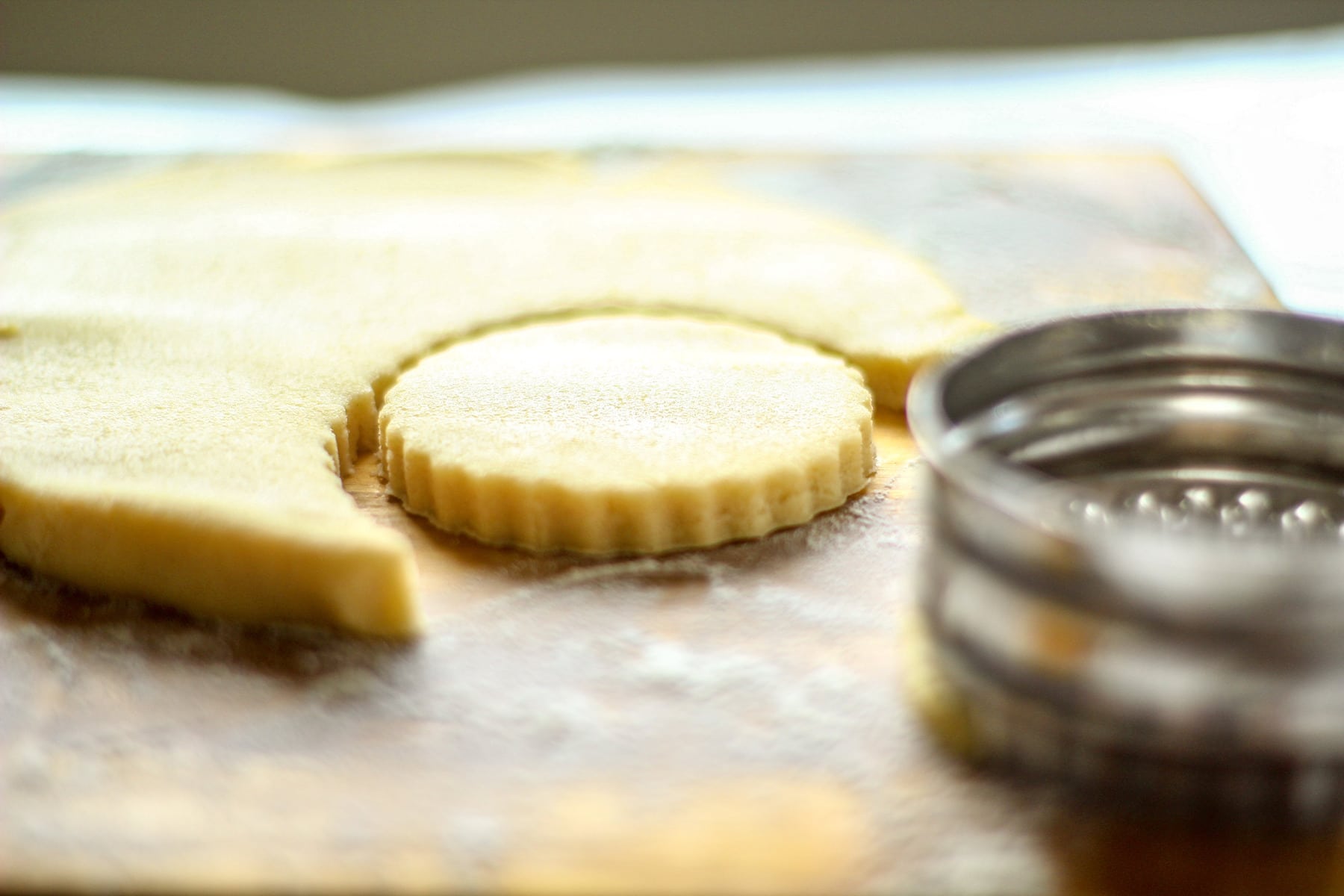 I use a fish slice/flat spatula to scoop them carefully off the work surface and onto a lined large baking tray.
I use a re usable silicone liner but either baking paper is fine or you could grease and flour the baking tray itself.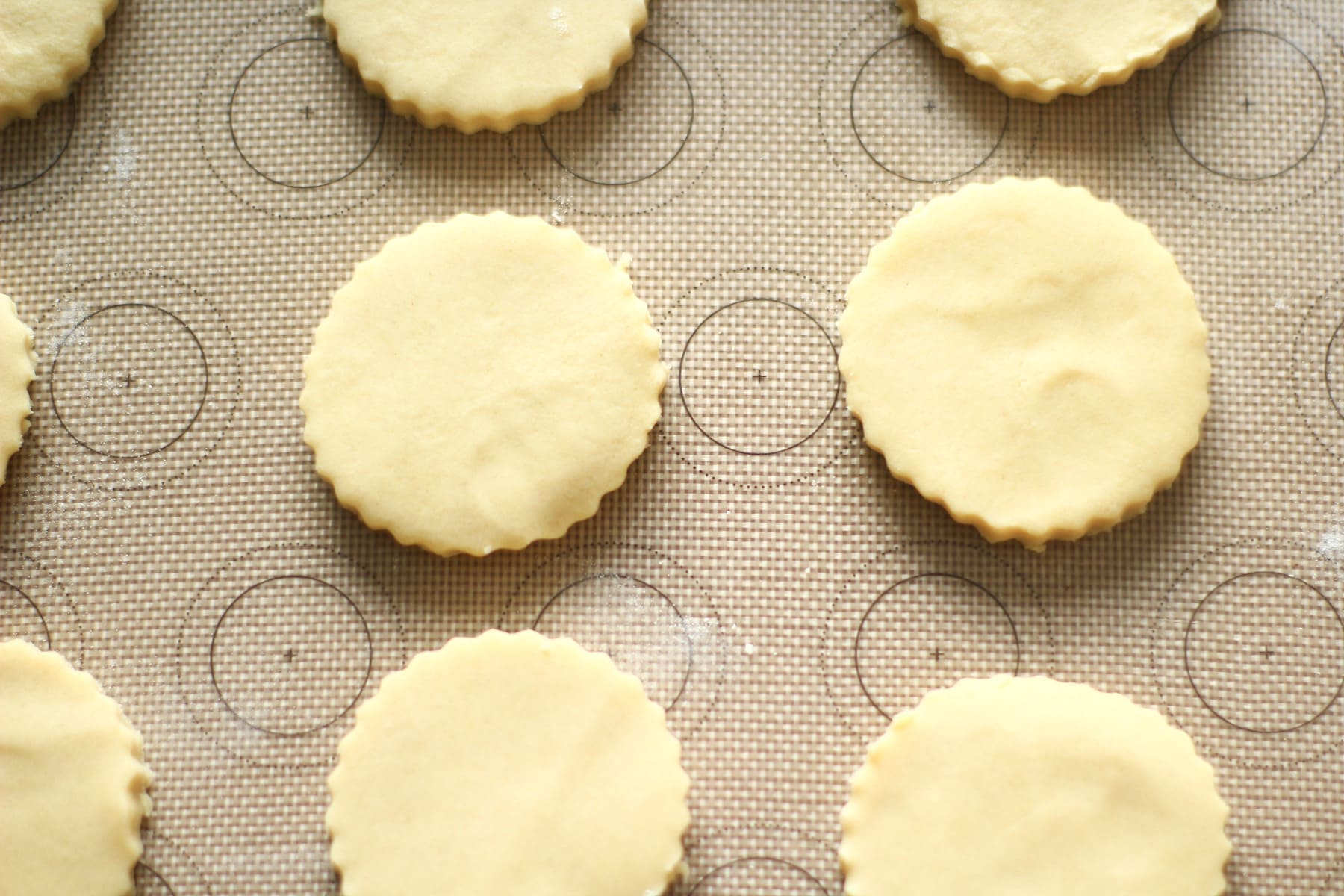 Because it is such a soft dough it is sometimes easy to get an uneven roll here and there but just do your best.
I find that the cookies do even out in the oven.
I put 6 cookies per tray to allow for spreading. It does mean you have to bake in batches and the last 1 that is left over is annoying. Soz.
My baking trays are 35 cm x 30 cm.
Chill in the fridge for at least 30 minutes.
Bake for 15 minutes or until golden around the edges and a little on top.
Watch carefully to see that the colour is no more than golden.
After a few minutes remove carefully with a flat spatula/fish slice to a wire rack to cool.

Sometimes I dip them in good quality milk chocolate for the children or spoon 2 tsp of melted chocolate on top of the cookie itself. You could even decorate with sprinkles etc.
Either way is effective but the latter is certainly easier. I find dipping a bit difficult as the cookies are so wide.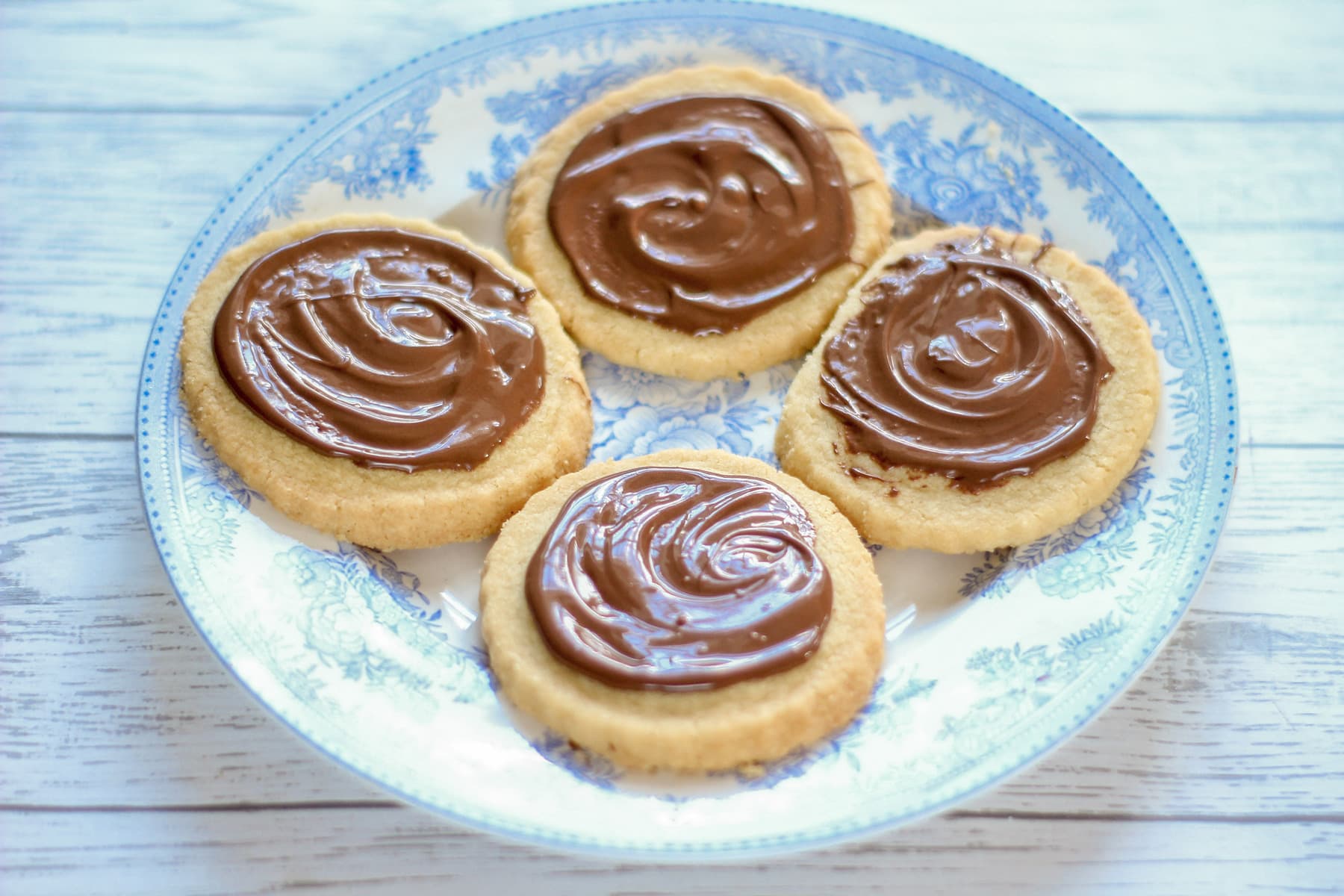 How To Store Shortbread
I keep mine in an air tight container.
If I have a double layer then I will put a sheet of grease proof or baking paper in there in between the top and bottom layers of biscuits.
I do find they keep very well for a week.
You can freeze them after baking making sure they are well protected. I freeze them in a stout tupperware container with a layer of grease proof/baking paper between the layers.
You can also store the raw shortbread dough in the freezer well wrapped and protected from freezer burn. Roll the dough into a sausage about 5/7 cm in diameter. Wrap it in clingfilm. In fact I usually use the clingfilm to roll it up.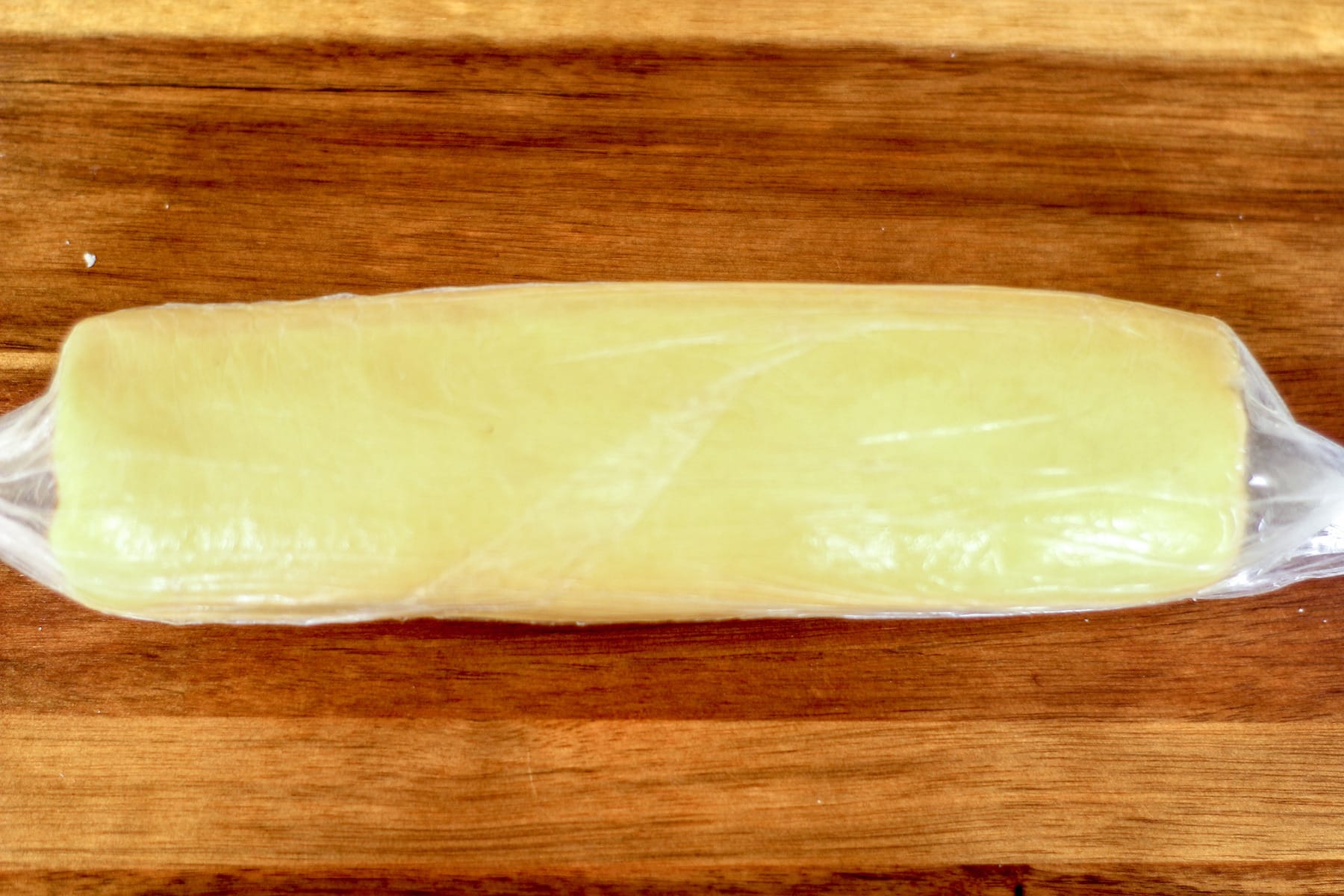 I then put the roll in two freezer bags if you have big enough ones. I do use a carrier bag if i don't. Simply remove from the freezer and allow to thaw enough for you to slice into 1 cm rounds. Bake for a minute or two longer than the standard baking time. The dough will keep for 3 months in your freezer.
IF YOU LIKE THIS RECIPE YOU MAY LIKE THESE
Peanut Butter Chocolate Chip Cookies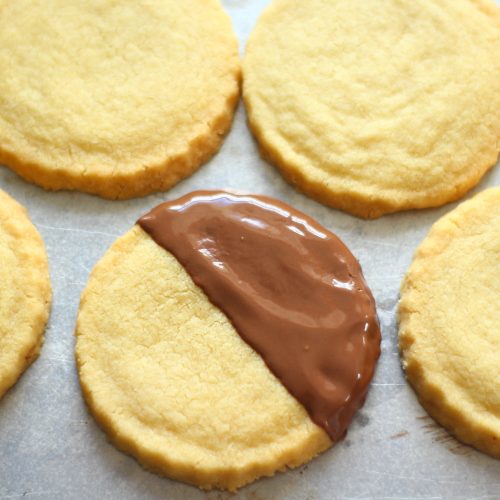 Easy Shortbread Cookies
This easy shortbread recipe is a real family favourite. Light, buttery and crisp they really take some beating.
Ingredients
250

grams

unsalted butter

room temperature

150

grams

caster sugar

I use unrefined

350

grams

plain flour
Instructions
Pre heat your oven to 190 C/375 F/Gas Mark 5. Put 250 grams unsalted butter, 150 grams caster sugar and 350 grams of plain flour into your mixing bowl/food processor bowl. Mix until you get a shaggy dough. 

Either tip onto your work surface or leave in your mixing bowl to use your hands to bring/squeeze together into a smooth dough. Lightly flour your rolling pin and work surface.

Roll out the dough to 1 cm thickness. Cut out the cookies and use a flat spatula to carefully place onto your lined baking tray. Put 6 on each baking tray. Chill in the fridge for at least 30 minutes.

Bake in the oven for about 15 minutes and golden. Watch carefully as too much colour can spoil the buttery taste.

Leave on the tray for 5 mins to cool before using your flat spatula to transfer to a wire rack to fully cool. Repeat for the rest of the cookies.
Notes
Be sure to chill the cookies for at least 30 mins in the fridge.
I do recommend using an Oven Thermometer. All ovens temps do vary.
Remember to lightly flour your work surface and rolling pin.
Be careful when handling them fresh out of the oven. They are very crumbly for about 5 minutes afterwards.
Nutrition
Calories:
280
kcal
|
Carbohydrates:
32
g
|
Protein:
2
g
|
Fat:
15
g
|
Saturated Fat:
9
g
|
Cholesterol:
41
mg
|
Sodium:
2
mg
|
Potassium:
33
mg
|
Sugar:
11
g
|
Vitamin A:
480
IU
|
Calcium:
9
mg
|
Iron:
1.2
mg
All nutritional information is approximate and intended only as a guide.
Tried this recipe?
Take a pic and tag @applytofaceblog on Instagram. I would so love to see them!
PIN ME FOR LATER!