This chewy Chocolate Chip Cookies recipe is just delicious and super easy to make in a baking instant. Studded with milk chocolate and as large as my children's faces they always go down a cookie storm. It is only latterly that I realised that I did not have a really good recipe for them. What an outrageous oversight.
In fact I come up short generally in the biscuit/cookie department. My passion has, until now, lain mostly in the sticky bun category.
Although I have always longed to have one of those cute cookie logs wrapped in a cling film sausage in my freezer. That would, I am sure, make me feel just as warm inside as a massive doughnut………so after lots of baking I have come up with the recipe below.
These are Chewy Chocolate Chip Cookies without brown sugar, just unrefined granulated. It happened to be just what I had in the cupboard but it gave a perfect cookie, crisp on the outside and chewy within. Lush.
But first some police action……..
I have recently returned from a holiday to Florida. We were there for the whole Disney thing and it was just the best experience. I'm not sure I felt THE Disney magic being the cynical b.tch that I unfortunately am but I fell in love with the place nevertheless. So clean with amazing ice – cream. A whole land dedicated to having fun just because……
I had booked our holiday to take in a beach resort for five days at the end of our Disney trip to allow for some respite from the queues. We eventually arrived at our semi posh hotel in a semi posh American version of Blackpool, full of silver haired, retired Hell's Angels and their biker chick b.tches.
Fabulous for people watching but no where near as entertaining as Mickey's thrills and spills. Until that is 2.30 a.m one morning……..
I was sure I had been lying awake for hours in the silence, sweating and clammy from thrashing about with my usual sense of hormonal unease when from out in the corridor I heard a huge bang and a shout of " Tampa Bay Police! Clear the door!"
WTF?!!!!! I leapt up in alarm and disbelief as gurning, I cupped my ear to the door trying to work out what the flip was going on right outside our hotel room.
Alarmed I realised that one of the police officers was now going door to door in order to further investigate the goings on in Room 807……What??????
Loooooooong gone are the days when I looked cute and tousled straight from my bed, now I mostly resemble a very slack breasted and inebriated Cruella Deville.
In a trice I was up and reaching for my bra and sunglasses feeling a little disappointed that I had heard nothing to ensure myself a pivotal role in this investigation.
As I sat by the door eagerly awaiting my call to citizen action, I eventually heard the voices recede and realised the corridor drama was over and the guests had been released……..crestfallen I released the spaniels and sank back into bed pondering what on earth could have been going on a few doors down.
I placated myself with thoughts of the all you can eat breakfast buffet and eventually nodded off to dreams of French Toast with Maple Syrup and Sausages.
The morning brought some marvellous solace in said breakfast to end all breakfasts and as I waddled back up to our room, licking the maple syrup from my chins, I overheard the story from the night before…….it involved a lady of the night and a scuffle that ensued upon non payment for services rendered……..
Where was Lt Judy Hopps when you needed her???? I so hope they didn't get away with that too….
Chewy Chocolate Chip Cookies
This recipe for Chocolate Chip Cookies is my ode to America and an attempt to increase my baking knowledge in the general biscuit category.
I trialled lots of different methods and ingredients and finally came up with something that delivered for me on all cookie fronts.
A crisp edge with a soft, chewy centre. I chose to use milk chocolate chips as my children turn their noses up at dark but I think that dark is actually the better contrast against the sweetness of the crumb.
It is a very easy recipe. I did look at all the different methods of cookie making. Some learned fellows do advise making the dough in advance and leaving it in the fridge overnight.
I found that it made the cookie rather cake like so although stickier to handle I found it better to bake these babies straight away if you want the chewier middle.
This recipe is for 16 cookies. They are just as good the next day so don't worry if they are not all eaten.
I served these studded beauties to my children with cold glasses of milk and straws, I was really feeling the All American Mum thing……..
Firstly cream the butter and sugar together.
Until pale and fluffy. This takes about 3 minutes at a medium/high speed.
Scrape down the sides and add an egg. Beat for a few minutes.
Add the flour, salt and bicarbonate of soda to the batter and mix until you can't see any flour. Tip in the chocolate chips.
Roll into 16 or so small balls and place on a lined baking tray. I do 6 or 8 at a time. About the size of a golf ball. They spread a lot so you need to ensure there is the space to do so. I use the largest baking tray that I have that will fit in my oven. I weigh them and each cookie is about 40 grams/1.4 ozs
Bake for ten mins making sure that they are golden brown nearly all over and a little darker at the edges. Then remove and leave at least 3 mins before transferring them to a wire rack.
Do this carefully as they will still be very soft in the centre. I use a metal frying slice/spatula.
Allow to cool completely.
Tips For Chocolate Chip Cookies
Use any chocolate to suit. I have made these with white or dark chocolate chunks.
If you find the mixture too sticky sprinkle a couple of tbsps of extra flour in and mix again.
They will be soft when they first come out of the oven and firm up as they cool.
Make sure the cookies are golden all over and slightly darker at the edges
Freeze them as uncooked balls in a freezer bag and when required cook from frozen adding 2 more mins to the baking time.
Store in an air tight tin. The cookies are best eaten in the first couple of days.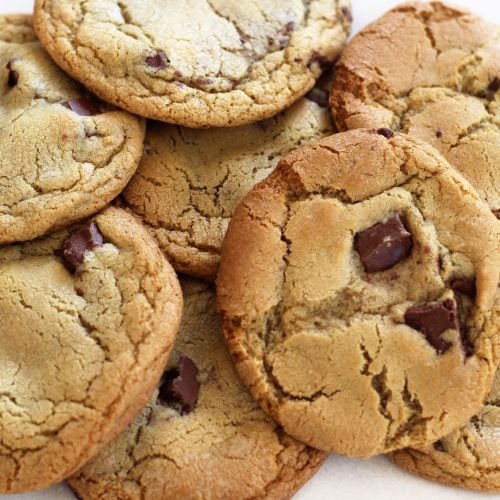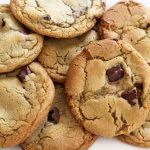 Chocolate Chip Cookies
These Easy Chocolate Chip Cookies are just delicious. Studded with milk chocolate and chewy in the middle they are always a hit.
Ingredients
110

grams

unsalted butter

room temperature

175

grams

unrefined granulated sugar

1

medium

egg

200

grams

plain flour

1

tsp

bicarbonate of soda

100

grams

milk chocolate chips

I use Green & Black's cooking chocolate if I can.

1

pinch

salt
Instructions
Pre heat the oven to 170 C/325 F/Gas Mark 3.

Cream the 110 g butter and 175 g sugar together until pale. I use a free standing mixer for this but an electric hand held whisk will do the job too.

Add the 1 egg and beat well again. Scrape down the sides of the bowl and mix again.

Add the 200 g flour, pinch of salt and 1 tsp bicarb slowly until the dough shows no more flour. Tip in the 100 g chocolate chips and mix through by hand.

Line a large baking tray or two.

Scoop out 6/8 cookies for each baking tray. An easy way is to use a metal ice cream scoop or just use your hands! Then use your hands to roll them into balls. I bake a tray at a time. I make about 14/16 balls.

Bake for ten mins and golden brown all over with a slightly darker outside edge on the outside and soft in the middle.

Leave for a few mins on the baking tray (they are still very soft in the middle) before removing gently with a fish slice or something flat onto a wire rack to cool.

Repeat with the other cookies.
Recipe Notes
If your cookie gets a dome to it then just bang the baking tray on a hard surface and it will deflate.
I do recommend a oven thermometer. Oven temps can vary greatly and with such a short baking time they are incredibly useful.
Nutrition Facts
Chocolate Chip Cookies
Amount Per Serving
Calories 231
Calories from Fat 90
% Daily Value*
Fat 10g15%
Cholesterol 36mg12%
Sodium 121mg5%
Potassium 24mg1%
Carbohydrates 33g11%
Protein 3g6%
Vitamin A 270IU5%
Calcium 17mg2%
Iron 1mg6%
* Percent Daily Values are based on a 2000 calorie diet.
Find some more yummy biscuits here – Date Cookies
Peanut Butter Chocolate Chip Cookies
I have linked this post with Jo's Kitchen Larder over at #BakingCrumbs. A fabulous baking linky that I am co-hosting with Jo. I am soooo excited to be a part of this great baking community. Do pop over and fill your boots and faces with all the great recipes shared there.