These bakery style peanut butter chocolate chip cookies are immense. Soft and yielding in the middle and gloriously crisp on the outer edge. Golden discs of nutty heaven.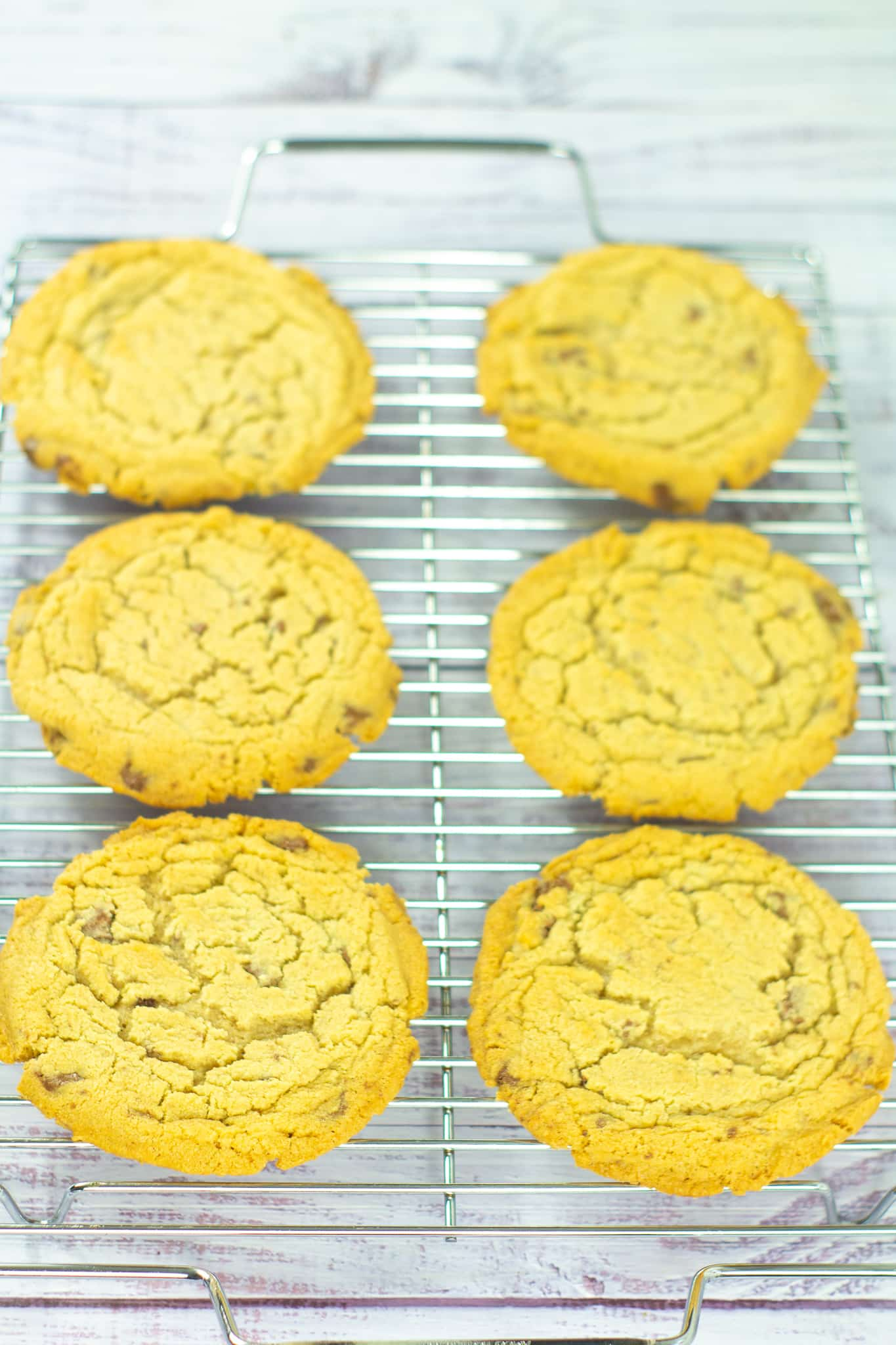 These Peanut Butter Cookies are genuinely immense. Packed full of nutty flavour and studded with milk chocolate drops they had me at Pea. Incredibly moreish, please beware that they can become a small obsession.
But first......please scroll past the story to the recipe below if you're feeling hungry....
This week I am surrounded by bickering children and mountains of washing and ironing as we launch from one caravanning weekend to another. This was planned in an attempt to give them a fun filled holiday that they will hold dear for ever. I have, as usual, given myself far too much to do.
Consequently I find myself stressed, dramatic and very intolerant. This ends up having the opposite effect to the Enid Blyton vibe I was trying to create. What a tw.t. I never learn.
Today I'm going to plaster on a CBBC grin and it's not moving. I shall interject all conversations with, "Good job!" and "I love you guys!" I'm going the all American stylee. Desperate times. Go hard or go home.
So keeping to the American theme we have going here, I give you my incredible Peanut Butter Chocolate Chip Cookies. These are super easy and just delicious. Obviously you've got to like peanut butter but it's not overwhelming here and I find them very kid friendly.
Peanut Butter Chocolate Chip Cookie Recipe
These are easy peanut butter chocolate chip cookies, so easy that my young children make them from start to finish. Obviously I bark at them throughout and make them do the washing up but they just love rolling the cookie dough into balls plus nibbling a bit as they go. Cooks perks.
I do use milk chocolate chips here as my children prefer them but do feel free to substitute dark if that is your chocolate bag.
They are best eaten on the day but stored in an air tight container they will still be good the next although they do lose the crispness around the edges a little.
But simply double up if you are feeding a crowd. This recipe makes 12 large cookies.
I use a free standing mixer but you can use a hand held electric whisk too.
Firstly I cream the butter and sugar together until light and fluffy.
I then add the egg, give it a good mix and then scrape down the side of the bowl.
The peanut butter and vanilla goes in next.
Mix together again for about 30 seconds and then tip in the flour, salt and bicarb of soda.
Mix through again until you can't see any flour and finally tip in the chocolate chips.
Mix just enough until dispersed throughout.
I use 2 lined baking trays. I use a reusable silicone liner but baking paper is fine too.
I put 6 cookie balls on each.
I do usually guess how big to make them but you can weigh them if you want to. Each one is approx 55 grams.
Leave them like this as they will spread in the oven.
Bake for 10 minutes.
Leave them for five minutes to cool on the tray and then transfer with a fish slice/spatula to a wire rack to completely cool.
Baking Tips
I do use a oven thermometer as all ovens vary sometimes considerably and these cookies are affected tremendously by that.
A couple of minutes baking time either way and the texture will be changed. To that end if you like your cookies chewy and soft then less time baking is the way to go.
Personally I think 10 minutes is perfect here. You get crisp edges with a soft, chewy centre. But if you like a crisper cookie then leave them in for a couple of minutes more.
At 10 minutes when you get these out they will not be firm in the middle but will set as they cool. I wait until the edges are darker and the cookies golden before taking them out so watch for that if you don't have a oven thermometer.
Use any chocolate to suit. I have made these also with white or dark chocolate chunks.
Freeze them as uncooked balls in a freezer bag and when required cook from frozen adding 2 more mins to the baking time.
Store in an air tight tin. The cookies are best eaten in the first couple of days.
Equipment Required
Digital Scales
Free Standing Mixer or Electric Hand Held Whisk and Mixing Bowl
2 Lined Baking Trays
Fish Slice/Flat Spatula
Wire Rack
Oven Thermometer (optional)
If You Like This Cookie Recipe Then You May Like These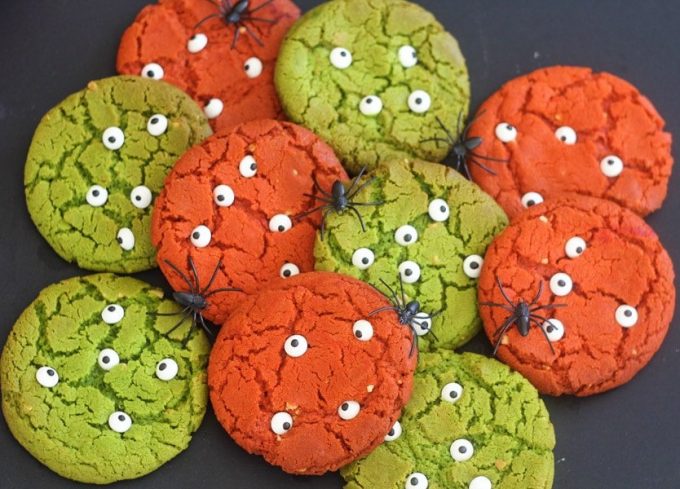 Peanut Butter Chocolate Chip Cookies
These Peanut Butter Chocolate Chip Cookies are delicious and moreish. Great to get the kids involved and a real treat.
Ingredients
110

grams

unsalted butter

room temperature

170

grams

plain flour

200

grams

caster sugar

100

grams

chunky peanut butter

¼

tsp

vanilla extract

1

large

egg

1 ½

tsp

bicarbonate of soda

1

pinch

salt

70

grams

milk chocolate chunks

can use dark chocolate
Instructions
Pre heat the oven to 170 C/325 F/Gas Mark 3. Cream your 120 grams unsalted butter and 200 grams of sugar together until pale and fluffy.

Add the egg and mix again. Scrape the sides of the bowl down. Add the 100 grams of peanut butter and ¼ tsp vanilla. Mix through and do the same with the 170 grams flour, 1 & ½ tsp of bicarb and pinch of salt.

Tip in the 70 grams of chocolate chips and mix until dispersed evenly. Roll the cookie dough into 12 balls and put 6 on each baking tray. Bake for 10 minutes and golden around the edges.

Allow to cool for 5 minutes on the tray before transferring to a wire rack to fully cool.
Recipe Notes
Use any chocolate to suit. I have made these with white or dark chocolate chunks.
They will be soft when they first come out of the oven and firm up as they cool.
Make sure the cookies are golden all over and slightly darker at the edges
Freeze them as uncooked balls in a freezer bag and when required cook from frozen adding 2 more mins to the baking time.
Store in an air tight tin. The cookies are best eaten in the first couple of days.
Nutrition Facts
Peanut Butter Chocolate Chip Cookies
Amount Per Serving
Calories 271
Calories from Fat 126
% Daily Value*
Fat 14g22%
Cholesterol 37mg12%
Sodium 207mg9%
Potassium 108mg3%
Carbohydrates 32g11%
Protein 4g8%
Vitamin A 255IU5%
Calcium 14mg1%
Iron 1.3mg7%
* Percent Daily Values are based on a 2000 calorie diet.
I have shared this post with Cook, Blog, Share over at Lost In Food. Bake of the Week over at Mummy Mishaps and Casa Costello. Fiesta Friday with Antonia @ Zoale.com Angie @ Fiesta Friday.
Do let me know how you got on in the comments below or tag me in your social media. I love a good old hairy chin wag.