This Coffee and Walnut Cake is heavenly. It looks as good as it tastes too. I make mine completely in the food processor it just couldn't be any easier.
I always think of Coffee and Walnut Cake as a boy cake. I'm sure this assumption is rubbish as I love it a lot too. But in my experience quite a few boys claim it as they're significant cake other. It is always the cake I bake my father and husband on their birthdays even though my children are crestfallen at the lack of chocolate within. So I am quite well versed in it's production and although initially inspired by Nigella, I have tweeked it to suit. But fundamentally I love just everything about it. From the first pulse it is easiness personified and armed only with a food processor, spatula and some baking tins you can soon have this bronzed and nutty beauty before you.
But first some old timers…..
Who knew your organs became so damn inefficient past 40? I am off to a concert tonight and am already dreading the school run tomorrow. The question of the hour is how many and what could I probably cope with and not lose the next day to a fog of headaches, depression and anxiety. Obviously the morning after it's not worth it but the day before holds endless possibilities and much foolhardy headiness. What shall I wear? Shall I get my nails done? As usual the closest I get to making an effort is shaving my legs (sometimes) but I always try to give myself a strict talking to about levels of alcohol consumption, hoping that it will restrain me enough in the intense hours to come. Two large glasses of wine give me a resounding headache nowadays. It's a bit unfair frankly. What the flip else are we oldies meant to enjoy? I haven't got the energy to do anything other than lift my hand to my mouth at the end of the day. As it is I can only consume the calorie intake of a sedentary child. Any more and I put on weight faster than you can say chip, and now I find myself having to plan the whole damn drinks menu prior to an evening just to be able to keep the family show on the road the morning after. Where's the fun and spontaneity in that? A medium glass of wine to begin followed by a lemonade and repeat. Then home to bed with my morning joie de vivre and my make up intact. Sounds like a sensible plan Stan. In reality I'm weak and easily excitable………..still. It's not attractive at 47. I will get carried away dancing in the aisles, trying to get the lead singers attention and end up downing  pints of cider like a 16 year old because I think, what the hell, and getting to the bar is a nightmare. By 10 p.m I'm embarrassing myself on the train home. I'll let you know if I'm sick in the sink………. A sudden thought came to me yesterday. Do you think HRT helps your alcohol tolerance?
Coffee and Walnut Cake
This cake has the most tenderest of crumbs. It feels like it's been created through many complicated baking techniques known only to the ways of the most learned. But this is bunkum. I have the most heaviest of hands and the most stupid of middle aged brains and I find it a flipping breeze. The whole thing is just made in the food processor. Wallop.
Firstly I whizz the walnuts and sugar together until the walnuts are finely chopped. about 10 seconds or so depending on how efficient your food processor is.
The sugar goes a nice beige colour.
I then just pile all the rest of the ingredients on top and whizz until it's a really soft dropping consistency.
I empty it equally out into my two lined non stick tins. I do weigh them just to get them roughly equal. I use reusable liners too in the bottom of the tins. I don't grease and flour the sides but I know you're meant to.
I bake them at 180 C/350 F/Gas Mark 4 about 25 minutes. Leaving them in their tins for 10 minutes before carefully removing from their tins and cooling on a wire rack.
Whilst they are cooling I make the icing simply by whizzing the ingredients in the food processor until smooth.
Use a little more coffee if the icing is too thick. You want to be able to spread it gently.
I like to decorate with the Walnuts on top in one outer ring but pimp those walnut mini brains as you like.
Equipment Required
Digital Scales
Food Processor
Spatula
Wire rack
8 " Lined Non Stick Baking Tins
Oven Thermometer (optional)
Tips for Coffee and Walnut Cake
Use an oven thermometer. I can't tell you the difference it makes having your oven not at the right temperature. My oven varies greatly so I go by my thermometer not my oven
Make sure the cake batter is soft enough. It wants to be really soft and easily drop from a spoon
Try not to over bake as it can become a little dry.
Make sure you leave the cakes for 5 mins in their tins as they may be a little fragile straight from the oven.
Weigh your tins filled with cake batter to get them roughly the same.
I store this cake on a cake stand and under a cake dome but a large air tight container is fine too. I find it lasts well for 3 days or so.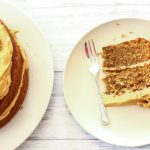 Coffee and Walnut Cake
This Coffee and Walnut Cake recipe is made entirely in the food processor. It is super simple and completely delicious.
Ingredients
250

grams

unsalted butter

250

grams

caster sugar

225

grams

plain flour

50

grams

walnuts

4

large

eggs

5

tsp

espresso powder

2 1/2

tsp

baking powder

1/2

tsp

bicarbonate of soda

2

tbsp

milk

1

pinch

salt
Coffee Icing
350

grams

icing sugar

175

grams

unsalted butter

2 1/2

tsp

espresso powder

dissolved in about 1 tbsp boiling water

12

walnut halves
Instructions
Pre-heat the oven to 180 C/350 F/Gas Mark 4. Place the walnuts and sugar in your food processor. Blitz for about 10 seconds or until the sugar is rubbly and beige.

Add all the other ingredients and blitz until completely mixed together. Add a tbsp more milk if it isn't a really soft dropping consistency.

Empty out into your tins. You can weigh them to get roughly the same in each one. Bake in the oven for about 25/30 mins. You want to feel that the top is slightly spongy and a skewer or cocktail stick comes out clean. Try not to over bake.

Leave in the tins for 10 mins before running a knife around the edges and carefully removing to a wire rack to fully cool.

Put the icing ingredients in the food processor (cleaned) and whizz together until smooth. When the cake is fully cool then sandwich the sponges together with the icing. Apply the final layer to the top sponge. Decorate with the remaining walnut halves.
Nutrition Facts
Coffee and Walnut Cake
Amount Per Serving
Calories 586
Calories from Fat 306
% Daily Value*
Fat 34g52%
Cholesterol 146mg49%
Sodium 89mg4%
Potassium 210mg6%
Carbohydrates 66g22%
Protein 5g10%
Vitamin A 985IU20%
Calcium 76mg8%
Iron 1.5mg8%
* Percent Daily Values are based on a 2000 calorie diet.
I have linked this post with Cook, Blog, Share over at A Strong Coffee
Fiesta Friday with Diann @ Of Goats and Greens and Jhuls @ The Not So Creative Cook
Bake Of The Week with Casa Costello and Mummy Mishaps
Check out these other delicious cakes