These Easy Fluffy American Pancakes are quite simply delicious and my daughter's favourite breakfast of all time. So these are a weekend staple in our house. Whatever you like to pour on top, let it be copious.
But first…..
This week has found me dwelling well and truly in the " cannot be arsed" category of existence. Last week found me industrious and productive and this week I have done nothing but increase my weight gain. A distinct lack of self discipline is to blame along with nearly a whole, to die for, Lemon Cheesecake left from Sunday Lunch.
What's a tubby girl to do when it's calling from the fridge all lemony and smooth????? I can actually hear it as I type. It's the voice of an older lady full of common sense and "get this eaten up" tones……I bet she's rather dumpy herself……
Unfortunately this recipe will do me no favours either so I will have to restrict myself to just wolfing them down on Pancake Day alone. All in the spirit of making memories with my children obviously. I wonder if there will be any left overs.
What do you think a sticky with syrup leftover pancake sounds like calling from the fridge? I'm betting Killer Clown….I hope so for the sake of my front belly.
Easy Fluffy American Pancakes
This pancake recipe is my go to whenever I make these crispy but soft discs of loveliness. Practically every weekend.
It is very, very simple and always gets my daughter jumping up and down when I make them for her breakfast. She is a golden syrup kind of a girl but my husband prefers simply sugar.
My absolute favourite is American stylee with bacon and maple syrup but in reality I tend to eat it with just the maple syrup in my cupboard which is more than fine. A pancake heavily soused in maple syrup is a very special thing indeed.
The ingredients required are plain and simple.
I use plain flour mainly for my pancakes but self raising is fine too. I would just adjust my baking powder to 1 tsp instead of 3.
I like to sift my flour if I'm whisking it all by hand.
Oftentimes I do use my food processor. Either way is simple and ultra quick. A whisk together is all that is needed before you are good to go.
However it is a good idea to let your batter rest in the fridge for 20 mins. This helps to thicken it. But I usually can't wait!
I use a large frying pan but only do one at a time. I can't be doing with multi tasking early in the morning. I put in a tsp of butter and a tsp of oil at the same time. The oil stops the butter burning.
I simply repeat the butter and oil together when the pan needs it.
Sometimes I forgo the butter because it does give you burnt residue in the frying pan after the 5th pancake or so which you then need to wipe it out with a paper towel.
The trick is to wait until the pan is hot enough before you start. You can test a little drop of batter to see if it sizzles in the pan.
I use a ladle to measure out my batter but you could put the batter into a jug for easy pouring.
After the initial pour wait until little bubbles form on the surface. Have a sneaky peek underneath the pancake with a spatula if you are not sure it is ready to flip.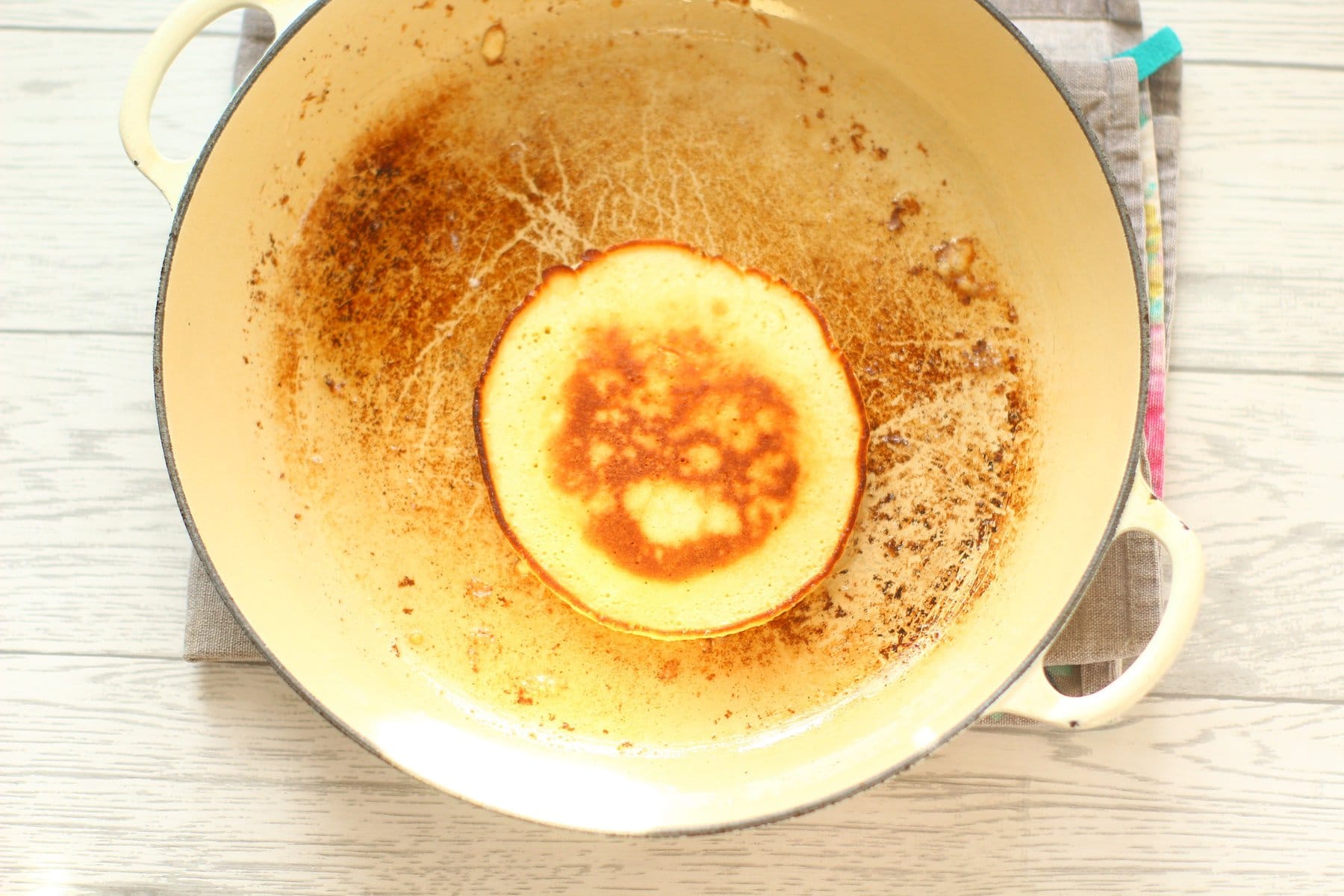 American Pancake
I love the crispy edges and fluffy middles of these pancakes and like to serve them stacked up for everyone to help themselves. They are best eaten hot from the pan so gather everyone at the table.
You can keep them warm as you go by putting them piled on top of one another in a very low oven about 110 C. But I do think them better as they come, hot from the pan.
This does feed four very generously. At least two pancakes each. I often just do everyone 1 pancake each on the weekend if we are not settling in for a big breakfast experience and put the batter back in the fridge covered for breakfast the next day.
Easy weekend breakfast city then.
You can serve with fruits, compotes, chocolate chips or whatever makes your family go crazy. It is the weekend baby.
To make them Gluten Free Pancakes exchange the standard flour for Gluten Free. You may have to add 100 mls more milk as gluten free flour usually absorbs more liquid.
Can you make Pancakes ahead?
The answer is yes. They are not as good but still very, very nice.
I have made them the day before and left covered with clingfilm on the side. I then heat them through in a warm oven about 180 C by placing them side by side on a baking tray for about five mins.
Apply to face as normal.
Tips For Making Pancakes
Use a jug to pour them in the frying pan.
Make sure the pan is hot enough.
Don't over cook.
Check if they are ready by inserting a knife into the middle and checking for any wet batter.
Just do one at a time-especially if you're over 40!
Use one batch for two smaller weekend batches. Keep the batter covered in the fridge.
Use oil and butter together to prevent the butter burning.
Add chocolate chips for an extra luxurious breakfast.
Serve with fruit to add a healthier vibe.
Equipment Required
Digital Scales
Food Processor or whisk and bowl
Frying Pan
Fish Slice/Flat Spatula
Jug
Easy Fluffy American Pancakes
This recipe for Easy Fluffy American Pancakes is both simple and delicious. A real winning choice for Breakfast or anytime.
Ingredients
250

grams

plain flour

3

tsp

baking powder

70

grams

caster sugar

225

mls

semi skimmed milk

3

medium

eggs

1/2

tsp

salt

2

tbsp

sunflower oil

2

tbsp

unsalted butter
Instructions
Sieve the flour into a large mixing bowl. Add the rest of the dry ingredients. Whisk the eggs and milk together in a jug.

Pour the liquid into the bowl and whisk it's pants off. Rest in the fridge for 20 mins.

Put a frying pan on a medium heat and put a tsp of butter and oil into the pan. Wait until the pan gets hot enough. Test a drop or two of the batter in the pan if you are not sure. You are wanting it to sizzle quietly.

Pour in a little of your batter mix. I use a ladle so as to get the same measure more or less each time. It's about 80 mls of batter. Spread it out if you need to so that it's about 1/2 cm thick. Wait until little bubbles start to form in the top of the pancake and flip. Keep checking the underside of your pancake to make sure they are not burning. At the right heat it should take a couple of mins each side. Add a tsp of butter and oil as you need it.

Keep an eye on the pan getting hotter and hotter as time passes. Your 4th pancake will probably cook quicker than your first. I stack mine and keep them warm in a 110 C oven until ready to serve.
Recipe Video
Recipe Notes
You can make the pancakes ahead and leave them stacked and covered in clingfilm. Heat them through side by side in a warm oven 110 C for about 5 minutes.
Make sure the pan is hot enough before you start.
Remove the burnt bits and residue from the frying pan as you go.
The batter does need to be thick and sometimes your mixture may need adjusting eggs and flour can vary. The more you make these the easier it will be to adjust the thickness by eye.
Nutrition Facts
Easy Fluffy American Pancakes
Amount Per Serving
Calories 480
Calories from Fat 144
% Daily Value*
Fat 16g25%
Cholesterol 143mg48%
Sodium 378mg16%
Potassium 480mg14%
Carbohydrates 70g23%
Protein 13g26%
Vitamin A 270IU5%
Calcium 219mg22%
Iron 3.8mg21%
* Percent Daily Values are based on a 2000 calorie diet.
Here are a couple of other great Breakfast Ideas.
PIN ME FOR LATER!
I have linked this post with Cook, Blog, Share over at Everyday Healthy Recipes.
Fiesta Friday hosted by Angie.