This easy flapjack recipe is one of my most favourite on earth recipes. I'm totally serious. These flapjacks are so incredibly good I would do just about anything to get hold of one.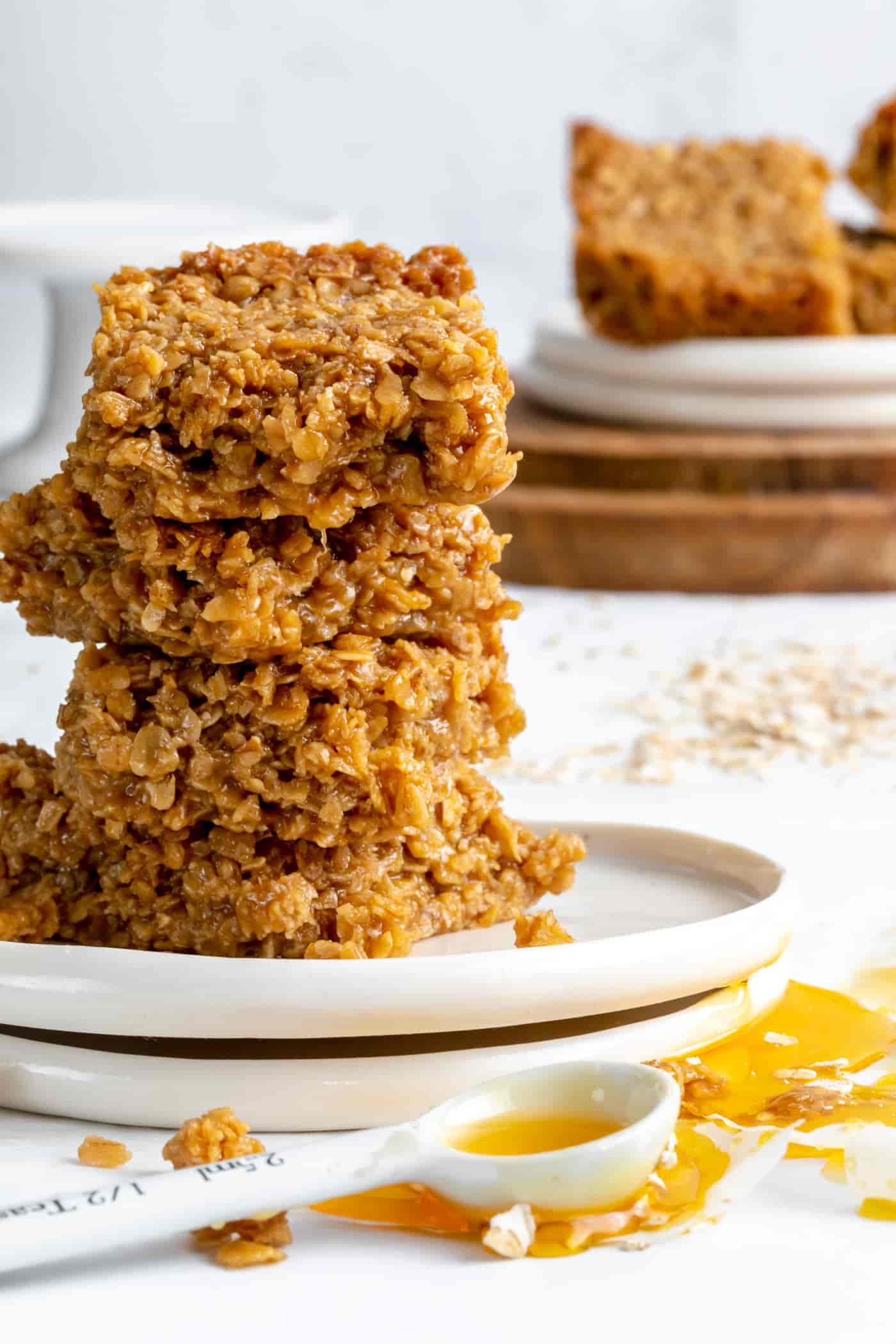 I ALWAYS have amazing feedback for these babies. Moreish is an understatement so beware.
They always remind me of days gone by when everyone drank pop and a finger of Fudge really was just enough.
My Nan's Rock Cakes are another bake that I have recently recreated just the way I remember them. So very, very good. One bite and I am back in her kitchen, terribly chubby with crumbs all down my mohair jumper.
You Can Scroll Straight Down For The Recipe Card But Below Are Step by Step Instructions.
Jump to:
What makes the best Flapjacks?
To find the magic ratios for these incredible old school treats I made batch after batch. I got through at least an acre of oats (positively healthy), five vats of butter (whatever a vat is..) and copious litres of golden syrup (plain filthy).
Finding the right size of oat flakes and the right ratio of butter to syrup is absolutely key. To create a chewy but still gooey flapjack with a crisp yet yielding outer is one of my life's greatest works...can you see how serious I am? I hope so.
Equipment Required
digital scales
food processor
large saucepan
wooden spoon
large spoon/spatula for smoothing the flapjacks in the tin
blunt knife/butter knife
baking tin
baking liner/baking paper
oven thermometer/optional
Ingredients

400 grams (5 cups) rolled oats
100 grams (3.5 oz) dark brown sugar
100 grams (3.5 oz) light brown sugar
You can use caster sugar and light brown sugar instead if that's all you have. I often do (see pic)
180 grams (6.4 oz) unsalted butter
200 grams (7 oz) golden syrup
half a tsp salt
Method
Put all the ingredients apart from the oats into a medium sized saucepan and melt over a medium heat whilst stirring.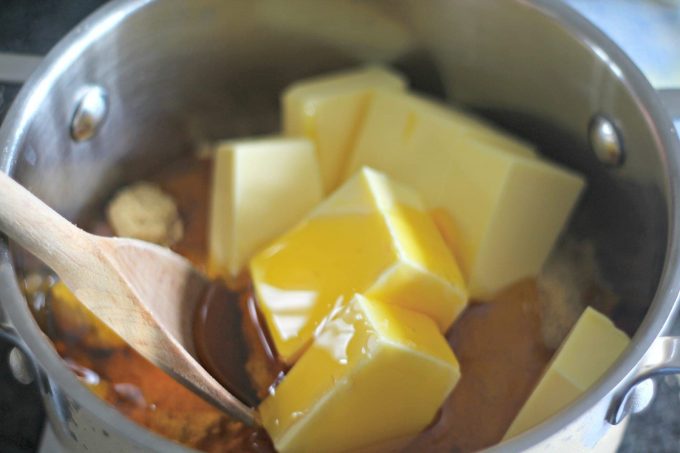 Then switch the heat up a little and let the mixture bubble for about twenty seconds like molten lava and remove from the heat.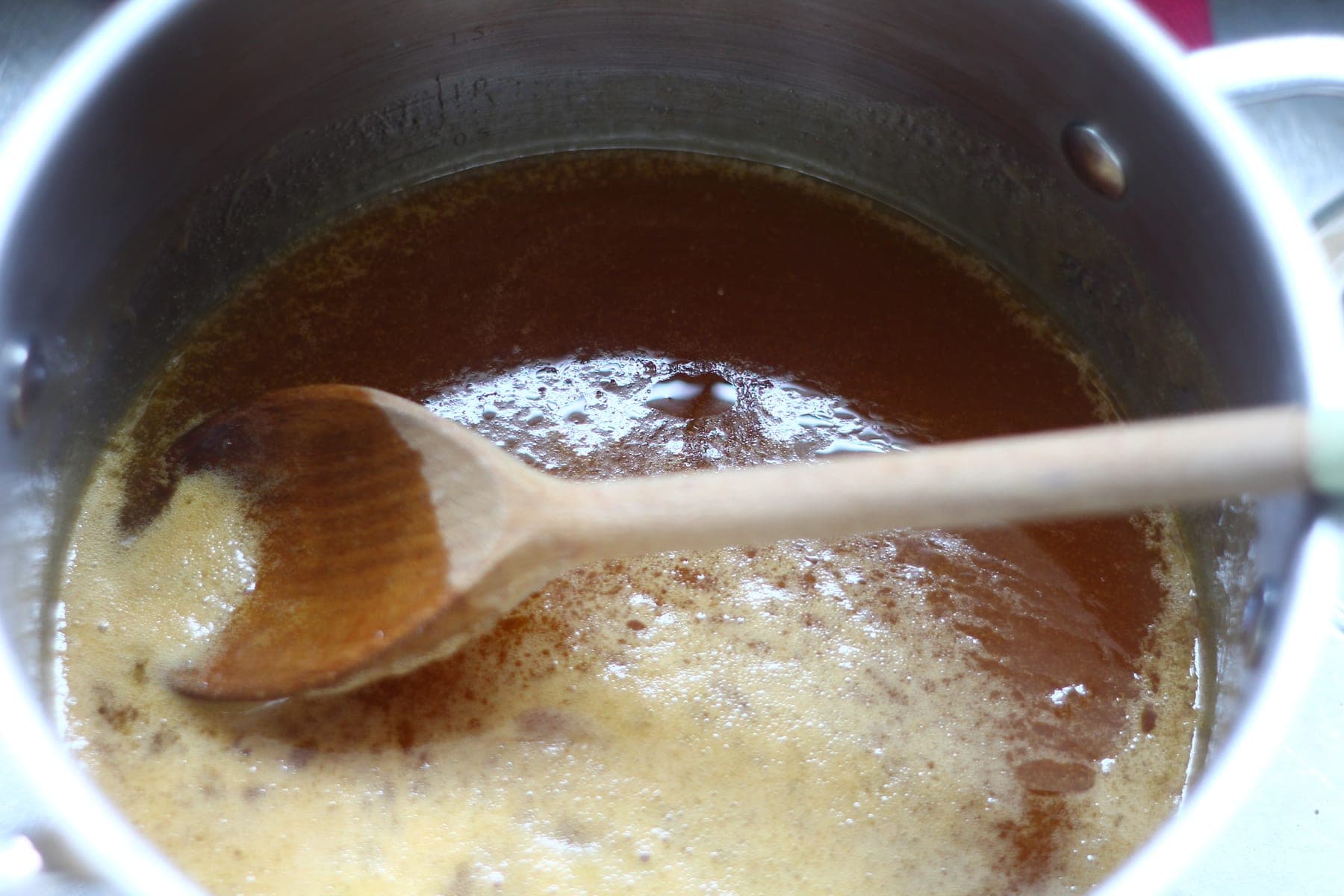 Put the oats in a large mixing bowl and carefully pour the syrup (it's very hot!) on top or pour the oats into the syrupy saucepan . Using a wooden spoon or spatula I stir the syrup all the way through the oats.
Again be careful the syrup stays very hot for a while.

I use an 8 " non stick baking tin lined on the bottom with Bake-O-Glide a reusable liner but baking paper will work too.
Tip in the syrupy oats and use the back of a large spoon or spatula to smooth and level over.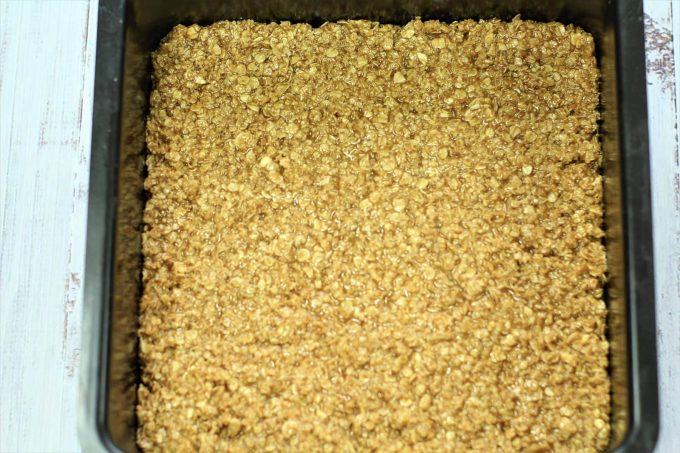 Bake for about 15 minutes in a 180 C/350 F/Gas Mark 4.
This time will vary slightly depending on the height of the sides of the tin that you are using.
The flapjacks are ready when the top of the flapjacks have some colour from baking. The edges will be slightly darker and that is ok but be careful that you don't get too much colour on the top. Once the edges start to deepen in colour
It does help to have an independent oven thermometer to keep an eye on your temperature no matter what your oven tells you. They flipping well lie.
Remove from the oven and leave to cool in the tin.
Mark out your squares whilst still warm and run your blunt knife all the way around the edges of your tin to prevent them sticking.
In my 8 " square tin I usually mark out 2 inch squares. So I get 16 flapjacks.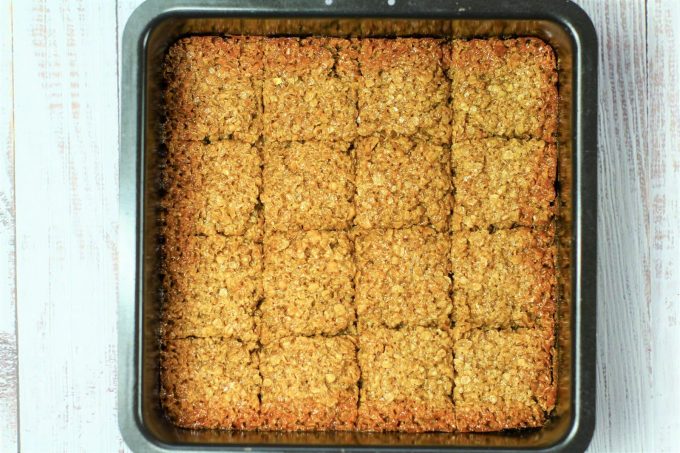 I like to put them in the fridge once cool to really get cold and I swear it makes them taste even better. Just let them come back up to room temperature to actually eat.
Eat them and weep...

How To Stop Flapjacks Falling Apart
An important tip is that if your oats are big clean flakes without any smaller pieces then I recommend that you take 50 grams of the oats and whizz in the food processor until they are flour like before adding back in. This helps to stick them together.
The general supermarket oats that you buy for porridge are a mixture of different sized oat flakes. Some small and bitty, some medium and a few larger. It is this sort that you want to buy, not the big clean flakes.
More Tips
The mixture is quite wet before and after baking but firms up significantly when cool. I put them in the fridge to get really cold. I swear it makes them taste better.
They are ready when golden brown all over with darker edges. Don't let them colour too much but some colour needs to have appeared from baking across the top.
The edges have a tendency to darken quickly so make sure your oven is at the right temp.
I keep an oven thermometer in my oven all the time. I think my oven is possessed. One day can be very different to the next.
I store them in an airtight container on greaseproof paper. They should last for up to a week. Trust me they won't need to. My children CANNOT get their little fists on them fast enough.
Mark out your squares whilst the flapjacks are still warm. Run your blunt knife all around the edges of the tin too.
Can You Freeze Flapjacks?
Yes you can. Wrap them individually in clingfilm before putting in a freezable container or freezer bag.
They will last for up to 3 months. Take them out to thaw at room temperature for couple of hours.
More old fashioned recipes

The Best Flapjacks Recipe
The Best Flapjacks. Crisp on the outside and chewy within. One bite and you're converted. Easy to bake with the kids and a delicious treat for the adults. A true family bake.
Ingredients
400

grams

rolled oats

100

grams

dark brown soft sugar

100

grams

light brown sugar

180

grams

unsalted butter

½

tsp

salt

200

grams

golden syrup
Instructions
Preheat your oven to 180 C/350 F/Gas Mark 4. If you have large flaked oats then whizz 50 grams of your measured out oats in the food processor until mostly flour like. Add to the 350 grams of oats in a large mixing bowl. If your oats are standard mixed sized oats then put all your 400 grams in the mixing bowl. Have your non stick baking tin ready. I used a non stick 8" square tin that I lined with bakoglide but baking paper will do the same job.

Place 100 grams dark brown soft sugar - 100 grams light brown sugar- 180 grams unsalted butter - ½ tsp salt - 200 grams golden syrup - in a medium sized saucepan and gently melt it all together whilst stirring. Increase the heat a little until the syrup forms thick bubbles and looks a bit like molten lava. Be careful to only increase the heat moderately. Keep watching as you don't want it burning at all. This bit takes only a minute once all the butter has melted.

Pour that seriously hot syrup onto the oats and being careful not to get any on yourself stir it all in.

Empty it all out into your 8 " square or similar sized tin and spread it out evenly. I find a metal spoon is the best tool for this. Bake for about 15 mins and until the whole thing is a golden brown on top. Not too dark. Watch that the edges don't catch too much. They will be darker than the middle.

Leave to cool in the tin but mark the squares out with a knife before it does so. As they cool they will harden and crisp up. Don't be tempted to eat one before they are completely cold. I recommend putting them in the fridge if you can't wait too long and have even put a square in the freezer because I am crazy for one.
Notes
Tips
An important tip is that if your oats are big clean flakes without any smaller pieces then I recommend that you take 50 grams of the oats and whizz in the food processor until they are flour like before adding back in.

This gives a great texture to the flapjack and holds them together brilliantly otherwise they may fall apart.

Be particular about your sugar. If poss do use the 100 grams of dark brown soft sugar. 
Use an oven thermometer to make sure your oven doesn't get too hot and burn the edges.
Allow the flapjacks to cool completely and seriously consider putting them in the fridge for an hour. It really seems to improve them!
Use a 8 " square tin or similar size.
Make sure that you get the right colour on the baked flapjacks. Not too light and not too dark. Somewhere in the middle. The edges will be darker.
Nutrition
Calories:
263
kcal
|
Carbohydrates:
39
g
|
Protein:
3
g
|
Fat:
11
g
|
Saturated Fat:
6
g
|
Cholesterol:
24
mg
|
Sodium:
79
mg
|
Potassium:
110
mg
|
Fiber:
3
g
|
Sugar:
22
g
|
Vitamin A:
281
IU
|
Calcium:
26
mg
|
Iron:
1
mg
All nutritional information is approximate and intended only as a guide.
Tried this recipe?
Take a pic and tag @applytofaceblog on Instagram. I would so love to see them!
Here is a horsey version believe it or not! Homemade Horse Treats.
Do let me know how you got on in the comments below or come on over and follow me on Facebook and Instagram. I love a good old hairy chinwag.