Whether you call this Traybake Millionaires Shortbread or Caramel Shortbread Squares it matters not one toffee jot. Nothing can change how  tooth achingly delicious this caramel and chocolate bake is. Nothing......
Millionaires Shortbread
This is the best recipe I have ever found for this sweet treat. I have trialled lots as I was determined to find a recipe that was both easy and delicious.
I have tried many and found this by far to be the easiest and the most incredible. This recipe is one of my stalwarts.
That sounds incredibly middle-aged but I really can't see me ever changing it, it is that good.
The question of how to make Millionaire's Shortbread always intimidated me before I found this recipe.
The important points to remember are to have your tray lined and have plenty of time set aside.
It is a lengthy but very simple process.
I use an 8" square (22 cm)  loose bottomed tin.
Ingredients
Shortbread
200 grams (1 cup)Flour - plain. To make this gluten free then substitute the flour for a gluten free plain flour.
125 grams ( 4.41oz) Butter - unsalted
100 grams (3.5 oz) Sugar - caster or granulated white/unrefined sugar
Caramel
75 grams (2.65 oz) Golden syrup
250 mls Cream - double
75 grams (2.65 oz) Butter - unsalted
175 grams (6.17oz) Sugar - caster or granulated
Chocolate
200 grams (6.17) milk cooking chocolate
I use the best cooking chocolate I can get. The chocolate should be top notch this is Millionaires Shortbread...about as indulgent as you get!
How To Make Millionaires Shortbread
I put all the shortbread ingredients in a food processor and whizz together until a rough dough is formed. You could use a wooden spoon, free standing mixer or electric whisk.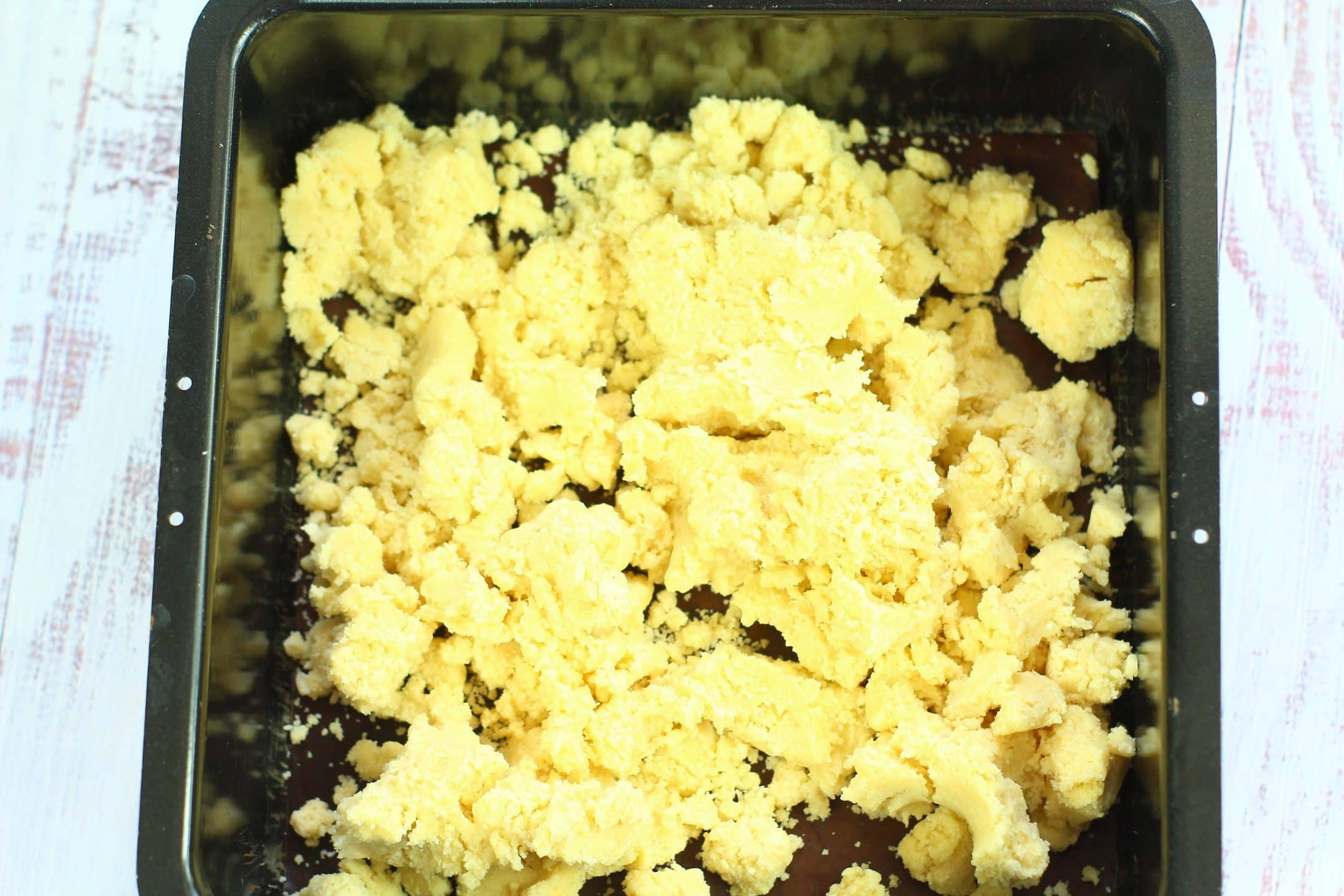 Tip the rubble into the tin and press it evenly all over the base. Don't press it too hard as it will be too dense. I use the back of a spoon to smooth it all over.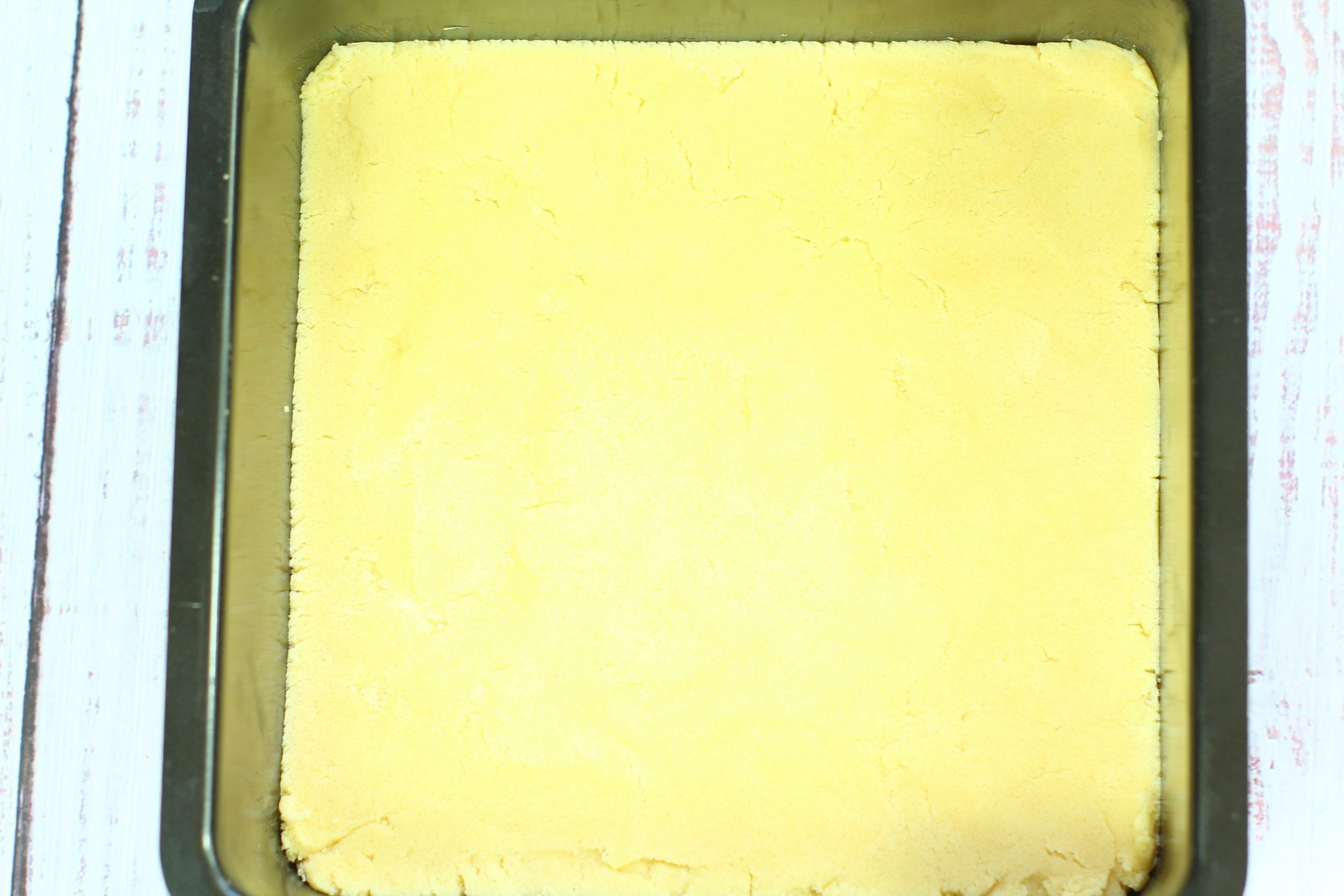 Bake at 180 C for about 15 minutes until golden.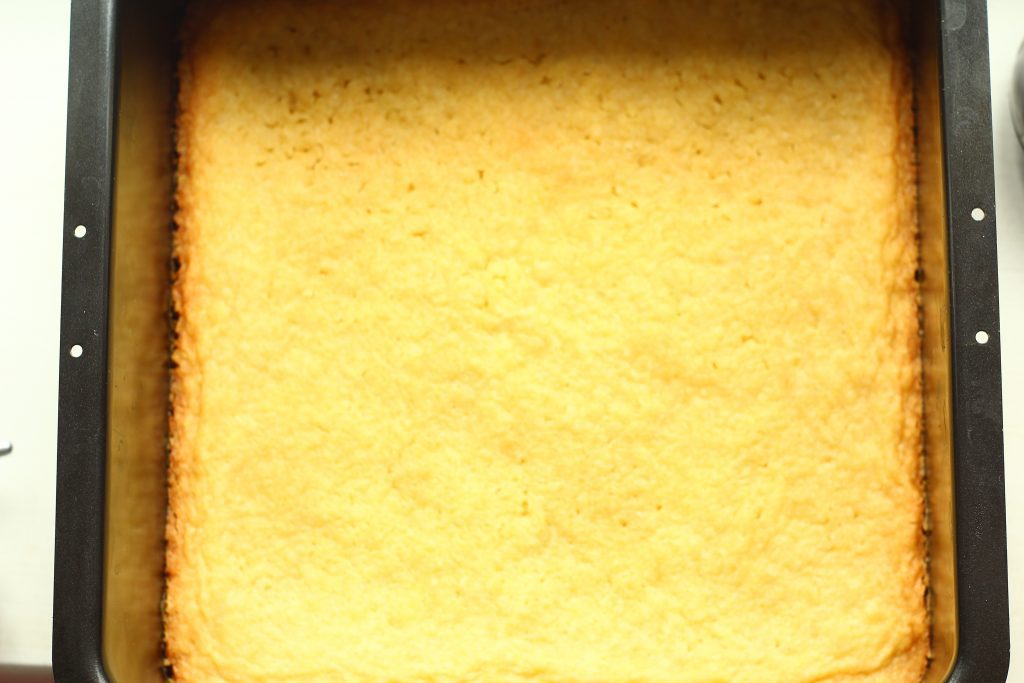 Put all the caramel ingredients in a saucepan and bubble away until it reaches a soft ball stage. That means if I drop a tiny bit or caramel in a cup of very cold water it will form a soft ball. About five-10 minutes over a medium heat. Keep stirring so the bottom doesn't catch. You can use a sugar thermometer if you have one. The soft ball stage is 112 C. Be careful when handling the caramel. It is super hot.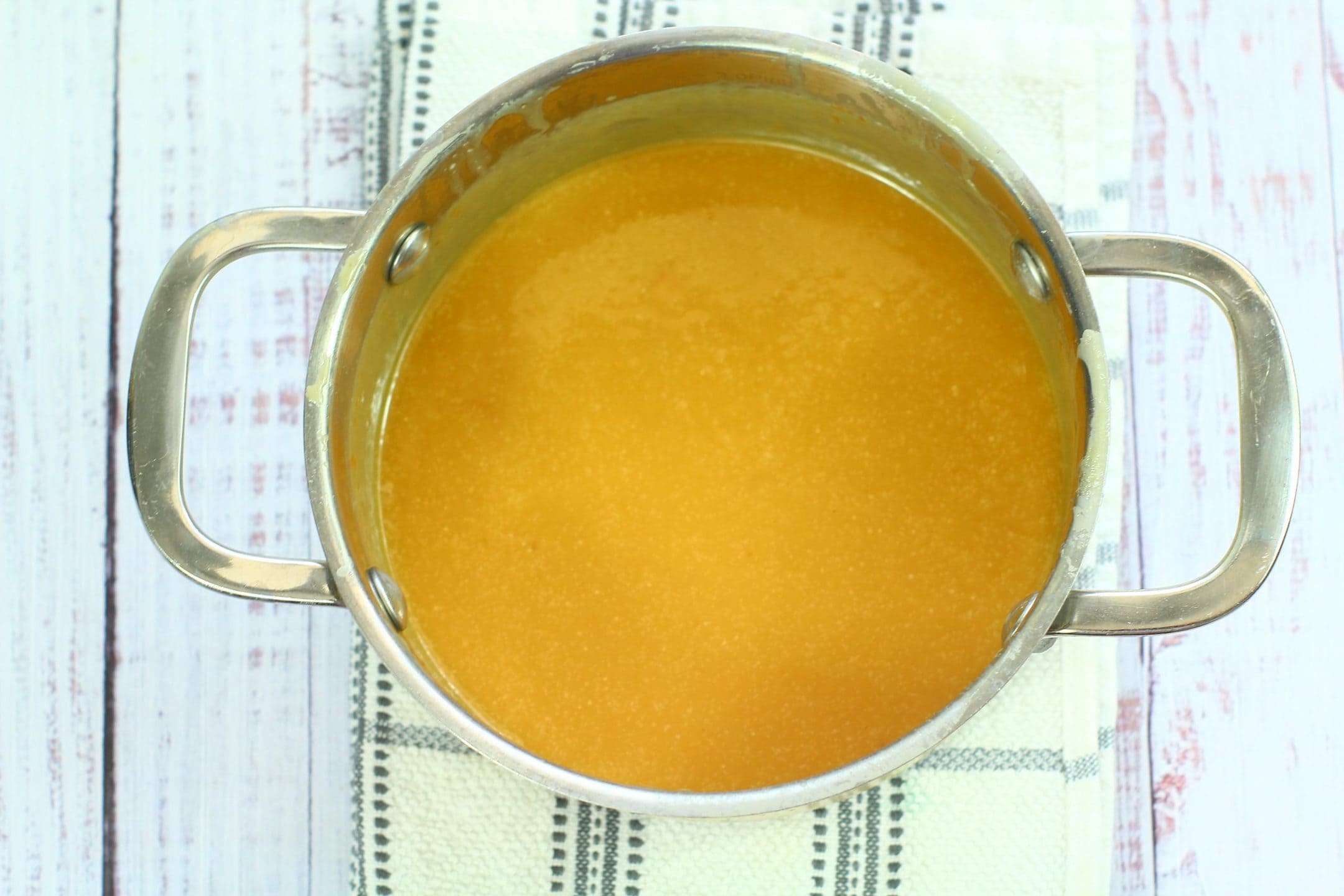 Pour on top of the shortbread and wait until it is cool.
Meanwhile melt the milk chocolate and tip that on top of the caramel. Chill in the fridge until very cold. This will take about three  hours at least.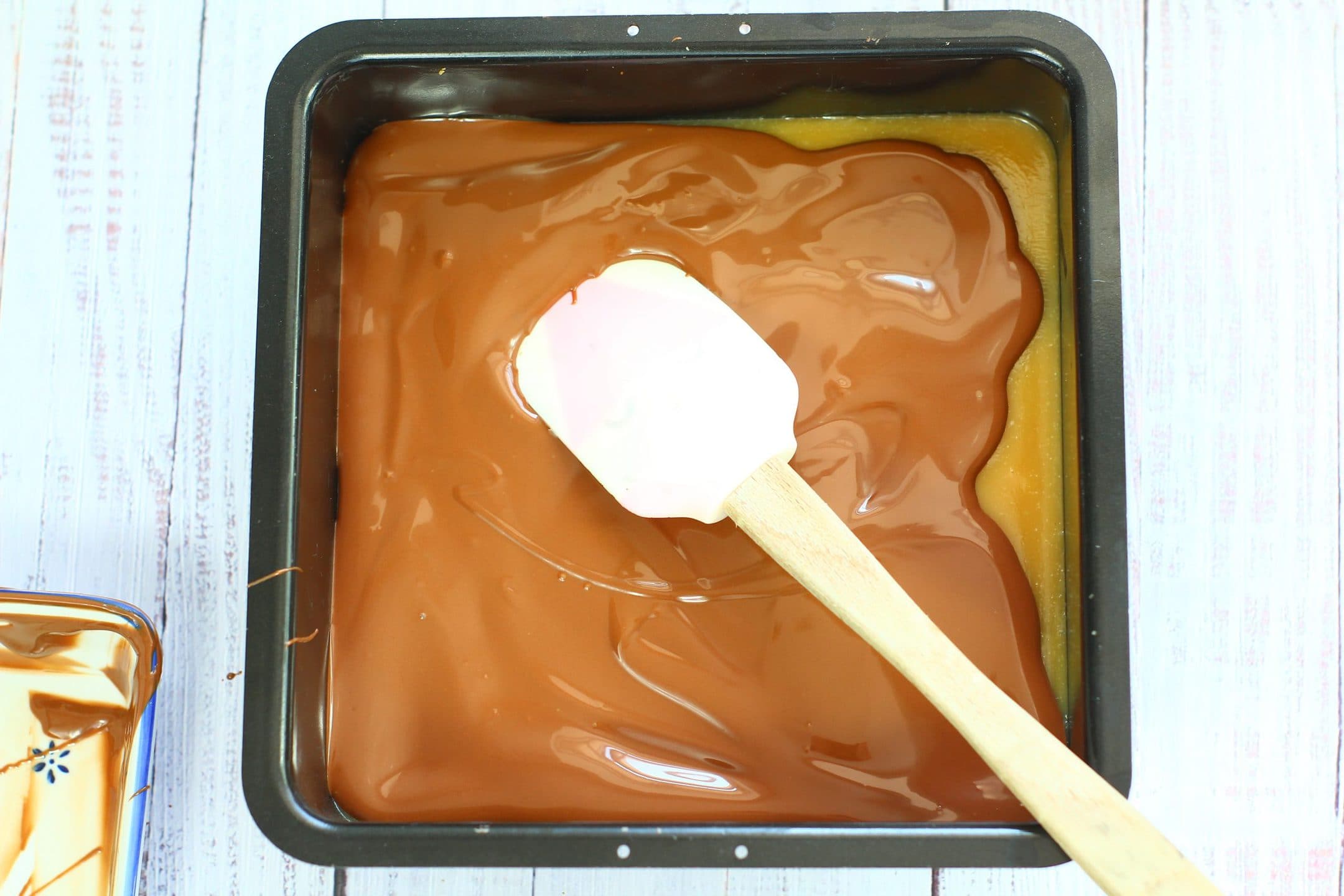 Mark into small squares and carefully cut into sections with a sharp knife. It is very rich so I keep the squares small.
Store in the fridge.
How To Make Millionaires Shortbread Tips
Take your time to make sure the layers are even
Don't press the shortbread down too hard.
Use a good quality cooking chocolate.
You can decorate with melted white chocolate drizzles or add toppings to suit. Maltesers are a fun idea.
Don't alter the tin size as the shortbread, caramel and chocolate layers will be affected.
Do get a little golden colour on your shortbread. You want the top a little crisp.
Click here for more incredible baked treats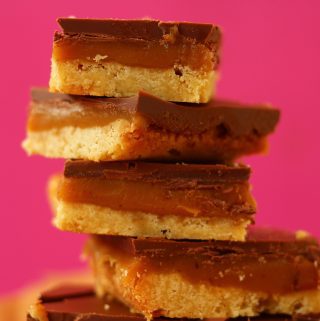 Millionaires Shortbread
This is the most incredible Millionaire's Shortbread .It is rich but moreish, chocolatey and chewy with soft caramel. One of my favourites ever.
Ingredients
Shortbread
125

grams

unsalted butter

100

grams

caster sugar

200

grams

plain flour
Caramel
175

grams

caster sugar

75

grams

golden syrup

250

mls double cream

75

grams

unsalted butter
Chocolate
200

grams

milk chocolate . I use Green and Blacks for a real treat.
Instructions
Preheat the oven to 180 C (160 C fan).I use a 22cm square (8") non stick tin with a loose bottom and I have cut out a square of bake o glide which I stick in the bottom.

I use a food processor or free standing mixer to rub 125 grams butter, 100 grams of sugar and 200 grams of flour into rubble. But you can use a mixing bowl and mix the butter, sugar and flour together with a wooden spoon to get the same result. Add the sugar and mix together until it starts to come together.

Tip the sandy mixture into the tin and using your fingers/knuckles gently spread out and press the mixture into a level layer. It will appear at first that it is not enough mixture but persevere and you too will see the light.

Bake until golden brown-about 12-15 mins. It is important that it does have a golden tinge on the surface. let it cool completely.

To make the caramel, empty all the ingredients into a saucepan and bring to a fast boil. Stir regularly to prevent the caramel burning on the bottom of the pan. When the caramel reaches 120 C (I sometimes use a sugar thermometer )or just past the soft ball phase it is ready. To tell when it reaches this stage without a thermometer I put a cup of really cold water next to me and using a teaspoon carefully drop a small amount of the caramel into it when I think it might be ready. When it forms a ball in the water take it off the heat.

Pour the caramel onto the shortbread and allow to cool completely. Be super careful, that bad boy is hot.

Melt 200 grams of milk chocolate carefully in a bowl placed over simmering water. Milk chocolate is difficult to melt in the microwave so I don't even go there. Pour satisfyingly over the caramel and chill for a couple of hours before cutting into 5 cm squares with a sharp knife.

OMG Apply to Child's Face only. Strictly no old women called Jenny.
Nutrition
Calories:
334
kcal
|
Carbohydrates:
38
g
|
Protein:
2
g
|
Fat:
20
g
|
Saturated Fat:
13
g
|
Cholesterol:
48
mg
|
Sodium:
10
mg
|
Potassium:
61
mg
|
Fiber:
1
g
|
Sugar:
27
g
|
Vitamin A:
542
IU
|
Vitamin C:
1
mg
|
Calcium:
18
mg
|
Iron:
1
mg
All nutritional information is approximate and intended only as a guide.
Tried this recipe?
Take a pic and tag @applytofaceblog on Instagram. I would so love to see them!
Do Let me know how you get on in the comments below. I do love a good old hairy chinwag.