Whether you call this Traybake Millionaires Shortbread or Caramel Shortbread Squares it matters not one toffee jot. Nothing can change how toothachingly delicious this caramel and chocolate bake is. Nothing……
Millionaires Shortbread
This is the best recipe I have ever found for this sweet treat. I have trialled lots as I was determined to find a recipe that was both easy and delicious.
But first……some holiday madness…feel free to scroll past the story to the recipe below if you're feeling hungry.
And here we are again, on the precipice of madness…..As I face the great abyss of the summer holidays I am unsure which is the greater fear…….losing my sanity or huge weight gain.I have already had a buttermilk pancake soused in maple syrup for breakfast………….I ask where is the shame?.
I find it almost impossible to dig deep at times. It feels like it's all or nothing. I suspect it's because I don't really have my sh.t together.
I swing between mildly disorganised to wtflip?????????? I am a deeply entrenched winger.
This does at times give me a good feeling. A feeling of freedom from the drudgery of the incredibly boring minutiae of life.
A feeling that I am soaring above it all, unconventional and living in the moment. Ready at a moments notice for adventure.
But in reality I'm a t.at. I am not living in an exciting city somewhere at twenty with my future as a globe-trotting wonder woman at my feet. I am a 2.4 geriatric mother of two with an inability to check the calendar and follow a balanced diet.
So it is in these highly pressurised moments of my life ( big old me being solely responsible for my children not maiming or scarring each other as well as coordinating fun-filled outdoor activities with others) that I find it almost impossible to turn away from the cheesy chips. A binging fog descends and I am adrift on a gluttonous sea of foodie crap.
So I am here, in the very beginning, to make a desperate last stand, an earnest plea to the irascible gods of the summer holiday………..
Where there was chaos let there be mind numbing and boring order. Where there was anarchy let there be loving and sharing sibling peace. Where there was delicious, full of sawdust, filthy sausages and chips at soft play, let there be hummus, carrot sticks and a low-fat apricot yoghurt. Where there was gloriously syrupy pancakes, let there be Special K and red milk and most of all where there was wine let there be GIN…….apparently pound for pound about half the calories………
I feel like I've seen the light already. May the Lord be with me I'm going in…..
Millionaires Shortbread Recipe.
Another significant strategy of mine to create sibling peace for five minutes is this Amazeballs recipe for Millionaires Shortbread.
I have tried many and found this by far to be the easiest and the most incredible. This recipe is one of my stalwarts.
That sounds incredibly middle-aged but I really can't see me ever changing it, it is that good.
Millionaires Shortbread is my son's absolute favourite. This guarantees Utopia in my house. Obviously I will just be sniffing it.
The question of how to make Millionaire's Shortbread always intimidated me before I found this recipe.
The important points to remember are to have your tray lined and have plenty of time set aside.
It is a lengthy but very simple process.
I use an 8″ square loose bottomed tin.
Click here for incredible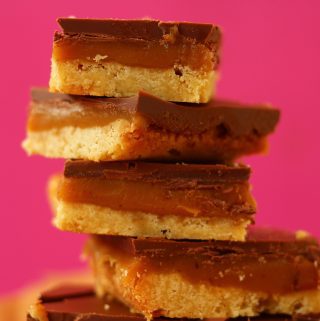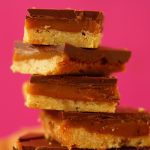 Millionaires Shortbread
This is the most incredible Millionaire's Shortbread .It is rich but moreish, chocolatey and chewy with soft caramel. One of my favourites ever.
Ingredients
Shortbread
125

grams

unsalted butter

50

grams

caster sugar

125

grams

plain flour
Caramel
175

grams

caster sugar

75

grams

golden syrup

250

mls double cream

75

grams

unsalted butter
Chocolate
175

grams

milk chocolate . I use Green and Blacks for a real treat.
Instructions
Preheat the oven to 180 C (160 C fan).I use a 22cm square non stick tin with a loose bottom and I have cut out a square of bake o glide which I stick in the bottom.

I use a food processor to blitz the butter and flour into breadcrumbs. But you can use a mixing bowl and rub the butter and flour in with your fingers to get the same result. Add the sugar and mix together until it starts to come together.

Tip the sandy mixture into the tin and using your fingers/knuckles gently spread out and press the mixture into a level layer. It will appear at first that it is not enough mixture but persevere and you too will see the light.

Bake until golden brown-about 12-15 mins. It is important that it does have a golden tinge on the surface. let it cool completely.

To make the caramel, empty all the ingredients into a saucepan and bring to a fast boil. Stir regularly to prevent the caramel burning on the bottom of the pan. When the caramel reaches 120 C (I sometimes use a sugar thermometer )or just past the soft ball phase it is ready. To tell when it reaches this stage without a thermometer I put a cup of really cold water next to me and using a teaspoon carefully drop a small amount of the caramel into it when I think it might be ready. When it forms a ball in the water take it off the heat.

Pour the caramel onto the shortbread and allow to cool completely. Be super careful, that bad boy is hot.

Melt the chocolate carefully in a bowl placed over simmering water. Milk chocolate is difficult to melt in the microwave so I don't even go there. Pour satisfyingly over the caramel and chill for a couple of hours before cutting into 5 cm squares with a sharp knife.

OMG Apply to Child's Face only. Strictly no old women called Jenny.
Nutrition Facts
Millionaires Shortbread
Amount Per Serving
Calories 593
Calories from Fat 351
% Daily Value*
Fat 39g60%
Cholesterol 96mg32%
Sodium 18mg1%
Potassium 103mg3%
Carbohydrates 61g20%
Protein 3g6%
Vitamin A 1085IU22%
Vitamin C 0.2mg0%
Calcium 34mg3%
Iron 1.3mg7%
* Percent Daily Values are based on a 2000 calorie diet.
I have linked this post with We Should Cocoa at Tin and Thyme.