Strawberry Shortcake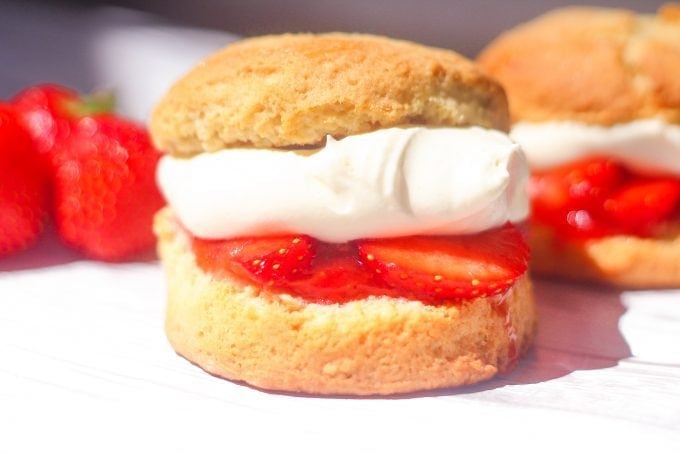 This is an easy Strawberry Shortcake Cake recipe that brings a bit of summer right to your plate. Team it with a glass of Champagne and your best girlfriends in the garden and life doesn't get much better....
Jump Straight ro Strawberry Shortcake Recipe
But first........some summer loving.....
This week has been one of those weeks that I would most rather forget. I am finding that the amount of time left within the actual month for balanced rational behaviour is fast diminishing. I reckon that I am down to about three days at the moment.......Three days when I am not on a precipice of emotional hari kari. What a massive pain in the ass. The extreme irony is it has taken me this long to get my emotional sh.t together anyway and just as I am reaping the numerous rewards of not sweating the small stuff, Mother Nature strikes her psycho bitch blow.
I simultaneously need to rescue all the poor children around the world whilst wanting to lock my own in the garden shed the moment they arrive home. I am outraged and dismayed at my middle aged body and permanently planning a boot camp exercise regime full of hard core sit ups, linseed and some husks whilst sat for hours on the sofa compulsively eating penguins (God they're good).
I think repeatedly about how I need to give myself a makeover and spend each school run coveting everyone else's ensembles but still turn up sweating like a true overweight Brit in a heat wave in old trainers, jeans and no make up. My friend summed it up perfectly......"You have Menopausal Manana darling." I actually like the sound of it. It sounds like a fancy cocktail to me .I hope it's got an umbrella and a double shot of Champagne, it damn well should have.
Strawberry Shortcake Recipe
This Strawberry Shortcake is a dessert full of the brightest summer hues. It has the tenderest of crumbs and is so short that just a gentle summer breeze may be too much for it. Sandwiched all about with softly whipped Cream, sort of Homemade Strawberry Jam and fresh Strawberries this really hits the sweet endless summer spot.
Ideally they should be served at sunset underneath the branches of a huge tree alongside some ice cold bubbles or as I have done this week, straight from the baking tray, sweating in old trainers from the school run looking for a little bit of light heaven amongst the breakfast detritus.......
They are most popular in America akin a little to our Scones but lighter, so very much lighter. They are the Tinkerbell of the Scone world and I have absolutely fallen in love.
They are also a doddle to make. A couple of whizzes in the food processor and you practically find yourself walking towards the oven. I freeze the butter first. Nigella does it, so who am I to cast aspersions.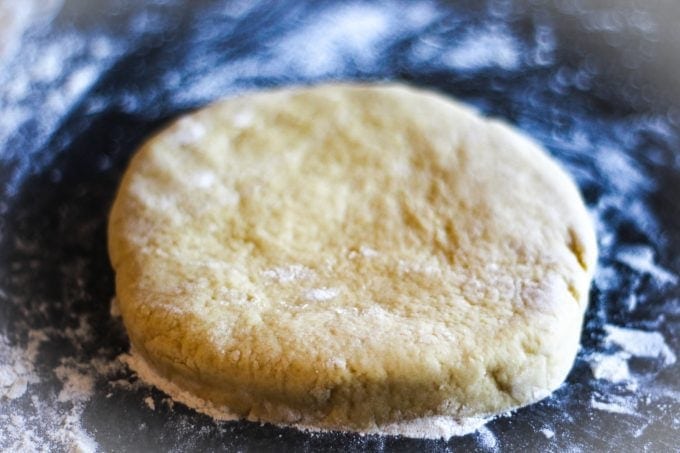 They just require a hat of Cream and a generous sprinkling of sugar.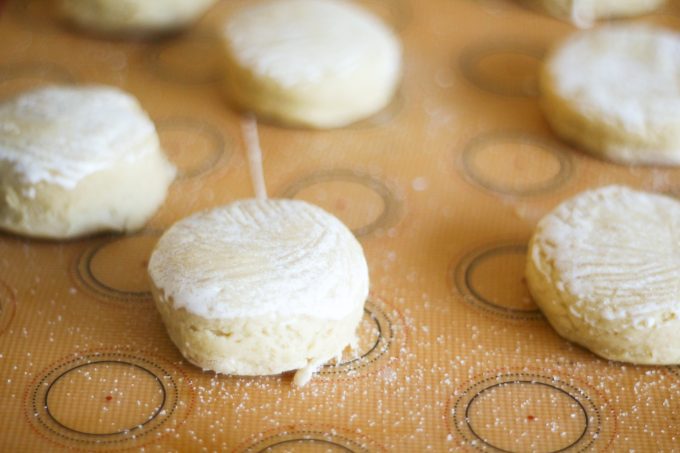 Baked for ten or fifteen minutes then allowed to cool a little before splitting gently and splicing with homemade Jam and softly whipped Cream........
The homemade Jam is a shortcut version and I simply mix and macerate 100 grams each of fresh Strawberries and shop bought Jam quickly together over a gentle heat for a couple of mins.
You could try Stewed Apples and cream as an alternative too.
The result is divine. If this is what Summer brings then I may have to go and live in Spain come October....
IF YOU LIKE THIS RECIPE THEN YOU MAY LIKE THESE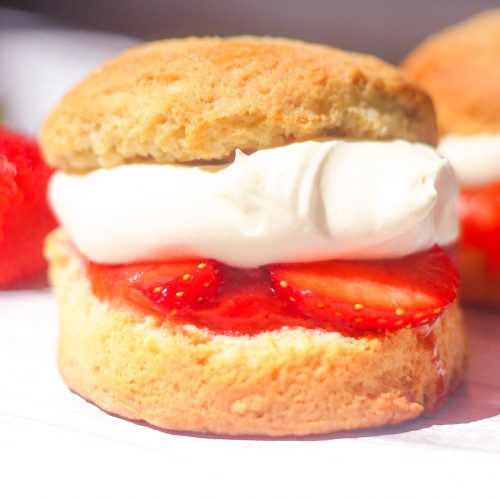 Strawberry Shortcake
This is the most wonderful Strawberry Shortcake dessert. So light you could practically inhale them.A couple of whizzes in the food processor and the deed is practically done.
Ingredients
Shortcake
120

grams

unsalted butter

frozen

80

grams

caster sugar

250

grams

plain flour

2

tsp

baking powder

½

tsp

bicarbonate of soda

¼

tsp

salt

¼

cup

buttermilk

scant

1

medium

egg

¼

cup

double cream

scant
Strawberry Jam
100

grams

Strawberries

100

grams

Strawberry Jam
Instructions
Put all the dry ingredients in a food processor and blitz until fine breadcrumbs. Whisk all the wet ingredients together in a jug.

Pour in the wet ingredients into the food processor through the funnel whilst blitzing. Keep blitzing until the mixture starts to come together in clumps.

Tip out onto a floured surface and knead a little to bring together into a disc. Roll out gently until 2 cm thick. Using a cutter about 7 cm in diameter cut out your discs. It is important not to twist the cutters. The mixture is very soft so be gentle and they will rise to the occasion.

Brush with Cream and sprinkle with sugar before chilling in the refrigerator for twenty minutes.

Preheat the oven to 200 C. Put the Jam and Strawberries in a saucepan over a gentle heat. I used a potato masher to bash the Strawberries a little and stirred until they were well combined. Set aside.

Bake the shortcakes for ten to fifteen minutes. Keep a close eye on them so as to not let them brown too much especially on the bottom.

Allow to cool on a wire rack for a little while before carefully splitting and spreading with Jam, Cream and fresh Strawberries. These babies should be served still warm.
Notes
These can be made ahead and gently reheated in the oven until warm.
Nutrition
Calories:
450
kcal
|
Carbohydrates:
59
g
|
Protein:
6
g
|
Fat:
21
g
|
Saturated Fat:
13
g
|
Cholesterol:
84
mg
|
Sodium:
236
mg
|
Potassium:
282
mg
|
Fiber:
1
g
|
Sugar:
22
g
|
Vitamin A:
700
IU
|
Vitamin C:
11.3
mg
|
Calcium:
111
mg
|
Iron:
2.3
mg
All nutritional information is approximate and intended only as a guide.
Tried this recipe?
Take a pic and tag @applytofaceblog on Instagram. I would so love to see them!
Let me know how you get on in the comments below. I love a good old hairy chin wag.