This recipe for Stewed Apples is comfort food in a big old saucepan. I make a vat of it and freeze it in batches to use for crumbles, pies, pancakes and pastries. It is just delicious and oh so versatile.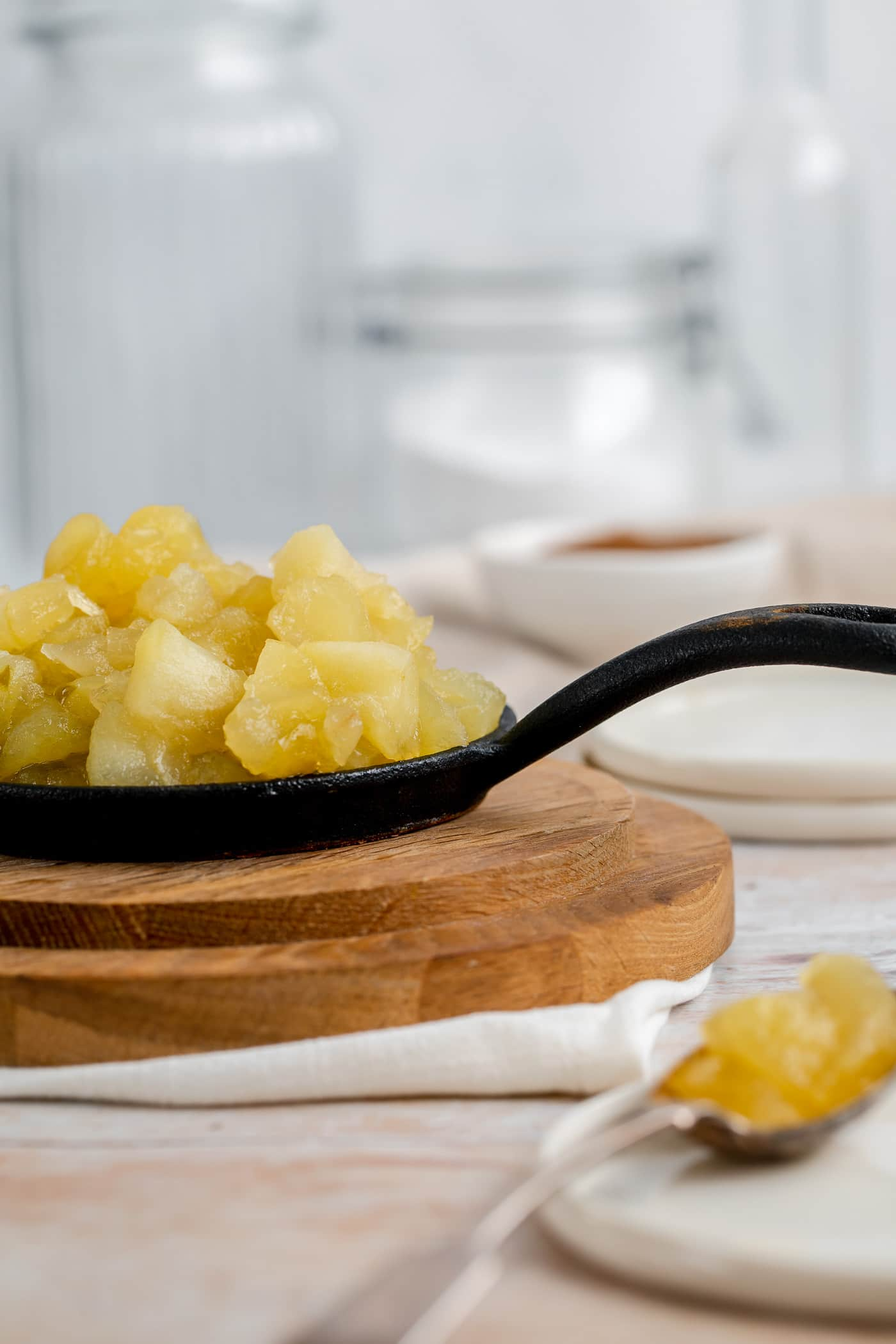 Perfect for the Autumn weather that is just beginning to come to mind and my Bramley Apple Tree that is full of beautiful apples.
*My much preferred apple for all baked apple dishes is the Bramley. It breaks down very easily when cooked and retains a slight sharpness even when cooked with sugar. Other good apples to bake with are Granny Smiths and Braeburn but taste carefully for sweetness and if using eating apples only add 200 grams/7 ozs of sugar to start with and then test.*
With portions of this in my freezer I am never far away from a cuddle. For me cinnamon is always a must add in as is a large puddle of cream, vanilla ice cream or vanilla custard.
*Scroll down for the full printable recipe card at the bottom of this post.*
Stewed Apple Recipe
INGREDIENTS
2 kgs (70 oz) Bramley Apples - preferably Bramley but any apples with bite.
300 grams (1.75 cups) Sugar - caster or granulated sugar. Brown sugar will give you a slightly caramel flavour. I prefer mine without.
Juice of 1 Lemon (optional) - fresh
50 grams (3.53 oz) Butter (optional)- unsalted
1 tsp Cinnamon (optional) - ground
I do make this without the ground cinnamon, lemon or butter. The choice is yours.
*This is a recipe for a large amount of apples. If you are looking for a smaller recipe then I would simply halve the ingredients.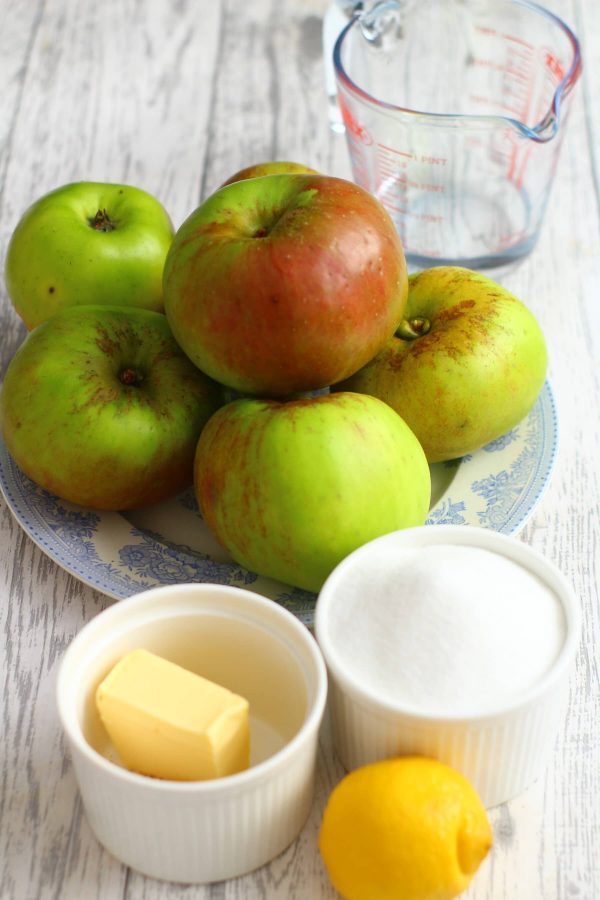 How Do I Stew Apples?
Firstly I peel and core the apples before chopping into 2 cm chunks. I put them in a very large saucepan with the lemon juice. This helps to keep the apples from turning brown.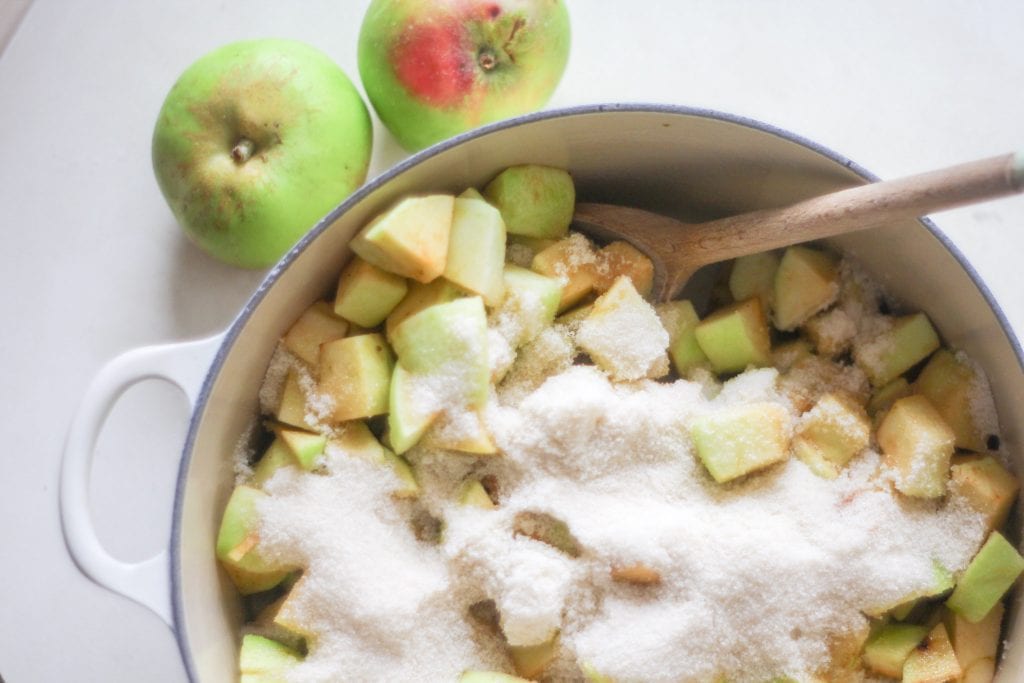 I add 250 grams/8.8 ozs of the sugar at first along with the rest of the ingredients apart from the butter. Gently simmer until the apples have broken down substantially but still have chunks that you can see.

It is at this point I taste a couple of spoonfuls for sweetness. It is easy to not add enough so take your time to get it right. Add another 50 grams/1.7 ozs at a time and taste again. Repeat if you need to.
Add the butter and stir through.
Allow to cool and store until needed in an air tight container

What Can I Use Stewed Apples For?
Perfect for so many occasions I love to use them for:

Can You freeze Them?
Yes you can. I put mine in an air tight stout tupperware type container and freeze for up to 9 months when completely cool.
I thaw for a couple of hours at room temperature when I want to use it.
You could separate the batch and freeze in smaller portions.
Often times I will make a couple of Apple Crumbles with the stewed apples and top with a crumble mix in the baking dish and then cover with a double layer of silver foil to freeze.
I only freeze the crumbles for 3 months though.
Recently I have bought some brilliant pyrex dishes with freezer proof lids. So useful to freeze dishes and then bake in the same dish.
When I need one I take it out to thaw for a couple of hours before baking as normal.
Additions and Alternatives
You could pimp it to suit you and your family too. Adding some maple syrup or honey to give sweetness with some extra flavour is a great idea.
Adding a tsp or two of vanilla extract would add another level to the apples as would mixing up the spice.
You could try some mixed spice instead or as well as the cinnamon or even just use a little freshly ground nutmeg.
Stewed Apple Tips
Use Bramley Apples for that special tart yet sweet flavour that works so well here
Taste for sweetness as the tartness will vary from apples to apples
Add more or less cinnamon to taste or use variations of spices to suit
Halve the recipe for a smaller batch
Perfect for batch cooking and freezing for future use and smugness

Stewed Apples
This recipe for stewed apples is full of buttery and warmly spiced apple goodness. It is both quick and simple to prepare. Perfect for many occasions it lends it's hand to breakfast pancakes, pastries, pies and my favourite, crumbles.
Ingredients
2

kgs

bramley apples

50

grams

butter

300

grams

caster sugar

1

tsp

ground cinnamon

1

medium

lemon
Instructions
Peel and core the apples. Chop into about 2 cm chunks and place in very large saucepan with the lemon juice. Stir through.

Add 250 grams/8.8 ozs of the sugar, cinnamon and place over a medium heat. Simmer gently whilst stirring every minute or so. Make sure that it isn't catching on the bottom. you want a soft simmer.

When the apples have nearly cooked down enough, remove from heat and taste for sweetness. Add more sugar in 50 gram/1.7 ozs increments if not sweet enough. I usually end up using about 300 grams/10.5 ozs.

The cooking down will take up to about 15 minutes. I like to have about half puree and half soft chunks. cooking time does depend on the pan you are using too so some pans may cook the apples through enough by ten mins.

Add the butter and stir through.
Notes
This is a recipe for a large amount of apples. Halve for a more manageable amount.
Start off with 250 grams/8.8 ozs of sugar if you like your stewed apples a little tart and then add more as you go. Taste carefully to assess how sweet you want it. The tartness of the apples can vary from batch to batch.
Freeze the stewed apples for up to 9 months in a stout tupperware container. Thaw at room temperature for a couple of hours in the container.
Once cool store covered in the fridge for up to a week.
Nutrition
Calories:
251
kcal
|
Carbohydrates:
65
g
|
Protein:
1
g
|
Sodium:
3
mg
|
Potassium:
264
mg
|
Fiber:
5
g
|
Sugar:
56
g
|
Vitamin A:
110
IU
|
Vitamin C:
9.2
mg
|
Calcium:
18
mg
|
Iron:
0.5
mg
All nutritional information is approximate and intended only as a guide.
Tried this recipe?
Take a pic and tag @applytofaceblog on Instagram. I would so love to see them!

Do let me know how you get on in the comments below. Or come on over and follow me on my Facebook and Instagram pages. I love a good old hairy chinwag.