This recipe for stewed apple muffins has once more lifted my jaded soul. I have feasted on these warm for breakfast as well as sending my children to school with them in their lunch boxes………
Kiss it………. They are DIVINE. What's more I didn't expect them to be so good. It's a muffin right? I mean I like muffins but before now would I say I loved them???? No…… But cheesy as it sounds, I so do now……. Cinnamon spiced tender and oh so soft crumb bursting with pockets of tart yet sweet stewed apple and an incredible caramel crunchy, sugary top. I couldn't believe what I had rustled up in an instant. I think I felt as good about that as I did eating them. I record them here for all humanity/apple muffin lovers.
But first….some pounding………
Yesterday I happened upon my Lean in 15 book that had been purchased a year ago and had since sat gathering dust on my already dusty shelf . Upon discovering a work out routine that was over in 15 minutes and all the incredible before and after post 30 days photos I could hardly contain myself. How utterly brilliant. Maximum results for minimum effort……….
So confident was I that I clutched the book, open to the work out routine, to my flabby midriff, slipped on my trainers and went straight to my sitting room. I didn't even bother to change such was my laissez faire, smart arse attitude. Looks simple enough, who needs a separate outfit?????? Surely I'm not going to work up much of a sweat in a mere 15 minutes.
In hindsight sometimes I surprise myself at my own incredible stupidity…….I actually nearly died……My heart was threatening to beat right on out of my chest and I became seriously concerned for my arteries. How hard can a couch potatoes heart beat without exploding????? Pride made me keep going (in an awful fashion) but I literally crawled back into my kitchen as my legs just wouldn't work any more and all I could hear was the blood pounding in my ears…..
It really didn't cross my mind that I wouldn't be up to it. I bought it in the supermarket for the Love of God. Am I not capable of a mainstream exercise routine anymore???? Obvs not……..I'm such a foolish fatty. I keep expecting to still be able to do cartwheels and press ups even though I have lived the life of an intensively farmed pig with a penchant for cheese for the last ten years.
I do think there should be some prior warning on the book sleeve though. A strongly worded foreword to inform and deter other foolish middle aged fatties browsing mindlessly in the supermarket. At the very least they should recommend the installation of a panic button and a serious consideration of supportive underwear made.
Apple Muffin Recipe
These incredible buttermilk muffins are so tender and moist of crumb when warm that I actually cried out upon my first bite. As I mentioned earlier I was not expecting them to be so incredible. Obviously you have to love stewed, cinnamony apples but that aside the sponge is still amazingly good even when the ovens warmth has left it. The top is wonderfully crunchy with caramel tasting demerara, a most befitting crown for this very special apple muffin.
As almost always with muffins it is a mere melding of the wet ingredients with the dry. I then fold the stewed apple through lightly at the end before spooning into the cup cases and baking for 20 minutes or so. Bob and Fanny are ecstatic……
I sprinkle them with Demerara Sugar, a generous pinch each. This gives them gloriously sweet and crunchy little crowns. I think they are OUTSTANDING served warm from the oven but still great when completely cool. They will keep for several days in an airtight container. I give them a blast for ten seconds in the microwave.
I have used apples from my Stewed Apple recipe.
If you are making these alone without having previously made the stewed apples use 600 grams of Bramley Apples, 40 grams of butter, 60 grams of sugar and a scant 1/2 tsp of ground cinnamon. Add all the ingredients to a saucepan along with 5 tbsp of water and simmer for ten mins or so until all the apple starts to breakdown.
Here is another delicious Apple recipe you might like to try. The Best Apple Crumble. A cuddle in a crumble.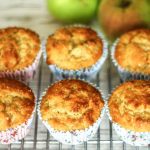 Apple Muffins
Apple Muffin Recipe. Cinnamon spiced tender and oh so soft crumb bursting with pockets of tart yet sweet stewed apple and an incredible caramel crunchy, sugary top.
Ingredients
300

grams

self raising flour

150

grams

caster sugar

1

tsp

baking powder

1/4

tsp

salt

1

tsp

cinnamon

240

mls

buttermilk

120

mls

vegetable oil

2

medium

eggs

250

grams

stewed apples

4-5

tsps

demerara sugar
Instructions
Preheat the oven to 200 C and place cup cake cases in a muffin tray. I made 12.

Put all the dry ingredients apart from the demerara sugar into a large bowl or free standing mixer. Mix all the wet ingredients apart from the stewed apple together well in another bowl. Make sure you can't see the oil at the edges of the liquid.

Add the wet to the dry and mix just enough to make sure that all the flour is mixed in and you can't see it anymore. The less mixed the better with muffins.

Using a large spoon or ice cream scoop put roughly equal amount of muffin mixture into each paper case. Sprinkle each one on top with a generous pinch of demerara sugar.

Bake for 20-25 minutes or until an inserted cocktail stick or skewer comes out clean.

Place on a wire rack to cool a little.
Recipe Notes
These Apple Muffins are orgasmic served freshly baked warm from the oven but when cold after the fact then I blast mine for ten seconds in the microwave.
They will keep for several days in an air tight container.
Nutrition Facts
Apple Muffins
Amount Per Serving
Calories 262
Calories from Fat 99
% Daily Value*
Fat 11g17%
Cholesterol 29mg10%
Sodium 81mg4%
Potassium 119mg3%
Carbohydrates 35g12%
Protein 4g8%
Vitamin A 80IU2%
Vitamin C 0.2mg0%
Calcium 51mg5%
Iron 0.5mg3%
* Percent Daily Values are based on a 2000 calorie diet.
Why not try these other delicious and simple appley recipes out.
Another great and simple baking recipe
A simple Madeira Cake here with another stewed fruit recipe
I have linked this post with Cook, Blog, Share over at Everyday Healthy Recipes.
Fiesta Friday with Zeba @ Food For The Soul and Debanita @ Canvassed Recipes
Cook Once Eat Twice over at Searching for Spice.