This is a divine Apple Crumble recipe with just the best nubbly and crunchy crumble topping. It is a great dessert for feeding a crowd and can be made ahead and reheated for easy entertaining. Plus it makes your kitchen smell absolutely heavenly.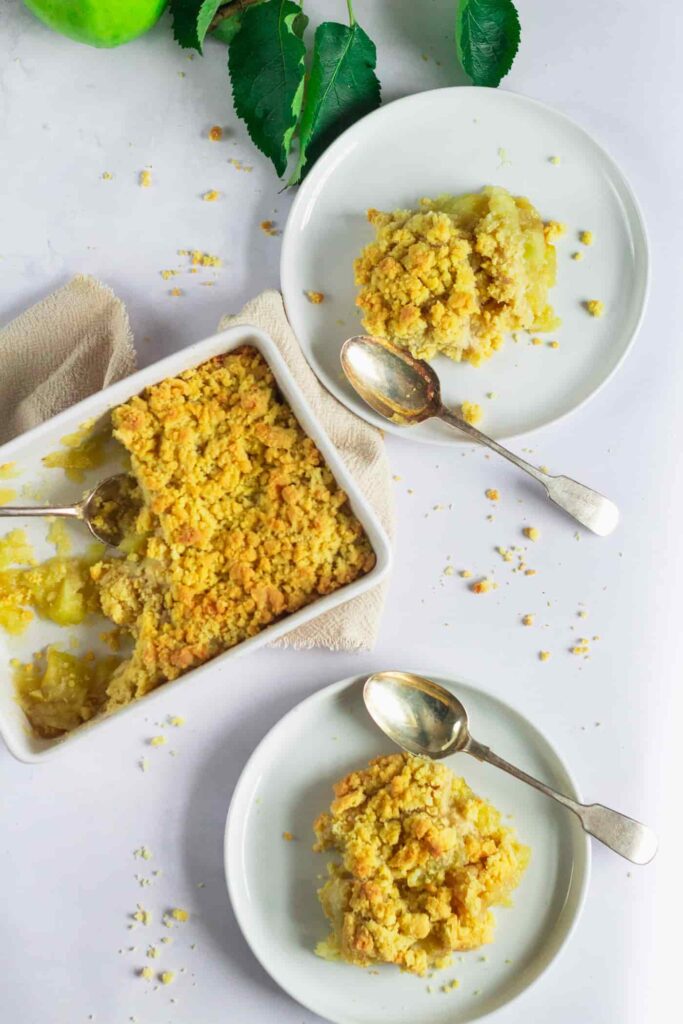 This is an old fashioned traditional Apple Crumble recipe without oats. I prefer mine fuss free and simple with only a few ingredients. and a buttery, crumbly topping.
Perfect for a Sunday Lunch pudding. Comfort food at it's best, just like my Treacle Sponge and Jam Sponge recipes. Retro but still damn epic.

I have felt like the best Mum EVER this week handing out bowls of this spiced apple warmth drowned in custard to my ankle biters.
"Watch out it's hot!" I advised as "Storm Gareth" buffeted the house around us, their happy faces wide eyed at their steaming bowls. Normally they only get an ice pop........
*There is a complete printable recipe card at the bottom of the post.*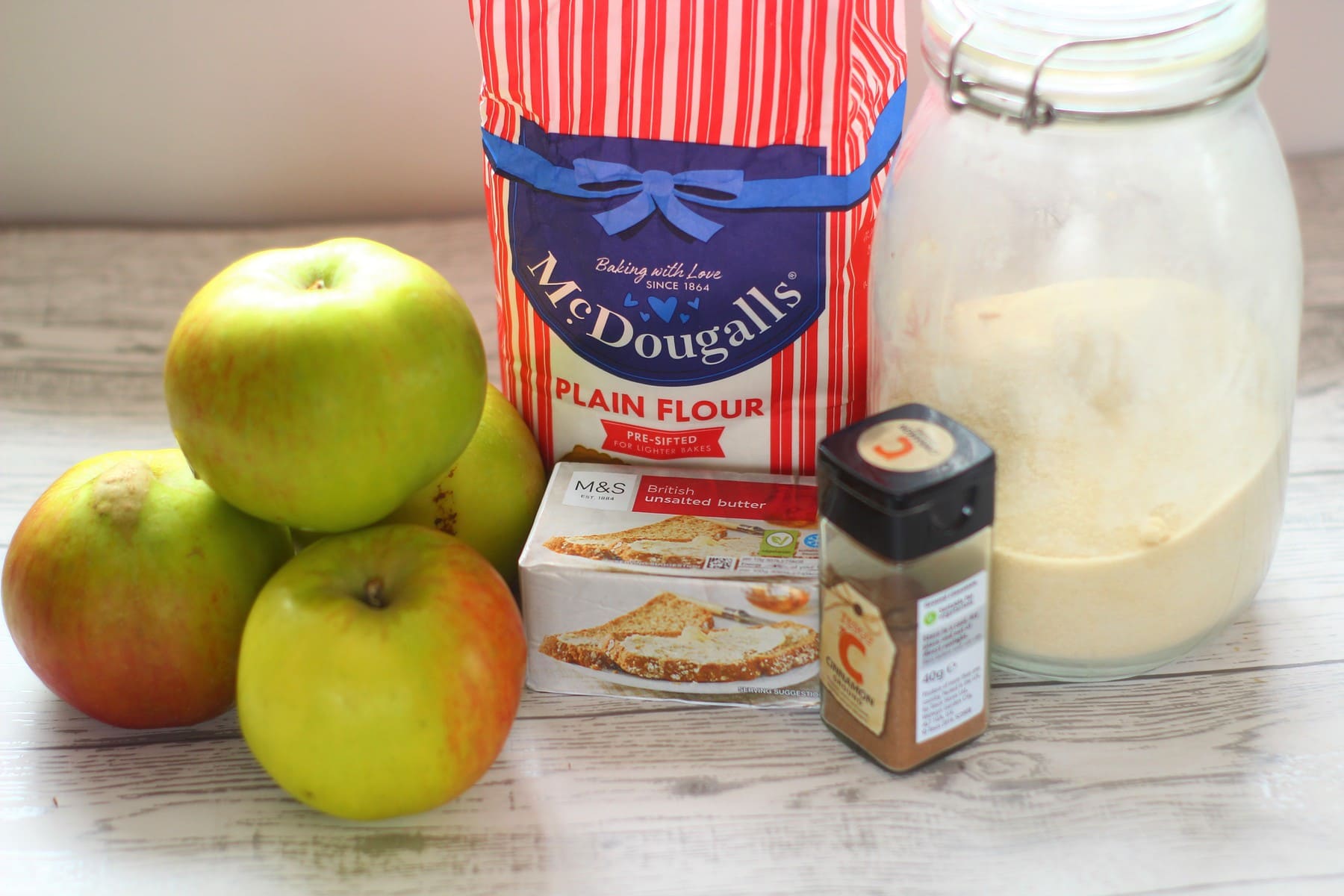 I tend to use 800 grams from my Stewed Apples recipe. But I have given you the recipe for this apple pudding to make the stewed apples from scratch.
Which apples are best for Apple Crumble?
I do recommend Bramley Apples too as they really are the best choice of cooking apples. They have a tartness that is perfect for baking with and break down really well when cooked. Click here for more info about great apple varieties to cook and bake with.
Equipment Required
scales
peeler
chopping board
knife
large saucepan
wooden spoon
22 cm x 15 cm baking dish or similar
food processor or mixing bowl
Ingredients
1 kg (35 oz) cooking apples
150 grams (5.3 oz) caster sugar
25 grams (1.76 oz) unsalted butter
50 mls water
1 tsp ground cinnamon
Crumble
170 grams (4.9 oz) plain flour
100 grams (3.17 oz) butter
90 grams (2.82 oz) sugar
Recipe Steps
Peel and chop the cooking apples into roughly 2 cm chunks and add to a large saucepan. Sprinkle over the 1 tsp of cinnamon (optional, it does make the apple mixture brown!) and then tip in the 50 mls water.
You want to bring the apple mixture up to a simmer for about 15 minutes.
Stir it every minute or so to make sure it isn't catching on the bottom and to encourage the apple to break down a little. I like to have about half puree and half intact apple chunks.
Taste to check that the apple mixture is sweet enough. Add more sugar if it is not.

Tip the apples into your baking dish. I use one that is about 22 cm x 15 cm . It should be roughly this size. Too small and the crumble can be stodgy and much bigger and it won't layer up nicely.
Do add more sugar if your stewed apples need it. Apples sharpness can vary greatly and you may need more sugar sometimes.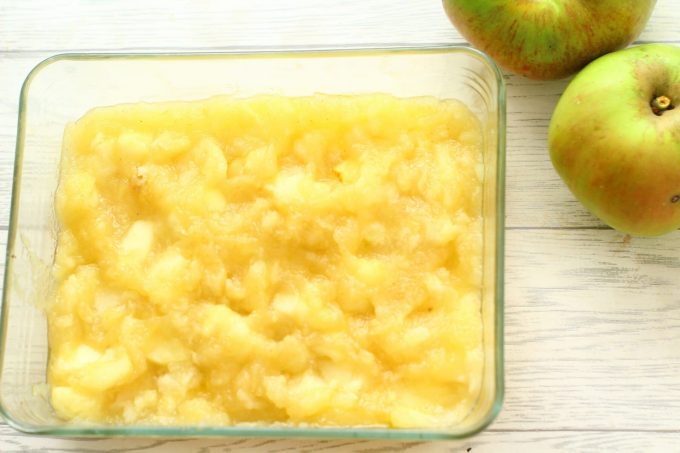 To make the crumble topping the easiest way is to use a food processor. A couple of pulses and the butter is rubbed in perfectly. I love it deeply it's so incredibly easy and fast. However it is also fine to rub in the cold butter using just your fingers.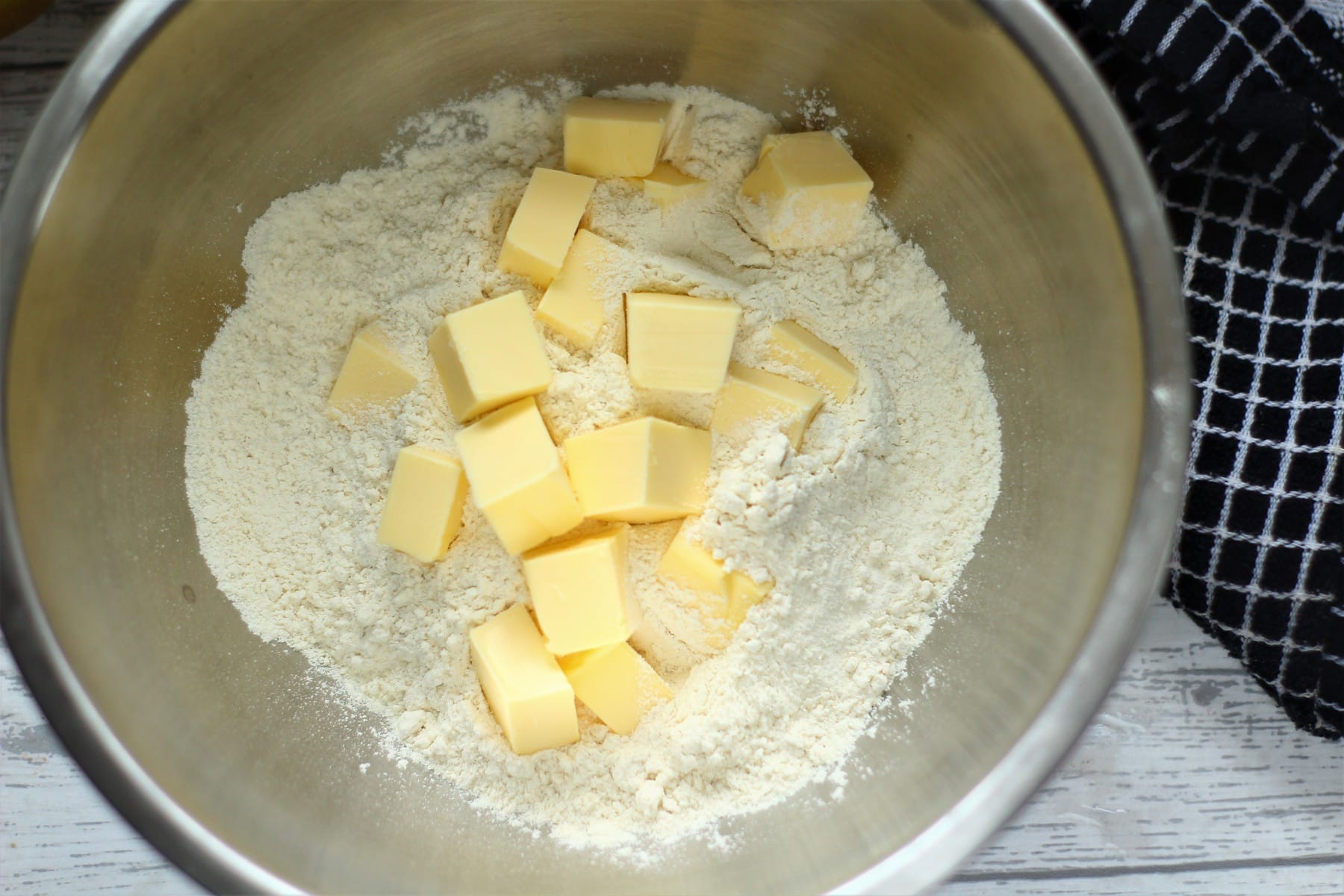 You are after a breadcrumb vibe. When you have that going on then stir the sugar through.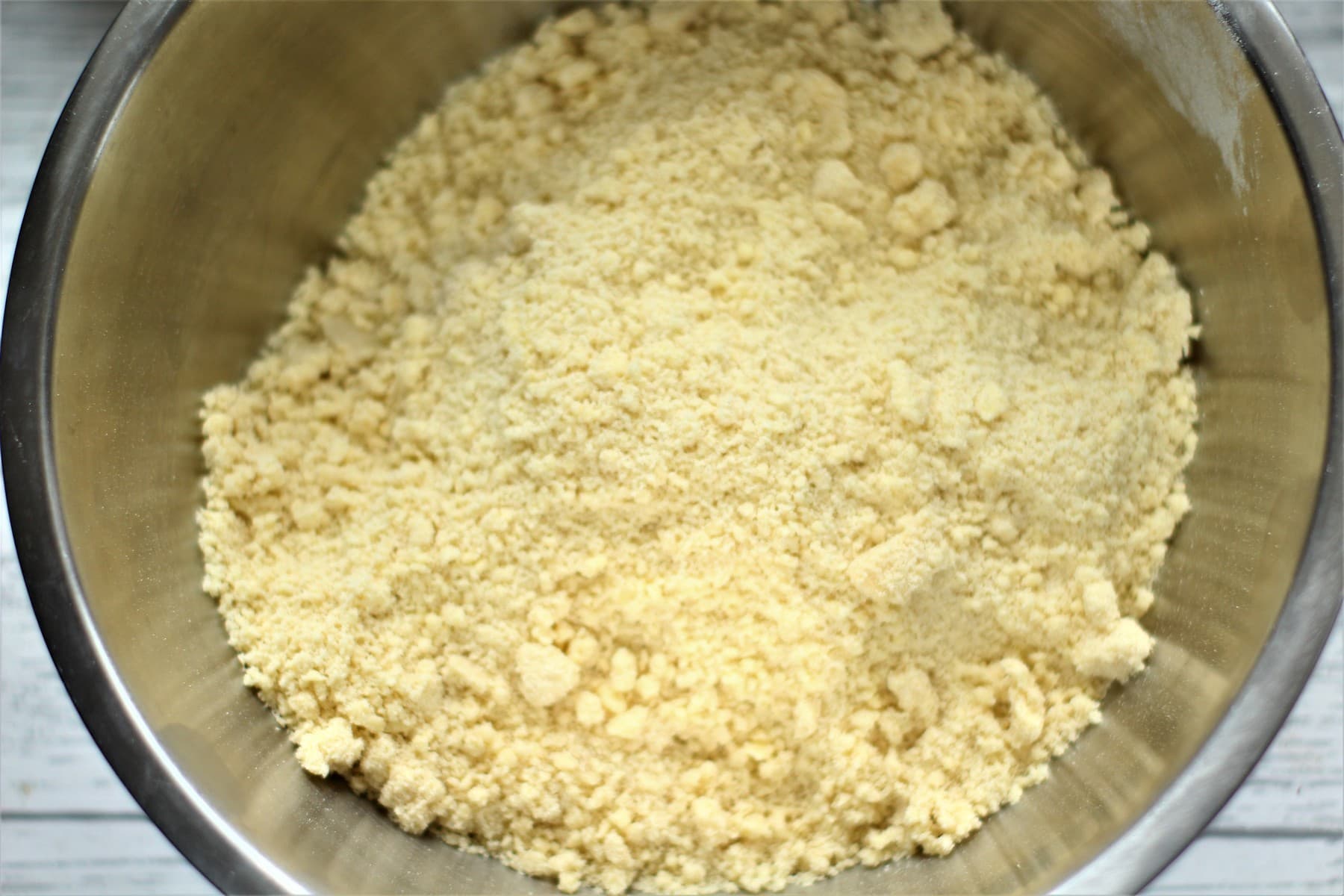 If you like a crunchy crumble top you can always give your crumble topping a quick toast on a baking tray before putting it on top of the crumble.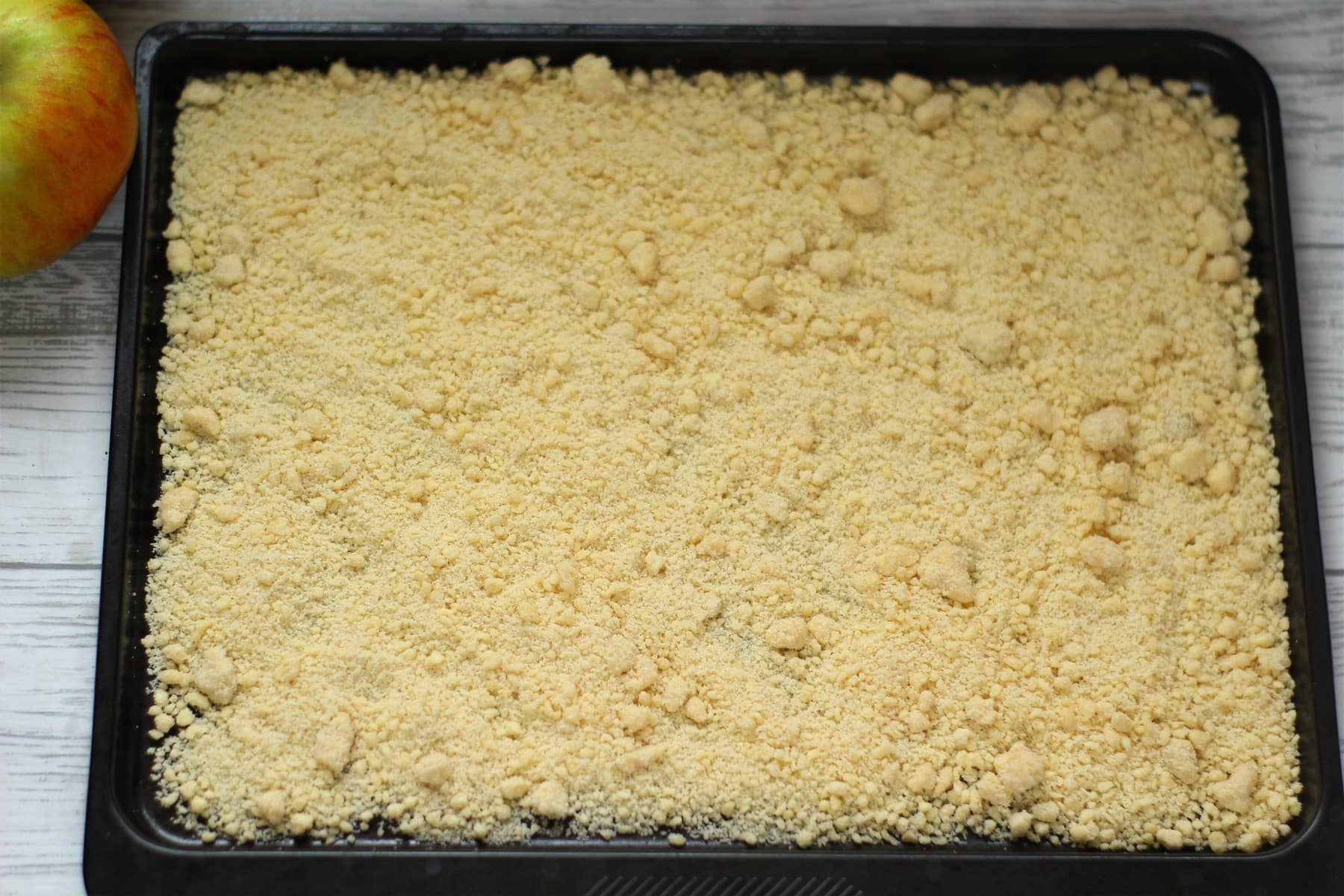 About ten minutes at 180 C/350 F/Gas Mark 4. Keep an eye on it though as it can easily catch. You want lightly coloured. Let it cool and then break it up with a fork.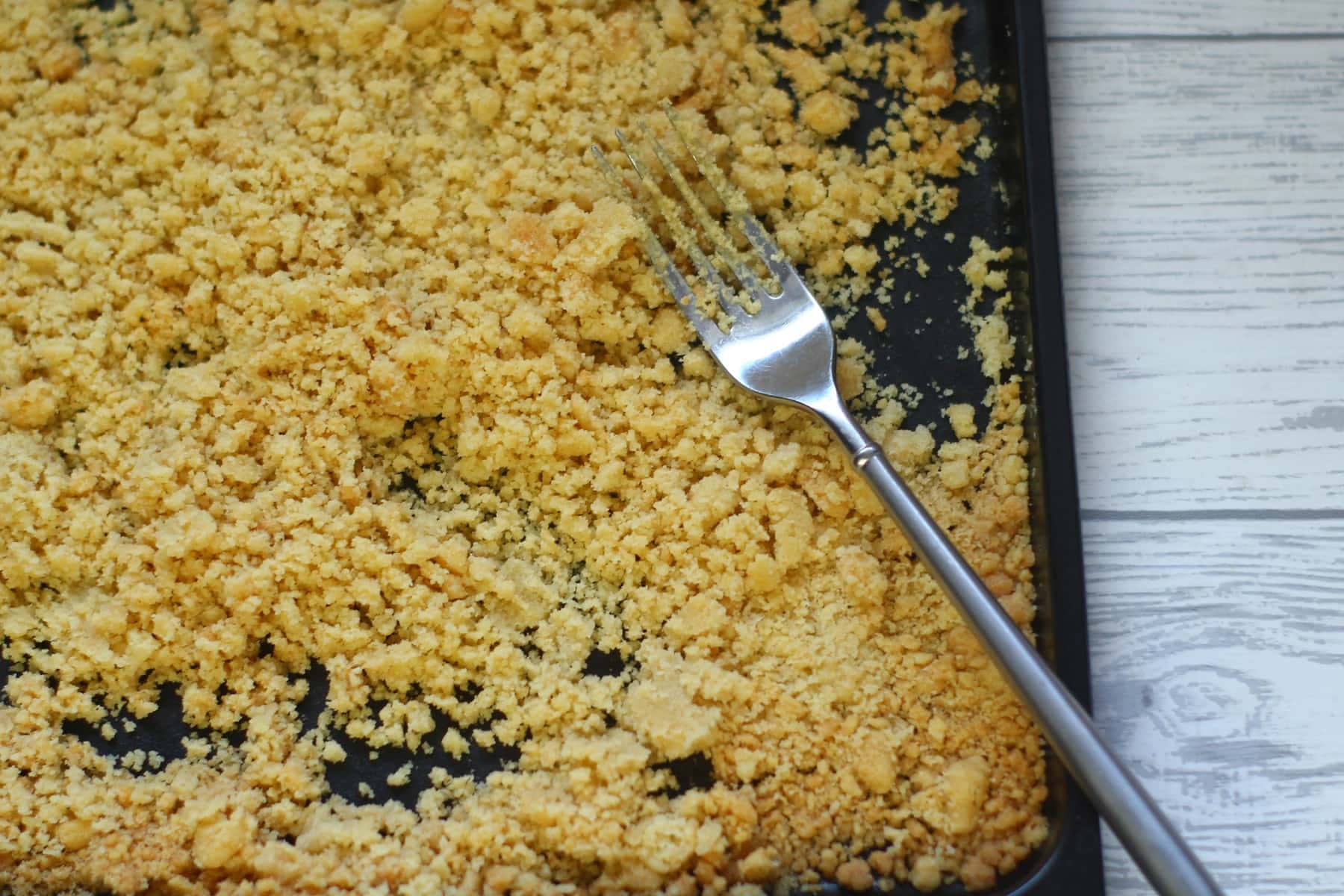 If you have pre baked your topping then heat the apples up in the dish covered in tin foil for about 15 minutes at 180 C/350 F/Gas Mark 4 and then remove the tin foil, check it's hot enough and sprinkle over the toasted crumble. Pop it back in the oven for another 10/15 minutes then serve as normal.
If not toasting the crumble beforehand then scatter the unbaked crumble topping over the stewed apples.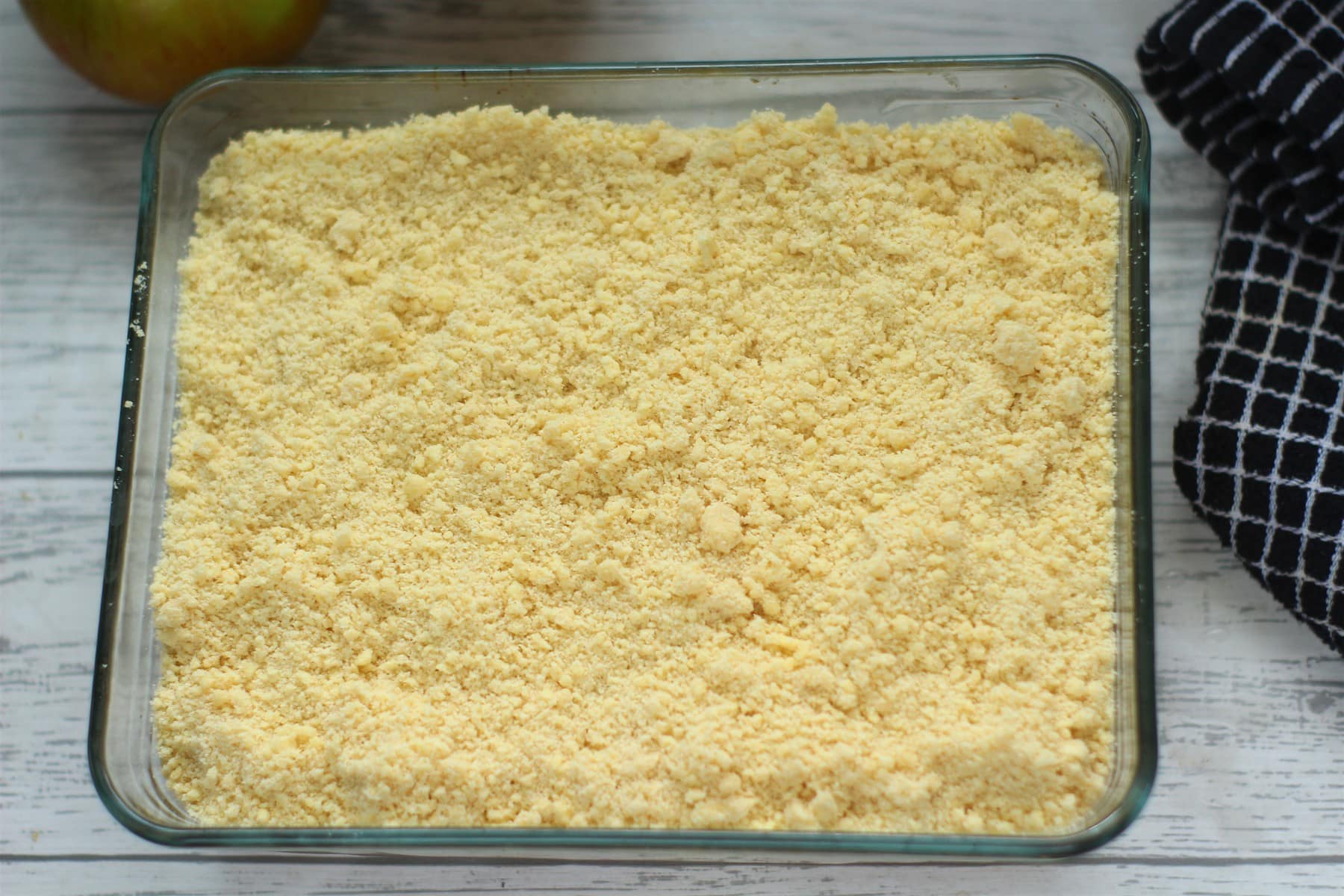 Bake for 35/45 minutes until golden brown and bubbling. The cooking time can vary depending on how hot your apples were going into the oven, the actual temperature of your oven and what sort and size your dish is.
Smaller than my noted size dish will have a thicker layer of crumble and so will take longer to bake through and the crumble may still be under baked in places. As a rough guide you are looking for the crumble topping to be about ¼ the depth of the apple mixture.
Just use your common sense and don't be afraid to get it out and have a little scrape of the crumble particularly in the middle.
To get ahead then make this crumble up until you are ready to bake and then cover and set aside. If baking the next day then store in the fridge. Remove the cover and bake for 40-50 minutes if straight from the fridge or the recommended standard time if at room temperature.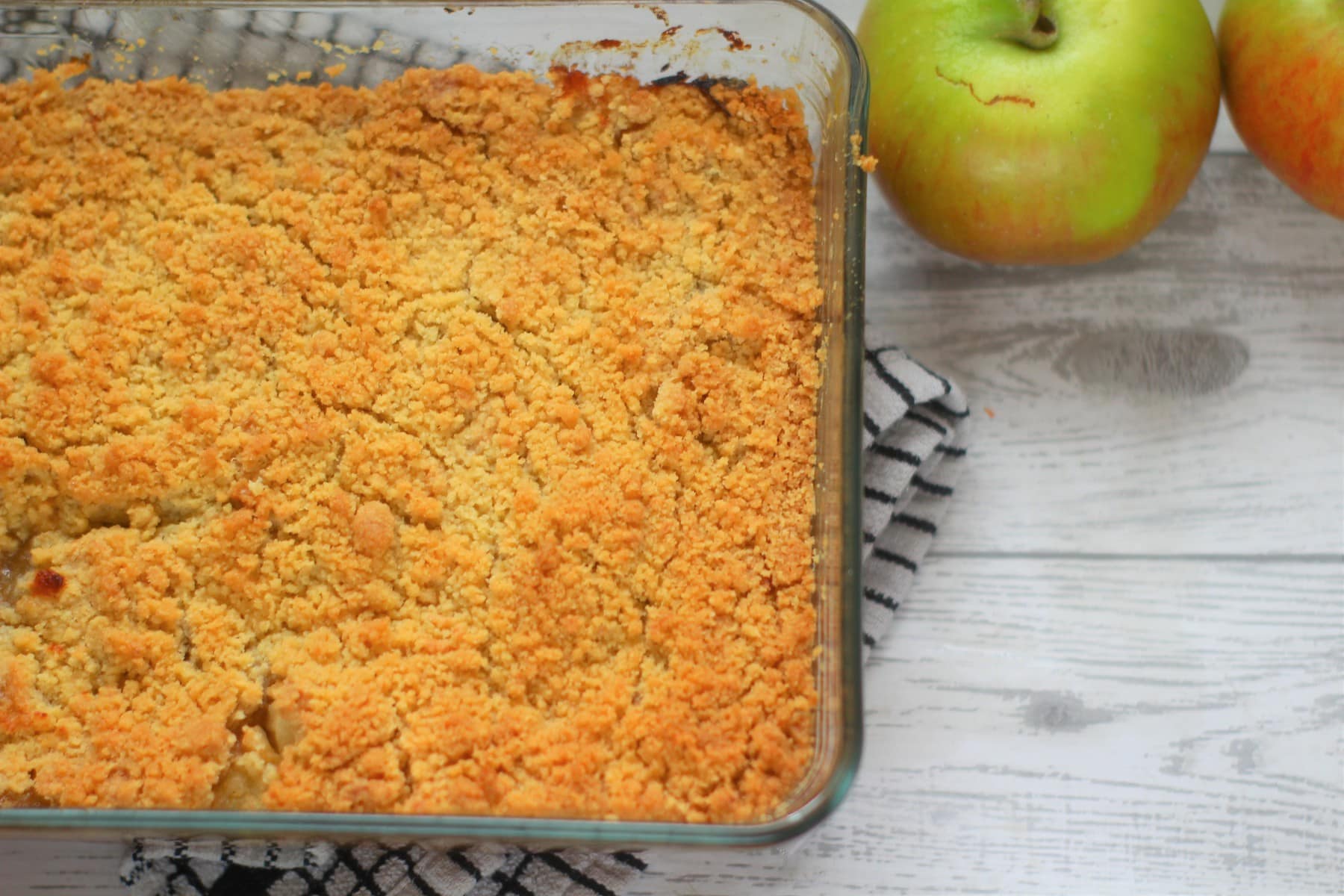 How To Make Tips
Taste to check that the apple mixture is sweet enough. Add more sugar if it is not.
It is very simple to make it gluten free. You merely substitute the plain flour for gluten free flour.
I store any leftovers in the baking dish simply covered with silver foil. Making sure it is cold I then keep it in the fridge. If there is only a small portion left I would transfer to a smaller bowl.
I find the best and easiest way to reheat is to cover with cling film or a plate and use the microwave. Be careful hot fruit is like lava.
If you have made the crumble before hand then pop it in the oven at 180 C/350 F/Gas Mark 4 for 20 - 30 minutes until piping hot throughout. Use a silver foil hat if it starts to darken too much on top.
 Apple Crumble freezes well. I prefer to freeze it unbaked in something like a Pyrex dish and double cover it with silver foil. Defrost overnight and then bake as normal. Recently I bought some Pyrex dishes with freezer lids. Genius for this sort of thing.
What Do I Serve With Apple Crumble?
I like to eat mine with double cream, a puddle of it. But the rest of my family loves Vanilla Custard.
There is of course Vanilla Ice Cream. I have served it with mincemeat ice cream too.

If you like this recipe then you may like these....
Biscoff and Raspberry Croissant Pudding


Apple Crumble
This Apple Crumble recipe is just delicious. Made with only a few ingredients it is comfort food at it's best. Perfect for feeding a crowd too.
Ingredients
1

kg

cooking apples

I prefer Bramleys

150

grams

unrefined caster sugar

standard is fine too.

25

grams

unsalted butter

50

mls

water

1

tsp

ground cinnamon

optional
Crumble Topping
170

grams

plain flour

100

grams

unsalted butter

90

grams

unrefined sugar
Instructions
Pre heat your oven to 180° C/350°F/Gas Mark 4. Peel and core your 1 kg apples. Chop into roughly 2 cm pieces. Place in a large saucepan. Add 15o grams sugar, 1 tsp cinnamon if using and 50 mls of water and heat over a medium heat for about 15 minutes and the apples are half puree. Stir through the 25 grams butter.

Empty into your chosen baking dish and set aside. Put the 100 grams of butter and 170 grams flour into a mixing bowl or the bowl of a food processor. Whizz the food processor until you have breadcrumbs and if rubbing the butter in by hand then rub in until you have the same. Stir through the 90 grams of sugar.

Scatter the crumble on top. Ideally you want about half of the depth of the apples. Bake in your oven for 30-45 mins or until piping hot and the crumble is baked through enough in the middle.

Apply to Well And Truly Cuddled Face
Notes
Taste to check that the apple mixture is sweet enough. Add more sugar if it is not.
Make sure you baking dish is roughly 15 x 22 cm
Check your crumble top is cooked enough in the middle.
Double the recipe to feed up to 12 people. Increase the dish size too! You are looking for the crumble topping to be about ¼ the depth of the apple mixture.
Nutrition
Calories:
688
kcal
|
Carbohydrates:
119
g
|
Protein:
5
g
|
Fat:
24
g
|
Saturated Fat:
15
g
|
Cholesterol:
62
mg
|
Sodium:
8
mg
|
Potassium:
305
mg
|
Fiber:
7
g
|
Sugar:
83
g
|
Vitamin A:
853
IU
|
Vitamin C:
12
mg
|
Calcium:
32
mg
|
Iron:
2
mg
All nutritional information is approximate and intended only as a guide.
Tried this recipe?
Take a pic and tag @applytofaceblog on Instagram. I would so love to see them!

Do let me know how you get on in the comments below or come on over and join me on social media. I would love to see you there x