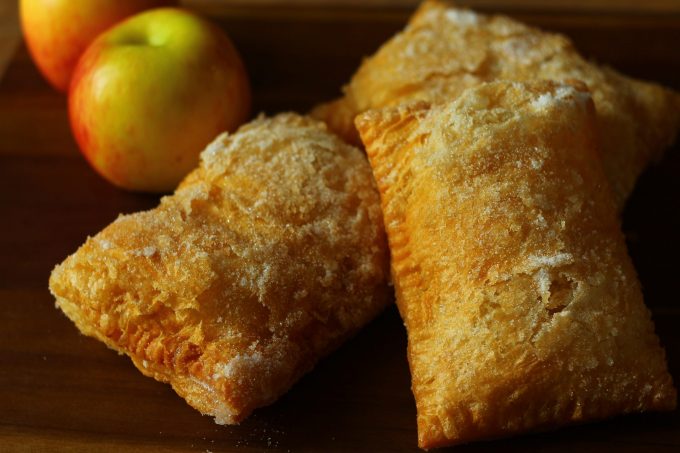 These Deep Fried Apple Pies are just delicious. I was inspired to make them by my deep love/obsession for McDonalds Apple Pies, only to find that they don't make them like this anymore and simply bake them. WTF????
They must use some serious McDonalds tomfoolery to magic up that deep fried feeling on something baked and I am afraid, try as I might, I could not find a way to do the same.
In some ways this recipe goes against the "easy, no stress" theme of my blog simply because of the puff pastry's propensity to gather oil if a couple of points aren't adhered too and in fact I have had some feedback to substantiate this.
So I have amended this recipe to address/make the important bits clearer. However it IS entirely possible to produce crisp pockets of cinnamony apple heaven if you simply follow these points.
So here we are, stood in front of some boiling oil, a few words of caution/tips are now to follow.
These pies are prone to taking up oil if the temperature isn't kept on the button. So I almost insist that you need a sugar thermometer or such like in the oil at all times.
Have all your blotting stuff ready to go. The pies need to be drained over the top of the oil when being removed to let all the oil run off.
The pies need to go straight onto kitchen paper for blotting.
Use some soft/rubber tongs as the pies are crisp and flaky so easily squashed when first out of the oil.
But first ........some ????????
My brain is turning to middle age mush. At times recently it just flips off and leaves me completely. I mean it literally becomes blank......nothing, nada, no-one is home not even down the garden.....
Now I have always been a bit of a space head, day dreamer, head in the clouds sort of character but this new level of slack-jawed vacancy is quite frankly disturbing.
So far this month I have reversed into a car in a car-park.... bang, had to stand still for two whole minutes in a supermarket ( I timed it) in order to dredge up the item from my memory that I had actually started down that particular aisle five seconds earlier for, put a big squirt of bleach into the washing machine instead of fabric conditioner and narrowly avoided a full on vehicle collision by the gnarly hairs on my chinny chin-chin.
In all of these incidents I experienced complete loss of control of my brain, no matter how I tried to remember that item of shopping, it wouldn't come. It wasn't dancing around in my consciousness just out of reach, I had no recollection of it at all from when I entered that aisle five seconds ago.
When I reversed into the car in a car park, I had also COMPLETELY forgotten that as I got into the car ten seconds earlier there were others behind me.
The bleach in the washing machine was another incident of utter absence (but I was flipping quick to action as I had already started the cycle) and I am unable to clarify the cause of the near collision because I don't really remember how I got there in the first place........ but I'm willing to bet that the blame may well lie in my fuzzy direction........"Who me officer?"
Deep Fried Apple Pie Recipe
In reality I have been wanting to make these for ever. I am slightly obsessed with Mcdonald's Apple Pies. I think they are super, super, lush. I am also always looking for desserts that are hand-held and can be kept warm for times like Bonfire-night, Halloween or just generally eating outside.
So this recipe is much anticipated and I am really thrilled with the result. I know that deep frying is generally frowned upon but I genuinely can't see the harm or give a fig as long as it's all in moderation.
They can be made before hand and heated up again in the oven before being wrapped in kitchen paper and then a triple layer of foil to keep warm for up to an hour or more depending how you transport them.
I use my insulated carrier and wrap them up in a towel too. Damn genius..... I hope my metabolism forgets how many I have already inhaled.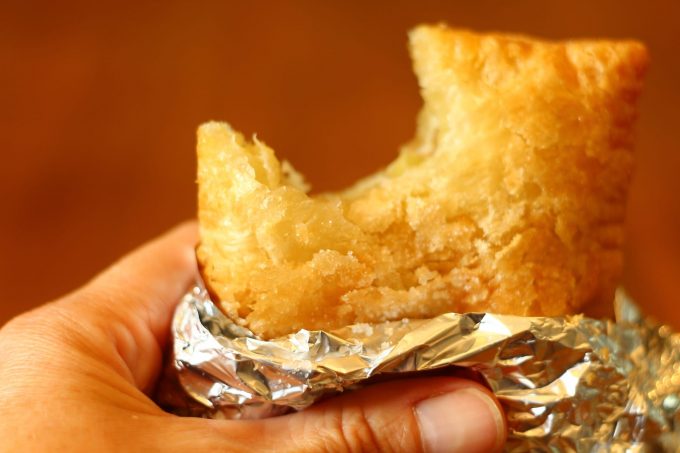 Check these other Apple Dessert Bad Boys out........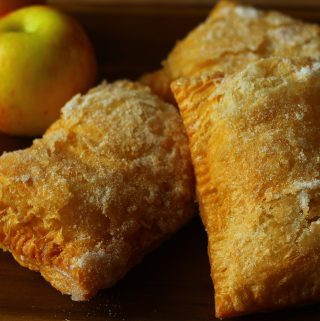 Deep Fried Apple Pies
These are perfect for outdoor eating such as Bonfire Night. Hand held and wrapped in foil they can be safely clutched by children and adults alike.On top of their outdoor appropriateness they are blinkin delicious.They can be all fried ahead too and allowed to cool completely before being heated up ready for stuffing in your face. I have made the recipe for four but just double up for eight etc.
Ingredients
2

large

granny smith apples

50

grams

light brown sugar

1

tsp

ground cinnamon

375

grams

puff pastry

I use ready rolled-so easy

25

grams

butter
Instructions
Peel and core the apples before cutting them up into about 1 cm chunks.

Place the apples along with the sugar and cinnamon into a saucepan and heat gently for five minutes or so until the apple mixture is tender. Stir the butter through Allow to cool.

Un-wrap your pastry and then divide into 8 equal rectangles with a pizza cutter or sharp knife.

Spoon a couple of heaped tablespoons of the apple mixture onto a rectangle of pastry. With your finger wet the outer edges of the pastry.

Place another rectangle on top and gently press down on the edges to seal. Using a fork go around the pie and crimp the edges.

Heat a deep fat fryer to 190 degrees I advise using a cooking thermometer to monitor the temp. If it goes too low the pies may not be crisp and absorb some oil.

Fry each pie separately for about 5-8 minutes.You will need to turn them over half way through to ensure even browning. When crisp and golden carefully remove, hold over the pan to let all the oil run off and then put onto kitchen paper blotting carefully before dredging in caster sugar on both sides as quick as you can. Place on a wire rack to cool if not serving immediately.

Sometimes I fry all of the pies beforehand, sometimes the day before, and then heat up for ten minutes in the oven at 180 C before they're required. They just need to be stored in between grease proof paper in an air tight container.
Recipe Notes
As mentioned above it really is best to use a sugar thermometer to make sure the oil temp is bang on at all times. mine is a clumsy old thing but it does the job.
Hold the pie over the fat to drain before removing to the kitchen paper for a jolly good blotting.
Use soft tongs to avoid squashing the crisp pastry.
Be careful of the hot filling when eating.
Reheat in the oven.
Nutrition Facts
Deep Fried Apple Pies
Amount Per Serving
Calories 475
Calories from Fat 315
% Daily Value*
Fat 35g54%
Sodium 238mg10%
Potassium 224mg6%
Carbohydrates 71g24%
Protein 7g14%
Vitamin A 60IU1%
Vitamin C 5.1mg6%
Calcium 33mg3%
Iron 2.8mg16%
* Percent Daily Values are based on a 2000 calorie diet.
I have linked this post with Recipe of the Week,Friday Frolics and Cook Blog Share over at https://easypeasyfoodie.com