This recipe for Yum Yums is immense. These light doughnuts deliver mouthfuls of heaven to all. There is not one person that has remained calm upon first bite. The supermarket ones are pretty delicious but homemade are like something from Krispy Kreme, only better. I dream about them......all the time.
They are not for the skinny hearted I admit, but they do give great joy where ever they go. They are the Holly Willoughby of the  yum yum donut world. I defy anyone not to grin midway through one of these very bad boys.
They are a small bit of faff granted but they are one of my top five favourite things to eat so I do not begrudge a single second.
They are similar in method to my popular Easy Danish Pastry Dough recipe but a little easier on the butter. Once you get a hang of the shaping you will be away, trust me....and don't forget you owe me big time for these.
Yum Yum Recipe
I have been longing to make this Yum Yum doughnuts recipe for forever. I feel passionately that it should be on everyone's bucket list.
However one word of warning, this yum yum donut recipe is so irresistibly DELICIOUS that one is NEVER enough. So BEWARE they are Clucking gorgeous.
The process is super simple really.
A whizz of the dry ingredients in the food processor before a mixing in of the wet
Cover and place in the fridge overnight or for 6 hours
In the morning get the dough out onto a heavily floured work surface.
This is rolled out to roughly  30 cm square and folded in three like a business letter and then turned so as the closed fold is then on your left.
Roll out again and repeat three times. I have to point out here that I do wing the whole shape size thing a bit. Don't sweat the small stuff.
You will end up with a smooth dough.
Roll out again until just under a cm thickness. I always seem to end up with more of a rectangle than a square. It does not matter. Trim the edged straight with a pizza cutter.
Using a Pizza Cutter cut out equal rectangles and cut a vertical line down the middle leaving the top and bottom 2.5 cm uncut. I get roughly about 12.
Taking hold of top and bottom of each Yum Yum, twist gently.
Cover with a damp cloth or oiled clingfilm and allow to rest somewhere warm until they have gloriously puffed up. It usually takes about half an hour/ hour in a cosy spot.
They are ready then for their hot oil bath. I use a small deep fat fryer as it is just a matter of flicking a switch and the temperature is easily monitored but 2 " vegetable oil in a large deep pan will do the job.
I would strongly advise using a thermometer too because if the temperature drops too much they may absorb too much oil. Keep checking before you add each new batch.
I have the icing ready and brush them generously after they have emerged onto the wire rack and kitchen towel for a jolly good blotting.
It is an intense time when you are frying them all as you will need to time them in a rota system. But I would walk on hot coals for these beauties...
IF YOU LIKE YUM YUMS YOU MAY LIKE THESE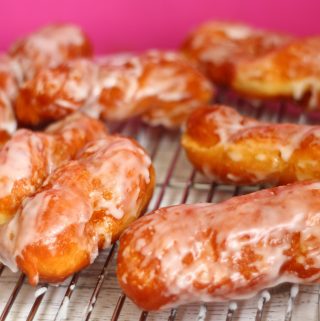 Yum Yums
These Yum Yum Doughnuts are so delicious, so moreish that they should come with a Beware sticker! They are well worth the effort.
Ingredients
300

grams

strong white flour

120

mls

milk

room temperature

60

mls

luke warm water

1

packet (7g)

instant yeast

1

tsp

fine salt

2

tbsp

caster sugar

heaped

50

grams

unsalted butter

cubed and cold

1

large

egg

room temperature.
Icing
250

grams

icing sugar

⅘

tbsps

water

10

tsp

oil

this is just for the nutrition table calories
Instructions
Pour the water and milk into a jug and add the egg. Whisk together. Put the flour, yeast, sugar and salt into the bowl of the food processor and whizz once to mix. Then add the cold butter and whizz briefly to just cut up the chunks a tiny bit.

Tip the mixture out into a big bowl and then pour in the liquid contents of the jug. Mix to combine to a pebbly with butter mix. Don't overdo the mixing. It will look like a sticky mess.

Cover with clingfilm and leave in the fridge overnight. I am advised that it can sit like this for a couple of days. Imagine that!

When ready to rock and roll, take it out of the fridge and heavily flour the work surface. Empty out the dough and you will prob need to sprinkle a little flour on top too. Then roll out to a roughly 30 cm square.

Now fold the square twice.Once the top a third down and then the bottom up to meet it, like a letter. Then turn it so that the long edge is to your left. You do need to keep the work surface well floured but when you fold dust off the excess as you go.

Roll it out again to a 30 cm square and repeat the whole process 3 more times. I ended up with more of a rectangle but I didn't sweat it too much.In fact the more I have made them the more I don't worry about the size or shape. I just wing it....think the chef from the muppets.

Wrap in clingfilm and put back in the fridge for a further 30 minutes to rest.

Roll out to a rough square about 1 cm thick.

Using a pizza cutter cut out ten strips and then cut a line down the middle leaving about 2.5 cm of dough at each end.

Twist each strip and place on an oiled baking tray and cover ( I use oiled clingfilm ) until nearly doubled in size and puffy. Near the end of this prove heat up your oil to 170 C. I used a deep fat fryer but you can use a large heavy bottomed saucepan. I strongly recommend that you use a thermometer to ensure that the oil is at the right temp or your yum yums may well soak up too much oil...........a travesty.

Also make up the icing. I always use my food processor to make icing as it negates the need to sieve. Just mix the two ingredients together.

When ready to go get some kitchen paper ready to blot the yum yums thoroughly as they emerge from the oil. I fried 2 at a time for 2 mins on each side. As each batch is cooked and removed, I blotted the excess oil from them before putting them on a wire rack and brushing them liberally whilst hot with the icing.

Allow to cool completely before inhaling 3 at a time.
Nutrition
Serving:
1
g
|
Calories:
301
kcal
|
Carbohydrates:
50
g
|
Protein:
4
g
|
Fat:
9
g
|
Saturated Fat:
3
g
|
Cholesterol:
30
mg
|
Sodium:
246
mg
|
Potassium:
54
mg
|
Sugar:
27
g
|
Vitamin A:
170
IU
|
Calcium:
22
mg
|
Iron:
1.5
mg
All nutritional information is approximate and intended only as a guide.
Tried this recipe?
Take a pic and tag @applytofaceblog on Instagram. I would so love to see them!
PIN YUM YUMS FOR LATER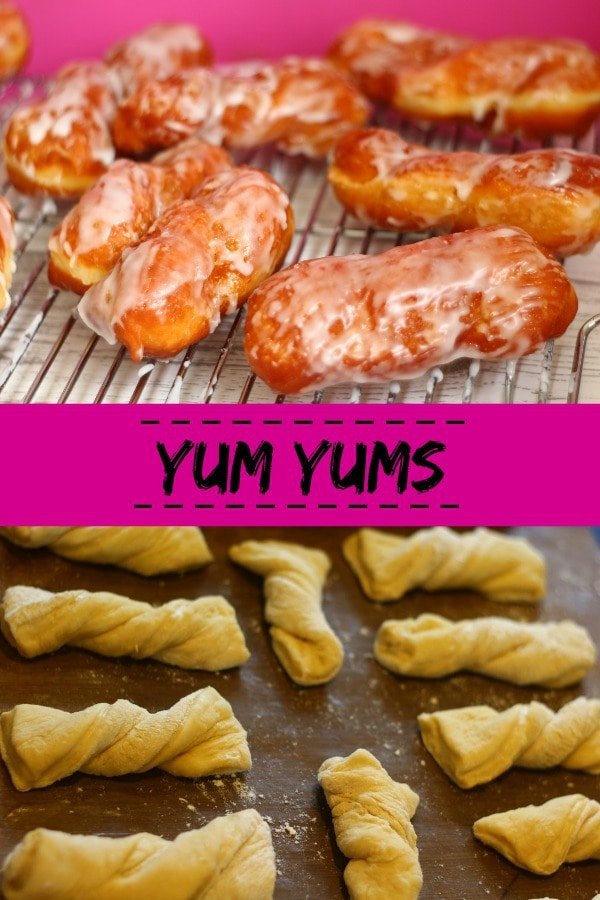 Do let me know how you get on in the comments below or why not come on over and join me on my social media pages. I would love to see you over there.x