This recipe for Pain au Chocolat or Chocolate Croissant is both simple and incredibly delicious. I have found that all the faff involved is indeed worth it for one of the best breakfasts I know, not to mention the huge amount of smugness that go with baking a big batch. My job here is to spread the word.......
As I battle to meet my own expectations of these school holidays, never mind my children's.  I realise one very, very important point.............I LOVE Croissants and so do my kids. You can take your bran bowls of goodness and shove them at this precise moment in time.
Croissants and particularly these Pain au Chocolat ( Chocolate Croissants ) have saved me and lifted my spirits on days filled with incessant and soul destroying bickering. This hard researched recipe (someone's got to do it) has, come what may, made me feel like I have breakfasted at the Savoy and am Mother of the Year all at once. Just in time for me to start refereeing round one.......
They are time consuming. I am not going to lie. You do need to set some of your day aside to allow for rolling and chilling but it is just so incredibly worth it.
These babies freeze pre baking as if they may even prefer it. So INCREDIBLE breakfasts for days to come. The options are endless. Make a batch and freeze for a large, well attended friends or family breakfast that will be talked about for years to come, or bake them all the day before and reheat for ten minutes for crisp, rich buttery heaven, just you and the screaming, feral children.
I mostly do half and half. Bake some for a few days worth and then freeze the rest for extreme holiday salvation. They are just so, so delicious, crisp on the outside and butterly rich within. A King of pastries and totally worth the bother.
The elephant in the room is of course...... how many calories in a Pain au Chocolat ? The answer is revealed in the Nutrition Table below. I'm not going to even look. I figure that I would rather breakfast magnificently sometimes and stay sane than sweat the calorie question this fraught holiday. It's either this or Ice-Cream for the kid's breakfast.
I will hit the bowls of bran come term time........until then pass me the French Butter.......and quick.
I have long had a passion for enriched yeasted dough baking and all things generally bun related. So I have loved road testing this recipe calories or no calories.
It is actually quite a simple recipe especially after doing it the first time, like most things. I did have to open the back door to keep my kitchen cool but it allowed me to throw the kids out there at the same time.....
Laminated yeasted dough is thought to have it's initial origins in Turkey. However the Croissant as we know it appears to have been first munched in France early in the twentieth century. It is of course the marriage between the butter and dough that gives it it's characteristic rich layers and crisp exterior.
The finer the butter, the finer the croissant. Manners maketh the man.
Pain au Chocolat Recipe Tips

I do think that you need to be a little comfortable with bread making and pastry before making these bad boys. But who am I to judge. Here are a few tips to help in the kitchen.
Keep your kitchen cool. I opened my back door as my kitchen is warm,  you are hoping for about 20 C. If not just chill the dough for about ten minutes longer each time.
If butter breaks free from the dough, dust lightly with flour quickly finish rolling, fold and chill. This does happen to me and I improvise. I flipped it over so that the butter tacky side was on the inside so I could fold it away. I even put the dough in the freezer for ten minutes before putting back in the fridge to chill for the allotted time if I can see that the butter is getting too soft within the dough.
Work as quickly as you can when rolling to keep everything as cool as possible.
Use a high quality french butter as the melting temp is higher than that of a standard pat of butter.
I let the butter get halfway soft before slicing it in half lengthways. I draw out a measured rectangle on grease proof or baking paper and put the butter on that. I then cover with clingfilm and use a rolling pin to squash it out evenly to fit the rectangle. It's so easy to do like that. I then chill it overnight and trim any overhang over the edges off before putting it on the dough.
Make sure that the butter when placed on top of the dough comes just up to the width of the dough (not over at all). You do need to get the butter mixed through all of the dough equally to get those laminated layers.
I do quite a lot of the time lose track of the whole turning of the dough thing. I have genuinely found it doesn't matter.
The idea is to roll and fold until the pastry is no longer streaky with butter. Sometimes it takes five folds for me not four.
I tend to start out measuring like a good girl but rapidly lose the inclination by the second roll. I then wing it......completely. The idea that you roll out a rectangle roughly sixty cms long I stick to but stop sweating the width.
I make mine with milk chocolate for the children and sometimes put a frozen Raspberry in with dark chocolate for the Grown-ups. Pimp as you wish. Paul Hollywood advises Mars Bars.......well he would.....
Pain au Chocolate Recipe
I start in the same way as most enriched bread dough. I make my dough in a free standing mixer, allow to prove until doubled in size before knocking gently back down and chilling overnight in the fridge.
I also make my butter rectangle ( 20 cm x 19 cm ) the night before so I can chill it overnight and come out fighting first thing.
I slice the block of butter totally in half length ways and then cut off extra bits at the end to fit in the rectangle - see middle pic below.
I cover it then with clingfilm so I can use a rolling pin to carefully but easily squash it to fit a 20 cm by 19 cm rectangle that I have previously drawn out onto baking paper.
Chill overnight covered in the fridge. I trim the edges of the butter  before I place it on the dough in the morning to make sure it has straight edges.
The dough rises quite a bit overnight in the fridge. This is one of my batches the morning after the night before. I know how it feels.....
Flour your work surface and roll the dough out to a 60 cm x 20 cm rectangle.
Get out your butter rectangle and place it in the centre and then fold the dough up onto it to form a parcel.
Squeeze the edges to close in the butter. Then carefully roll out to a roughly 60 cm by 20 cm rectangle again. I make sure at this stage to keep pushing the width edges along the long sides of the rectangle back in as I don't want the dough to roll out without the stiffer butter.
Fold into three as before, cover with clingfilm or put in a plastic bag and chill for 30 minutes. I only worry about that for the first roll.
Repeat another 3 times so that you have 4 rolls of the dough in all at the finish. I have done an extra roll  as I previously mentioned. I thought the butter still too streaky.
This brings me to an important observation, at least for me. I do feel that it does not matter so much about keeping the fold in the right place. I have even lost control of the rectangle shape and turned it so that what should have been the long side was now the short.
The point I am trying to make is this, the important thing here is to create layers and to keep the butter cold. On some occasions I do not have the time to keep orderly spaces in  between rolling and I have left it for several hours at a time, again it seems to matter not.
Just adhere to those two points and you are more than half way to crisp, buttery heaven.
When the rolling is finished for the last time, I use a pizza cutter to cut the dough in half length ways and then into roughly 10 cm squares.
Working quickly put the chocolate, I use 5 g squares in the middle and roll up into a sausage with the seam underneath. I used a Wispa bar in this photo! It didn't melt brilliantly though.I have used Green and Black Cooking Milk Chocolate to much better effect.
Cover with clingfilm and leave to prove somewhere cool until they are very puffy.
Usually this will take an hour.
Brush with egg wash and bake for about 20 mins until bronzed and crisp....
Helpful Tips
To make these gluten free then use gluten free flour.
Make your butter the night before so that it is ready when you need it to start.
Use a pizza cutter to cut out your squares.
Keep your butter cold. Put it back in the fridge/freezer if it gets too soft.
Cover small spots of butter that appear with flour whilst you are rolling.
Don't worry about keeping the rectangle perfect as you are rolling.
Use any of what you fancy to fill the croissants. It does not have to be chocolate. I have used Stewed Apples too.
IF YOU LIKE THIS  RECIPE YOU MAY LIKE THESE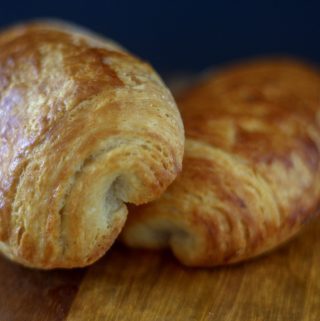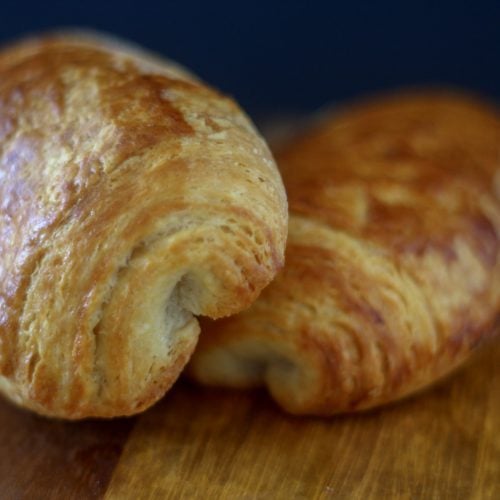 Pain au Chocolat
This recipe for Pain au Chocolat/Chocolate Croissant is just divine.They are just so, so delicious, crisp on the outside and butterly rich within. A pastry fit for a King.
Total Time
15
hours
20
minutes
Ingredients
500

grams

strong white flour

300

grams

unsalted butter

8

grams

fine salt

2

x 7 grams instant yeast

packets

50

grams

caster sugar

300

mls milk

warm
Filling and Decorating
1

small egg

egg wash

60

grams

dark chocolate
Instructions
Put 500 grams/4 cups strong white flour, 300 grams/11 oz unsalted butter, 8 grams/0.3 oz fine salt, 2 x 7 grams yeast packets, 50 grams/1.75 oz caster sugar in a free standing mixer or large mixing bowl and add the 300 mls milk with the dough hook running until it comes together. If not using a free standing mixer then stir hard with a wooden spoon. You may have to add a touch more milk. The dough should be a little tacky.

Knead for a couple of minutes either with your dough hook or on a work surface before putting in a clean oiled  bowl and covering with cling film. Put in the fridge overnight.

Draw out a rectangle 20 cm x 19 cm on grease proof paper and put your slightly soft butter cut lengthways into the middle. Cover with cling film and use a rolling pin to squash/roll out to fit. Cover and chill over night.

Take out the dough and roll out to a rectangle 60 cm x 20 cm. Take out the butter and trim the edges to size. Put the butter in the middle of the dough. Fold the first flap over the butter followed by the second flap on top of that. Seal the butter in the parcel with your fingers.

Carefully roll out the square of dough to a rectangle roughly 60 cm x 20 cm again. Fold into three, cover and chill for at least 30 minutes.

Repeat another three times.  If the butter becomes too soft at any time just chill for longer than the thirty minutes. I have even put mine in the freezer for ten minutes.

After the final roll cut down the middle with a pizza cutter or sharp knife and then cut each strip into 10 cm squares. Working quickly pop your chocolate into the middle and roll up into a sausage  and place onto a lined baking tray. You will need two baking trays. Cover and prove somewhere cool until very puffy.

Preheat your oven to 200 C electric- 180 C fan - Gas Mark 6

Brush with egg wash and bake for about 20 minutes. Cool on a wire rack.

Apply to Face Avoiding the Whistle.
Recipe Video
Recipe Notes
To freeze these beauties make up until the stage when they are ready rolled with their chocolate inside. Cover and freeze on their baking tray for an hour. Then you can double bag them all together ready to be pulled out for a fabulous breakfast or brunch. Thaw, allow to prove, brush with egg wash and bake.
Nutrition Facts
Pain au Chocolat
Amount Per Serving
Calories 477
Calories from Fat 252
% Daily Value*
Fat 28g43%
Cholesterol 83mg28%
Sodium 334mg15%
Potassium 149mg4%
Carbohydrates 47g16%
Protein 7g14%
Vitamin A 820IU16%
Calcium 55mg6%
Iron 3.1mg17%
* Percent Daily Values are based on a 2000 calorie diet.