This Blackberry and Apple Kuchen is absolutely delicious, very simple to make and perfect to feed a crowd for breakfast or as a treat. Sweet and fluffy bread topped with a fruity and crumbly mix. Positively heavenly.
What is Kuchen?
Kuchen is the German word for Cake. It has come to mean a sweet cake or bread usually topped with fruit and sugar. In this recipe I have added a streusel topping just because it makes the whole thing INCREDIBLE.
When Can I Serve Blackberry and Apple Kuchen?
This Kuchen looks as good as it tastes. It's a real show stopper, so I love to serve it for breakfast if we have had friends stay over, you can make the dough the night before too so that it's easier in the morning.
It's also great for feeding friends for a coffee morning or afternoon tea. It serves eight so you can make it ahead and then serve it warm for cheers all round.
I have also taken it on picnics or outings that require a nibble at half time. Stick it in some tupperware and you're good to go.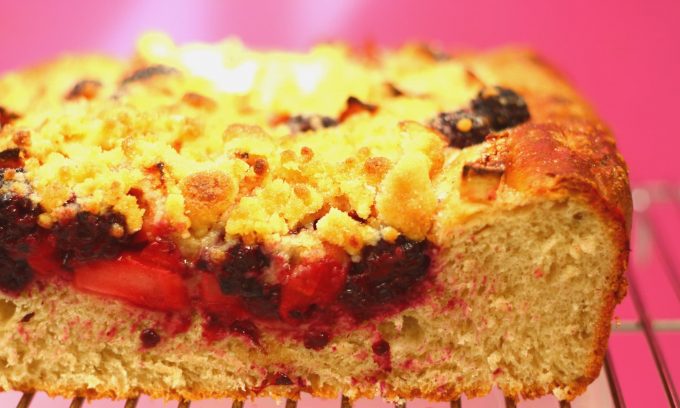 How Do I Make Blackberry and Apple Kuchen?
Place all the dry ingredients for the bread dough in a large mixing bowl. I use a free standing mixer and dough hook but you can mix by hand and then knead by hand.
Pour the liquid ingredients in followed by the soft butter and mix until a dough forms.
Knead for ten minutes by hand on a work surface and five minutes by machine on a medium speed until the dough becomes smooth and elastic.

Oil a clean bowl and put the dough in there. Cover the bowl with clingfilm/plastic wrap and leave somewhere warm to double in size. Make sure the bowl will be big enough for the rise!

When the dough has risen take it out, knock it back and then gently begin stretching it to fit your 30 cm x 20 cm swiss roll tin.

Cover with oiled clingfilm/plastic wrap and leave somewhere warm to prove again for about 20 minutes. It should puff up.
Preheat your oven to 180 C/350 F/Gas Mark 4

Meanwhile rub the crumble/streusel topping ingredients together. I use my food processor but you can rub together by hand.
Peel and chop your apple and mix together gently with the blackberries. Set aside.
When the dough is ready from the second prove then gently scatter the fruit on top followed by the crumble topping. Leave an inch clear all around the outer edge of the dough. Brush that with the cream and egg mixture.

Bake for about 35-45 minutes and brown. Do make sure the bread is cooked by inserting a knife in the middle. It isn't the easiest to check but you do need to.
Leave to cool for 10 minutes before removing from the tin and cutting and serving.
If you like this recipe then you might like these:
- Yum Yums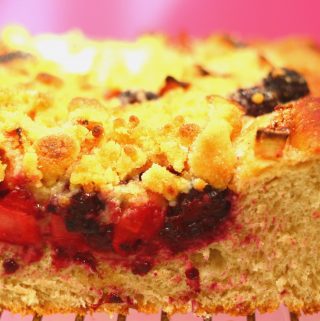 Blackberry and Apple Streusel Kuchen
This Blackberry and Apple Streusel is quite simply glorious.Sweetened bread with an incredible fruited and crumble top. Perfect for breakfast or an afternoon treat with tea or coffee. A slab of this will cure all ills.
Ingredients
For the bread base
400

grams

strong white flour

½

teaspoon

salt

1

packet

dry instant yeast

7 grams

1

teaspoon

cinnamon

50

grams

butter

150

mls

luke warm milk

2

large

eggs
For the fruity topping
1

tbsp

cream

for egg wash

1

medium

Bramley Apple

250

grams

blackberries

1

teaspoon

cinnamon

70

grams

caster sugar

70

grams

cold butter

140

grams

self raising flour
Instructions
Put the flour in a bowl with the yeast, salt, cinnamon and sugar. I use an electric mixer with dough hook out of pure laziness, but feel free to do it all by hand.

Whisk all the liquid ingredients together and add to the flour, along with the butter, and mix well. You may have to add more milk if the mixture is too dry and rubbly. Keep mixing until it works in and becomes smooth and elastic. About five mins in the mixer, ten by hand. Fabulous stuff.

Cover with cling film until doubled in size.

Punch down and spread gently to fit a greased 30 x 20 cm ish baking tin. Leave to puff up for 15 mins. I put a bit of sunflower oil on my hands if the mixture is sticky and difficult to roll out.

Preheat your oven to 180 C/350 F/Gas Mark 4

Make the crumble mix. I whizz the butter, sugar, flour and cinnamon in the food processor until rubbly but you can rub it all together by hand you mad fools.

Peel and chop the apples into 1 cm dice and put in a bowl with the blackberries. If the blackberries are a little tart mix together in the bowl with two tbsps of caster sugar.

Tumble the fruit gently onto the bread leaving a generous inch free around the edge.Cover all the fruit with the crumble mix.

Beat the egg and cream together and brush the outer edges with it.

Bake in the oven for 35 mins or so. I suggest you keep a close eye on it for several well founded reasons. Number one is to turn the heat down if it starts catching too early, number two is to be witness to the amazing sight of it gloriously baking, burnished and gold with it's fruity crown rising above the tin and thirdly it is to get a whiff of it's incredible smell. It kept me off facebook for at least 30 minutes.

Leave in the tin for five mins before taking out and cutting into wedges. I think it is best served warm and I have reheated left overs covered in wet baking parchment in the oven for ten mins just so I can eat it alone in the cupboard.
Nutrition
Calories:
452
kcal
|
Carbohydrates:
68
g
|
Protein:
10
g
|
Fat:
16
g
|
Saturated Fat:
9
g
|
Cholesterol:
83
mg
|
Sodium:
281
mg
|
Potassium:
196
mg
|
Fiber:
4
g
|
Sugar:
14
g
|
Vitamin A:
579
IU
|
Vitamin C:
8
mg
|
Calcium:
57
mg
|
Iron:
3
mg
All nutritional information is approximate and intended only as a guide.
Tried this recipe?
Take a pic and tag @applytofaceblog on Instagram. I would so love to see them!
Do let me know how you got on in the comments below I love a good old hairy chinwag.
I have linked this beauty with Cook, Blog, Share and Friday Frolics.
Bake Of The Week with Mummy Mishaps and Casa Costello.