Blackberry and Apple Kuchen
Floella front bottom fat roll is back. Too many salted caramel ice-creams and crisps……….always the crisps. It's the kid's fault. I am the snack monitor for six whole weeks, all that power, all that responsibility. I can't take it……….at all……. I caved on the first ice-cream run.
Thank the Lord we holidayed on a British beach. I was not required to get semi naked and there was not a skinny bikini person in sight.
The only bits of unsightly flesh I got out were my bingo wings. I flapped my way through the whole week, up and down the beach, gesticulating wildly to my children to come closer to the shore and to let them know when it was time for an ice-cream….again. Flap, flap, flap.
You've got to love the archetypal British beach holiday, full of litter and sand in your sandwiches, children with blue lips and long happy days.
They couldn't get enough. How they didn't take to their beds with pneumonia I will never know. Seemingly permanently shivering they spent hours amongst the waves having a ball. Only returning to me periodically to tell tales and ask if they could wee in the sea.
Inevitably in a true, selfish manner, I could take it no more and insisted on one day of culture and tourism and obviously a pub lunch.
"No" they wailed, "Yes" I shouted in a no nonsense manner whilst keeping an image of a juicy prawn sandwich on white with a side order of chips firmly in the front of my mind. "It'll be very interesting " I said. "We hate you," they said.
Surprisingly all was well. They did love it, my prawn sandwich and chips was well worth the wait and there was no sand in anyone's pants. However one of my pet hates did rear it's ugly head for the blinkin third time this school holiday.
Why in the name of all that is Tourist Attraction Land does no one do any cleaning??????? If I am paying sixty quid for a family of four, why do I have to walk past and amongst life sized models of wenches, pirates and stuffed animals covered with cobwebs, dead flies and mould.
Someone please explain….it drives me mad. Are they all blind??????……… It is all I can do to stop myself vaulting over the barriers to do it myself.
Obviously that would be an incredibly stupid idea. I am incapable of vaulting anywhere with these thighs. Floella front bottom would get stuck on wench number one's basket of fake vegetables and everything would go down like dominoes.
I can see it clear as day…… But still, I don't think I can stand it the next time……Just saying……
As usual I need to ease myself gently back into eating sensibly. I find it difficult to turn my back on the gorging without a last hurrah….. and this is she…
Blackberry and Apple Streusel Kuchen. She is a thing of magnificence, a fruity jewelled beauty of sweet soft bread, crusted with a buttery, cinnamon crumble. Gee whizzle she's damn good.
IF YOU LIKE THIS RECIPE THEN YOU MIGHT LIKE THESE
– Yum Yums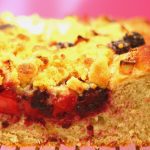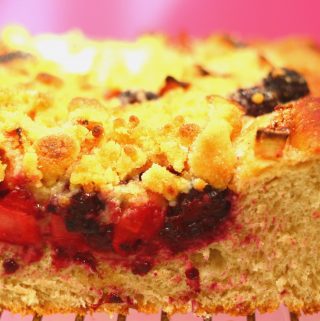 Blackberry and Apple Streusel Kuchen
This Blackberry and Apple Streusel is quite simply glorious.Sweetened bread with an incredible fruited and crumble top. Perfect for breakfast or an afternoon treat with tea or coffee. A slab of this will cure all ills.
Total Time
2
hours
35
minutes
Ingredients
For the bread base
400

grams

strong white flour

1/2

teaspoon

salt

1

packet

dry instant yeast

7 grams

1

teaspoon

cinnamon

50

grams

butter

125

mls

luke warm milk
For the fruity topping
1

tbsp

cream

for egg wash

1

medium

Bramley Apple

250

grams

blackberries

1

teaspoon

cinnamon

70

grams

caster sugar

70

grams

cold butter

140

grams

self raising flour
Instructions
Put the flour in a bowl with the yeast, salt, cinnamon and sugar. I use an electric mixer with dough hook out of pure laziness, but feel free to do it all by hand.

Whisk all the liquid ingredients together and add to the flour and mix well. You may have to add more milk if the mixture is too dry and rubbly. Add the soft butter and keep mixing until it works in and becomes smooth and elastic. About five mins in the mixer, ten by hand. Fabulous stuff.

Cover with cling film until doubled in size.

Punch down and spread gently to fit a greased 30 x 20 cm ish baking tin. Leave to puff up for 15 mins. I put a bit of sunflower oil on my hands if the mixture is sticky and difficult to roll out.

Pre-heat the oven to 200 C.

Make the crumble mix.I whizz the butter, sugar, flour and cinnamon in the food processor until rubbly but you can rub it all together by hand you mad fools.

Peel and chop the apples into 1 cm dice and put in a bowl with the blackberries. If the blackberries are a little tart mix together in the bowl with two tbsps of caster sugar.

Tumble the fruit gently onto the bread leaving a generous inch free around the edge.Cover all the fruit with the crumble mix.

Beat the egg and cream together and brush the outer edges with it.

Bake in the oven for 15 mins before turning it down to 180 C and baking for a further 20 mins. I suggest you keep a close eye on it for several well founded reasons. Number one is to turn the heat down if it starts catching too early, number two is to be witness to the amazing sight of it gloriously baking, burnished and gold with it's fruity crown rising above the tin and thirdly it is to get a whiff of it's incredible smell. It kept me off facebook for at least 30 minutes.

Leave in the tin for five mins before taking out and cutting into wedges. I think it is best served warm and I have reheated left overs covered in wet baking parchment in the oven for ten mins just so I can eat it alone in the cupboard.

Apply a lot of it to Summer Holiday much fatter face.
Nutrition Facts
Blackberry and Apple Streusel Kuchen
Amount Per Serving
Calories 394
Calories from Fat 81
% Daily Value*
Fat 9g14%
Cholesterol 22mg7%
Sodium 217mg9%
Potassium 206mg6%
Carbohydrates 68g23%
Protein 9g18%
Vitamin A 350IU7%
Vitamin C 7.6mg9%
Calcium 45mg5%
Iron 2.8mg16%
* Percent Daily Values are based on a 2000 calorie diet.
Do let me know how you got on in the comments below I love a good old hairy chinwag.
I have linked this beauty with Cook, Blog, Share and Friday Frolics.
Bake Of The Week with Mummy Mishaps and Casa Costello.