This Cinnamon Rolls recipe is incredible. Every single time I make them my knees go weak. The smell of them baking in a home is enough to conjure Santa himself, sitting on your sofa, drinking Hot Chocolate with sprinkles whilst Rudolph is asleep on the back door mat. Cinnamon is without doubt my favourite spice and along with these Danish Cinnamon Rolls , this is my very favourite way of eating it.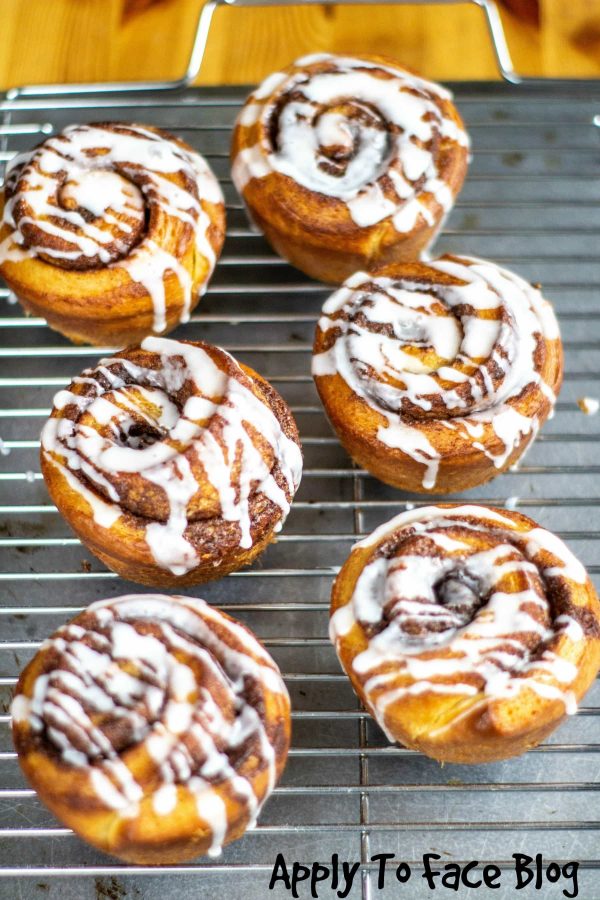 The Best Cinnamon Rolls Recipe
These cinnamon rolls are so, so good I cannot express it enough. Soft, cinnamony and rich with buttery loveliness. One of my VERY favourite things to eat. My children are just starting to appreciate them themselves too.
If I could be remembered by them for one bake it would be this recipe along with the aforementioned Danish version. I know that's two……greedy. But they both are INCREDIBLE.
Although the process can be time consuming I often make them the day before up until the second prove and put them in the fridge over night covered ready to be pulled out an hour before I want to bake them.
I did this method for the cinnamon rolls in these photos. I let them prove/puff up a bit before I put them in the fridge overnight so it cut down the time in the morning before they were ready to go in the oven. My children wanted them for breakfast before school. Lucky little wotnots….
The cold from the fridge halts or significantly slows down the second prove/puffing up so to save time the next day I let them prove a little before I put them in the fridge, they were fully proved by the morning so I simply put them somewhere warm to come up to temperature before baking.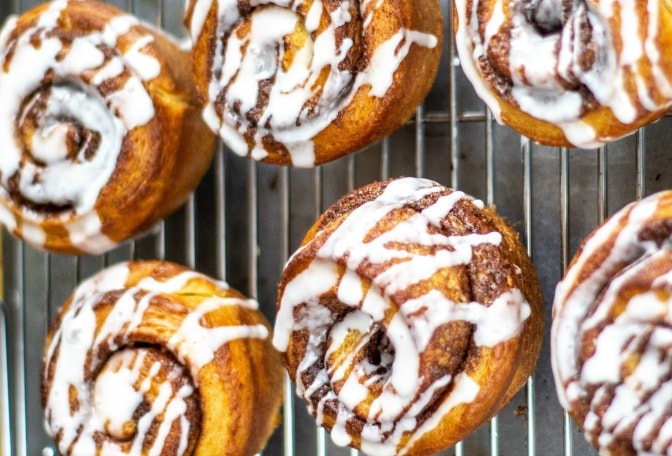 I tend to make bread and yeasty bun thingys in my food mixer with a dough hook, I quite simply could not be bothered with manually kneading, perhaps it's having two young children or perhaps I just find it boring, I'm not sure, but either way my mixer does all the work here and I am most grateful. It is a sticky dough.
I also only use instant yeast, the kind that comes in individual packets. I found measuring yeast out a frustrating experience, most recipes seem to use the packets anyway.
STEP 1- PREPARING THE WET INGREDIENTS
Firstly I warm the milk up until it is just ready to bubble and then take it off the heat and add the sugar stirring until it has dissolved. If it ends up boiling then leave it to cool for five minutes before adding the egg. You don't want the egg to scramble.
I then add the beaten egg and set aside to cool a little.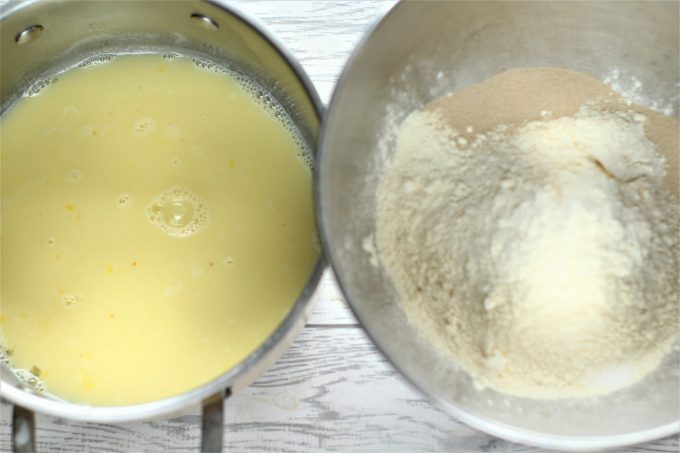 STEP 2 – MIXING THE DOUGH
I add the liquid with the mixer running slowly at first and then on a medium speed.
I add the soft butter in pieces and let the dough hook do it's work for about five minutes until the dough is smooth.
I then put it in a clean oiled bowl and leave somewhere warm to nearly double in size. This can take 2 or 3 hours.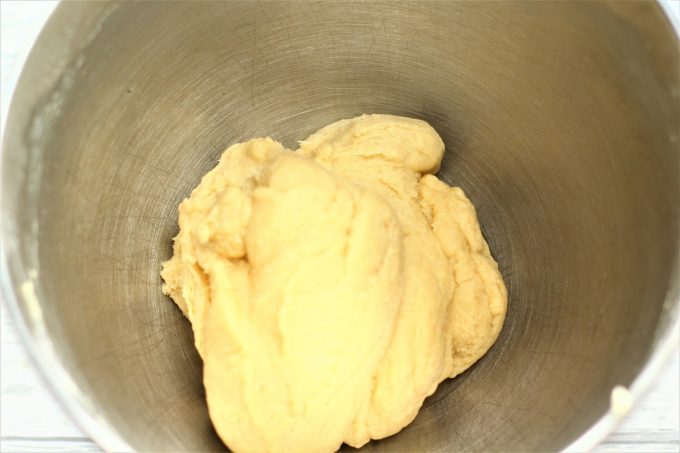 STEP 3 – CINNAMON SUGAR
I mix all the cinnamon filling together in a bowl or jug. Make sure the butter is soft.
Set aside
STEP 4 -ROLLING OUT THE DOUGH
After the dough has doubled in size knock the air out of it with your fist and roll it out to about 15″ by 9 "rectangle.
I don't flour the work surface unless the dough is still very tacky. I also don't worry too much about getting the perfect rectangle but that is just me. I am a casual/lazy ass cook.
Spread the cinnamon sugar paste directly onto the dough with a knife or spatula. Flipping yum.
I leave about 3/4 inch gap all around the rectangle.
STEP 5 – ROLLING AND CUTTING UP THE CINNAMON DOUGH
Roll up tightly like a giant cigar length ways and cut evenly into eight sections and nestle them into large buttered/oiled/baking sprayed muffin holes. This does mean that you will be a couple of cinnamon rolls over the 6 holes of a standard large muffin tray.
Bit of a pain but I bake them in 2 separate lots.
The tighter you can roll it the better. It keeps the cinnamon butter in the bun better.
I do measure the rolls to get them roughly even.
When cutting use a sharp knife and try not to squash the dough as you saw
I much prefer to bake them individually in a large muffin tray. I can then bake them through better rather than have some of them catch a little.
But if you want to bake them all in together then do so. I recommend a 9″/10″ round greased baking dish or similar.
STEP 6 – SECOND PROVE
Cover with oiled clingfilm and leave for about an hour to puff up somewhere warm like those below in the photo.
I love how the dough puffs/swells up and you can see all the layers developing
When ready to bake brush with a little butter taking care not to smudge the cinnamon butter swirls.
STEP 7 – BAKING CINNAMON ROLLS
Bake at 180 C/350 F/Gas Mark 4 for about 20/25 minutes until golden brown and your house feels like Xmas.
If the tops start to catch then cover with loose silver foil.
Using a blunt knife gently tease these out of the muffin holes after they have been sitting in the tray for about 15 minutes.
Put them on a wire rack.
STEP 8 – ICING THE CINNAMON ROLLS
Make the icing by simply mixing the icing sugar and milk very well together. I use a little mini whisk.
You can make the icing thicker by adding more icing sugar or thinner with more milk to suit how you like it.
You could add flavourings such as vanilla or caramel to the icing however I would rather chew my foot off.
Drizzle these Cinnamon Bad Boys with Icing whilst on the wire rack. I use my little whisk to do my drizzling.
Cinnamon Roll Tips
Make sure your yeast is in date.
To get ahead you can make these up to the second prove in the muffin tray, cover and leave in the fridge overnight.
When rolling the dough up length ways take time to keep the cigar as tight as you can.
Measure the cigar and divide into 8 so as to get even thickness.
Use a sharp knife to cut the rolls without squashing the dough.
Bake them individually in a large muffin tray to prevent some of the outer rolls burning whilst the inners are not cooked enough.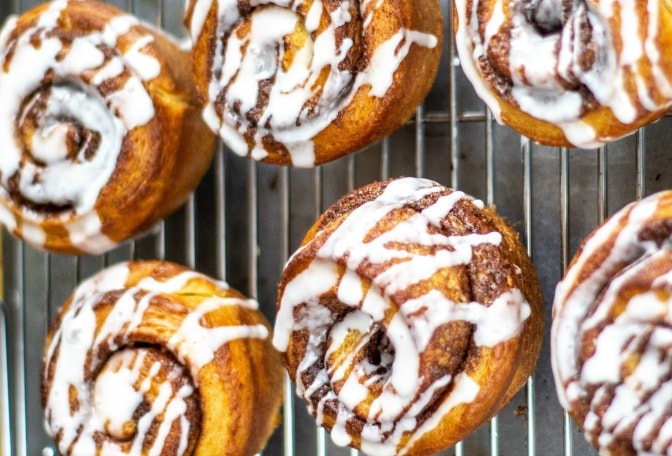 If you like this recipe then you may like these.
Danish Pastry Cinnamon Rolls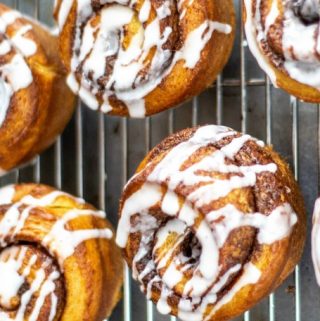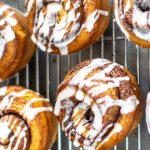 Cinnamon Rolls
These cinnamon rolls are so, so good I can't express it enough. They are at their absolute best warm from the oven. One of my VERY favourite things to eat. They are INCREDIBLE.
Proving Time
1
hour
40
minutes
Ingredients
120

grams

unsalted butter

soft

150

mls

milk

70

grams

of sugar

1/4

tsp

salt

400

grams

plain flour

1

large

egg beaten

2 x 7

grams

yeast

packets

30

grams

of melted butter for brushing on just before baking
Cinnamon Filling
110

grams

unsalted butter

soft

2

tbsps

ground cinnamon

70

grams

sugar
Icing
120

grams

icing sugar

2

tbsps

milk
Instructions
Put milk in saucepan and warm gently till a light bubble ,remove immediately.

Add sugar to pan and stir to dissolve then add egg and mix again.

In mixing bowl (food mixer bowl) put dry ingredients in, place salt and yeast on opposite sides as salt kills yeast.

Add the milk liquid slowly as you start to mix. Add the soft butter. The dough will be sticky. If using a food mixer just keep mixing for five mins on a medium speed or take out and knead by hand for ten, until it becomes smoothish and soft. If it doesn't seem to want to come together then add a little flour in increments until it forms a wet dough.

Oil the bowl, twiddle the dough lightly around in the oil and cover bowl with the clingfilm. Put somewhere warm and wait till it doubles in size. This may take two hours.

Meanwhile mix the cinnamon filling ingredients together.

When dough is big enough, empty out onto surface and knock out most of air with a few knocks.Then roll out into rectangle roughly 9" by 15"

Spread the cinnamony, sugary butter, leaving 1/2 " border.

Roll rectangle up long ways tightly into a giant cigar.

Use a sharp knife to cut up roll in 2"increments. Saw through the roll rather than push down so as not to squash the slices.

Place rolls in large muffin trays that you have oiled or buttered well and cover with oiled clingfilm and leave to rise again somewhere warm until nearly doubled in size and beautifully puffy. You can put them in any tray or baking container as long as it has sides of 10cm or so. I just find they bake so much better individually.

Brush melted butter gently over the top.

Bake in 180 Celsius oven for about 20/30 mins or until nicely brown. It is best to keep a close eye on the baking so they do not burn. Ovens can be temperamental things. Leave in tin to cool for ten mins before gently placing them on a wire rack to cool. Use a blunt knife to help them out.

Once cooled a bit, mix icing and drizzle over.
Recipe Notes
To make these the day before  you want to eat them you can make these up until the second prove begins. Cover them with oiled clingfilm and then leave in the fridge. Bring them out a couple of hours before you want to bake them to allow the dough to come up to room temperature and puff up for the second prove.
Nutrition Facts
Cinnamon Rolls
Amount Per Serving
Calories 538
* Percent Daily Values are based on a 2000 calorie diet.
PIN CINNAMON ROLLS FOR LATER