This Cheat's Danish Pastry recipe is a complete game changer for my kitchen. Most importantly it allows me to bake the BEST Danish Cinnamon Rolls that you can imagine.These babies are my signature bake and the recipe that brings me the most fill your face joy.
These Danish Cinnamon Rolls are off the scale. They are all I need to make me forget the extensive administrative trials of this festive season. To be frank with you they are one of the most delicious things I have ever eaten. This recipe delivers in a way that would make my house Santa's first port of call come Christmas Eve ,of that I have no doubt.
But first…………some Xmas Chaos…….
For the love of God I am hardly keeping my Xmas wotsit together. What the figgy pudding is all this madness about? Never before have I had so many fingers in so many mince pies and I have to tell you I'm not coping so well.
What with my daughter singing a solo in the school's nativity as well as a Xmas medley with her dance school and my son singing with the school in three performances my already normal state of befuddlement has now reached the, "Haven't a Clucking Clue" stage.
Jesus, so many outfits, so many rehearsals, so many drop offs and pick ups. I do not know my sagging arse from my scaly elbow….I'm in a permanent state of Xmas anxiety.
What if I can't keep this yuletide show on the road??? I find myself sitting bolt upright in the middle of the night consumed with jazz pants and matte tights…….who knew?
My daughter however is living her Xmas dream. Her Xmas star is shining so bright it's like the Baby Jesus is being born at our house.
She is desperate to be on the stage and her time has finally come. At six she is to dress as an angel and sing a CELINE DION number SOLO with a microphone (WTFlip!!!), well a verse or two.
I'm significantly concerned. I think her teacher has been duped into believing my daughters heartfelt assurances/full volume shrieks that she could own that stage and sing that bad boy like Whitney.
I bet the poor woman didn't stand a chance……. In my SIGNIFICANT experience she still needs some help in that department, maybe a full strength (hundreds of them) male voice choir would do if you get my drift, preferably from Wales.
Not sure I'm actually looking forward to sitting through this one truth be told………I'll definitely need a few Mince Pies laced with Brandy afterwards.
I so hope she proves me wrong, I blinkin love her Xmas Balls.
Easy Danish Pastry Recipe
This recipe for Danish Pastries is super simple and somewhat borrowed from Nigella Lawson. It is to be found in "How to be a Domestic Goddess" under "Processor Danish Pastry". I love that book.
It is a recipe that allows these Cinnamon Rolls to be not far off a doddle. I kid you not.
It completely cuts out the squashing and rolling of the butter into the pastry just calling for some pastry rolling after the fact.
The key to this elimination of the laborious middle man is a food processor. Just a couple of blitzes is all that is required before mixing and leaving overnight or at least 6 hours before serious, melt in the mouth baking heaven!!!!!
Christmas Morning Breakfast
Such is the extreme deliciousness of these Danish Pastry Cinnamon Rolls that I intend to make them a Christmas breakfast tradition.
For a long time I have been searching for something special that requires minimum effort and almost no thought processing. This recipe is the answer.
STEP 1 – Making The Dough
First there is a blitz in the food processor of the dry ingredients so that the butter is left in 1 cm chunks. Tip this pebbly mixture into a mixing bowl.
Tip in the wet ingredients and stir with a fork until the mixture is mixed well and you can see no more flour.
Cover the bowl with clingfilm and refrigerate overnight or for 6 hours.
STEP 2 – Rolling Out The Dough
Tip out the mixture onto a heavily floured work surface. Flour the top of it too and your rolling pin.
After rolling it out to about a 25 cm square you fold it into three like a business letter and turn the dough so that the closed fold is vertical and on your left.
Repeat the process another three times before spreading the rectangle with the cinnamon paste.
STEP 3 – Rolling Up The Dough
Roll up length ways tightly into a fabulous Cinnamon Sausage.
I cut into equal sections (about 2 ") and place each one in the muffin's greased nests.
STEP 4 – Proving The Dough
If you are baking them straight away then cover with oiled clingfilm and leave somewhere warm to puff up and almost double in size.
If you are wanting to bake them the next morning then cover with the oiled clingfilm and put them in the fridge.
In the morning you can grab them out and leave them somewhere warm for about an hour to puff up a little more and come back up to room temperature. They will have been slowly rising in the fridge.
STEP 5 – Baking The Cinnamon Rolls
I thought of the idea to bake each one in a muffin tray because I was fed up of burning the outer ones when baking the usual way in one baking tray/dish.
This idea, although I say it myself, is genius. However you don't have to at all. I bake them freestyle if it suits.
Bake them in an oven for about 20 minutes. Wait for 5 minutes for prising them out with a knife and placing on a wire rack.
Make up the icing and drizzle over them generously while they are still warm. AMAZING…….AMAZING…..AMAZING.
Can You Freeze Danish Cinnamon Rolls?
Yes you can. I freeze them at stage 11 before putting them in the muffin tray or baking them.
I freeze them on a plate or baking tray for an hour before putting them in a tupperware container or two freezer bags to protect them from freezer burn.
I get them out the night before I want to bake them and leave in the container as long as they are upright and have space between them or you can put them in a muffin/baking tray and cover with oiled clingfilm or put them in a carrier bag to thaw and prove overnight.
The muffin/baking tray is an easier option as moving them out of their thawing position onto a tray can squash them a little. I brush with egg as usual and bake at 180 C for 20 minutes as usual.
BEWARE, one is never enough……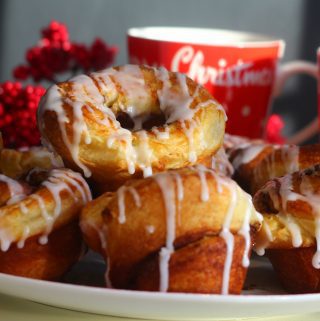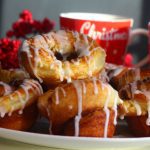 Danish Pastry Cinnamon Rolls.
Such is the extreme deliciousness of these Danish Pastry Cinnamon Rolls that I intend to make them a Christmas breakfast tradition. For a long time I have been searching for something special that requires minimum effort and almost no thought processing. This recipe is the answer.
Proving time
11
hours
30
minutes
Ingredients
Processor Danish Pastry
250

grams

unsalted butter

cold and cut into 4 cm ish chunks

60

mls

warm water

125

mls

warm milk

7

grams

instant yeast

1 packet

30

grams

caster sugar

1

large

egg

350

grams

strong white flour

1

tsp

salt

1

egg

for eggwash
Cinnamon filling
2

tbsps

ground cinnamon

85

grams

unsalted butter

soft

85

grams

light muscovado sugar
Icing
100

grams

icing sugar

2

tbsps

milk
Instructions
Tip the flour, butter, salt, sugar, yeast into your food processor.Blitz a few times until the butter is cut into 1 cm butter chunks. Empty out into a large bowl and pour in all the liquid ingredients. Mix together with a knife until all the liquid has been absorbed and it resembles a gooey mess.

Cover with clingfilm and refrigerate overnight.

When you are ready to begin, heavily flour the work surface and tip out the dough. Flour the top of the dough too as well as the rolling pin. The dough is very sticky at first.

Roll out the dough into a rectangle about 25 cm by 35 cm.

Fold the dough into three like a business letter.

Repeat all of this another three times. Cover in clingfilm and chill in the fridge for at least 30 minutes.

Grease and flour a large 12 hole muffin tray

Mix all the cinnamon filling together into a paste.

Roll out the chilled dough into the same size rectangle again. Spread the paste evenly all over the dough.

Roll up into a giant cigar.

Using a sharp knife cut the dough into 2 inch sections.Gently place each one in the muffin tray. Try to get 8 so measure the cigar and divide by 8 to get them exactly equal if that is your thing!

Pre heat the oven to 180 C. Cover with clingfilm and wait until they have beautifully puffed up and almost doubled in size. Brush carefully with eggwash.

Bake for about 20 minutes until golden brown.

Wait for five mins before gently prising them out to cool on a wire rack. Mix the icing ingredients together. When half way cool drizzle the icing sugar all over these beauties.

Apply to face and Xmas time will stand still for a moment.
Recipe Notes
If you find the butter gets too soft when you're rolling out and gets tacky then cover with a good dust of flour and maybe put in the freezer for five mins and go again.
Nutrition Facts
Danish Pastry Cinnamon Rolls.
Amount Per Serving
Calories 600
Calories from Fat 324
% Daily Value*
Fat 36g55%
Cholesterol 138mg46%
Sodium 326mg14%
Potassium 128mg4%
Carbohydrates 63g21%
Protein 7g14%
Vitamin A 1140IU23%
Calcium 74mg7%
Iron 2.5mg14%
* Percent Daily Values are based on a 2000 calorie diet.
PIN ME FOR LATER!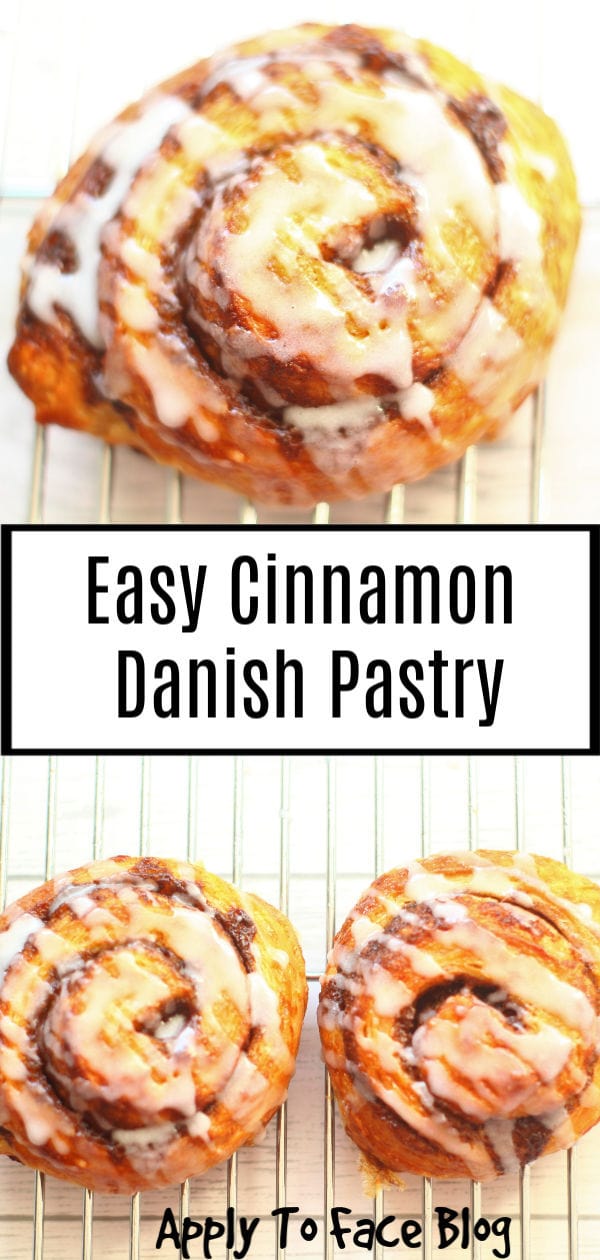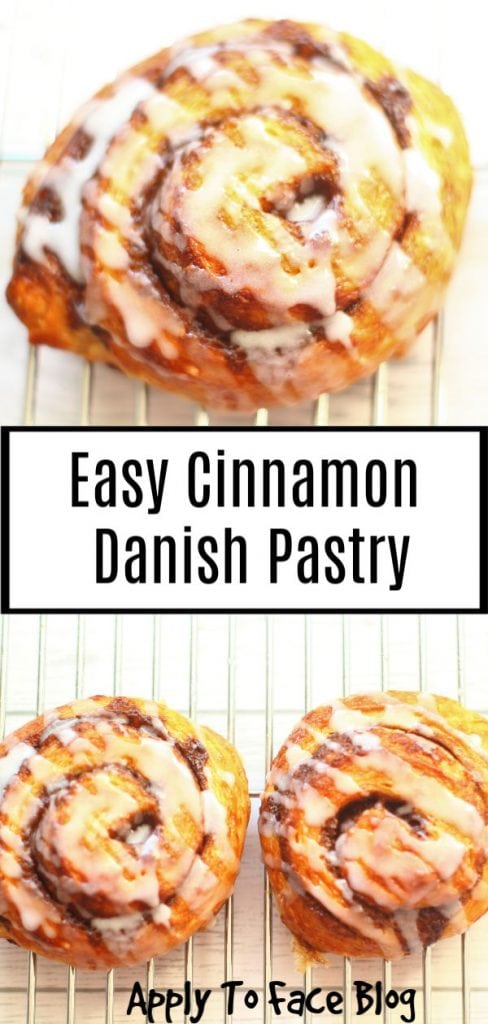 Here is another fabulous Cinnamon recipe – Cinnamon Bundt Cake
Try these Bad Boys Yum Yums
Or check out this incredible breakfast recipe-
I have linked these Danish Pastry Cinnamon Rolls with Recipe of the Week over at https://amummytoo.co.uk
Cook, Blog, Share over athttps://easypeasyfoodie.com
and Brilliant Blog Posts over at https://honestmum.com