Rhubarb Crumble Cake.
This easy Rhubarb Crumble Cake is absolutely delicious. As at home on the table for a Sunday Lunch Pudding as next to a large cup of Tea. One of my absolute favourite cakes. I love the slightly tart stewed rhubarb against the soft, cinnamon cake. Sublime....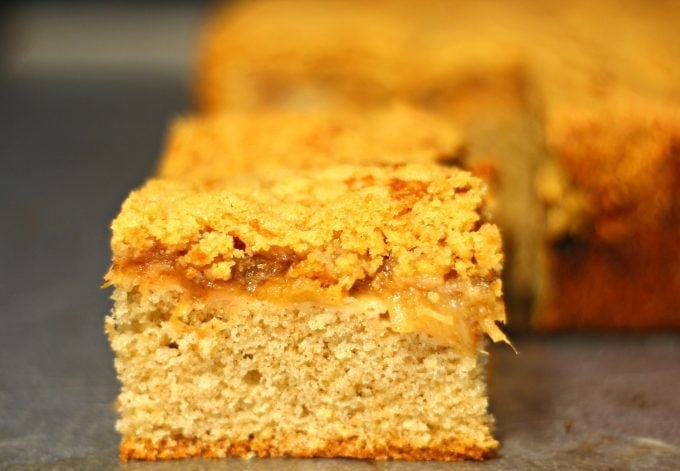 But first some tales from the gym/bedroom.....
Well I've been running my big fat ass off. I probably need to clarify that that is somewhat of an exaggeration.When I say run I mean jog and being totally truthful I walk when I can no longer breathe or be arsed.
I have purchased a brilliant running machine from eBay and it was cheap as chips. So I can sweat and chafe like the unfit fattie that I am and no one can see me. Result.
It's just as well no one can see me because I acquired some of these stretchy running trouser things from Sainsburys. Wtflip I was thinking I do not know.
The last time I looked good in anything with lycra in it was 1982.............
I wanted to blend in with the sporty Mum's at school, I think that was the thinking behind it. I wanted to be jaunty, down with the kids and florescent.
Had I forgotten about the overhang on my knees? Had I forgotten about the crater like surface of my thighs and big old buttocks as flat as Galaxy Minstrels.
Sweet Jesus woman think of the children. Fortunately it just took one quick look in the mirror for my faux pas to be realised and said trousers banished for use on my secret treadmill alone.
My lower body requires the strength of a quality denim at all times in public and I have vowed never to forget this important fact again.
I am pleased to announce that my extensive back fat has all but gone. My sweaty stumblings are succesfully making some headway in removal of my Bubbles fat suit.
However being the glass half empty person that I am I feel it makes my front bellies look even bigger and they seem to loosely sway and swing about even more than before.
I need strapping down when I take to the treadmill just to be on the safe side.......something might tear or come off.
But I'm digging deep and ploughing on (literally), especially as now I'm running I let myself eat much more cake.
It's only 2pm and I've already had three pieces of this Rhubarb Crumble Cake....with cream......once a fat b.tch always a fat b.tch.....
Rhubarb Cake Recipe
Tis the season for wonderful rhubarb at the mo and I have been inspired to make a Rhubarb Crumble Cake by my friend Helen at https://www.thecrazykitchen.co.uk.
Her rhubarb cake looked bloody lush. I was also given an abundance of the stuff from good friend and avid gardener Matt. Apparently he had more than he knew what to do with.
I should have taken him some cake as a thank you, but I ate it all myself. I have no shame.
I love the delicious combo of cinnamon, fruit and cake and I love the whole caboodle even more warm with cream.
In fact this cake could just as easily be a pudding. Ideal for Sunday lunch.
A serious cake for serious pleasure. The only trouble is once I start, I very quickly become a victim of my own gluttony, lost on a tidal wave of total snuffling pigginess.
I could easily inhale the whole thing.
I used an 8" square baking tray.
Stewing the rhubarb is a simple ten minute simmer. It just needs to soften.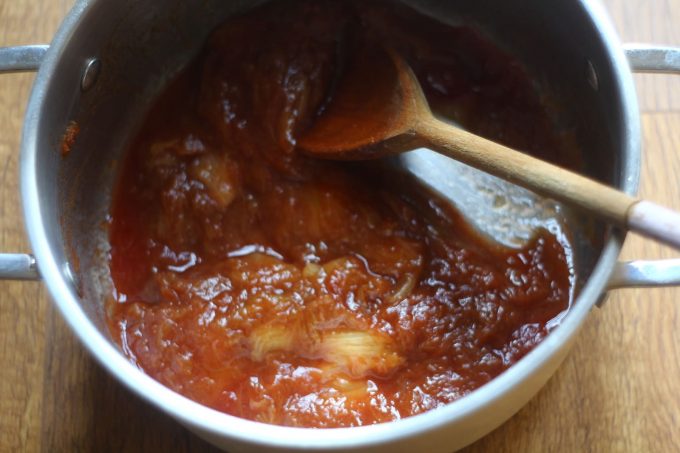 The cake is made by a simple creaming method followed by topping with the fruit and then the crumble mix.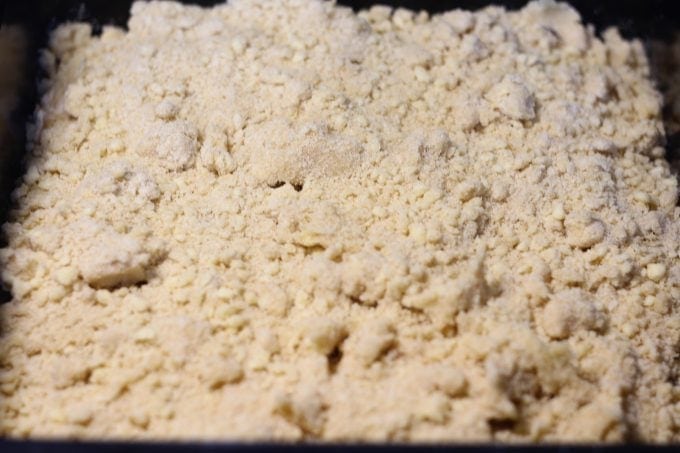 To sum up, this Rhubarb Crumble Cake is damn good, a light moist cinnamony cake with sweet and sharp rhubarb topped with a buttery, nubbly crumble. Enjoy, I know I and my three bellies did.
Here are some fabulous and similar fruity recipes - Stewed Apples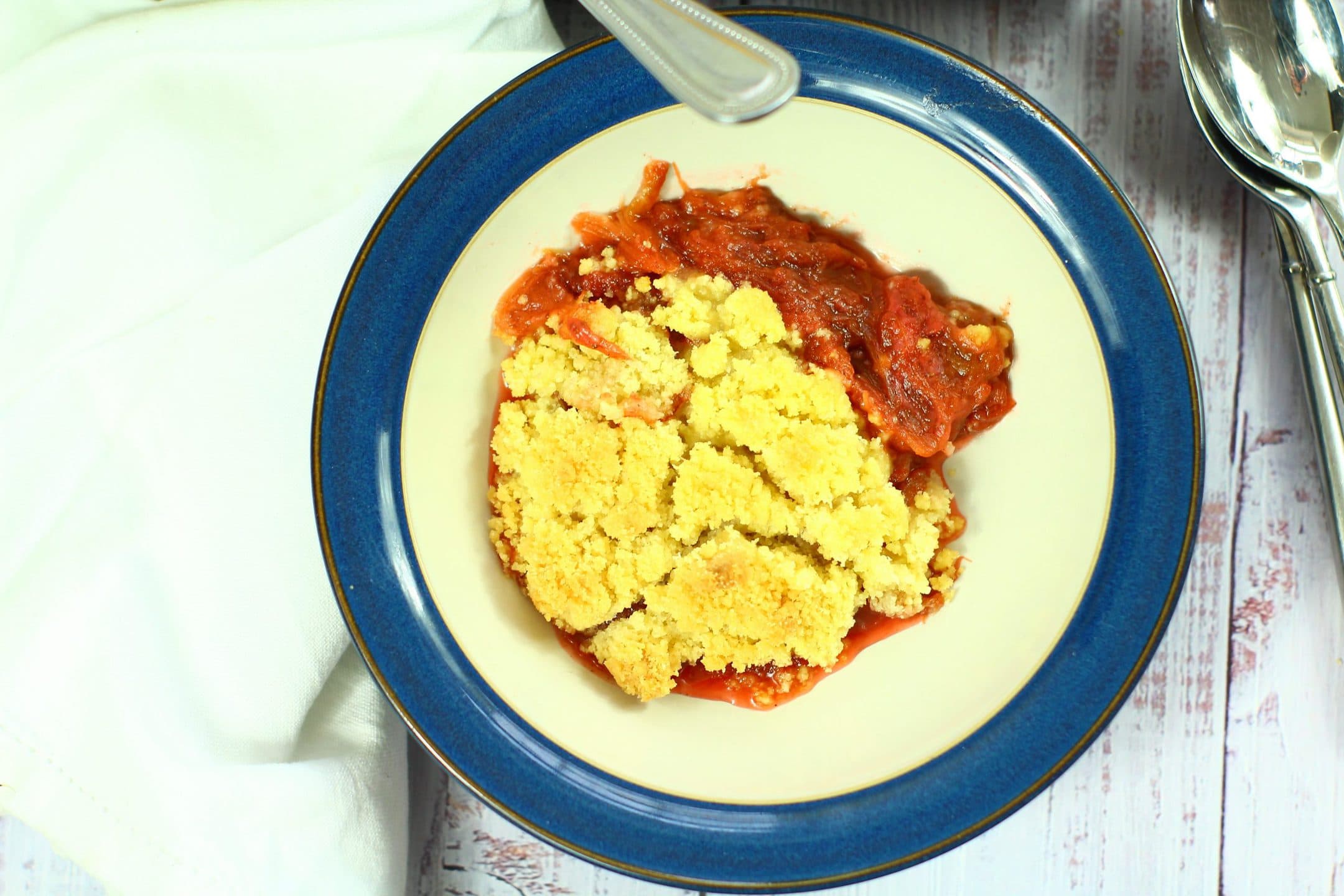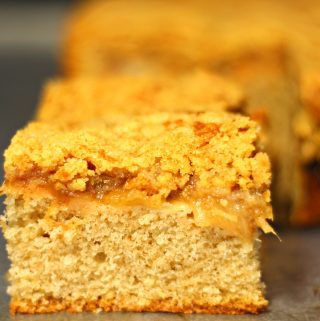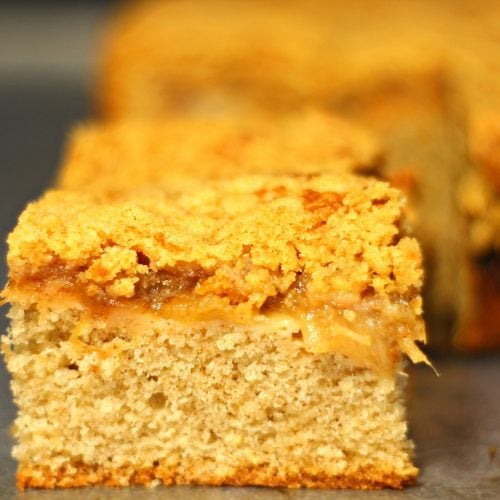 Rhubarb Crumble Cake/Pudding.
This recipe for Rhubarb Crumble Cake is delicious. I have a deep, deep love for this moist cinnamon, cake and rhubarb combo. I'm like a rat up a drainpipe.
Total Time
1
hour
25
minutes
Ingredients
400

grams

rhubarb

trimmed into 1 inch chunks

100

grams

light brown sugar

1

tsp

cinnamon
Crumble topping
100

grams

plain flour

½

tsp

baking powder

75

grams

butter

cold

75

grams

light brown sugar
Cake
100

grams

unsalted butter

soft

175

grams

plain flour

2

tbsps

milk

100

grams

caster sugar

1

tsp

baking powder

1 ½

tsp

cinnamon

2

large

eggs
Instructions
Simmer the rhubarb, cinnamon, sugar and 2 tbsps of water gently in a saucepan for five/ten minutes until still firm but softened. Allow to cool. Preheat the oven to 180 C.

For the crumble topping-technically you should sift the flour and baking powder into a bowl and then rub in the butter with your fingers until breadcrumb like before mixing in the sugar.I just blitz the lot in my food processor until sandy.Place in the fridge to chill (about 20 mins)

For the cake-cream the butter until soft in a free standing mixer or with a hand held whisk.Add the sugar and whisk until pale and fluffy.Beat in the eggs one at a time before adding the cinnamon and milk. Sift in the flour and baking powder and fold into the mix well. I get a bit frustrated with folding in forever so I have to admit I just whisk the flour and baking powder right in.

I used an 8 inch loose bottomed cake tin but I did have some overflow so a 9 inch cake tin or similar would be best.Fill the tin with the cake batter. Spread the rhubarb mixture gently over the cake batter. Scatter the crumble mix all over and bake the cake for 45/50 minutes.Watch carefully at the end as the top can start to catch.

Let the cake cool significantly in the tin but you can remove while still warm.In fact it's a bloody good idea to do so.This cake warm with cream is divine.

Apply to Pig in Shit Face.
Nutrition Facts
Rhubarb Crumble Cake/Pudding.
Amount Per Serving
Calories 393
Calories from Fat 108
% Daily Value*
Fat 12g18%
Cholesterol 79mg26%
Sodium 33mg1%
Potassium 376mg11%
Carbohydrates 65g22%
Protein 6g12%
Vitamin A 440IU9%
Vitamin C 4mg5%
Calcium 132mg13%
Iron 2.5mg14%
* Percent Daily Values are based on a 2000 calorie diet.