This No Churn Vanilla Ice Cream is rich, luxurious and oh so velvety. A Summer must at our house.
No Churn Vanilla Ice Cream
But first …..some lol'ing…..
One of my most fave things to do is to laugh out loud. I am indeed a most avid "LoL'er". I viewed it as a positive character trait until recently and I got an extreme amount of pleasure from it. It feels cathartic and emotionally lifting to guffaw out loud and it became a little bit addictive. In fact I noticed that I had developed a specific laugh just for  "LoLing" and I thought, in auditary retrospect, it quite fabulous. I even patted myself on the back for it. What a fun- loving, laughy person I must be……..
However I now find that what was a pleasure to me was an irritation to others….." How very dare you?"
My son actually attempted to duck his head down and cover his ears this weekend as I threw my head back and "LoLed" at something worth "LoLing " at….I looked at him in shocked realisation but still had to ask……. ???? "Please don't do that in public" he pleaded……well whined actually…….
I recalled the crushing incident to my friend moments later…. "Oh bless him, " she said "I know what he means, my Mum has a laugh that goes right through me"………..Bitch.
This recipe for No Churn Vanilla Ice Cream is just what I need this half term. Sometimes, or most times actually, I find myself half way through confused, exhausted and knee deep in chocolate wrappers (my own). This half-term I have definitely not been able to keep my sh.t together. This half-term I had planned to skip through the fields and make a doll's house out of squash bottles and pipe cleaners but alas I was lost by the very first afternoon…….. In order to regain some semblance of parenting self esteem, especially as I can no longer "LoL", I tried out a recipe for No Churn Vanilla Ice Cream that caught my eye a few months ago. It involves THREE ingredients and is about as easy as it gets. What's bl..dy more you can add just about anything you fancy…..my next attempt will include swirls of caramel sauce and Crunchie bits……obvs……… My kids went potty for it and I reminded myself just to titter……..
Here is another wonderful frozen treat.Lemon Sorbet
This No Churn Vanilla Ice Cream is as at home at a dinner party as it is covered in sauce and sprinkles. Velvety and creamy it really is the dogs. ALL it involves is simply some whisking and stout tupperware, my fave type of pudding…….
No Churn Vanilla Ice Cream
Here is another delicious and simple frozen Summer treat – Lemon Sorbet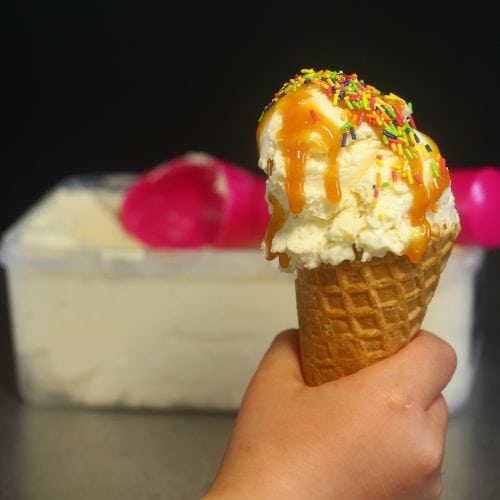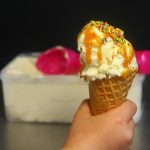 No Churn Vanilla Ice Cream.
This is a delicious and deliciously simple No Churn Vanilla Ice Cream. Just three ingredients and a little whipping are enough to give you incredible velvety ice cream. As comfortable at a dinner party as covered in sauce and sprinkles....
Ingredients
397

grams

condensed milk

600

mls

double cream

can use whipping

1

tsp

vanilla extract
Instructions
Whip the double cream into soft peaks and then add the vanilla and condensed mik and mix again into soft peaks.

Transfer to a sturdy tupperware tub and freeze it's pants off for a minimum of four hours.

Apply to Guffawing with all your Might Face.....
Nutrition Facts
No Churn Vanilla Ice Cream.
Amount Per Serving
Calories 279
Calories from Fat 189
% Daily Value*
Fat 21g32%
Cholesterol 79mg26%
Sodium 61mg3%
Potassium 160mg5%
Carbohydrates 19g6%
Protein 3g6%
Vitamin A 825IU17%
Vitamin C 1.2mg1%
Calcium 126mg13%
Iron 0.1mg1%
* Percent Daily Values are based on a 2000 calorie diet.
How about this Ice Cream Birthday Cake!
Pin Me For Later!
Here is another crazily simple recipe that hits the spot for most children, both of mine go bonkers for them –Incredible Flapjacks.
Try these for more fabulous kiddie traybake treats – Delicious Traybakes
I have linked this post with Cook, Blog, Share over at The Not So Creative Cook & Fiesta Friday –  Hijacked with Twins – Recipe of the Week over at  A Mummy Too –