This very simple but seriously delicious Ice Cream Birthday Cake is something I made for my Son's Birthday this week. He adores Ice Cream and was sooo excited when he knew that I was planning to make it. I got just as much pleasure from that as I did eating these fabulous and moreish frozen, swirly wedges of vanilla ice cream, caramel and nobbly chocolate bits. You've gotta love the retro maltesers too.....
Every year this week brings me almost comparable amounts of joy and pain. It is a week of 3 birthdays for me and a whirlwind of puffing up balloons and running out of bas.tard selloptape.
By the end of it all I am good for nothing. To add to the pain this January has not very kindly brought with it my 47th year. In other words I'm feeling really old.
This Ice Cream Cake has afforded me some respite in the cake making factory that my kitchen inevitably becomes for this week every year.
It is so much easier to make than a standard fancy pants sponge creation or at least it feels like it is. Largely because you can make it a month ahead and then not touch it again until a few hours before it's required.
I decorate it in this retro fashion because I had a bit of a vision and am more than a bit rubbish at foofing and this is pretty easy foofing. Basic piping skills are all that's required here however go as fabulous as you can.
But relax, you don't even have to pipe or cover with sweetened cream you could simply drizzle over chocolate and toffee sauces and then load with chocolate whatevers.
Birthday Ice Cream Cake
This is an Ice Cream Cake of the simplest variety. The sheer novelty of it too carries big bonus points. There will be ooooh's and ahhh's comparable to an extremely technical creation of four tiers and caramel baskets. You're already the best Mum/friend before anyone's even taken a bite.....Wallop.
You can use whatever ice cream is preferable to your loved one. My son is vanilla all the way so it was a no brainer for me.
I chose a pre bought caramel sauce for easy peasiness and bourbon biscuits because they too are a favourite. You could add just about anything in reality.
I'm thinking dark chocolate chips, white chocolate chunks, m&m's, fudge pieces, crushed up crunchie bars. Go hard people.
I also chose to "ice" it with sweetened cream because I wanted to replicate a cake look. It was very simple to do and just like icing a normal cake.
I chose to put the remaining cream in a piping bag and pipe on some cream rosettes. I was desperate to go for the retro look and put maltesers on the top nestled in frozen cream swirls.
It came to me at 8 pm one night, need I say more. But there it was in my brain and I could do nothing to change my vision for this cake. But you really don't have to.
You could just leave the thing naked and drizzle with toffee or chocolate sauce for the big reveal.
The ingredients were minimal. Simply ice cream, bourbon biscuits, caramel sauce, maltesers, icing sugar and double cream.
I used 2 litres of vanilla ice cream. As always the quality of the ice cream matters greatly. Get the most delicious you can afford. Make sure it isn't a soft ice cream or it will melt too quickly when you are decorating it.
I got it out of the freezer to soften slightly before emptying it out in lumps into the biggest bowl I had.
I gave it a mix to get it softer still with a wooden spoon. It is hard going at first. I then added the crushed biscuits and mixed these through really well.
Finally it was the caramel sauce's turn. I added this in heaped tbsp around the bowl before only stirring minimally through. I didn't want it to disappear into the ice cream, I wanted swirls of it to still remain.
I then lined a 7 " or 18 cm cake tin that is at least 10 cm deep with two pieces of clingfilm 60 cm long. If the cling film/plastic wrap is not very sturdy (some are thinner and less robust than others) then put in another 2 x 60 cm sheets just in case they rip when you pull the cake out. I set them in the tin like a cross so that there were then four flaps to fold over the mixture once it was in there.
I emptied out the ice cream mixture into the tin and carefully pulled the clingfilm flaps over it so that the top was fully covered. I then put it in the freezer overnight.
The next morning I whipped up the cream in a free standing mixer but an electric whisk will do the job.
When the cream was softly whipped I added 3 tbsps of icing sugar in there and whipped until it was stiff enough to stand up.
I took the ice cream out of the freezer and carefully peeled off the clingfilm. It was at times a little fiddly.
I iced the frozen naked cake with the cream with a metal spatula exactly as if it was a sponge one.
I then returned it to the freezer for an hour before putting the remaining cream in a piping bag and piping rosettes around the bottom and top. I, of course, crowned the ones on top with some maltesers.
I sprinkled some chocolate curls that I had bought from the cake decorating aisle in my supermarket. If you were a creative fellow you could of of course make some yourself. I was far too busy trying to find more sellotape.
IF YOU LIKE THIS RECIPE THEN YOU MAY LIKE THESE
Strawberry Cupcakes with Strawberry Jam Buttercream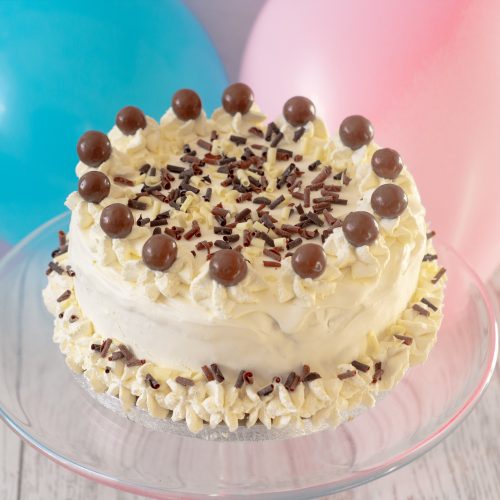 Ice Cream Birthday Cake
Here is a simple and easy delicious Ice Cream Birthday Cake to bring smiles all round.
Ingredients
2

litres

vanilla ice cream

not soft serve

260

grams

ready made caramel sauce

use can use more

150

grams

bourbon biscuits

crushed

150

grams

maltesers

keep 10 back or so
Cream Icing
300

mls

double cream

3

tbsps

icing sugar
Instructions
Get the vanilla ice cream out of the freezer to soften a little. Line a 7 " cake tin with strips of clingfilm-60 cm, in a cross formation.

Empty out the vanilla ice creams in chunks into a very large bowl. Mix to begin to soften the ice cream even more. Crush the biscuits and maltesers into chunks and splinters and empty into your bowl. Mix through.

Dot the caramel sauce in heaped tbsps on top of the ice cream mixture and then give it a gentle stir trying to keep the swirls running through the mixture.

Empty into the cling film lined cake tin. Fold the flaps over carefully and place in the freezer overnight.

Whip the cream in a free standing mixer or with a hand held whisk until the softly whipped stage. Sprinkle over the icing sugar and whip again until stiffer. You want it to be able to stand up itself.

Spread it over the cake exactly as you would a normal cake. Put it back in the freezer for half an hour or so. Put the remaining cream in an icing bag with a star nozzle. I use my largest star nozzle for the rosettes.

Return to the freezer for 15 minutes if at any point it starts to melt too much when you are decorating.

Get the cake back out and pipe 10 rosettes around the top of the cake and as many as you fancy around the bottom. Gently squash the maltesers into the top rosettes and put back into the freezer until you are ready for it. It will need about 15 minutes to soften enough to cut.

Apply to 47 Year Old Face.
Notes
You need to begin this cake the day before. It can sit in it's tin for a week no problem but once out of it's wrapping and naked you need to serve it in a few hours.
Be careful when closing the cling film flaps over the ice cream in the tin. If the cling film sits into the ice cream it will be more difficult to peel off when frozen.
Use a few more pieces if your cling film/plastic wrap is weak.
You can make this ice cream cake up to a month before you require it. Simply decorate a few hours before you are going to serve.
Make sure your ice cream isn't soft serve!
Use any ice cream flavours that you fancy and any biscuits, chocolates, fudge pieces that are favourites.
Any nutritional information is approximate and intended only as a guide.
Nutrition
Calories:
266
kcal
|
Carbohydrates:
33
g
|
Protein:
2
g
|
Fat:
15
g
|
Saturated Fat:
8
g
|
Cholesterol:
37
mg
|
Sodium:
153
mg
|
Potassium:
63
mg
|
Sugar:
13
g
|
Vitamin A:
385
IU
|
Vitamin C:
0.2
mg
|
Calcium:
54
mg
|
Iron:
1.2
mg
All nutritional information is approximate and intended only as a guide.
Tried this recipe?
Take a pic and tag @applytofaceblog on Instagram. I would so love to see them!
I have linked this post with Cook, Blog, Share over at Easy Peasy Foodie
Fiesta Friday hosted by Antonia @ Zoale.com and Julianna @ Foodie on Board