These Strawberry Cupcakes with Strawberry Jam Buttercream are a birthday boon. They are really very good and just full of Strawberry Jam flavours. My daughter actually squealed when she saw them.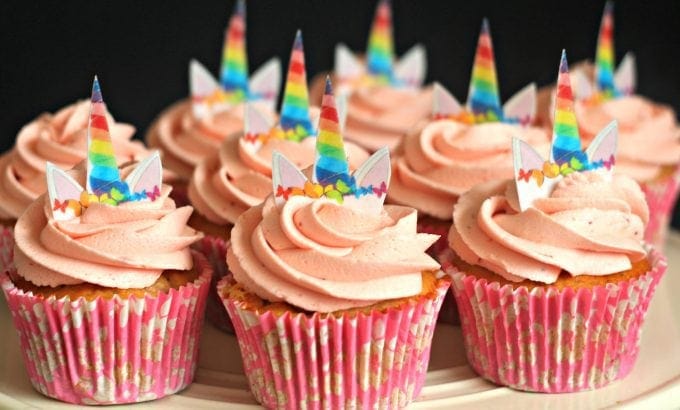 This particular week in January always proves to be one of much stress, anxiety and exhaustion. My children have Birthdays five days apart and what is more mine is sandwiched in-between. Serious Birthday Stress.............
Obviously it is totally my choice to produce a long and comprehensive Birthday routine for both of my children each year. I feel compelled to not only bake one but two sets of cakes for each child. One for family and one for the "Party".
I simply do not have a Birthday Tray Bake inside me, ridiculous I agree. I knows, I'm a T.at.
That is not to say that I have any talent for it. I don't. I am Big Hands Mick when it comes to detail. A bakery klutz. But such is my desire to thrill my kids with cake creations just for them that I scour the length and breadth of t'internet for foolproof recipes for ham fisted bakers like me.
The brutal reality is that they don't really even like Cake. As I write now I have in my eye line the whole batch of my son's Birthday Chocolate Cupcakes standing untouched and unwanted. What a " Flipping Liberty."
However it is the subject of much debate from both of them as the day gets nearer. They love to try and come up with ideas and requests, which I completely ignore of course.
There are only so many options available that cover a multitude of sins. But it all has become part of their Birthday routine and build up. I doubt that in years to come they will remember that they didn't really like to eat the cakes, but they will remember loving the ceremony around them.
I try to up my game each year, aware that with each birthday comes a more discerning eye and I feel I am almost getting there. Some in previous years have indeed been shockingly rubbish.
I have finally learnt a most valuable lesson though and here it is, from me to you..... The simple application of loads of chocolate bars on top of a cake carries a wow factor worthy of the Great British Bake Off Showstopper if you're under 12.
This is my son's Birthday Cake for this year. Recipe yet to follow as there were a couple of disasters with it but I thought on my feet and pulled it off at the last minute....sort of.....lots of eight year old gasps but true to form hardly any pesky kids ate more than a couple of bites. But I cared not, my Birthday work was done.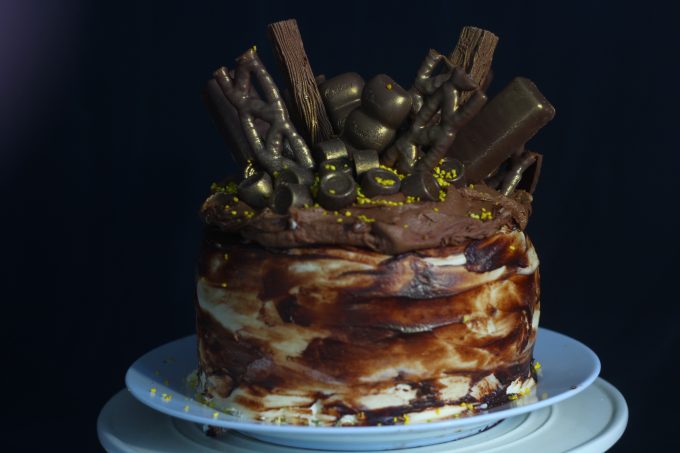 This following recipe is one that I am most pleased with. They are the best strawberry cupcakes I have ever eaten. I have made them twice now and found them to be simple and absolutely delicious.
The sponge itself is yummy and moist and the strawberry jam icing is a revelation to me. I cant wait to make it again, so simple and so blummin delicious.
These were baked for my daughter, a lover of all things strawberry and unicorn. She even ate most of them.....Kiss my big Birthday Butt.....
Strawberry Cupcakes with Strawberry Jam Buttercream Recipe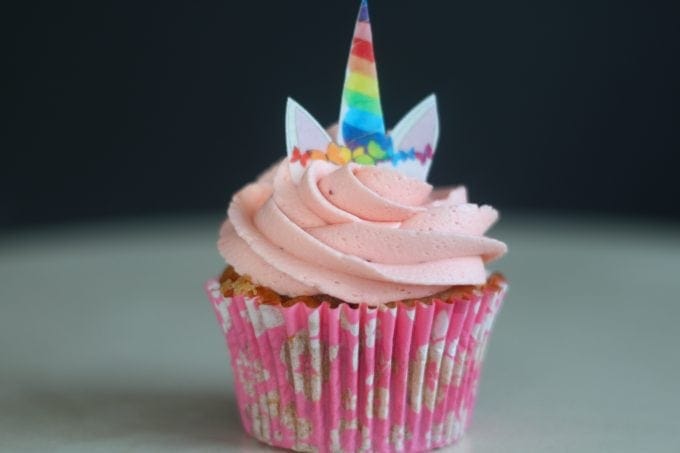 They really are a celebration of all things Strawberry. Perfect for a child's Birthday or a summer celebration. Coupled together with the icing they are absolutely delicious. I adapted the recipe to suit me sir from Cooking Classy a fabulous blog.
I made these beauties in the bigger cupcake cases as I think you need more sponge to cope with the icing. Otherwise the ratio is out of whack. I'm all for large portions anyways.....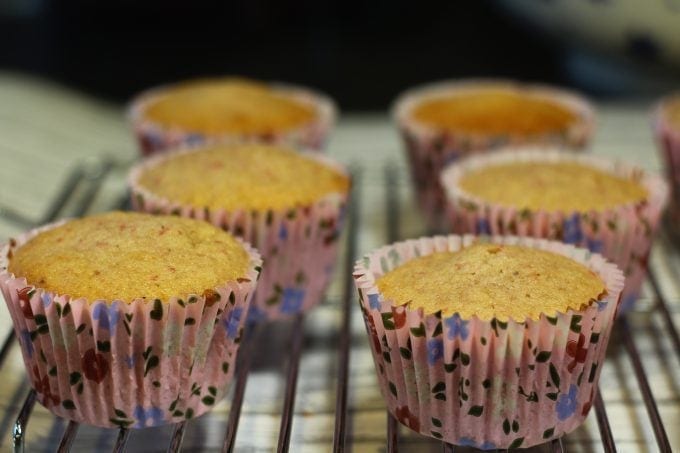 I have also added a little jammy surprise which pulls the whole strawberry lush thing together.
Just by using a teaspoon I dug out a jammy receptacle after the cakes were cool and then piped the buttercream over the top.
Genius if I do say so myself. Kids love the surprise of it and it gives another strawberry hit.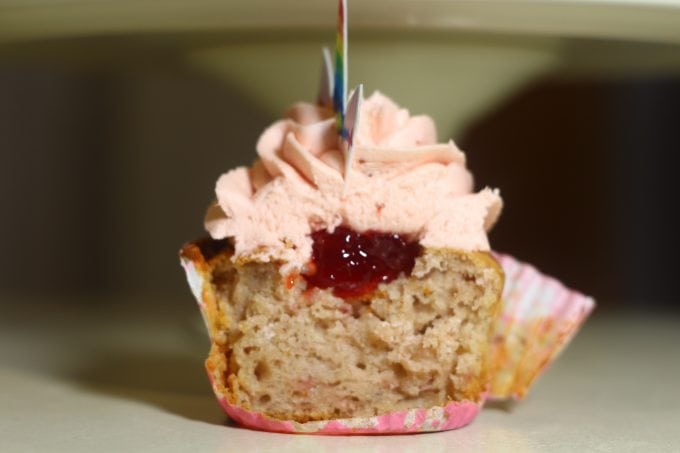 I bought the edible unicorn toppers from the internet. Amazon to be exact and they were cheap as chips.
You of course can make these your own, they are begging for girly sprinkles.
For a more grown up party a simple Strawberry would look lush. The fact is these beauties would look stunning whatever you plonked on top.
IF YOU LIKE THIS RECIPE YOU MAY LIKE THESE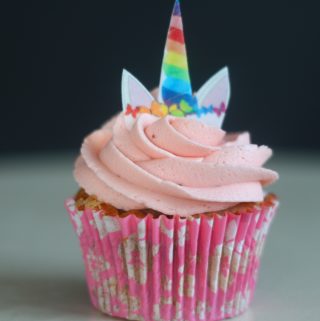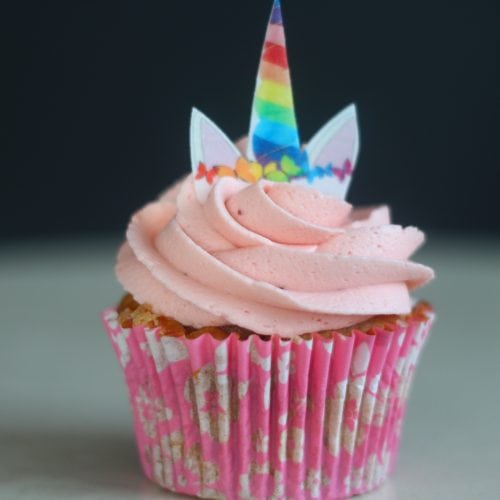 Strawberry Cupcakes with Strawberry Jam Buttercream.
These are incredible Strawberry Cupcakes. The Strawberry Jam Buttercream is bloomin incredible too. So simple to make it will be my go to from now on. I began my recipe hunt for the best Strawberry Cupcakes at Cooking Classy, a fabulous blog and then tweaked it all to suit me sir.
Ingredients
Strawberry Sponge
200

grams

self raising flour

1

tsp

baking powder

1

pinch

salt

100

grams

softened butter

200

grams

caster sugar

1

medium

egg

2

medium

egg whites

50

grams

buttermilk

½

tsp

vanilla extract

12

medium

strawberries

pureed

40

grams

strawberry jam

smooth with no pieces of fruit.
Strawberry Jam Buttercream.
100

grams

strawberry jam

smooth with no pieces of fruit.

300

grams

icing sugar

110

grams

unsalted butter

soft
Instructions
Preheat oven to 180 C. Beat the butter and sugar together until pale and fluffy. I use a free standing mixer. Add the eggs slowly but still on a medium speed.

Mix the buttermilk, vanilla and strawberry puree together in a jug and add half to the mixture before beating well and adding half the flour mix. Repeat with buttermilk and flour once more until all added. Don't overmix.

Spoon the mixture into paper lined cupcake or muffin cases in a muffin tray. I made 10 of these after filling about ¾ full. My paper cases were the bigger sized ones. I think they are the better choice, otherwise there is too much icing for cake.

Bake for about 20 mins. Allow to cool completely on a wire rack.

When cool, using a teaspoon, remove a 1.5 cm circle of the sponge with a depth of about 1cm. Spoon ½ tsp of strawberry jam into the divot.
Strawberry Jam Icing.
Place the butter and jam into a bowl or free standing mixer and whisk for about five mins. The butter will whip up and get bigger in volume and paler in colour. Add the icing sugar and mix again for about 2 mins. You may need to add more icing sugar or jam to get the right consistency. It needs to be quite thick for piping but not too stiff otherwise you'll get the shakes!

Using a large open starred nozzle-mine is 1 cm across the star-pipe the buttercream onto each cupcake. I decorated mine with the unicorn toppers but of course anything will do. Fill your pink boots.

Apply to Sick of Damn Birthdays Face
Nutrition
Calories:
470
kcal
|
Carbohydrates:
75
g
|
Protein:
3
g
|
Fat:
18
g
|
Saturated Fat:
11
g
|
Cholesterol:
62
mg
|
Sodium:
94
mg
|
Potassium:
113
mg
|
Sugar:
57
g
|
Vitamin A:
555
IU
|
Vitamin C:
9.7
mg
|
Calcium:
42
mg
|
Iron:
0.4
mg
All nutritional information is approximate and intended only as a guide.
Tried this recipe?
Take a pic and tag @applytofaceblog on Instagram. I would so love to see them!