These Malted Milk sandwich Biscuits are just the most wonderful biscuity mouthfuls. My children love them as much as I do too. It's something about the maltiness combined with the chocolate filling that makes me feel like I'm giving them something healthy as well as delicious.
Malted Milk Sandwich Biscuits
But first……….some rookie mistakes
The kids have finally left the building……..this time I think I fared better. This time I managed to maintain daily changes of underwear and even kept on top of my cracked heels. Check me out school holiday b.tches……
However even though my cracked heels were kept under control or at least only visible from five feet rather than twenty, my school uniform sh.t was not.
I sent my angels back unprepared, limping and looking ridiculous. In other words extremely vulnerable to any self-respecting bully……..
True to form I shunned a nerdy dry run trusting my judgement and motherly instincts. What a t.at. I never learn.
One child's shoes did not fit at all, so much so that she actually hopped home from school sporting a massive red blister and the other's new school jumper, ordered as a pair, on-line with no returns, is TWO sizes too big for him.
To say he looked foolish was an understatement. Poor kids. I felt truly dreadful. Letting them go to school in ill-fitting clothes is akin to letting them get sunburnt……..usually completely avoidable and massively guilt inducing.
But what could I do? I just had to wave them off, knowing one was in significant pain and the other mortified/bully fodder……..it was small comfort they were at least weather hardy.
So at four in the morning whilst lying awake sweating profusely and contemplating my failures, I came up with a cunning plan.
I will boil wash the jumpers and bake them some lovely biscuits.
Buying new shoes was the easy part. Although I was concerned that the shoe police might appear at the till to take me in for questioning as I was irresponsibly buying children shoes without them being digitally fitted first. I could be charged with wilfully causing fallen arches or parenting without tarsal due care and attention……ever more guilt………
But do you know what? I am a genius. I can't believe it worked.
No police, jumpers shrunk to size and biscuits flipping lovely. Balance is restored and no-one's staring in disbelief at my children at the gates.
Bring on half-term mofo's.
Malted Milk Biscuits
This Malted Milk Biscuit recipe is simple and delicious and what's more my children love them. I think they have forgiven me…..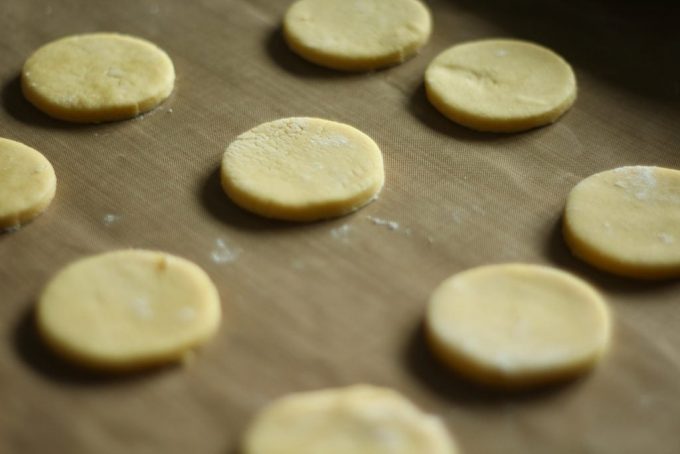 After I have cut out the biscuit shapes I marked them with a button pattern using the base of a piping nozzle and the tip of another.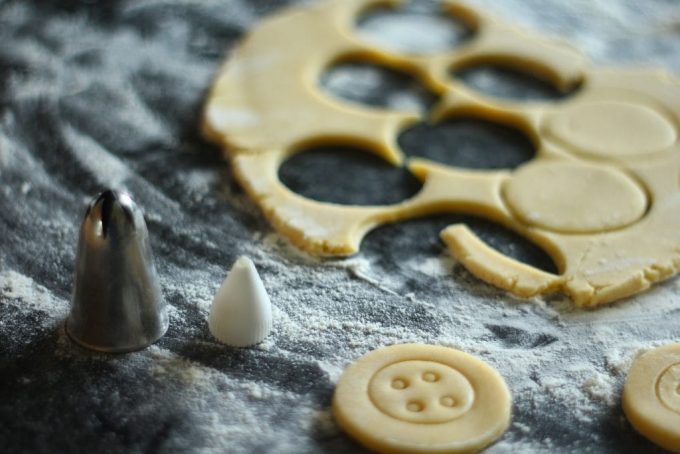 Bake them spaced apart at 170 C for about ten minutes. They should be crisp and golden.
Leave to cool a little on the baking tray before transferring to a wire rack.
Once cool sandwich them with the chocolate icing.
If you like this recipe then you may like these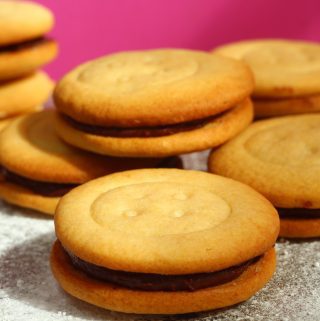 Malted Milk Sandwich Biscuits.
These biscuits are malty sweet with a little crunch.I have used chocolate icing but you could use vanilla or whatever you fancy.This recipe is from Bake it Better Biscuits by Annie Rigg, part of the Great British Bake off Series.
Ingredients
For the Biscuits
150

grams

unsalted butter

room temp

100

grams

caster sugar

1

tsp

vanilla extract or vanilla bean paste

1

medium

egg

1

medium

egg yolk

250

grams

plain flour

75

grams

malted milk powder

like Ovaltine

1/2

tsp

baking

powder

1

pinch

salt
For the icing
75

grams

milk chocolate

75

grams

unsalted butter

room temp

50

grams

icing sugar

2

heaped tbsp

malted milk powder

1

tbsp

milk
Instructions
Cream the butter and sugar together until it is pale and fluffy. I do this in a free standing mixer.

Scrape down the sides of the bowl a couple of times and then beat in the vanilla extract.

In a small bowl or mug whisk together the eggs and beat into the sugar mixture a little at a time.Mixing well before each addition and scraping down the sides intermittently.

Sift the flour, baking powder, salt and milk powder into the batter and mix until smooth and well combined. Be careful not to over mix as biscuits tend to be tough when overworked.

Gather into a disc, wrap in clingfilm and chill for at least an hour.

Preheat oven to 170 C and line two baking trays with baking paper or I use bakoglide. Lightly dust the surface with flour and roll the dough out to the thickness of 2mm. I cut the dough in half and put one half back in the fridge. My dough kept getting too soft so in actual fact I popped it in the freezer for five mins at one point.

I used a 5 cm round cutter and a large and small piping nozzle to cut out and decorate the little beauties.

Arrange the biscuits with gaps in between and bake in batches in the middle of the oven for 11 minutes until crisp on the outer edges and golden brown.

Leave to cool on the baking tray for a few minutes before gently transferring to a wire rack.

To make the icing melt the chocolate and beat in the butter. Gradually add the icing sugar and mix until pale and light.

In a cup mix the milk and milk powder together and add to the icing. Use the icing to sandwich the biscuits together and leave until set firm.

Apply to summer holiday mofo face.
Nutrition Facts
Malted Milk Sandwich Biscuits.
Amount Per Serving
Calories 248
Calories from Fat 126
% Daily Value*
Fat 14g22%
Cholesterol 55mg18%
Sodium 31mg1%
Potassium 72mg2%
Carbohydrates 27g9%
Protein 3g6%
Vitamin A 395IU8%
Vitamin C 0.2mg0%
Calcium 25mg3%
Iron 1mg6%
* Percent Daily Values are based on a 2000 calorie diet.
PIN ME FOR LATER!
Here are some more delicious treats