This Christmas Cookies recipe is delicious and such fun. Make them yourself or with your children for festive fabulousness. I usually make half the batch myself and then leave the other for my children to cut out and decorate with as much Christmas bling as they can shake a candy cane at.
I have fallen completely in love with these cuties and I'm not the only one.  These Christmas Cookies have gone down an absolute storm.
They are from the same shortbread recipe as my Easy Shortbread Cookies and they are seriously good. Crisp, buttery and short they are divine and horribly moreish.
I obviously colour them green here and cut them out into christmas tree shapes before baking them and finally decorating in a classic tinsel and baubles vibe. It really is an easy recipe and you can ramp up the technical level of decorating to suit how clever or useless you are.
I am particularly ham fisted so have kept it simple here even using pre made shop bought writing icing for the tinsel and picking out the red balls from a christmas sprinkles set. No fancy pants decorating here. I really am rubbish.
Christmas Cookies Recipe
STEP 1 - Mixing the Christmas Cookies dough.
The ingredients are incredibly simple. Just flour, sugar, butter and green food gel. Mix the lot together and it really is as simple as that.
I usually use my free standing mixer but a large food processor works well too.
Whack the lot in there and keep mixing until the dough starts to clump together.
Keep going for about 10 seconds after that. After mixing it becomes a green dough.
Add more green gel to achieve the right colour. I do recommend the gel colouring. it is much more powerful.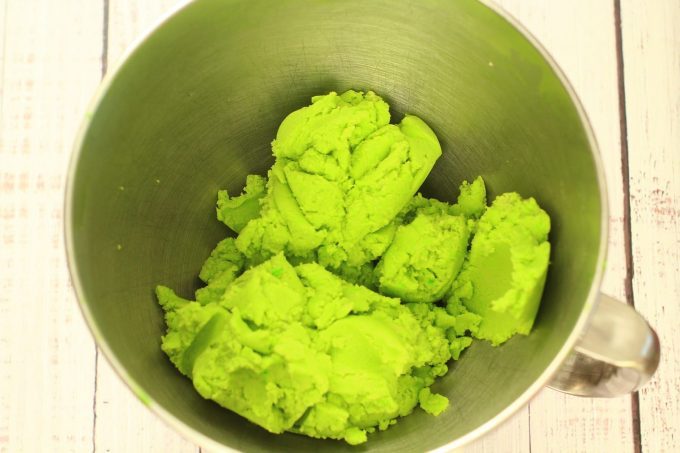 STEP 2 -Rolling and cutting out the dough. 
I use a bit of icing sugar on the work surface to stop the dough sticking when I roll it out.
I roll it out to about 0.75 cm thickness all over. I then cut out the christmas tree shapes.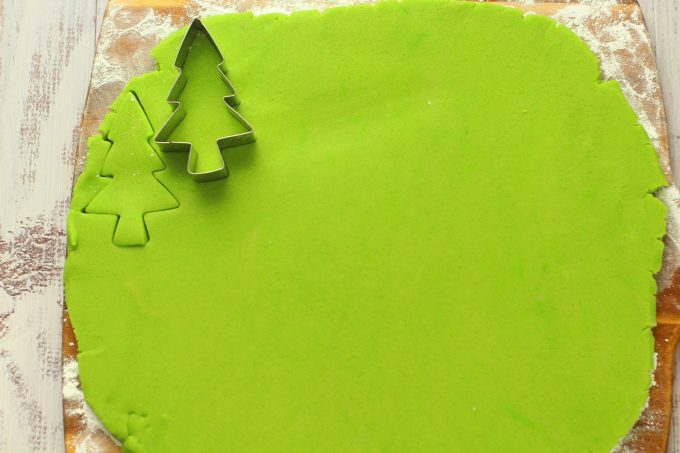 I put them on a lined flat baking sheet. I use a reusable silicon liner.
I chill in the fridge for half an hour.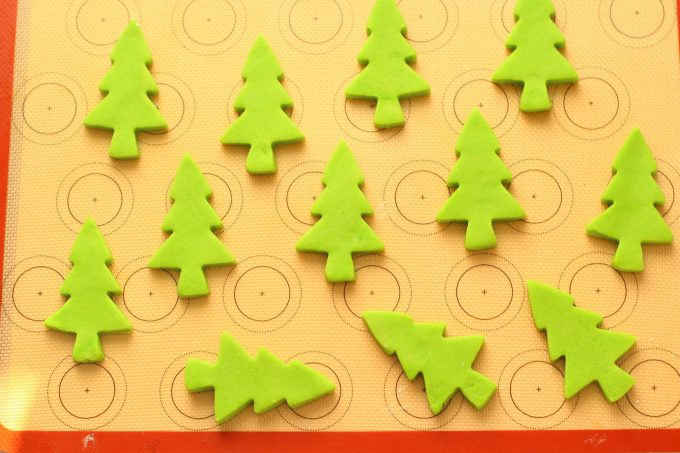 These make about 30 cookies.
I sometimes make half of the batch and freeze the other if I feel that I would struggle to munch my way through so many.
Or of course you could just halve the ingredients.
STEP 3 - Baking the cookies.
Have the oven preheated to 190 C/375 F/Gas Mark 5 and bake thhe cookies for about 10/12 minutes.
You are looking for crisp edges and a small amount of colouring.
Too much and the trees lose their green colour and not enough and the cookies will be too soft.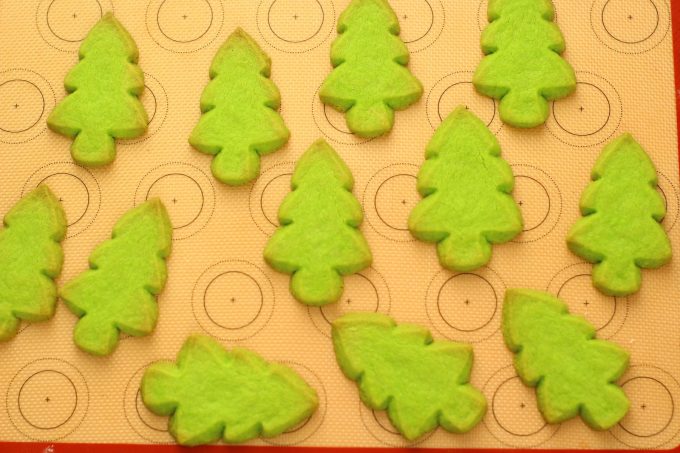 Move to a wire rack after 5 minutes to completely cool.
STEP 5 - Decorating the Christmas Cookies
I used shop bought pre mixed writing icing from my supermarket. The kind that you can just squeeze straight from the packet. They come with little screw on plastic nozzles.
Make sure they are warm enough, room temperature at least.
If you want to make your own then here is a homemade icing recipe. I would use half of the recipe.
I pipe on tinsel and then gently press in red baubles and a little star on the top. I use christmas sprinkles for this again bought from my local supermarket.
Let the kids fill their christmas decorating boots.
Christmas Cookie Tips
To make the cookies gluten free simply substitute the plain flour for gluten free . Ensure your sprinkles and icing  are gluten free too.
Freeze the cookies cut out but raw. I freeze them for an hour singularly before placing them in a freezer bag for up to 3 months. Bake from frozen for an extra 5 minutes or so. A great idea to get ahead.
Don't let the butter be too warm when mixing otherwise the dough will lose it's shape when baked. You don't want the butter to be too soft.
Make sure the edges are slightly crisp to get the perfect texture for your cookie.
If the cookies spread a little then use a knife to carefully sharpen up the edges.
If you want to make your own icing see here.
Store in a airtight container for up to 5 days.
If you like this Christmas recipe then you may like these
Puff Pastry Chocolate Christmas Tree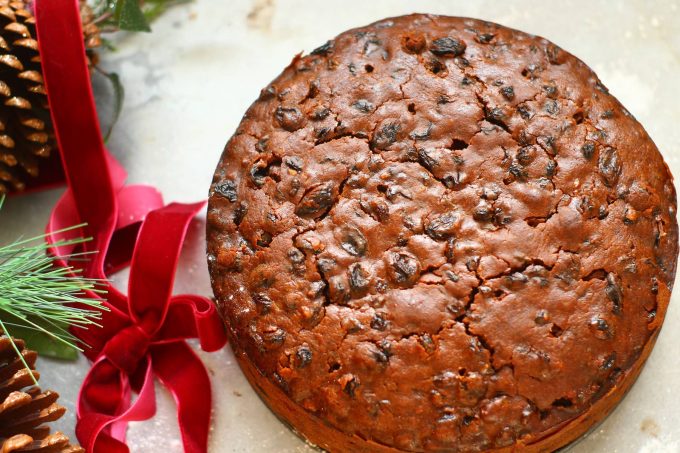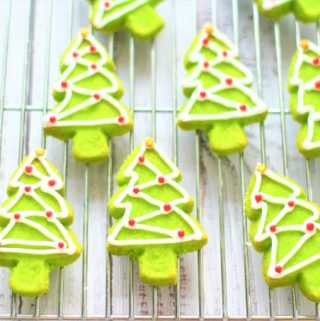 Easy Christmas Cookies
This very simple recipe for Christmas Cookies is delicious as well as lots of fun. Great for getting the kids involved and perfect for Christmas Fairs.
Ingredients
250

grams

unsalted butter

room temperature

150

grams

caster sugar

350

grams

plain flour

1

tsp

green gel food colour

may be less or more
Icing
280

grams

white icing

I use 2 x 140 grams Dr.Oetker packets

christmas sprinkles
Instructions
Preheat the oven to 190°C/375°F/Gas Mark 5. Place all the shortbread ingredients into the mixer or food processor and mix until the dough starts to clump together. Carry on for another 10 seconds and turn out onto a work surface.

Using your hands knead the dough to bring together unto a smooth dough. Dust the work surface with icing sugar as well as the rolling pin and roll out the dough into a roughly shaped rectangle about 0.75 cm thickness.

Use your christmas tree cut out to press out your shapes and place onto a lined large flat baking tray. You will need two of these or cut out 15 at a time and place the other half of the dough covered back in the fridge. This dough will keep for a week covered in the fridge.

Chill for 30 minutes before baking for 10/12 minutes. You are wanting crisp edges and some slight darkening. It is important to bake them enough to have some crispness to them.

Leave them on the baking tray for a few minutes before carefully moving to a wire rack to fully cool.

To ice them pipe around the tree leaving out the bottom square. Then pipe across the middle of the tree in a zig zag fashion. Press the baubles into the icing and put a star on the very top. See photos.
Nutrition
Calories:
138
kcal
|
Carbohydrates:
14
g
|
Protein:
1
g
|
Fat:
7
g
|
Saturated Fat:
5
g
|
Cholesterol:
18
mg
|
Sodium:
1
mg
|
Potassium:
14
mg
|
Fiber:
1
g
|
Sugar:
9
g
|
Vitamin A:
208
IU
|
Calcium:
4
mg
|
Iron:
1
mg
All nutritional information is approximate and intended only as a guide.
Tried this recipe?
Take a pic and tag @applytofaceblog on Instagram. I would so love to see them!
Do let me know how you got on in the comments below. I do love a good old hairy chin wag.